Some days only come around once a year, Halloween, Grandparents
Day, Flag Day, and the Annual Moment Party! This past weekend played
host to the second coming and it turned out much bigger and better.
While in the midst of making skis every day we decided to do renovate
certain parts of the showroom/shop before the party. Having increased
the line from last year, we needed to find more room on the walls to
display our skis. New to the shop this year, some of our Holden order
arrived and was immediately put on display and received a lot of
attention. This year the shop will also have the latest gear from
Lethal Descent, SMS, Joystick, Bern, Pow and SickStickz just to name a
few.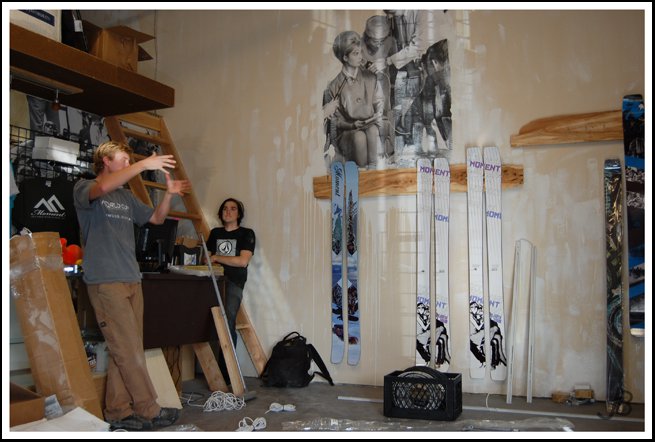 Don't worry, both these guys have degrees in engineering
C-Hawk
New t-shirt display
you missed a spot
Casey realizing just how much work is ahead of him
Jib, Rocker, Bibby, Donner Party
Stiletto, Sierra, Pika
DO-REET-OOOOOOS
Andy Miller from Dynastar/Look/Lange
Segal  "woot woot"
Yum
A pair of giggling school girls
work work work
  
Once we had the shop finished and the barbecue was over it was time to
get our party on! Guest DJing was DJ The Silver Boombox Thief to kick
things off with a bang! While he was taking a break Morgan started up
his station and went to town, keeping the party going. Foosball, Beer
Pong, Ski movies on a projector, the party was going off! After the
DJ's had been spinning for a while Hip Hop groups Tree Woodz and Canto
I got in front of the crowd and put on a great show. It was non-stop
party until around 1:30 when it got shut down, something about tires
that weren't ours, who knows.
   Even though the party was over we were still going strong, and
decided to head downtown to grab a quick mid-night bite and then head
over to the Tonic Lounger for a now mandatory Jager & Cran to
finish the night off.
The party has officially started
Why Segal has this large T-Rex Banner we don't know, but it is awesome!
Ben from Sentury and Anthony from First Tracks Productions
what does it say?
Jamie Melton, KC Deane, Scott Pullman
more snowboarders
LJ
holla!
Definitely more people then last year
GET MONEY!
spitting game
M-Conn from Line/Orage and his crew
View from a cup on the bar
yes, we had a foosball table in there
Wes and James
Shugz
Zachel
Tree Woodz and Canto I - http://www.outboxrecords.com
beer pong table made out of snowboards
M-Conn on the Turntables
  
The next day started off with us cleaning up the shop and remembering
the mayhem that had ensued that night. We actually had a pretty nice
little Saturday, a little Olive Garden for lunch, I bought a new
skateboard and we watched Iron Man. Then - Off to the Squaw Premiere
for MSP's new film CLAIM! We ended up takign it a little be easier then
the night before but ran into a bunch of friends up there.
Casey keeping his head warm
Roy Tuscany from Smith
Mr. Bliss
Hartel
William
Lena
Arens
The many faces of Billy Mann
Don't get in the way of Sami when she's having her picture taken
   Another
great weekend in the books, I can't wait to see what happens this
Friday and Saturday for our Skigasm film premieres in Reno, check the
NS events listings for complete details.