hello people,
sorry that there weren't anymore updates straight from japan. but you know, my computer time was limited. And actually i rather spent my time on the mountain, skiing deep pow and endless pillow lines!
Let me say: I had a blast! The whole trip was awesome and i had a f good time.
So i spent 7 weeks skiing in Niseko, 9 days visiting temples and shrines in Kyoto and 15 days walking around Tokyo.
I'm gonna start with the skiing part.
Niseko was fun. I met heaps of people: on the mountain, in the lodge, at the busstop and even the ns greeting worked (hey james!).
I went skiing pretty much every day, although we didn't have pow every day. But there is a decent terrain parc including a pipe and a small railyard, so that there was always something to play with. But the best playground is the one you enter once you go out of the gates! It's just fun blasting down one of these many pillow lines landing in deep, dry and soft powder again and again. Especially at night time.
But why do i tell you all this stuff. you have seen this place in numerous videoparts and webisodes like eric pollard's en route.
and if you ever have the chance to ski in japan: do it! actually there is so much more i could tell you but it's just too much, so i'm gonna show you some pictures now.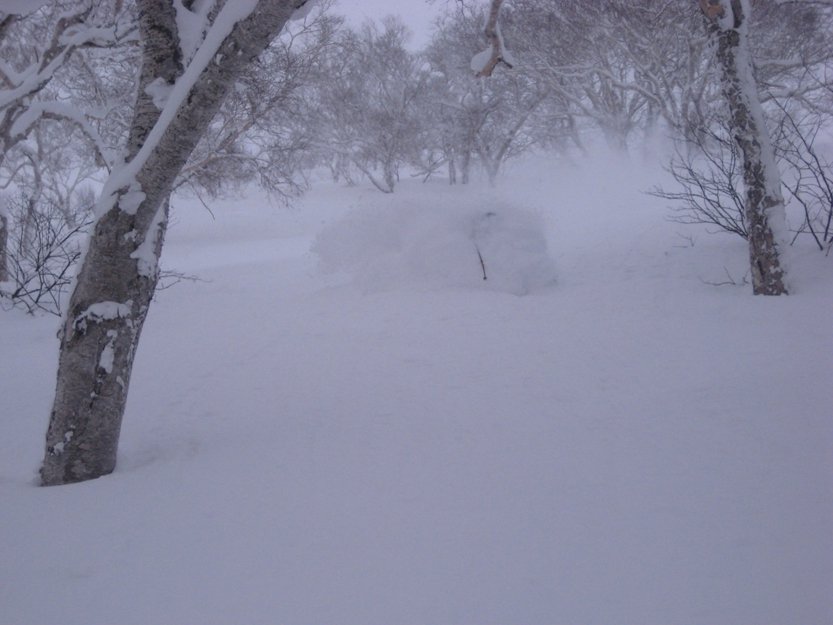 can you spot me? fucking deep!
Hiking up Mt Annupuri. It's not really a hike. just 20min from the top lift and there you are: the peak. You go down a wide-open field, do probably 5 or 6 turns until you reach the trees. But better be one of the first, there are tons of people hiking up there. I went up 7 times, i managed to be 3rd person once. So i had pretty much first lines- epic.
what to i need to say?
just a snapshot of this a nice pillow and me floating trough the air. fun!
the mountain. skied all these ridges.
going up the top lift (you can actually see the "ants trail" -people hiking up mt annupuri)
one of these good and cheap meals. easy as well ah and yeah: tastes good!
Info: There was this free-shelf in our lodge. People left food there, when they left and yeah i pretty much lived from that free shelf. saved so much money, just amazing.
sometimes we went shredding in the afternoon and or evening. So dope with all these lights. you can acutally ski pow at night. Had lots of fun as well during twi night photo shoots with a pro photographer i met. interesting experience!
even after a long nightshred on the day before, i managed to get up early to get the freshies. this time i managed to show up at the lifts before they opened. first chair !
Mt Yotei seen from the parking deck of the Grand Hirafu Ski area
after my 19 hours nightbus and train trip from tokyo to sapporo i decided to book a flight for the trip back. So good. Managed to book early, so that i spent the same amount of money but travelled so much more comfortable! Flying is the best way to come around - for sure.
But after i arrived in Tokyo and stayed there for one more night i took another nightbus to Kyoto, which is an amazing city!
Photos from this part of my journey will come in the next blog post which you should expect sometime next week.
Hope you enoyed this one. The good life is still on! Always.
peace
Simon