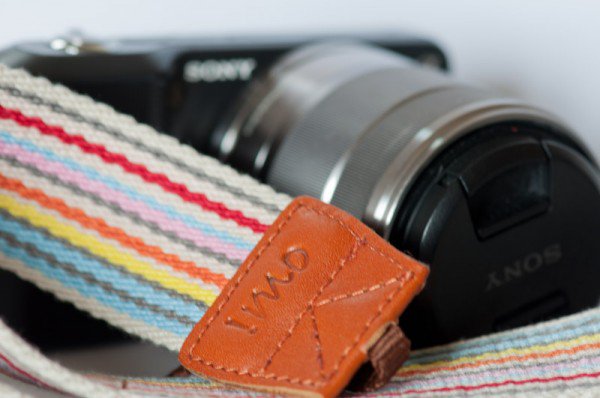 I was sent 2 camera straps by imo recently in order to review them. All in all, a camera strap review is a rather difficult thing because by and large camera straps are often quite similar. So because of that, I'll try to focus on the differences that these straps have from your typical strap that comes with your camera as well as the strap that I generally use on my SLR.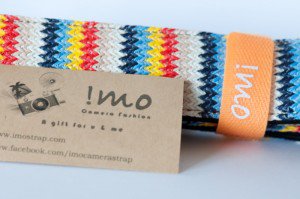 The first thing that I noticed when I opened the package was that I really liked the packaging. Yes, that might be an odd thing to say, but I'm also the kind of person who oohs and ahhs when opening up anything that's nicely packaged. Each strap was wrapped with a piece of velcro with the name of the company on it, which I have to admit gave the packaging a bit of a special touch. Even the envelope they shipped in had a nice quality to it. No, it has nothing to do with the comfort or usability of the strap, but instead the first impression that I got.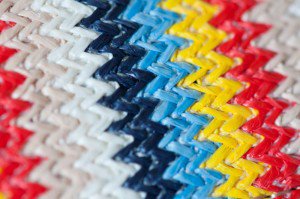 Now on to the straps themselves. These straps are not your ordinary black woven straps. Many of their designs are bright and colourful, but there are more sedate colours and patterns as well if you don't find yourself drawn to the rainbow ones pictured here. The two straps that they sent me were the Cheerful camera strap (which has a neoprene back) and the Water Color strap which is a cotton tape strap. The colours on both of the straps are very nice and were true to the images that I saw on the website. In terms of how they look, well, they are obviously different from your regular black strap, so there's not a whole lot to compare to the stock strap and my usual strap in terms of that. But overall, I found the designs to be quite nice.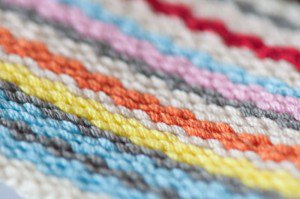 The fabric itself seems quite nice. The cotton tape strap is rather soft and smooth, and there is a more grippy suede-looking piece of fabric where the strap would hit your neck. I attached the Water Color (cotton tape) strap to my NEX-3 and found the size to be quite suitable for a small camera. I've typically left the strap off of my NEX simply because I didn't like the included strap. I quite like the width of the strap (1.5″) as it wasn't too wide or too narrow to be comfortable. It's quite likely that this strap would stay on my camera. Their cotton tape straps don't have a quick release function on them like the neoprene straps. I do find that to be a bit of a downside because I'm actually much more likely to take the strap off of my compact camera than my SLR in order to stuff it in a jacket pocket. That's not to say that you couldn't put one of the neoprene / quick release straps on, just that the cotton tape straps are more targeted at compact cameras.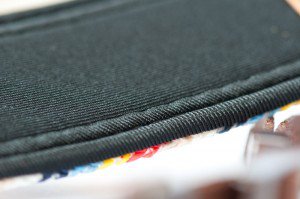 The second of the two straps, the Cheerful one, has a neoprene back which makes it more suitable for a heavier DSLR. According to imo, the straps with quick releases (e.g. the neoprene backed straps) can hold over 120lbs. I wasn't about to give it quite that much of a work out, so I settled for putting my heaviest lens on my camera. The whole thing tops out at around 2.23kg (or 4.91lbs), so that's a heck of a lot less than they suggest that the strap can handle, and it's probably a lot less than some people have on their straps at any given time, but it's more than most kit lenses weigh, so let's call it a decent comparison in terms of comfort. My usual strap for my camera is a neoprene Lowepro strap that I've had on there for a few years. Is it pretty, nope. But it gets the job done. One of the things that I really like about my Lowepro strap is the shape of it. It is not a straight line, but rather a slightly curved shape where the centre is wider than the edges. In contrast, the imo strap is a straight line. The reason that I make that comparison is because the imo strap (while comfortable) doesn't sit quite as flat on the back of my neck. Whether or not that is important to you is a personal decision and probably also depends on whether or not you've used anything other than a straight line sort of strap. But that aside, it is quite comfortable. I found that the length was long enough that rather than wearing it around my neck I could wear it crossed over my chest and off to the side quite comfortably which kept the camera out of my way but close enough that I could quickly grab it to take a shot.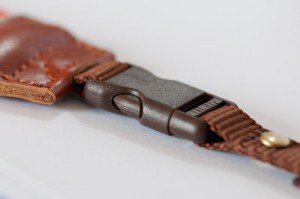 Overall I was quite pleased with the construction. The fabric on the Cheerful strap was quite interesting. I couldn't quite figure out how to describe it, but the way that they do on the website suits it quite accurately: "it's like hemp, but it's mixed with plastic". So it gives it a very strong texture, but it's still smooth. It reminded me a bit of a brightly coloured poncho. The stitching was neat, I didn't see any loose ends on either of the straps I received, and I found that the neoprene was also finished nicely. I especially thought that the extra piece of fabric on the cotton tape strap was a nice touch. Consider me nitpicky, but I really wanted to go over the items with a fine tooth comb just to make sure that I thought that the quality was good enough. And I can happily say that I am pleased with the quality.
Finally, shipping was amazingly fast. The straps made it to me from Hong Kong to New Zealand in less than a week and all of my communications with them were prompt.
SUMMARY
If you're not happy with the standard straps that are out there or you're looking for a neat gift for a photographer, it's worth checking out imo straps to see if they have anything that catches your eye. The quality of the straps seems to be as good as any of the straps I've purchased in the past, but the colours and designs they offer are the main thing. If you think of your camera strap as an accessory then you'll be very happy to have another place to look for something to make your camera your own.
Pros:
Excellent quality
Lots of choice in designs
Reasonably priced ($22-26 USD)
Cons (or rather, a wishlist for future versions of their straps):
No quick release on the cotton tape straps
Straight strap means it doesn't necessarily sit flat on your neck
Post originally from: Digital Photography Tips.
Check out our more Photography Tips at Photography Tips for Beginners, Portrait Photography Tips and Wedding Photography Tips.
imo Camera Straps: Review