Only a few more days until the International Freeski Film Festival (iF3)
opens its gates in Innsbruck, Austria. The ticket sales are running at
full throttle because word got out: you will find only the very best in
Innsbruck's city halls. Multiple award winning freeski movies, the
sport's top athletes, legendary iF3 after parties with international DJs
and tons of diversity in the side program. The stars of the scene can't
wait either...
 
In addition to all of the premieres (which you can check out the schedule for by clicking here),
this Friday, October 5th, the iF3 Legs of Steel Party presented by
Oakley will turn up the volume at 11pm, right after the screening of
LOS' masterpiece Hurt So Good. Responsible for your listening pleasure
are some absolute heavyweights of German hip-hop, including DJ Friction
(Freundeskreis), Electro Ferris aka Ferris Hilton (Deichkind) and DJ
Harris aka DJ Binichnich. No way you will find phatter beatz anywhere
else, as these gentlemen know hip-hop and electro.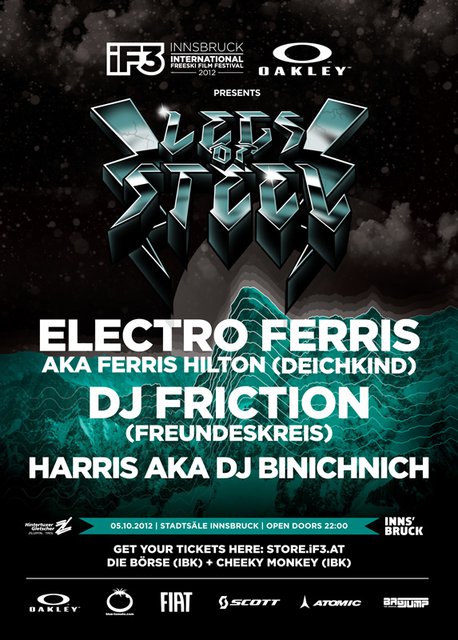 Then on Saturday, October 6th, the Kaiser Chiefs DJ are looking to
one-up the party performance from the night before and are more than
ready to stir up the crowd at the Rocker Party with some rocking riffs.
"I've never been to Tyrol but I'm really looking forward to it. Music,
movies, booze and snow. Nice", says "Peanut" from the Kaiser Chiefs. So
if you enjoy partying until the sun comes up while listening to hard
rocking music, then mark this Saturday in your calendar, and pick up
your tickets for all of the parties by clicking here.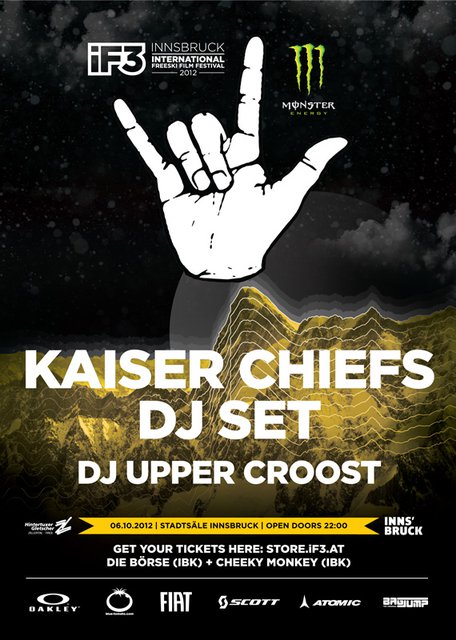 If you're looking for diversity and fun, the brand world is another
place you shouldn't miss at iF3 Innsbruck. Big brands such as Oakley,
Blue Tomato, Atomic, Leki and Scott are presenting their latest products
and innovations and invite you to look, touch and stop by for a chat.
And in addition to those brands, the booths of the Hintertux Glacier and
Tyrol advertising are bringing interesting news about the upcoming
winter season. Further highlights include a tattoo artist the Legs of
Steel crew are bringing to iF3 as well as mountain bike rentals at the
booth of the Innsbruck shop "Die Boerse". And on top of all that,
signing sessions with athletes will be going down along with other
interactive activities that will be constantly taking place over the
course of the two days of the festival. And naturally, entry to the
brand world is free, and drinks will be readily available.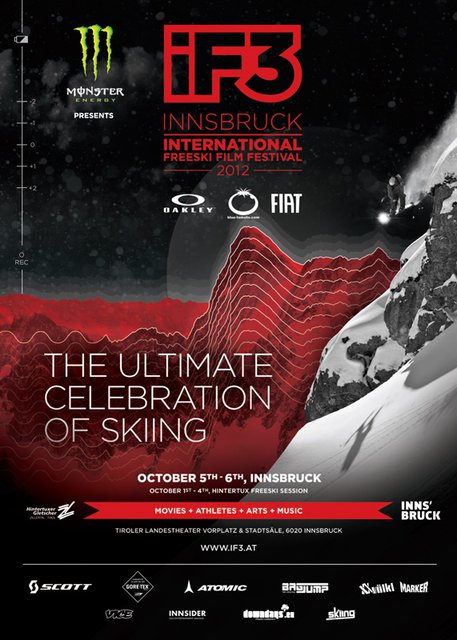 As you read this, the iF3 Hintertux Freeski Session is in full swing,
where stars and their fans are living it up at the Betterpark Hintertux.
Snowfalls have made sure that the Easy Line, Medium Line and Jib Line
are already open, along with the Pro Line and Superpipe. On Thursday,
October 4th at 8pm, there will be exclusive movie screenings at the
Tux-Center Lanersbach and the after party will obviously be an
appropriate finale for an extraordinary week at the Hintertux Glacier.
For more info on the iF3 Hintertux Freeski Session, click here, and then we'll see you at iF3 Innsbruck on Friday and Saturday!
For more information on iF3 Innsbruck and to purchase tickets for the event, check out https://store.iF3.at