Hey everybody,
from friday the 16th till sunday the 18th the famous Kaunertal Glacier Opening took place !
Patrick Hollaus and me meet friday morning at my appartement i Innsbruck, to get ready for KTO!
After a 1h drive we made it to the Riders Office in Feichten to get inscription done and food vouchers!!!!!!
After that we went striaght up to the glacier to shred the mini park they built!
In the afternoon the Downdays rail battle took place!
Loads of crazy tricks were thrown down,one foot 3out and bonk 2 in change up to 2 out as well as bonk4 in and nosebutter 2 on pretzel 2 out and some lip 270´s with pretzel 2 out from my side, as well as the all time favorites like 2 in pretzel 2out and blind switch up to pretzel2out, and k-fed´s and a small 13year old swiss kid which was destroying it!
Luckily i could win the battle and got the sickest price ever:  A 300euro check for the Blue Chip Club in Innsbruck…gonna share that with some friends!!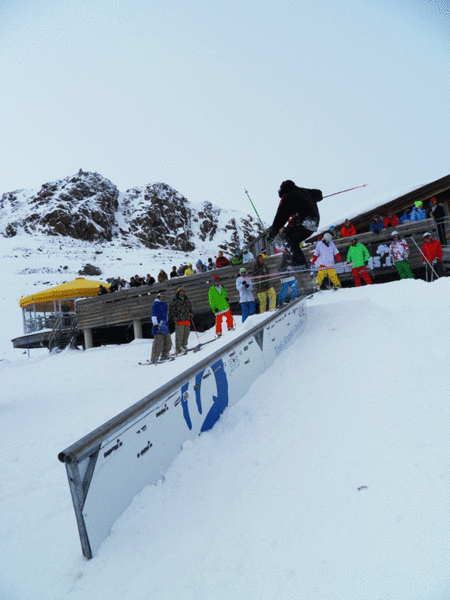 some wild rotations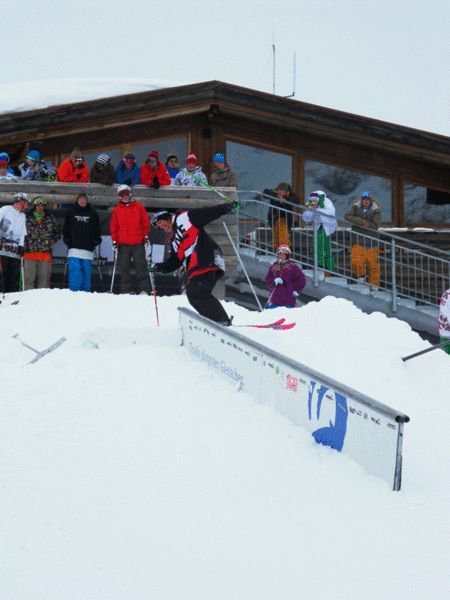 Nosebutter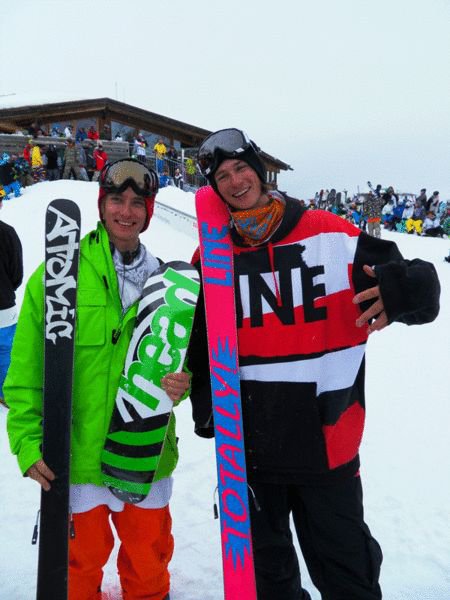 Happy about the 300€ Voucher!
Afterwards we went to a Line Team dinner with Korbi, Patrick, Marco, Tom, Robie and Marc at Pizzaria Rustica, had some nice food and after we went to the Aestivation premiere!
Next day was Mini shred comp, unfortunatley the weather was really bad, snow was falling, fog all over the place and it was coooooold! All the new snow made it really hard to even get enough speed without pushing for all the boxes!
But anyway the crew did a great job by providing a perfectly shaped mini shred park!
The luck was not on my side this day, and i crashed ones and did a bit shit on the kinked box on my second run! But Tobi, the grom of the team did a great job and got second!!!!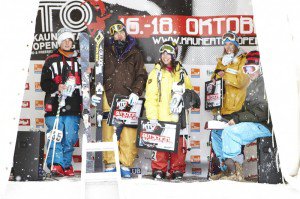 Tobi Mangold killed it in the groms contest!
Fabio was riding really constantly all day and onethe opening!
here are the Results:
Best Man Overall: Fabio Studer (A)
Best Woman Overall: Ruth Hagspiel (D)
Best Line: Fabio Studer (A)
Best Trick: Henrik Harlaut (SWE)
Best Rookie: Henrik Harlaut (SWE)
at least we had fun and a great weekend!!!!!
stoked!
today was pow pow day!
first one of the season!
here is a little video, the quality is not that good, but you can see that we got a lot of snow in mid of october!!!!!
ÂÂ
peace Roy