Posted by NSMB.com
Virgin, UT ? October 3, 2010 ? With wild skies above him and 1,500 feet of vertical drop below, Cameron Zink persevered over the obstacles to become the 2010 Red Bull Rampage champion. Twenty-one of mountain biking?s best riders threw down all they had while battling wild weather, but when the skies cleared it was Zink who took home the trifecta ? the contest win, Utah Sports Commission Best Trick Award and the Freeride Mountain Bike (FMB) World Tour season overall title.
By the time Cameron Zink landed this it was likely a 50 x 50. Photo ~ John Gibson
STARS (AND CLOUDS) ALIGN FOR ZINK
After a season of highs and lows with big contest wins and tough injuries, Zink went through another roller coaster ride throughout the day. During his first run, Zink attempted a 360 off the Oakley Icon Sender custom feature, but took a hard hit that cracked his helmet and was unsure if he could do another run. Once the medics cleared him, he was energized to go again, only to be delayed a couple hours by gusty wind, rain and threatening clouds. But as the sun came out, Zink dug deep and threw down a perfect run that included a flawless 360 off the intimidating Oakley Icon Sender that sent him nearly 40 feet below. That massive move, which also won him Best Trick honors, was the only thing that could top the UK?s Gee Atherton, who was seeking redemption after making the 2008 event finals and then suffering an injury in practice that prevented him from riding. Atherton?s racing background was a definite advantage that resulted in a fast, controlled line that wowed the judges, along with his huge transfer to wallride. Third place went to Darren ?the Claw? Berrecloth who hands down had the most technical line from top to bottom.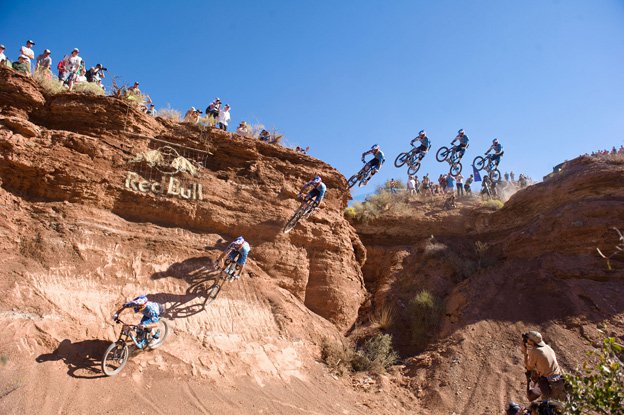 Gee Atherton couldn't have executed this massive gap to wall ride more perfectly. He made it look easy and then sat out his second run. Photo ~ Ian Hylands
Over 2,000 fans hiked into the remote desert venue to witness a contest that showcased a mix of rugged, natural downhill terrain and manmade obstacles. A team of builders led by Paddy Kay spent a month digging, building and grooming the course that would become the riders? playground. Course builder and former Red Bull Rampage competitor Josh Bender liked what he saw, ?I was really excited on the utilization of all the features we built on the course ? it was great to see the progression of the sport stepped up a couple levels.? With jaw dropping tricks like Greg Watt?s backflip stepdown and Atherton?s gap to wallride, the fans were given a show that could only be produced in unparalleled terrain of the Zion desert mountains.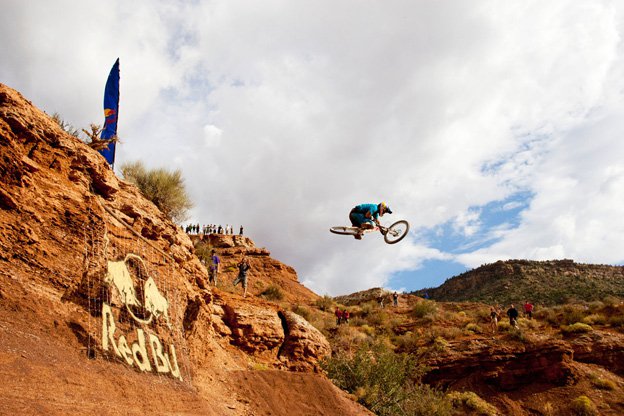 Darren Berrecloth nailed his creative line on his second run - including a step down three to finish - to capture the final podium spot. Photo ~ John Gibson
A PERFECT STORM
The finals on Sunday almost came to a halt after wild weather caused a couple hour delay. Saturday?s practice was also cut short after an intense wind storm that was described as no less than ?the apocalypse.? The riders charged on however, heading up to the gate as soon as the last rain drop cleared and pushed through an intense second run. Zink summarized the challenges faced by all, ?It?s so hard to get into the mode. Your run has to be dialed from the top, you can?t just work your way into it and then be stylish towards the bottom. You have to pin it right from the top. I guess I picked up some contest skills and determination along the way because I did pretty well today!? Atherton agrees, ?Second today at Rampage was nuts. It was fun, it was a crazy contest and I couldn?t have been second place to a better guy than Zink.?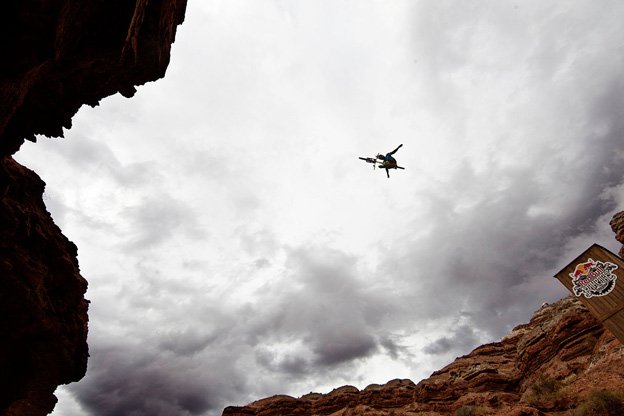 Thomas Vanderham takes his hands off on the return of the Rampage canyon gap. Photo ~ Christian Pondella
After 18 stops on the FMB tour, Zink?s overall championship left him on cloud nine, ?Being Rampage champion is a dream. It?s one of the first real mountain bike contests ever and if I were to tell anyone ? this is what mountain biking is, this contest would be it. So to win this is the most amazing thing in the world. In all honesty I?d rather win Red Bull Rampage than any other event.?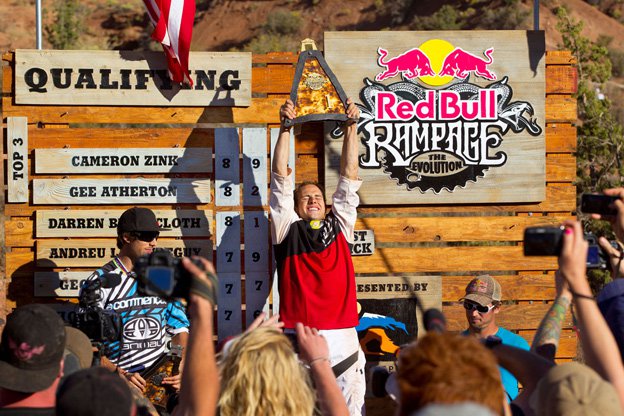 Zink appears pleased. Photo ~ John Gibson
Perhaps the day was best summarized by fourth place finisher Andreu Lacondeguy of Spain, who is known around the world for his jaw-dropping tricks. When talking about what Zink did, he had one thing to say, ?That was the wildest thing I?ve ever seen!?
Red Bull Rampage 2010 Final Results
1. Cameron Zink (USA) 89.2
2. Gee Atherton (GBR) 82.4
3. Darren Berrecloth (CAN) 81.2
4. Andreu Lacondeguy (ESP) 79.0
5. Geoff Gulevich (CAN) 77.2
6. Thomas Vanderham (CAN) 76.6
7. Robbie Bourdon (CAN) 76.0
8. Kyle Strait (USA) 75.6
9. Logan Binggeli (USA) 74.8
10. Kurt Sorge (CAN) 73.0
11. Alex Prochazka (CAN) 72.2
12. Tyler McCaul (USA) 71.8
13. Graham Agassiz (CAN) 71.0
14. Cedric Gracia (FRA) 70.4
15. Greg Watts (USA) 65.6
16. Michal Marosi (CZE) 64.2
17. Jamie Goldman (USA) 63.8
18. Curtis Robinson (CAN) 62.4
Mike Hopkins (CAN) DNF
Chris Van Dine (USA) DNF
James Doerfling (CAN) DNF
Best Trick Winner: Cameron Zink, 360 to 40 ft drop off Oakley Icon Sender
FMB Tour Overall Final Standings
1. Cameron Zink 2948.15
2. Brandon Semenuk 2937.5
3. Darren Berrecloth 2626.1
It was a big payday for Zink who also picked up some large cash for being the FMB world tour overall winner ahead of Semenuk and Berrecloth. I hear he's buying a boat.