Yo Yo NS,
What's uppppp!
Since I wrote
last I've been havin a blast.  The rest
of my season was dope!!!   I went to
Crested Butte for The Subaru Freeskiing World Tour stop one.  Having pre qualified I didn't have to compete
on day one, instead I skied and checked out lines. The first day went killer.  Pillow line to double drop, stomped it clean.
I came out with a 3-point lead. The second day, which was held in a permanently
closed area, was insane, super steep with mandatory airs at the bottom.  My line included a gap from cliff to
cliff.  Stomped it, quite the adrenaline
rush. Now I had a 5-point lead going into the super final.  The final run I had all pegged, but right at
the bottom I decided to change my line and ended up falling on the last drop.
Man was I bummed. What did I learn from that? 
Stick with your plan. I finished 3rd.!!!
Gap jump at the Cold Rush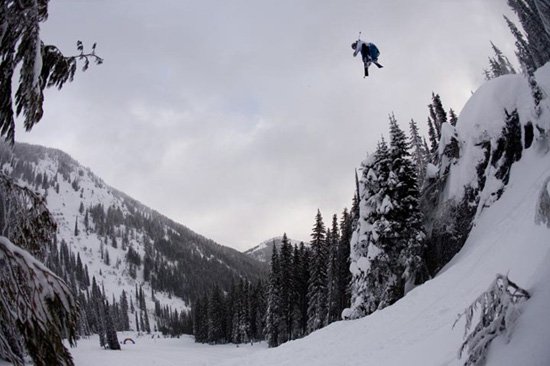 Cold Rush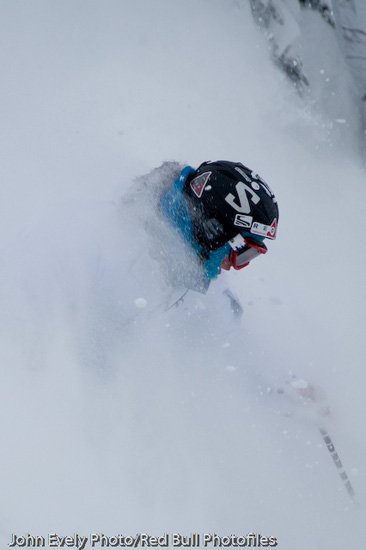 Then I headed
back to Whistler to do more backcountry filming with Theory-3 Media, which is
always fun!  Been doin' lots of
cliffs.  I've seen most of my footy and
it's looking great.  I'm excited to see
how it turns out.  Hopefully I'll be able
to do a version of my own edit.  I have a
bunch of edits on You Tube; check them out under Dane Tudor : http://www.youtube.com/results?search_query=dane tudor.
Got in a few
weeks filming before heading to Calgary to coach
at the Salomon Jib Academy
at the Canadian Olympic Park.  What a
great event, lots of talent, kids are really stepping up their game these
days.  I even had a few buddies come out
from my home hill to compete, stoked about that.
Cold Rush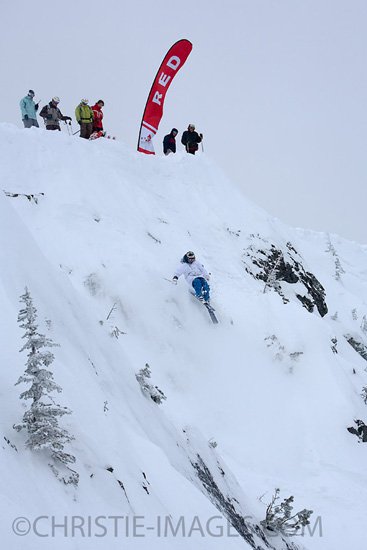 Cold Rush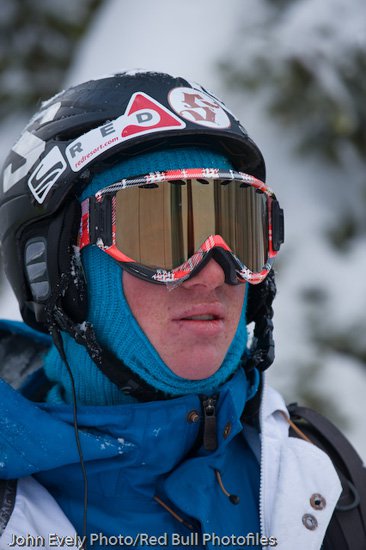 Alexis and myself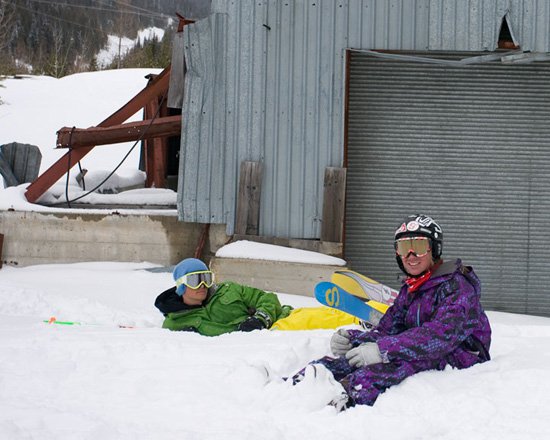 Then I headed to
Red Resort BC (my home mountain) to film a super booter with Theory-3.  Three nights of pushing, building and shaping
before our booter was finished. The forecast called for cloud and snow, but we
got lucky, the sun came out for one day. We where able to get the footage we
wanted.  The Theory-3 crew then headed
back to Whistler, while I stayed at Red to train on our booter, before heading
to Schweitzer for the PBP Jib Jam.
Red booter, Cork 5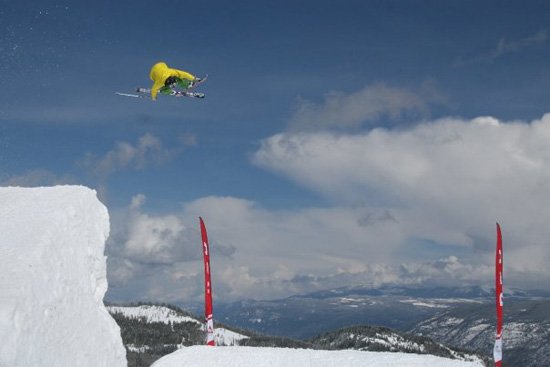 An other angle of the cork 5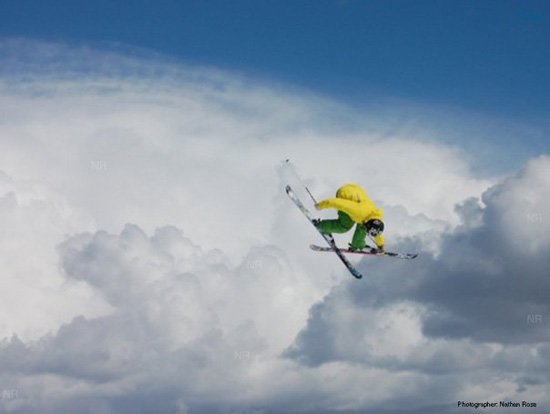 What a great
event/film shoot it was.  I had tons of
fun.  Hit some crazy new features and met
the crew.  Super stoked to have had the
opportunity to be part of the team.  PBP
is really pushing the edge on the features they're building these days.  I would have to say my favorite features were
Danny Way, Rainbow Rail, the Double Jump line and the Transfer Gap.  The
Transfer was probably the scariest thing I've ever hit.  I wish I had more time to hit it and get more
comfortable on it. Next time!
JibJam, Day 1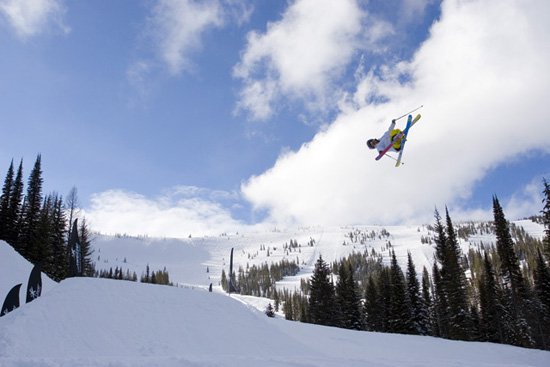 PBP JibJam, Day 2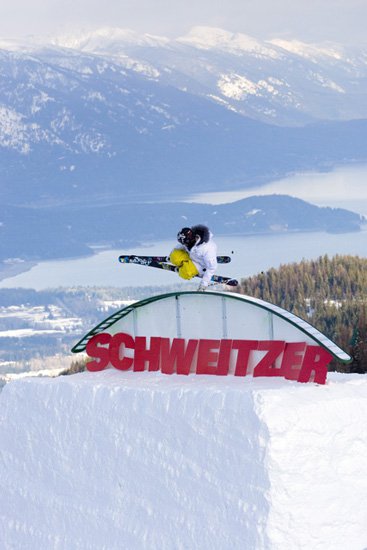 PBP JibJam, Day 2
Now I'm back in
Whistler for the remainder of the spring. I know you guys will rip me out for this
but, I'm gonna start rollerblading.  Yeh
yeh, pretty stoked on it.  Gonna learn
tons of new tricks into a foam pit, get some dubs boiiiiis.  The legendary Kaya is going to teach me how
to slay on the blades, lol.
Lifestyle 1.0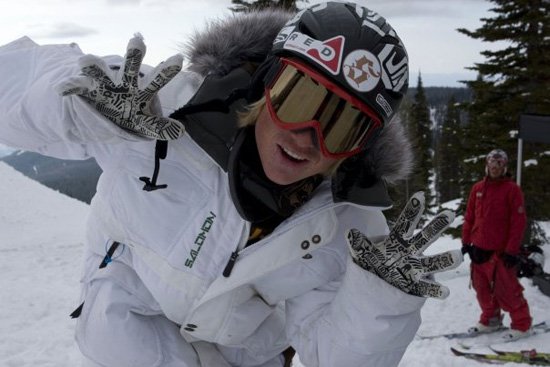 Lifestyle 2.0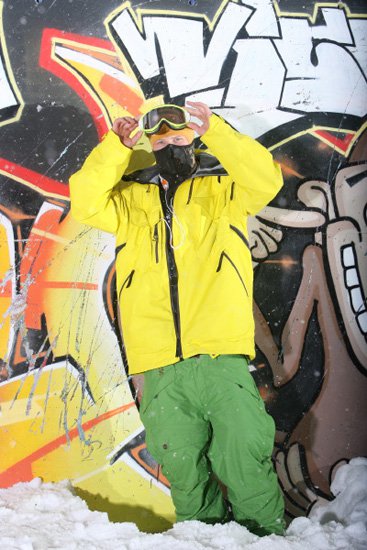 Gonna be riding
at Momentum when summer camps start. 
Hope to see you guys there!!! 
Then off to New Zealand for the rest of the summer!
See you at the
camps.
Peace
Dane