Words by Nick Dion
Photos by Anyck Poirier
Video by Frederic Pansini
I think to have a good event, you have to have some stuff go wrong. In our case, the problems started the day before the jam, when we realized we didn't receive our complete order of scaffolding. Then there was the weather. We've always had good weather at the XS Rail Jam, but this year we had to have our staff do the sun dance and play Zelda's Sun's Song, along with plenty of other superstitious stuff, as Mother Nature unfortunately played a trick on us: she cast the rain down during the night before the event, melting about 75% of our snow. Then the next day she served us some howling winds, stopping us from mounting up our little village around the rail jam.  And if all of that wasn't enough, to cap things off, our DJ didn't show up. Needless to say, we thought we were screwed before the event even started.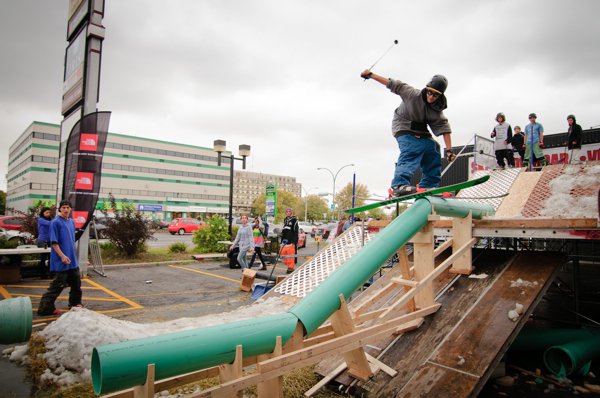 It was only 9am when I grabbed a beer to ease the stress. Then the team and I got to work. We compressed the setup due the lack of scaffolding, which in turn also helped us make better use of the snow. We then built two rails on location to fit this new setup, one of which was courtesy of one of the kid's parents, who was the awesomest person I've ever met. When I asked if I could pay him, he told me to give the money to the kids. I don't know how we did it, but we managed to get a good looking setup done. As for the music, I hooked up my buddy's iPod Shuffle, and it was game on...by the way, sorry for the Aqua song guys.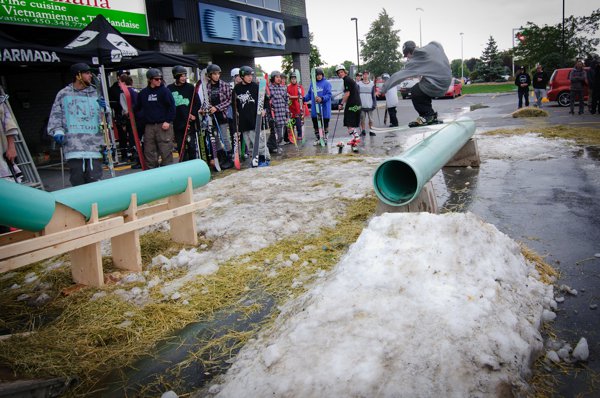 It wasn't perfect, but the kids didn't care, and there was no complaining at all. These kids ski in blizzards and the rain, and do urban before winter even starts. Howling winds and a lack of snow is the last thing that's gonna stop them. I love them. To make it an even happier ending, all of the money collected this year was handed over to Alpine Initiatives.
A big thanks to our sponsors, including Dery Toyota Scion, Orage, Armada, 32, DC, Simplex and Electric, and an even bigger thanks to everyone who showed up!
XS Rail Jam Recap