Words by Jeff Schmuck
The final event of X Games in Aspen, Colorado, Women's Ski Slopestyle Finals, wrapped up X with a bang yesterday afternoon at Buttermilk Mountain.
Seven of the world's best female slopestyle skiers took to the gargantuan course amidst the best weather we've experienced at X yet, and much like the ladies did in pipe, they put on one hell of a show.
Taking seventh was a X Games rookie and full blown wild child, Jamie Crane-Mauzy, who wowed the crowd on her last two runs by laying out massive double backflips on the bottom jump where she went bigger than some of the guys.
http://www.youtube.com/watch?v=EAiy7f_9qSs
Jamie Crane-Mauzy
In sixth was Whistler's Yuki Tsubota, who's silky smooth style on both the top rail section and the jumps had her sitting atop the leader board after her first run before she unfortunately crashed on her last.
http://www.youtube.com/watch?v=SvYtfuegArI
Yuki Tsubota
Fifth place went to the always consistent Keri Herman, who's corked out spins and unique grabs landed her just one point shy of the podium.
http://www.youtube.com/watch?v=yZzJ4YQ_PXI
Keri Herman
In fourth was birthday girl Ashley Battersby, who was skiing her big lovable heart out throughout the day before unfortunately crashing on a switch 9 and sliding into the fence on the last jump during her final run. Join us in wishing Ashley all the best, along with Rose Battersby, who was unable to compete after taking a gnarly fall during practice and reportedly breaking her back.
http://www.youtube.com/watch?v=QNdzGuBLiXk
Ashley Battersby
Nabbing the bronze was rising star Dara Howell, who continues to both excel and impressive each and every time she clicks into her skis on top of a slopestyle course, and will surely continue to be a major player as this and future seasons go on.
http://www.youtube.com/watch?v=MPIW4oMsoLI
Dara Howell
In second was Kaya Turski, who was sitting in last place until her final run (which was also the last run of the competition), during which she threw down a right flat spin 5 to switch right 7 to switch right 5 on the jumps.
http://www.youtube.com/watch?v=uYVjRi-eR5k
Kaya Turski
And taking home the gold in her first appearance at X Games was an emotional and very, very happy Tiril Sjastad Christiansen, who's impressive rail trickery up top and switch left 5 to left 5 to switch right 5 to right 9 on the jumps was more than enough to help her pick up the win.
http://www.youtube.com/watch?v=4ieQc2BTvh0
Tiril Sjastad Christiansen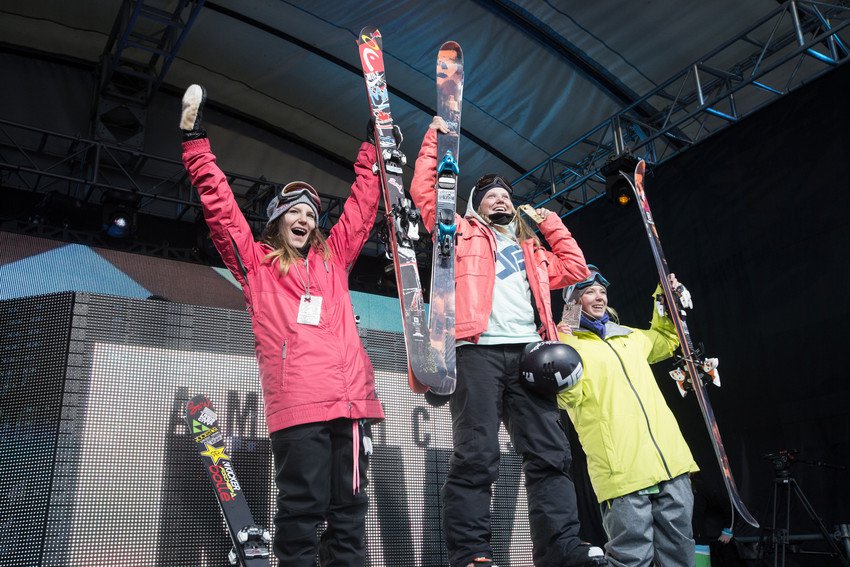 Kaya Turski (2nd), Tiril Sjastad Christiansen (1st), Dara Howell (3rd). Photo courtesy of ESPN
Results
1) Tiril Sjastad Christiansen - 92.33
2) Kaya Turski - 90.00
3) Dara Howell - 89.33
4) Ashley Battersby - 88.66
5) Keri Herman - 88.33
6) Yuki Tsubota - 87.66
7) Jamie Crane-Mauzy - 74.33
To see how this event affects the AFP World Rankings, go to afpworldtour.com.
http://www.newschoolers.com/watch/605258.0/Behind-The-Scenes-at-X-Games---Day-4
Behind The Scenes at X Games - Day 4
This concludes our coverage on X Games in beautiful Aspen, Colorado. Big thanks to ESPN and Aspen/Snowmass for putting on the best X Games yet and for all of their generous hospitality over the course of the week, and for more information on X Games, be sure to visit xgames.com.