Words & photos by John Vandervalk
Video by Craig Lamond (Frnt Row Productions)
Immediately following women's superpipe finals, the third day of Winter X Games culminated in a jaw-dropping and historic way with the over the top insanity that was the ski big air.
Before we get into all the craziness that went down tonight under the lights in front of a maniacal and massive crowd of 20,000+ people who were screaming their lungs out for the boys, let's talk about the jump.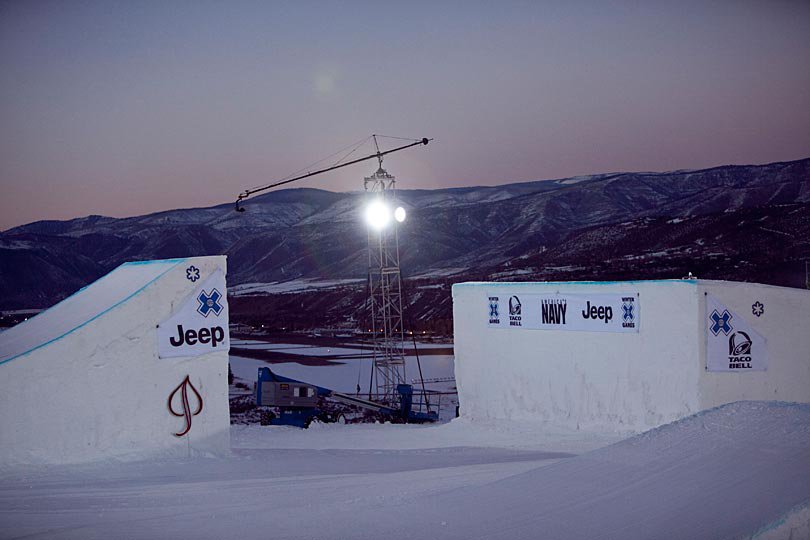 This year's set up was just to the skier's left of the perfectly-scuplted and extra long superpipe, where more mind blowing shenanigans are sure to go down over the next two nights. The jump had a great amount of kick with a bit of step down, complete with a large gap in the middle and a gorgeous and retina-burning full moon above.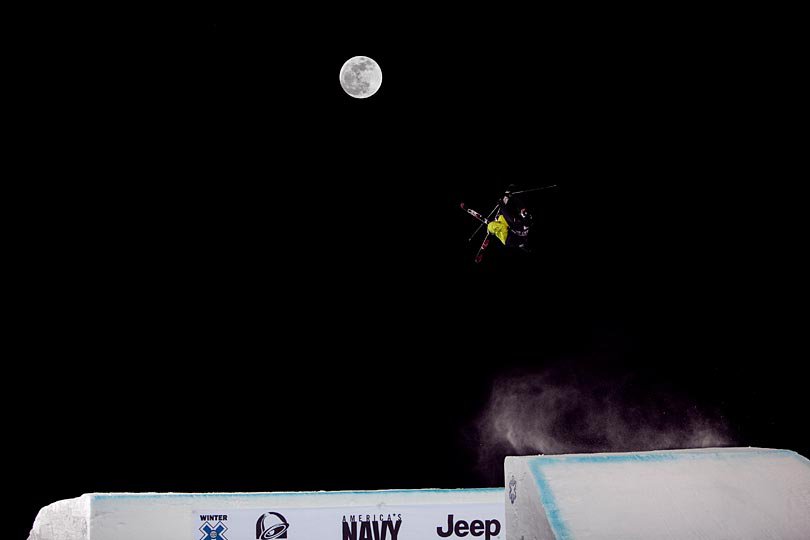 Andreas Håtveit
The night began with a round of eliminations that would narrow down the exceptionally talented field from 10 to five. Sammy Carlson, Jacob Wester, Andreas Håtveit, PK Hunder and Tom Wallisch all skied their hearts out, and as expected, threw more double cork 10 and 12's than one could keep track of, but it wasn't enough to best the warriors that fought their way to the 20-minute long jam session finals where the following fab five had to throw two different tricks that would count towards their overall score: Elias Ambuhl, TJ Schiller, Russ Henshaw, Jossi Wells and Bobby Brown.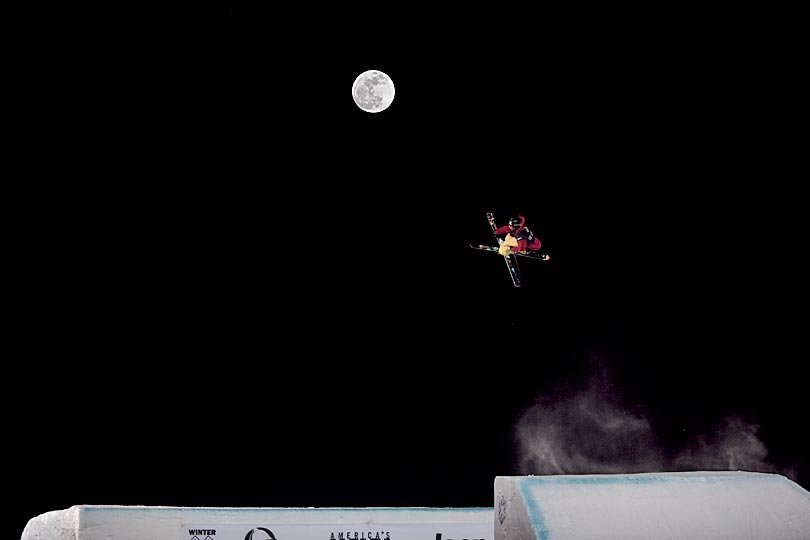 Sammy Carlson
Jacob Wester
Skiing's favorite Kiwi, Jossi Wells, eventually ended up in fifth with a variety of doubles including a head-turning switch double cork 1440 that would ultimately be a sign of things to come. Look for Wells to make even more noise in tomorrow's back to back slopestyle finals and superpipe eliminations.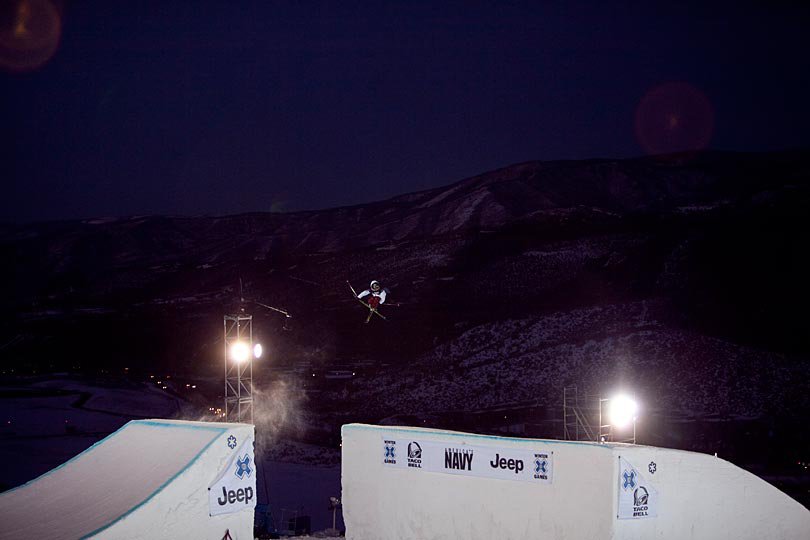 Jossi Wells
Russ Henshaw placed fourth, and was looking as solid as ever with his own dubs, until a ski came off during one of his take-off's and he badly bruised his calf during his one-ski landing. Join us in wishing our man Russ all the best in the hope that he's still good to go for tomorrow's slopestyle finals, although if I know Russ, he'll be there charging like a bull.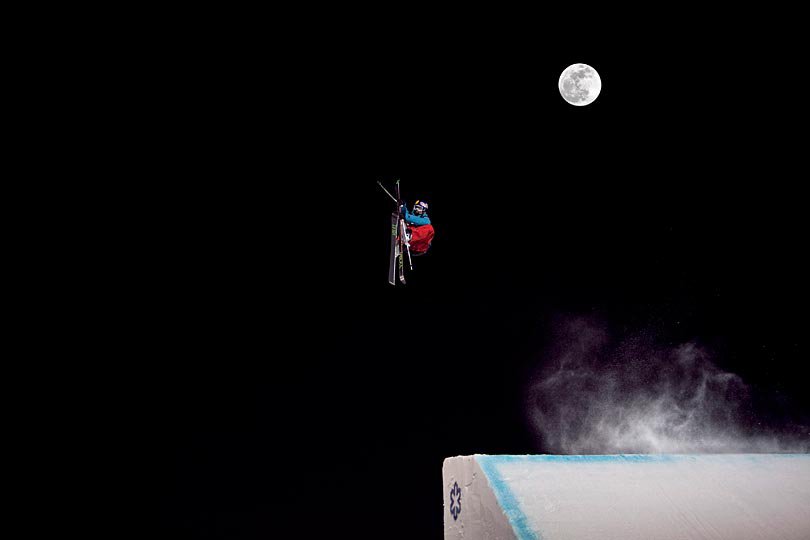 Russ Henshaw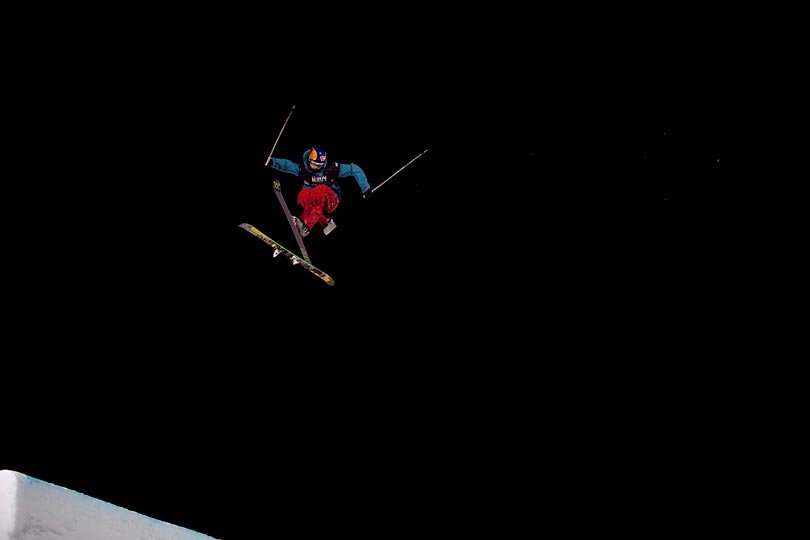 The Swiss sensation Elias Ambuhl took home his first ever X Games medal at his first ever X Games tonight by placing third, thanks to taking a page out of Jossi's book, with a switch double cork 1440, complete with a grab more tweaked out than Pee Wee Herman's Playhouse.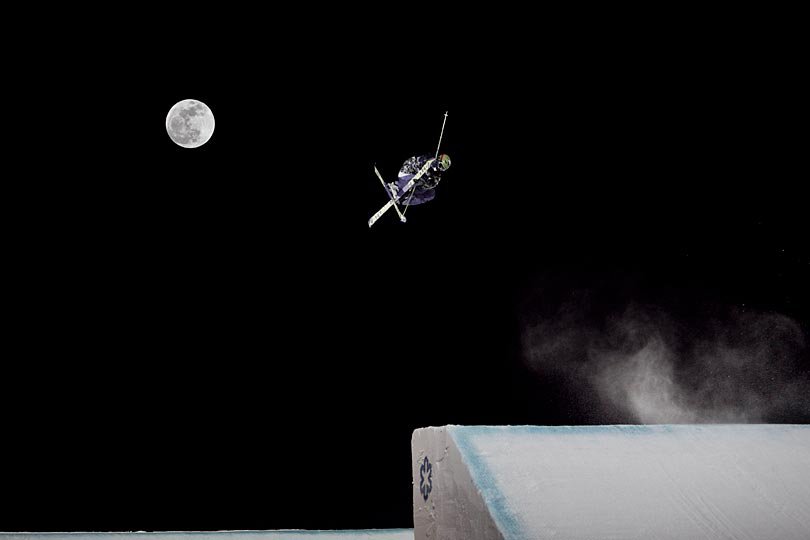 Elias Ambuhl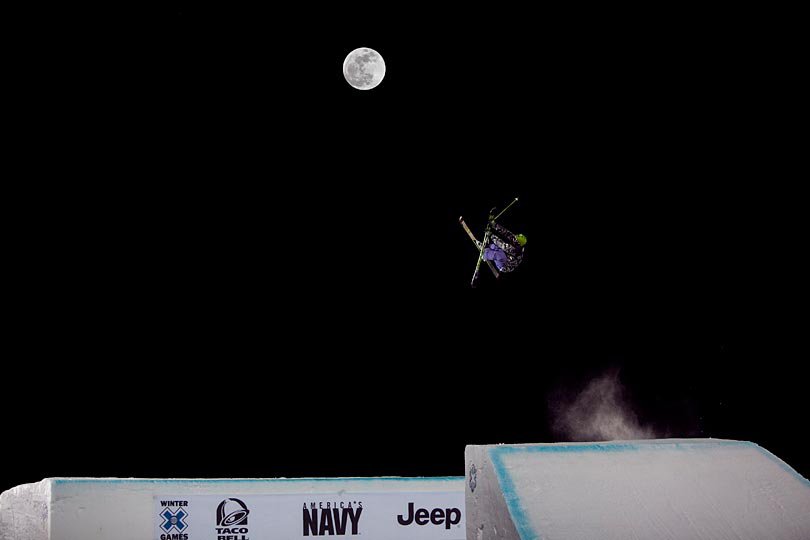 But the story of the night and quite possibly the entire X Games so far was the milestone showdown between TJ Schiller and Bobby Brown.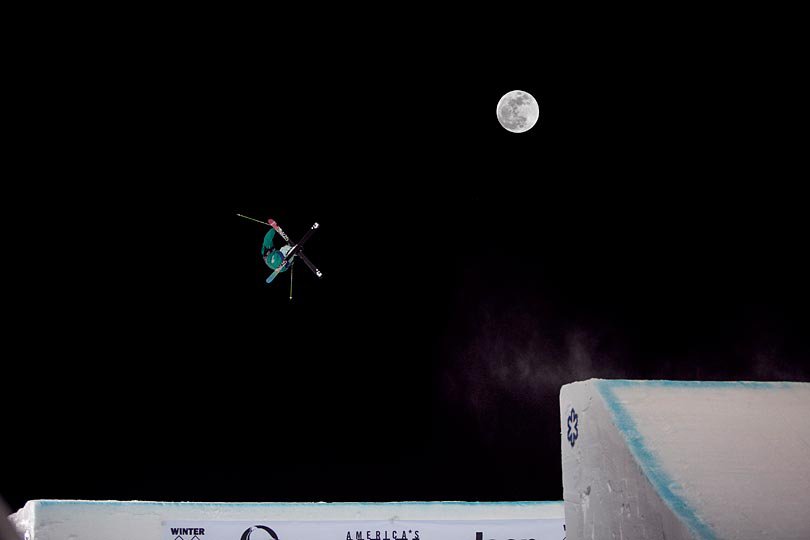 Bobby Brown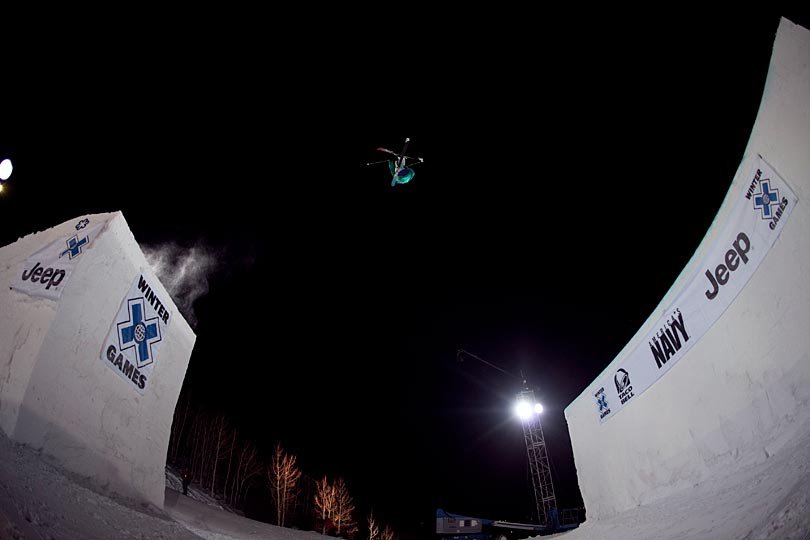 Bobby dropped in first and threw a never before seen trick...a switch double misty 1260, which earned him a perfect score of 50. At that point, the contest was Bobby's to win, but the Teen Heartthrob wasn't finished, and decided to step it up a notch with a switch doubly misty 1440, earning him two back-to-back perfect scores. A first at Winter X Games...or any ski competition for that matter.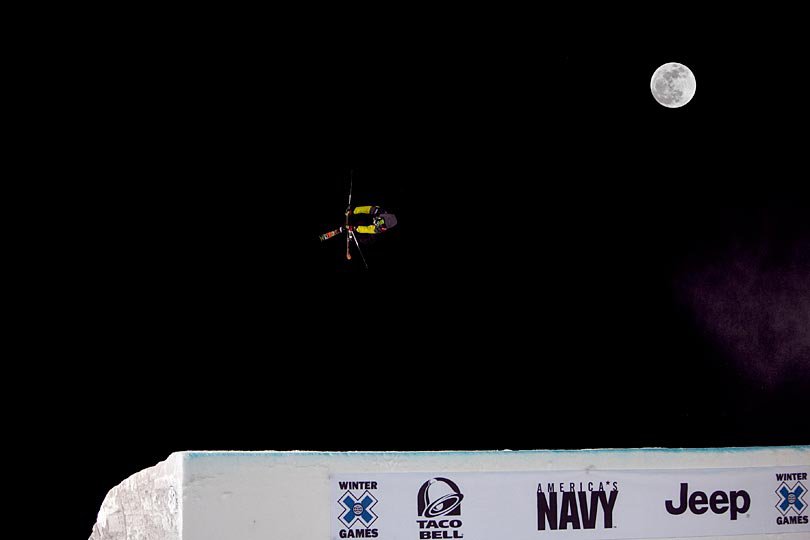 TJ Schiller
After seeing Bobby's first perfect score, TJ then went for absolute broke after failing to make it into tomorrow's slopestyle finals, and like Bobby blew 20,000 minds away with a double cork 1620 that was grabbed start to finish and with style. Yep, you read that right...a double cork 1620! This also never before seen or even attempted trick earned him a perfect score as well, and although after he wasn't able to repeat the feat (although he missed it by only five points), Bobby Brown was crowned the winner, melting 10,000 ski bunnies hearts in the process.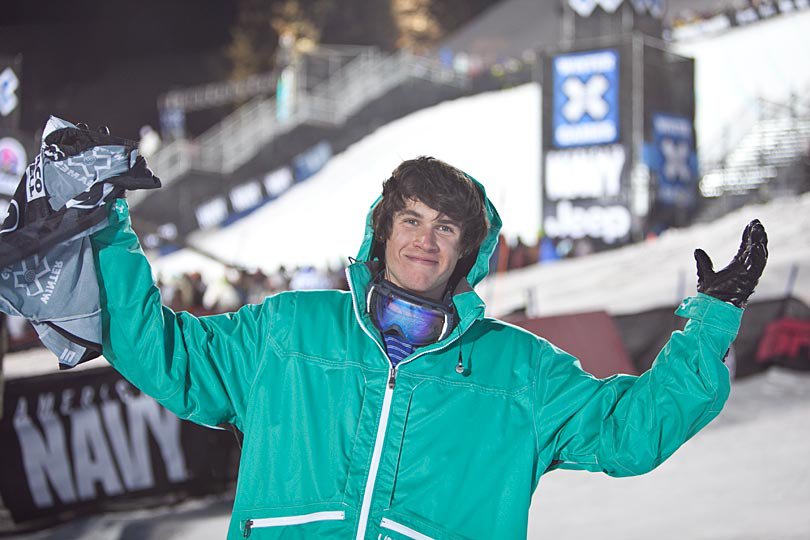 Bobby Brown
Results
1) Bobby Brown - 100
2) TJ Schiller - 95
3) Elias Ambuhl - 90
4) Russ Henshaw - 89
5) Jossi Wells - 89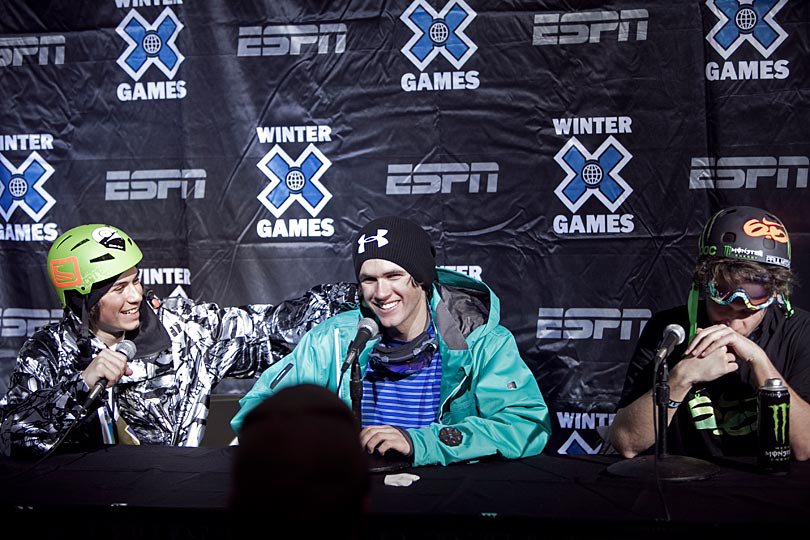 Elias Ambuhl (3rd), Bobby Brown (1st), TJ Schiller (2nd)
To say that Bobby, TJ and Elias set the bar for the remainder of the weekend would be an understatement of greater magnitude than what went transpired tonight in Aspen, which was unquestionably one of, if not the most impressive big air contest in the history of skiing. Ladies and gentlemen, get ready for more of the same in tomorrow's slopestyle finals and superpipe eliminations, followed by Sunday night's superpipe finals and pipe high air. It's going to be one hell of a ride.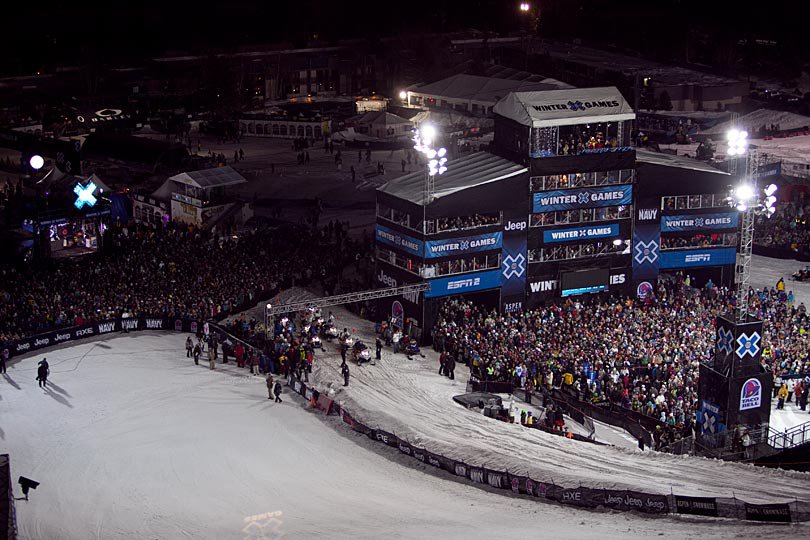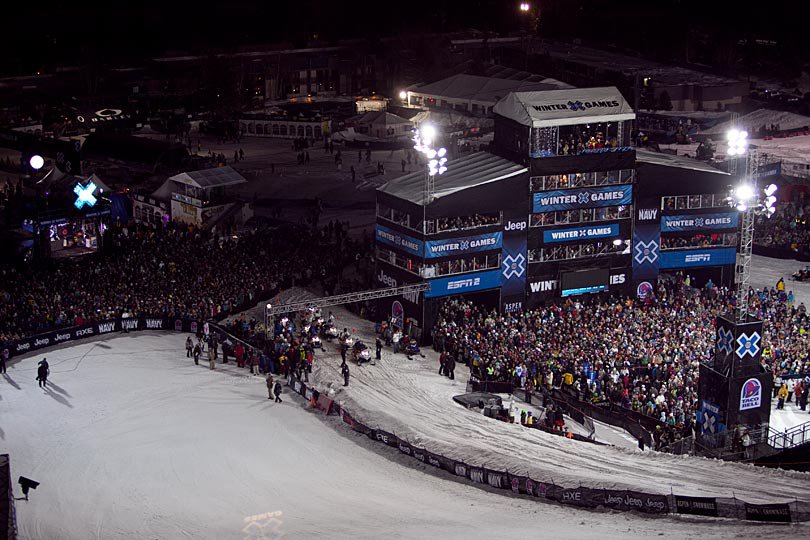 Video by Craig Lamond of Frnt Row Productions