Words by Mike Rogge
Photos by Nate Abbott (http://www.nateabbott.com)
& John Vandervalk (http://www.majestyphoto.com)
Last night's Big Air event will be talked, argued, and debated over for years over the merit of the infamous "text voting" yet one thing is certain; it was quite a show. Most of you were likely watching from the comfort of your homes. Here's what went down live in Aspen.
The event kicked off with one of the largest crowds ever seen at a skiing event. The sea of people screamed and cheered for PK Hunder, Simon Dumont, Jacob Wester, and last year's defending gold medalist, Jon Olsson, as they made their way to the top of the jump for a the made-for-television epic showdown.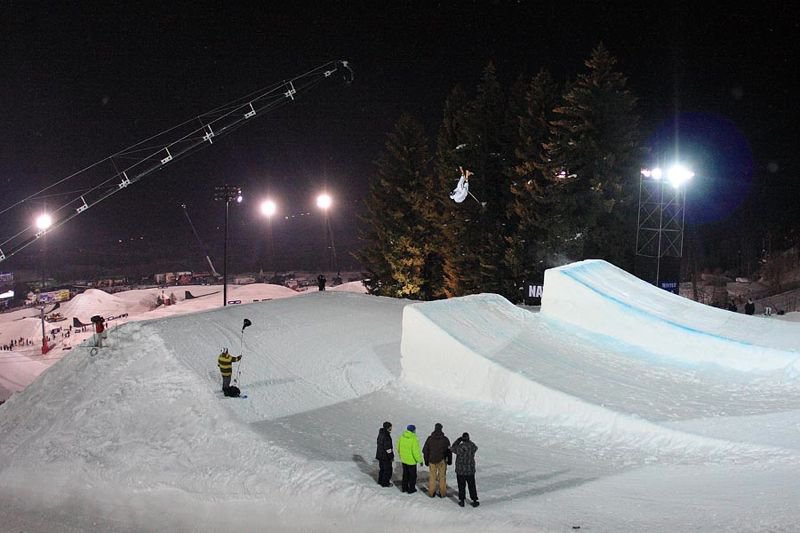 Jacob Wester. photo: John Vandervalk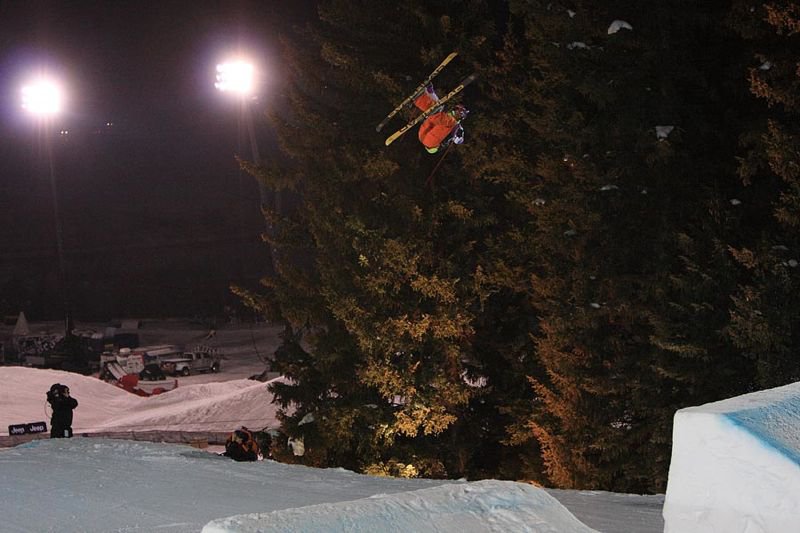 Jon Olsson. photo: John Vandervalk
The first round featured the two Swedish friends battling it out. Jacob began the night as the first skier to drop with a beautifully stomped kangaroo flip. As he clicked out of his bindings and made his way through the crowd, a plethora of female fans went absolutely ape shit as Jacob slapped hands and hugged members of the crowd. Jon, always a showman and big air threat, performed a clean, smooth, and well grabbed switch double flip. Jacob crashed on his second hit but made sure to stoke the crowd by flashing his bare chest which was covered with a shout out to the new American President. Once again, the girls in the crowd lost it upon seeing the Swede's chest but I mean, who wouldn't? Jon followed up with stomped his double, this time taking it from 9 to 10. Round 1 came to a close and the people decided Jon would be going into the final.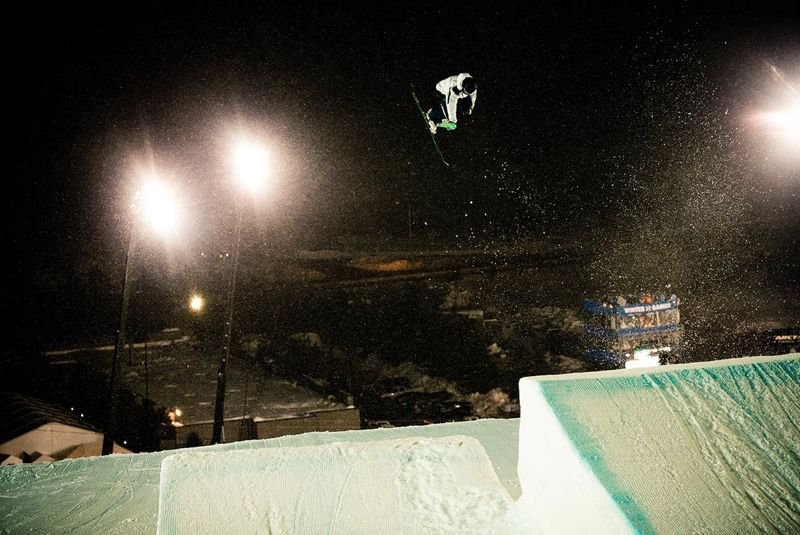 PK Hunder. photo: Nate Abbott
Next up was Simon vs PK. PK, as you all know, stomped two of the most insane double 12's seen by these eyes or any of the other millions of eyes watching. Simon tossed arguably the best superman double front flip of his career, fully extended the superman and pointing directly into the crowd and followed up with a misty 10 on his last hit. You guys voted and Simon was moving forward.
Simon Dumont. photo: John Vandervalk
Under normal circumstances, I would toss in a few clever adjectives here describing the "epic" battle between Simon and Jon but why waste time? You know what happened. Simon did another misty 10/double front and Jon once again stomped a switch dub 9 and never let go of his ski. The world voted and Simon was declared the winner by a landslide.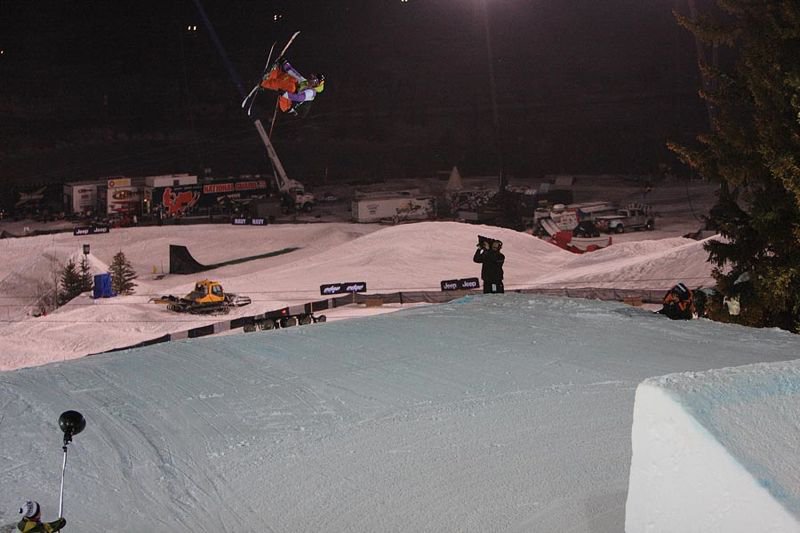 Jon Olsson. photo: John Vandervalk
However, that's not the story. After Simon won, Jon gave away his skis to a lucky member of the crowd, signed autographs, and took pictures with the adoring crowd once again proving he is first and foremost, a professional. Simon tossed virtually every piece of his gear from goggles, gloves, and poles into the adoring crowd. Everyone from kids to adults shoved, dove, and battled it out for a piece of skiing memorabilia. While the win is obviously highly debatable, one should not view the big air with such a narrow mind. The event was an incredible, made-for-television moment for skiing and showcased four of the best skiers in the world to the world. As Schmuck and I were following Simon to the media tent, we watched him get completely mobbed by the fans and witnessed two girls fully crying and screaming, "Oh my God, he touched me!" We have never seen anything like this before in our lives. Perhaps skiing is a little bigger than we think.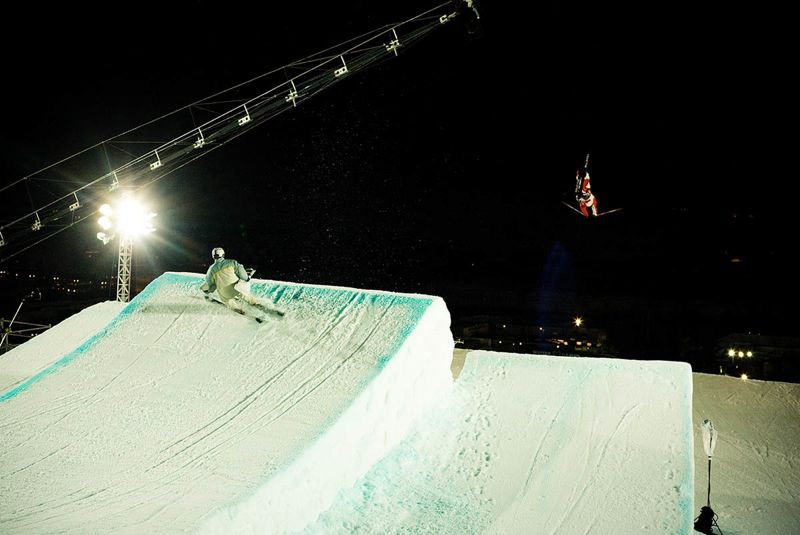 photo: Nate Abbott
Simon, a fierce competitor at heart, made no bones about it that PK's tricks were better and he deserved the win. And after he took home the gold, he graciously donated his entire winnings to his recently injured friend and filmer, Riley Poor. While the competition results are debatable, the ultimate positive outpouring of support for a fallen member of the ski community is not, and nights like tonight show the world just how tight the ski community really is.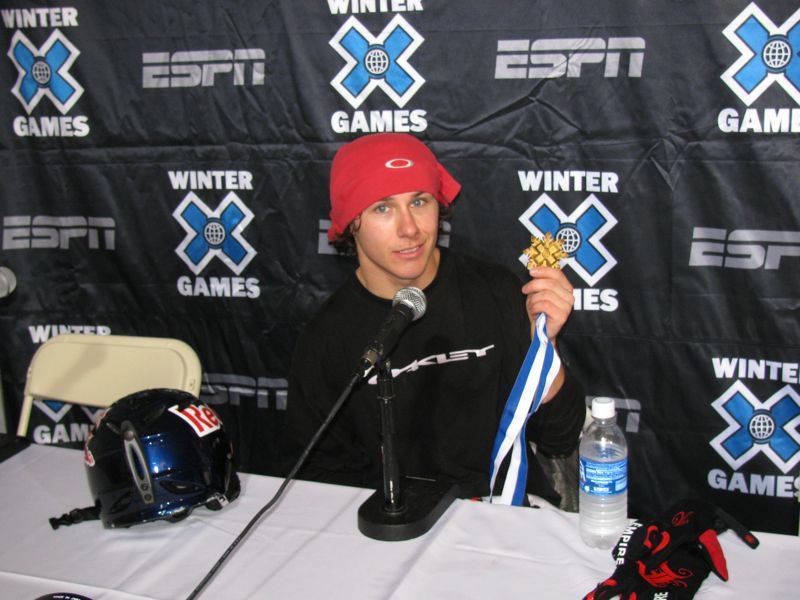 photo: Jeff Schmuck
Slopestyle coverage begins in a few hours and of course, stay tuned to NS for up to the minute coverage of Winter X 13, and check out our most banger episode of NSTV yet right here...