Run 1:
Devin Logan started off the scoring with an 81.33 with a run including a pretty decent AO flat 7. Cassie Sharpe immediately bumped her thanks to back to back flairs and 6 hits for an 86.0. Maddie Bowman had a pretty decent run but are grabs are optional in women's pipe for some reason? Ayana Onozuko went down hard on her run but she does actually make her skiing look pretty good, which is cool.
Run 2:
Two crashes started things off for run 2 but Cassie Sharpe bumped her score to 88.33 with a little more amplitude on her many hit/actual grabs run. She doesn't grab her 9 though. Janina Kuzma had a pretty clean run and her skiing looks solid, perhaps lacking on the tech front but it still looked worth more than 4th compared to what went before it. Marie Martinod, out of nowhere, laid down a solid run, some boot grabs, some ski grabs but still probably the best run. Everyone, the crowd, the commentators etc, thought she was going up to first but the judges put her fourth. Brita Sigourney got an 82.0 for some reason and 3rd.
Run 3:
Annalisa Drew landed her third run but made 0 attempt to grab 3 of her 5 hits. Devin Logan and Janina Kuzma couldn't better their scores. Cassie Sharpe reduced her run down to 5 hits and went bigger, it was a better run to my mind but she scored worse. Marie Martinod repeated the run from before, it didn't have a switch hit so I can see why the judges docked it, I still think based on 'impression' it was the wrong decision because she looks solid, skis well, and grabs (sometimes). But it is what it is and she did go briefly third. Brita put down an ok run, it was better than her last but her score stays the same, apparently not good enough to top Martinod for 3rd. Maddie Bowman landed her stock run but with a switch 9 at the bottom. She still only touched her ski with her hand on one hit, bumped her score but not enough for first. Last run of the day Ayana put it down on her last attempt and a switch down the pipe 5 + some grabs of sorts were enough for 3rd.
In all, the skiing was frankly average at best and the judging was confusing. But it must be incredibly hard to weigh up the various errors for the judges. Nobody grabbed well, plenty didn't even try to grab at all, some had no switch hit, some had no amplitude and some had no technicality. Nobody landed a 'complete' run that ticked all the boxes so it's hard to weigh up the various missing aspects according to the judging criteria. At the end of the day Cassie Sharpe was a deserved winner with unquestionably the best consistency and probably also the best skiing. But it seems like Women's Pipe really needs a Sildaru or a skiing Chloe Kim to light a fire under the sport because, at a time when Women's Slopestyle is progressing year on year and has real entertainment value, that wasn't a great spectacle.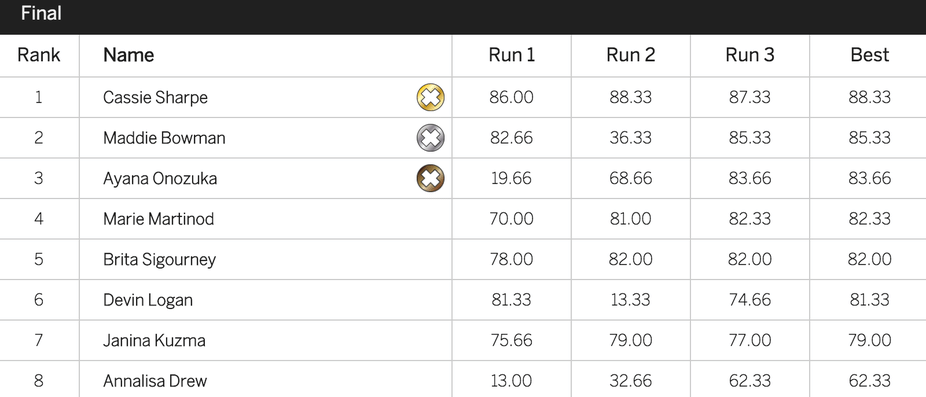 https://www.newschoolers.com/videos/watch/816263/Chloe-Kim-wins-Women--39-s-Snowboard-SuperPipe-gold-X-Games-Oslo-2016
Chloe Kim Wins Snowboard Halfpipe...
http://espn.go.com/video/clip?id=espn:14864219
Cassie Sharpe's Winning Ski Run