words by Jeff Schmuck
photos by Felix Rioux, Jeff Schmuck & cko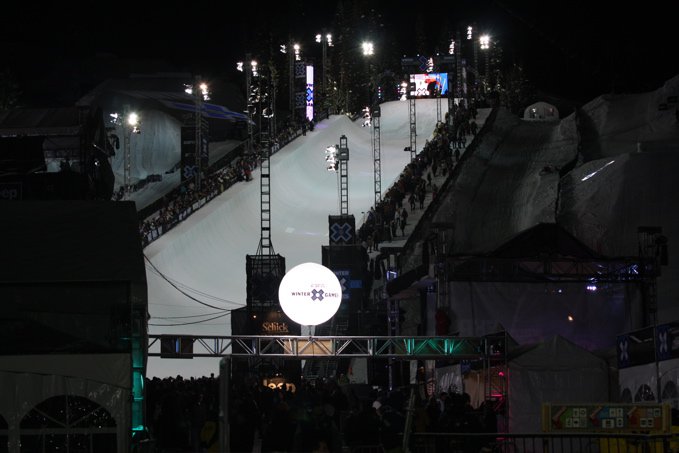 X-Games Superpipe is all said and done, and it was one for the books. The night began with some tough conditions, as the snow began to fly just as practice was finishing. By the time the first run was underway, it was damn near blizzard-like conditions to the point where some competitors joked about busting out their fat skis to shred the pipe. The snow had a noticeable effect on the athletes' first runs as despite the crew of slippers doing their thing, the pipe was incredibly slow, making it difficult for the boys to score their desired amplitude.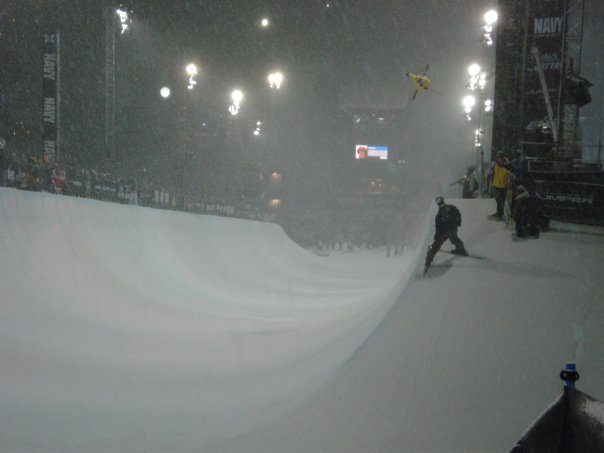 Dumont
All through practice, much like in qualifying, the man to beat was Tanner Hall, who consistently threw down his flawless run of rightside 9, to left 12, to huge flat 5, to left 9, to flat 3 to a switch 7 and capped off with an alley-oop 9 like it was a walk in the park.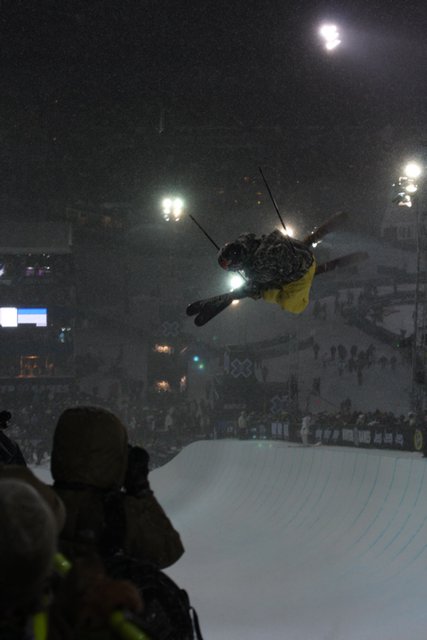 Tanner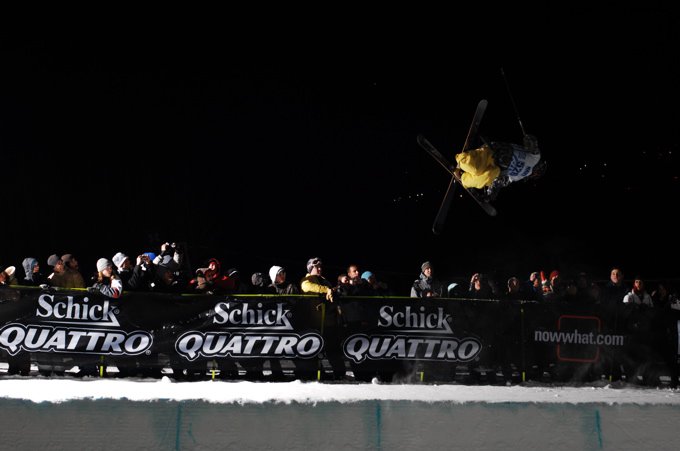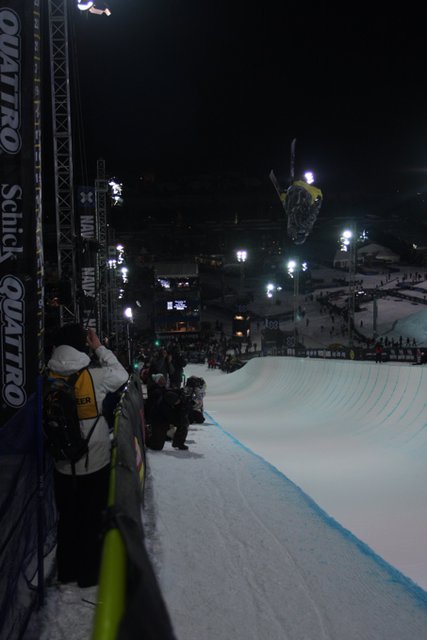 Other notable head-turners were Andreas Hatveit, Jossi Wells and Colby West, who were each on their game in a big way leading up to the show.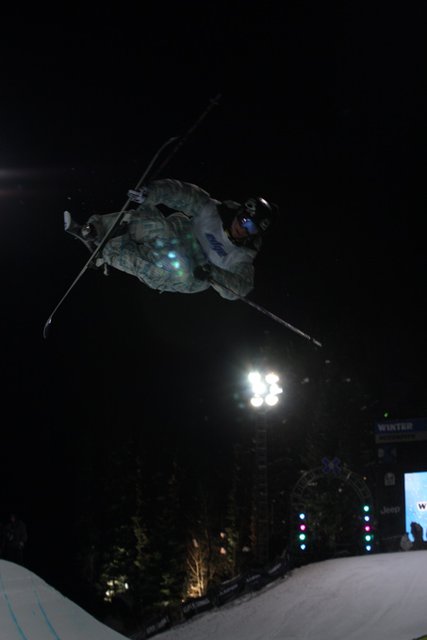 Jossi Wells
And of course, hot on Tanner's heels was the infamous Simon Dumont, who after watching Tanner slay the qualifiers last night definitely brought his A-game and mixed things up by turning his trademark huge 5 at the top into a picture perfect 9 over 20 feet off the deck, followed by huge airs and spins that were tighter than an emo kid's jeans.
Dumont
Once practice was done and the event began it became anyone's game, as the first run was a totally different scene as the snow made things difficult for nearly everyone involved. Shining through the conditions with incredible perseverance was Mike Riddle, Andreas and Tanner, who each put down incredible runs to help lead the pack. As the snow pounded down harder and harder, crowd favorites Dumont and Peter Olenick struggled, falling on their runs and making things a lot more interesting in the process.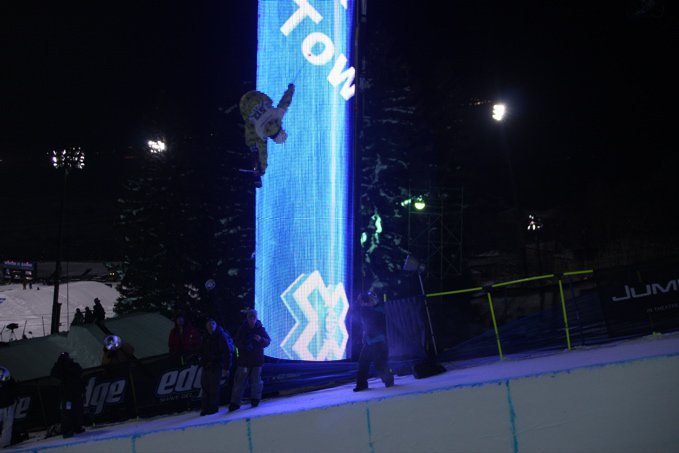 Mike Riddle
During the second run Andreas continued to step up his game while Colby threw down a solid run to climb the ladder, while Canada's own Mike Riddle and Matt Hayward struggled through their respective runs, along with Pete who was landing backseat on his balls to the walls whiskey flip.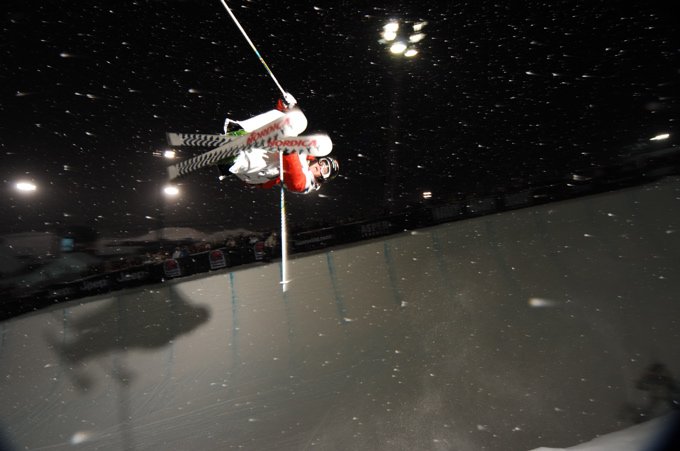 Peter Olenick
As the snow began to slow down Simon took advantage and proceeded to do what he does best, stepping things up with an incredible run complete with a plethora of holy shit airs and massive spins peppered with grabs. Simon was going bigger and better than he ever has, but in the end, it still wasn't enough. As he received his score of 87.66, still a few notches below Tanner, the Simon-friendly crowd began to boo in disapproval. Tanner dropped in next and continued to dominate the event with another flawless run, earning him an even higher score than the last.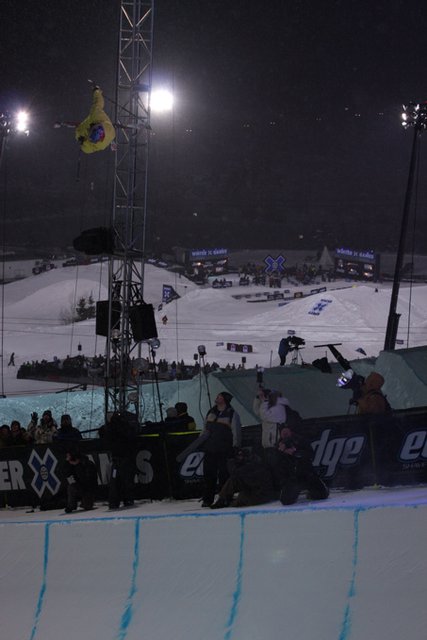 Dumont
The snow then stopped as the third run began, and the scene was set for an incredible last run as the massive crowd began to roar in approval. Peter Olenick stepped up to the plate and stomped the piss out of his whiskey flip (complete with a tail grab) but bobbled later in his run, much to the disappointment of his numerous hometown fans.
Peter Olenick
Colby West dropped in shortly thereafter and put together an amazing run, planting him firmly behind Simon and Tanner in the third place spot. Hayward and Riddle both fell on their runs, and Jossi threw down hard before struggling at the end of his run as well. Andreas then took center stage in attempt to get back on the podium but couldn't better his last run, securing Colby a bronze medal as Simon and Tanner were the only two left to go.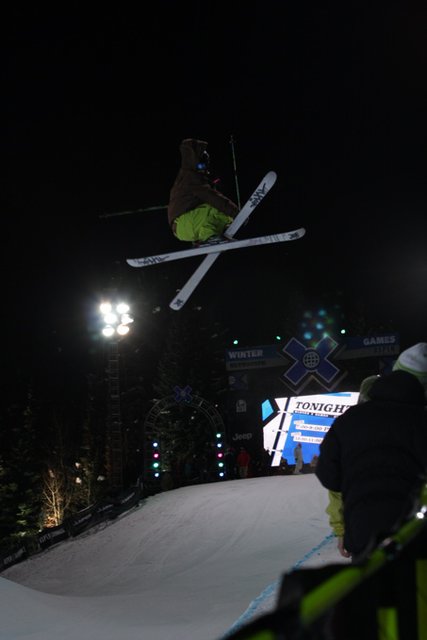 Colby West
With the crowd screaming in anticipation and ESPN drooling over the continued rivalry and made-for-TV drama, Simon dropped into the pipe for his last chance to take Tanner down.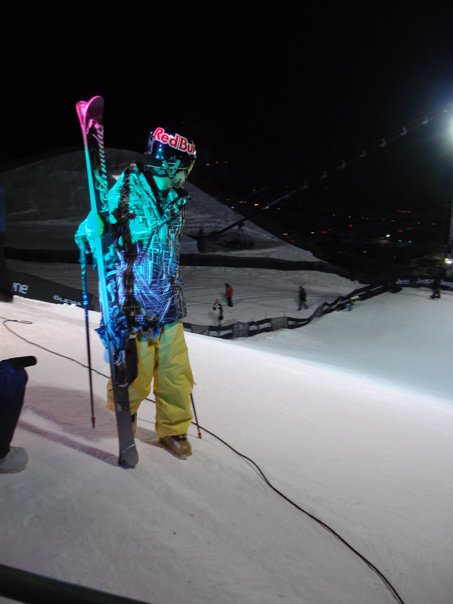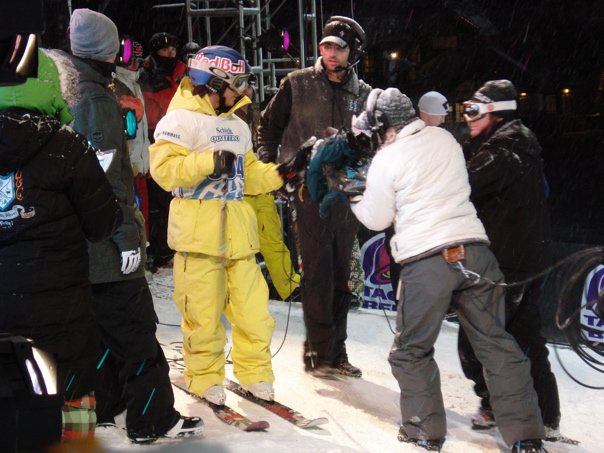 Going even bigger than his second run, The Dumont brought the thunder all the way to the bottom with an absolutely huge and perfect left 9 at the top, to another massive alley-oop 9, to a 1260, to an alley-oop 7 capped off with a switch 7.
Dumont
But despite going bigger than anyone else in the history of halfpipe skiing, his five hits vs Tanner's seven and lack of unnatural spins failed to knock T-Hall off the top spot, much to the surprising dismay of the crowd. In one of the most disgusting displays of disrespect I've seen from a competition crowd, a large number of people proceeded to boo Tanner as he took his victory lap. But despite the reaction and his visible disappointment towards it, tonight was undoubtedly Tanner's night, taking home his third consecutive Superpipe gold medal and surpassing Shaun White and Shaun Palmer to become the second winningest athlete in X-Games history.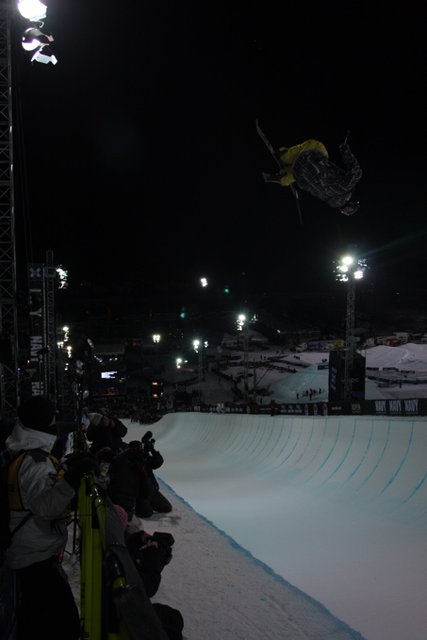 Tanner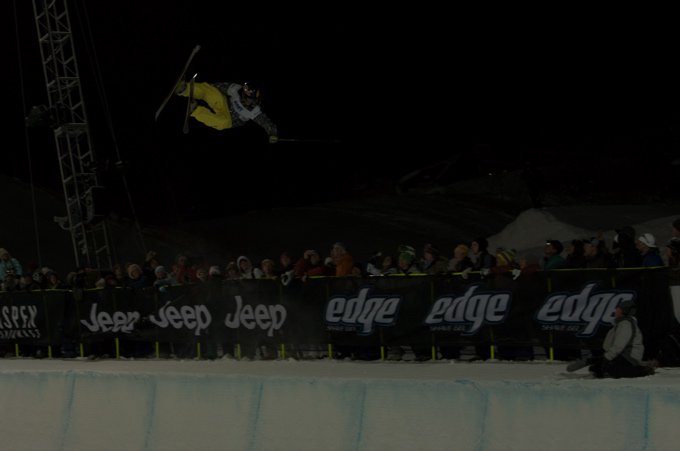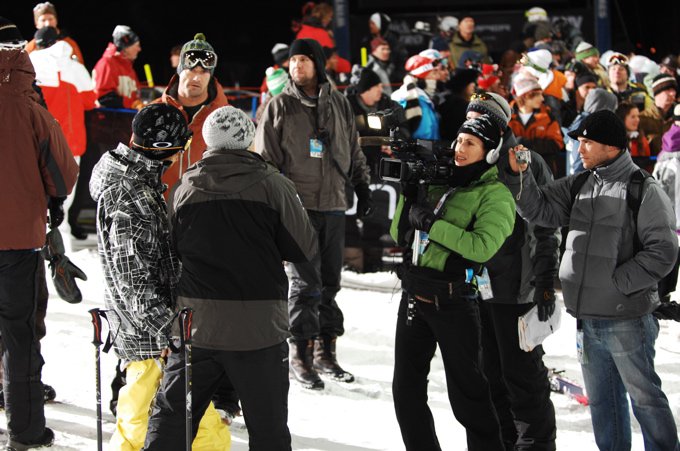 Results
1 Tanner Hall - 92.33
2 Simon Dumont - 91.00
3 Colby West - 85.00
4 Andreas Hatveit - 81.66
5 Jossi Wells - 75.00
6 Mike Riddle - 70.00
7 Peter Olenick - 65.00
8 Sean Field - 64.00
9 Matt Hayward - 50.33
Tanner Hall (gold)
 
Simon Dumont (silver)
 
Colby West (bronze)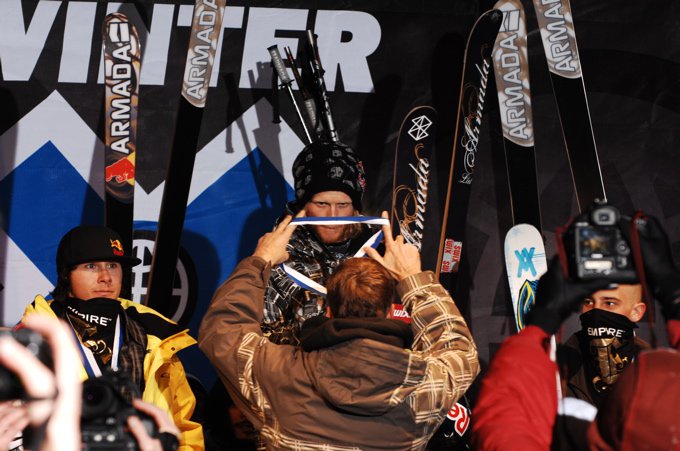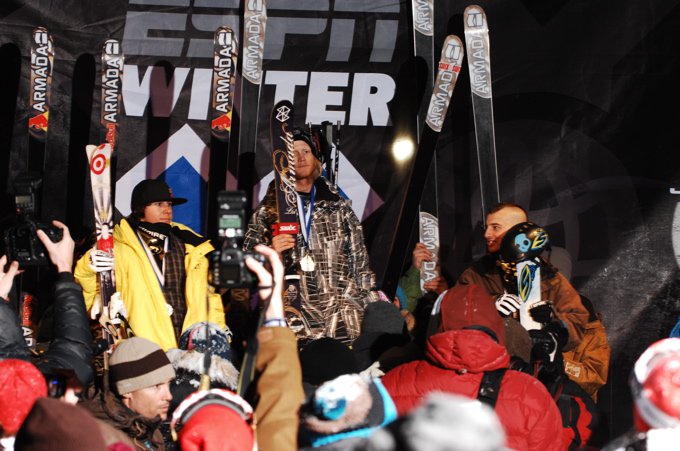 It was an amazing night of amazing skiing, and with Big Air tomorrow night and Slopestyle on Sunday, the Games have only just begun. Stay tuned...