The X Games format is slightly different from most other comps with last year's top 3 guys (Oystein, McRae and ABM) pre-qualified for the finals leaving only 5 spots for the remaining 16 riders. It's a bit of a crazy format with how the slopestyle pecking order changes from year to year but there we go.
Run 1 Highlights*:
Quite a few of the guys had some difficulties with speed in the rail sections courtesy of some snow last night.
*Note that these are highlights of runs rather than complete runs.
- Andri Ragettli had a super simple rail run and got punished for it: (3 to roof, front swap pretz 2, switch 2 pretz 2, switch 2 back 2) but killed it on the jumps with his trademark right dub 12, sw dub misty 12, triple 14 combo for an 86.0 to set the standard.
- Oscar Wester: 3 to the roof, 2 pretz 2 on the rail down, backed up by his trademark dub 14 blunt on the 'money booter' to be the first guy in the 90s.
- Jesper: switch 180 5050 180 out on the rainbow, switch blender dub 10, and right dub 12 at bottom.
- Fabian Boesch: Front flip up on to the roof up top and dub 16 blunt.
- Woodsy: Switch 2 backslide continuing 2 on the rainbow rail, ending with the switch dub 10 octo.
- Gus: left 2on continuing 4, right 2 continuing 2, Switch left 2- continuing 3 swap on the flat down, sw right 2 continuing 2, left dub 10, right dub 12 from the 'shark fin', switch left dub 10 japan.
- Nick Goepper: Switch 2 on misty 4 out on the rainbow, left dub 12, switch dub 12, right dub 12 on the jumps.
- Henrik Harlaut: switch 1 on to roof - 2 pretz 2 down, right 4 continuing 4 on the flat down, switch right dub 10, switch left dub 9 with a dub 12 blunt down the bottom with his blunt so locked: 91.33.
Run 2 Highlights:
- Antoine Adelisse: Insane triple 14 save (bringing the last cork 3 round virtually on the ground).
- Andri Ragettli: Same rails but a triple 1620 down the bottom: 89.33 and provisional bubble spot.
- Alex Hall: Frontslide back 2 to 270 on 270 tap out on the double rail line, dub 12 safety to blunt to switch dub 12 at the bottom. Probably the most creative run of the day but unfortunately came off early on the long down rail through the channel: 84.0.
- Evan McEachran: Bs 630, right dub 12, switch left dub 12, left dub 12 nose/tail: 86.0.
- Jesper: 3 up to roof - rf kfed, b3 swap continuing 4 on down flat, switch 2 switch rainbow, switch blender dub 12, dub flat 7, right dub cork 12. 78.0.
- Boesch: Switch right dub misty 12, dub 16 capped blunt: 87.66.
- Woodsy: Switch 1(tap) up on to the roof - right 2 cont. 2 off, Switch 4 continuing 2, mirrored switch 2 backslide continuing 2, left dub 10, right dub 12 blunt, switch right triple 14: 93.00.
- Gus: Victory lap with backpack on "I don't really care where I qualify".
- Goepper: B2B switch 2 pretz 4s, right dub 12 opp mute.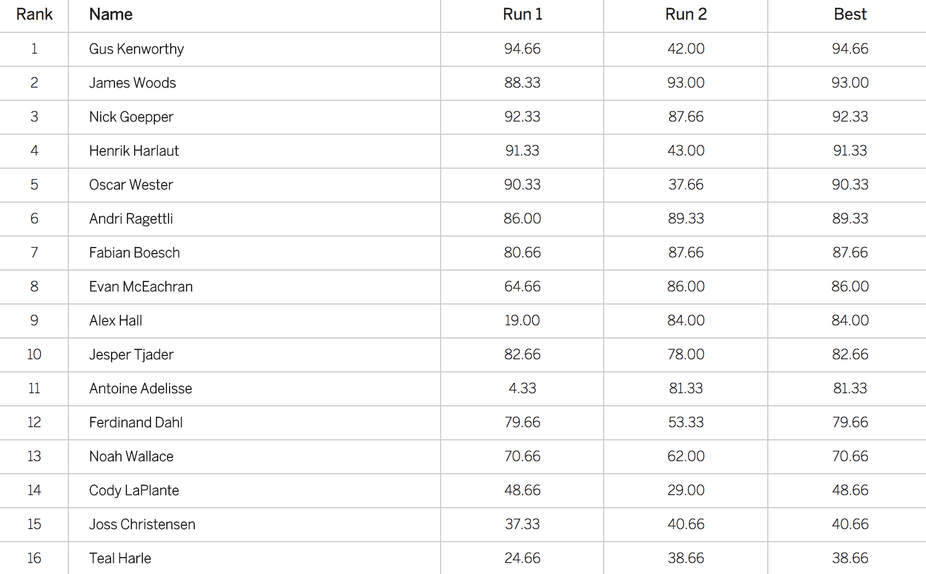 If you have a cable provider, you can watch a full replay here. Sunday's finals are going to be insane with all five qualifiers scoring over 90s, here's some mugshots of who's in: