Words, Photos, and Video by: Darryl Hunt
This winter there was a void in the big mountain competition scene here in British Columbia for the adult crowd. With Revelstoke not having a qualifier this year combined with Fernie and Red not even having an event at all, there weren't many options for those of us not good enough to be on the FWT (which is pretty much everybody but a select few). Luckily, Kicking Horse held the Wrangle the Chute competition again this year for the 5th year in a row.
Originally consisting of a big mountain line into a jump and immediately followed by riding a bucking bronco (goes by the name of E.J. Hector), things have changed slightly since RCR took over Kicking Horse last year (the jump portion is out, you no longer get a score for riding Hector, and no inverts are allowed) but Wrangle the Chute still remains one of the best times one can have in a competition setting. In 2011 I ended up in Golden during the weekend of Wrangle and it being an invite only competition and me not trying to get in until the day before the event, I didn't get to compete but did my best at drinking beers and spectating this event. After a weekend of watching everyone having so much fun I knew that I had to come back and compete one day. After talking with some friends who were competing in this years event I decided I would try to get a spot and got in a few days before the event.
After some quick last minute planning, my friend Jeremie drove up from Nelson to my place in Revelstoke Thursday night and early Friday morning we were off to Golden for a weekend of skiing, fun, and sunshine.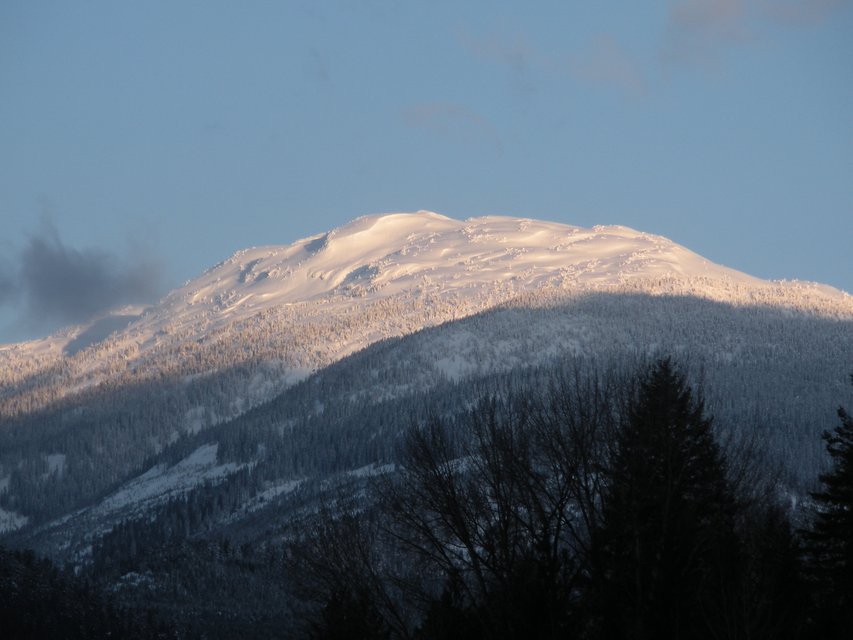 Early morning sun hitting the Monashee Mountians while gassing up in Revelstoke Friday morning before heading over to Golden.
Arriving in Golden at a casual 10:30am Jeremie and I went up to the hill to register for the competition and get our lift tickets for the weekend and meet up with my friend Luke and new friend Trevor, who was kind enough to let Jeremie and I to crash at his place for the weekend, to head out for a day of skiing. After a quick inspection of the course we headed out for a day of some of the rowdiest slackcountry I have had the pleasure to ski. Kicking Horse is known for it's chutes: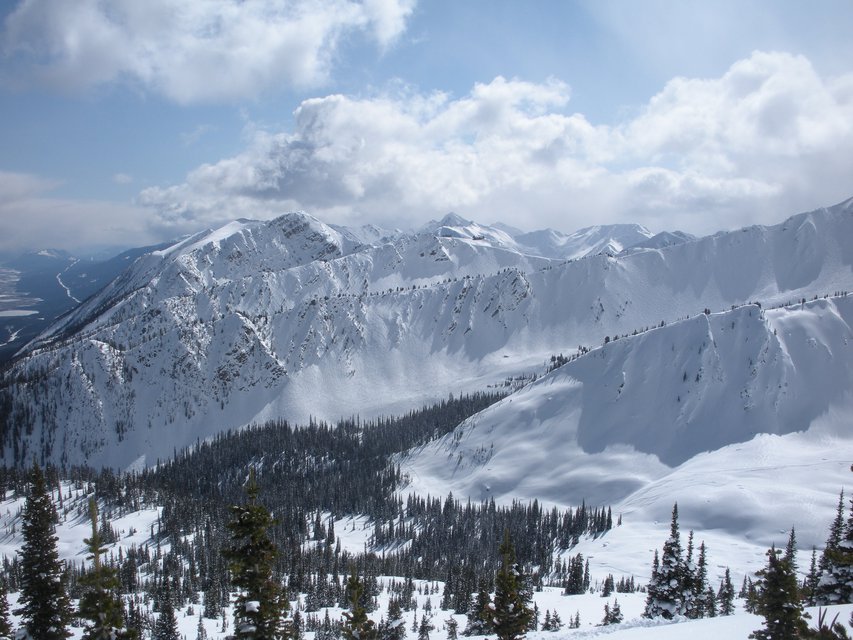 This is the inbounds terrain at Kicking Horse. If you like chutes and cliffs of all sizes with clean landings, you might like it here.
While there are more chutes inbounds than you can shake a stick at, the slackcountry is whole different ballgame. There is ridge after ridge of north facing chutes that go from straight forward and 'easy' to complicated and downright scary.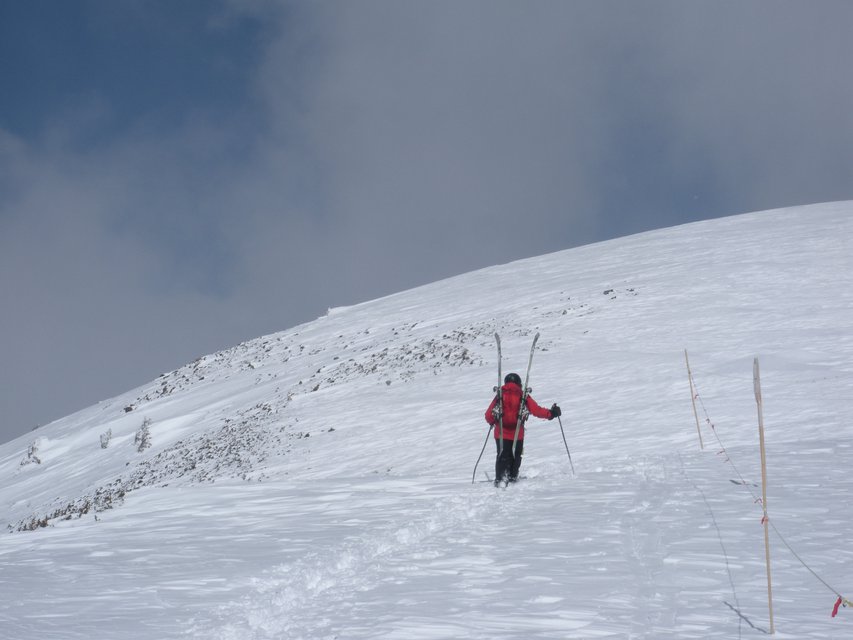 Luke bootpacking up to the first ridge of the day known as 'Ozone'.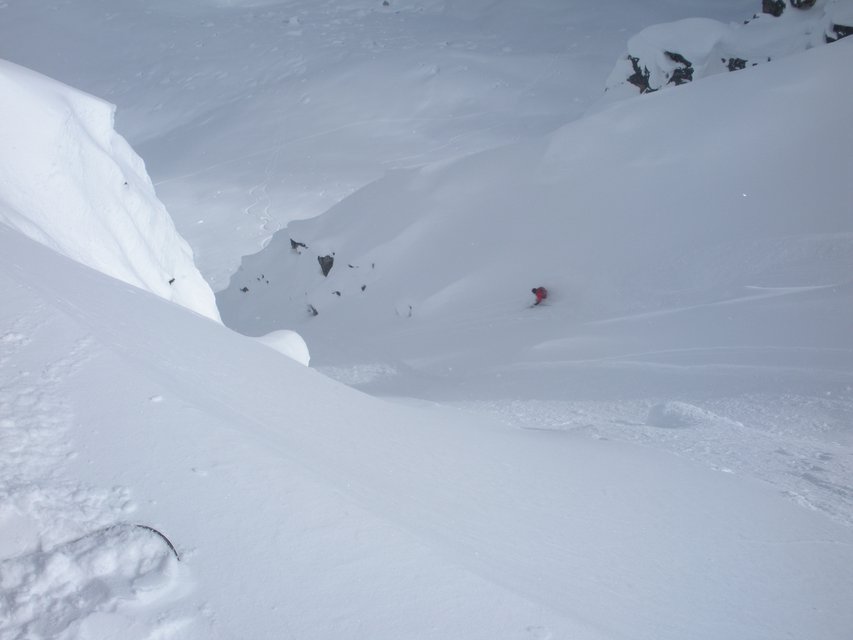 Luke dropping into one of the chutes off Ozone.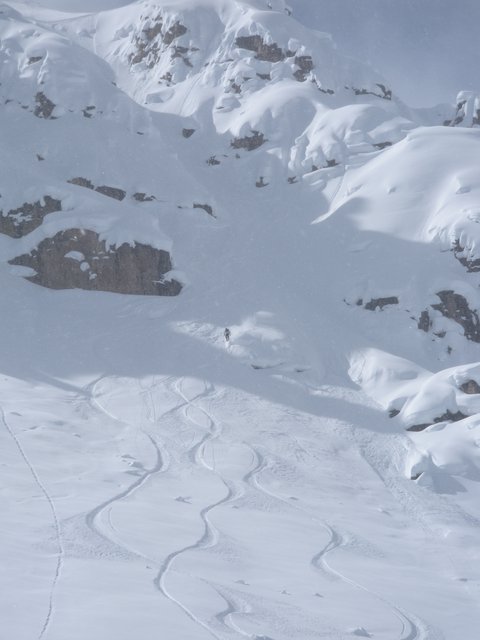 Trevor getting a little air time coming out the bottom of Ozone.
Looking back at our lines down Ozone. The red line is the line I took on Friday while out touring, I skied the green line after my run in the competition on Saturday.
Next ridge while heading north from Ozone is Rudi's, and after a quick skin to the top we found ourselves standing on top of a narrow, but fun looking chute.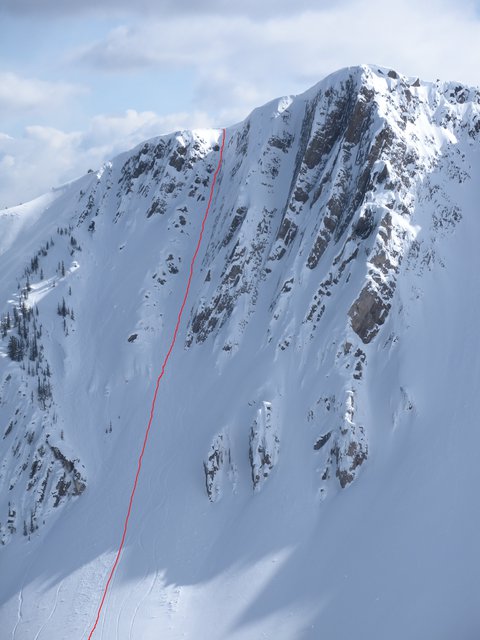 Said chute.
http://www.newschoolers.com/watch/624003.0/Rudi-s-run-wmv
I had intended on skiing through the choke and setting up to take pictures as the others came down, but the choke was a bit narrower than I had anticipated so I decided to change my game plan and went a good old fashioned straight line.
Luke coming down the chute on Rudi's.
Once that was all said and done we kept on going to our final ridge of the circuit: Molars. Molars doesn't get skied as much as Ozone and Rudi's so we were a little apprehensive of stability and chose a more manageable line.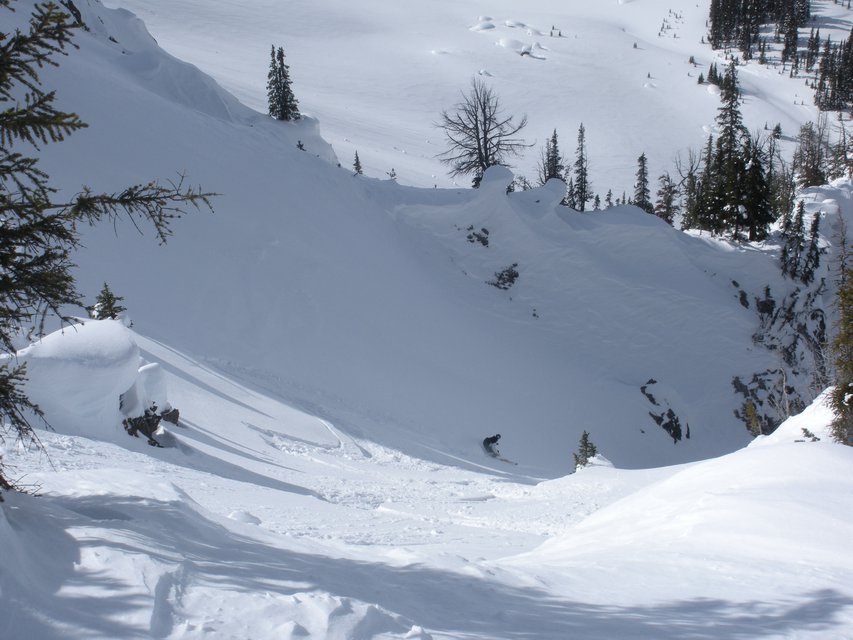 Trevor was the first to drop and after a few ski cuts he felt good and dropped into his line.
I was the last to drop into my line and sure enough, while skirting over to a ridge line the whole start zone to my right popped sending a small, yet fast avalanche down the face. While it was mostly just the top storm snow that went and probably wasn't enough to fully bury a person, it was more than enough to take you off your feet and go for a ride.
As I said earlier though, we had a feeling that might happen and skied our lines with caution. In the end we all had a fun, safe line to finish the day and headed down to the traverse back to the ski hill and the awaiting cold beers.
Wrangle the Chute
Now, I know I could have done a better job at covering the actual event that is Wrangle the Chute, but due to the fact that I was competing as well as trying to cover the event I didn't get very much in terms of pictures and videos of the actual comp, so I apologize for that. You'll just have to trust me that people threw down hard, some coming out the bottom on their feet and some, well, not so much. Highlights include "Crazy" George being his energetic self putting a smile on everyone's face, Jesse Montandon doing his run on Sunday with a full climbing get up and snowblades. He wanted to repel into his line but the ski hill wouldn't let him. Saucerboy would have been proud none the less, and lastly unknown streaker poaching the course for all of our enjoyment.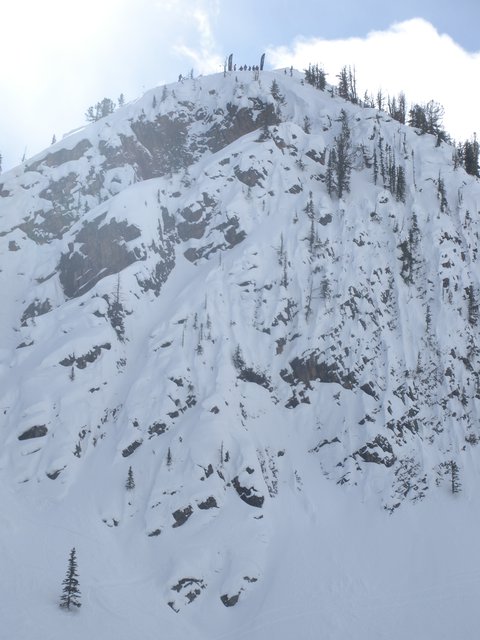 A group of fellow competitors at the top of the course before the first rider dropped in on Saturday. Kicking Horse closed the venue off for a week or so before the event insuring the best conditions possible for us to compete on, and because of this, some of the bigger lines of the event went down within the first few competitors to drop on Saturday.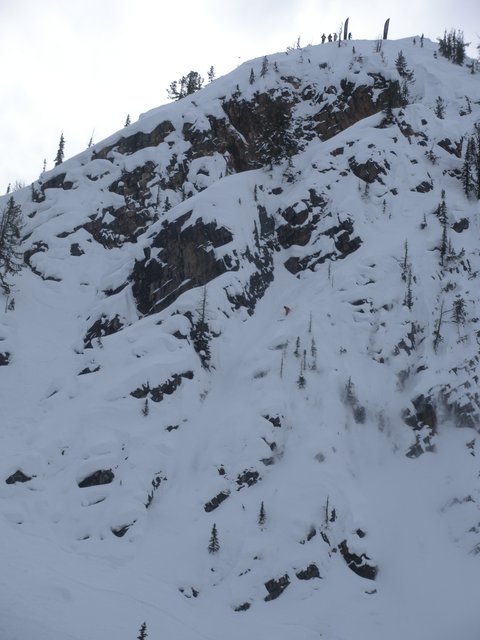 Leif Coughlin getting exposed.
http://www.newschoolers.com/watch/623347.0/DSCN1692-AVI
Gord Kerslake putting down a nice line.
http://www.newschoolers.com/watch/623348.0/DSCN1693-AVI
Carter MacMillan sending it huge.
http://www.newschoolers.com/watch/623350.0/DSCN1694-AVI
Foster kennedy going for it off the top ridge pillows.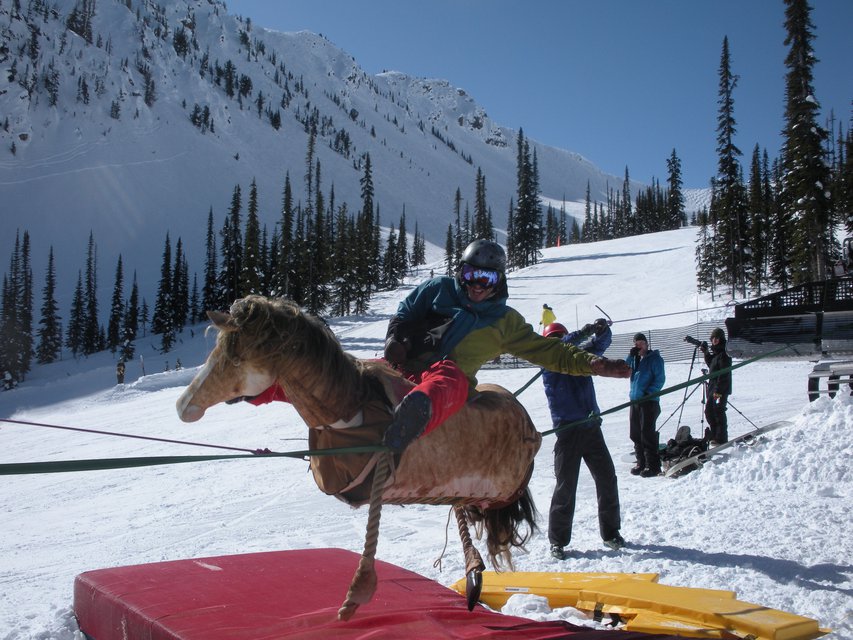 Jeremie riding Hector moments before doing a backflip dismount.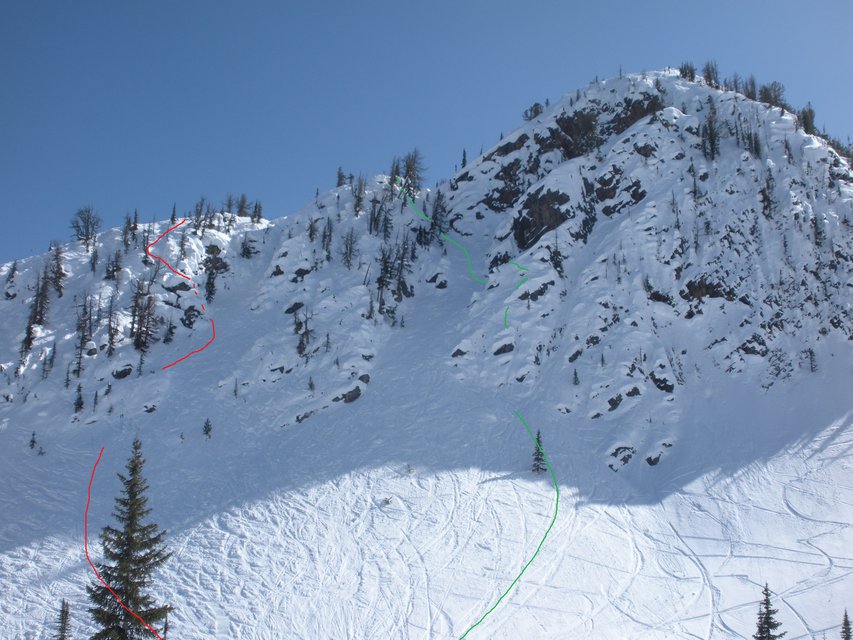 A picture of the competition venue as a whole with my lines highlighted. Red = Day 1 Green = Day 2. After landing my first run (complete with spread eagle nut grab off the bottom air) I was sitting in the top third of the field, and knowing that I didn't want to go over to the exposed lookers right side of the course I tried out a double of sorts that resulted in me landing flat and taking my chin to my knee, finishing 11th overall (out of 31).
http://www.newschoolers.com/watch/623524.0/Competition-Day-1-MP4
Day 1 run
http://www.newschoolers.com/watch/624000.0/Comp-run-2-wmv
Day 2 run
While it would have been nice to land my second run and place higher, I had a great weekend and since I haven't done a big mountain competition for the past 3 or 4 years, I'm happy with my result and look forward to coming back next year. The only down side, is when I took my chin to my knee I hit it so hard that now my knee is sore and with a high pressure system and improving stability the next week is looking like it's going to be prime for big missions out in the mountains but I've gotta take a few days off of skiing. Luckily I know of another fun activity that you can do on warm, sunny spring days in a ski town. It is patio season after all.
Results: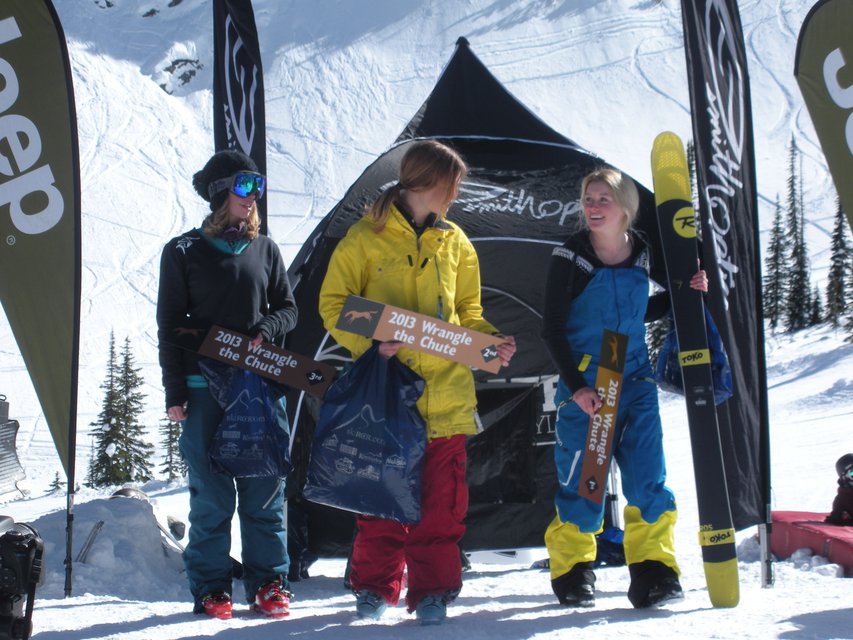 Womens podium:
1st - Emily Childs
2nd - Orea Brown-Dahl
3rd - Kate Targett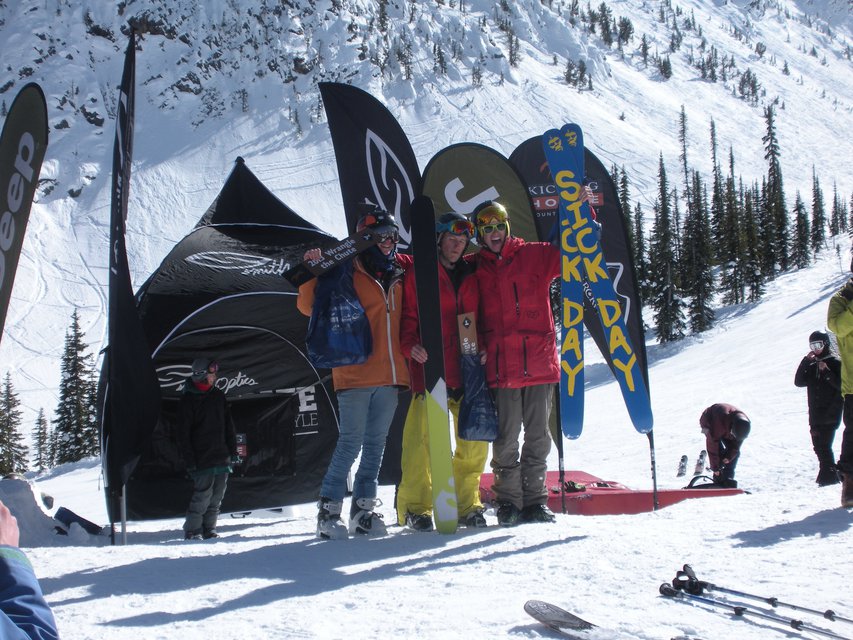 Mens podium:
1st - Carter MacMillan
2nd - Dylan Siggers
3rd - Jordy Kinder