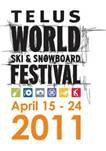 World Skiing Invitational hosts AFP World Championships, and new event Intersection pulls out the big guns
Whistler, B.C. – The TELUS World Ski and Snowboard Festival, April 15-24 2011, is the last stop on the Association of Freeskiing Professional World Tour. The WSI is one of only two world-wide events, out of 21 that host the AFP, to offer all three components of the AFP's mission "to improve and progress competitive slopestyle, halfpipe and big air skiing." The revival of the Big Air competition, along with the Slopestyle being integrated back into the WSI line-up, has meant that the WSI is now at the forefront of the commitment to support and evolve the aforementioned three major elements of freestyle skiing. Slopestyle and Big Air are both invitational events, with Superpipe lending its qualities to open entry. The invited athletes will be announced as the AFP World Tour progresses, and the rankings are released. Chief Marketing Officer for the AFP, Chris Jerard emphasizes that "the WSI at Whistler really is the culmination of the entire season for these athletes. We're very excited about it all coming down to ground zero at Whistler and we couldn't imagine a more appropriate place to be crowning the World Champion in all three disciplines. The WSI this year really is an incredibly motivating and important final stop on the AFP World Tour."
This move towards quality events and progressing with the sport, and the times, has flowed over into other aspects of the TELUS World Ski and Snowboard Festival. The most highly anticipated new event for 2011's Festival is the incredible amalgamation of some of TWSSF's most popular elements, skiing, snowboarding and filmmaking. With the 72hr Filmmaker Showdown now dominating in the entertainment world, there was a niche in the Festival that had arisen. Those action sports filmmakers, hardcore skiers and boarders who want to tell their story. Enter, Intersection. Teams are required to have a filmer, a skier and a snowboarder, and are given 7 days to produce a 5-7 minute short. Challenges include; an obligatory 30 seconds of Whistler Blackcomb in-bound footage, 30 seconds in the terrain park, the film must be shot within 100km of Whistler, the entirety of the film must be shot within that 7 day period, and 75% of the film must be on snow footage.
Judged for the 'action-sports' component, along with filming techniques and further criteria, Intersection lends itself to established filmmaking companies, and to dedicated action sports industry professionals. Entrants are by invitation only, of which expressions of interest are being accepted currently. The top contenders will all receive a $1000 entry prize, and the Grand Prize Winner, earning the Best in Show title, will walk away with the biggest cheque TWSSF has given out, a generous and highly-motivating $15,000. Visit http://www.wssf.com for more details.
The TELUS World Ski & Snowboard Festival is produced by Watermark Communications, a Whistler‐based event production & communications company, and presented in partnership with Tourism Whistler and Whistler Blackcomb. Having grown over 16 years into the largest annual winter sports and music festival in North America, the TELUS World Ski & Snowboard Festival is a 10 day and night showcase of the best of snowsports, music, arts and mountain life. Featuring major professional ski and snowboarding competitions, the largest free outdoor concert series in Canada, cultural events that match up art‐lovers and the art‐makers, career‐making fashion, photography and film showcases, the best spring snow conditions in the world, and burn‐the candle nightlife, the TELUS World Ski and Snowboard Festival is the poster child for the ultimate ski and snowboard festival experience. In blazing the way for the youth of tomorrow, the TELUS World Ski and Snowboard Festival lives up to its promise: 'Party in April. Sleep in May.'
For information on the 2011 TELUS World Ski and Snowboard Festival, April 15‐24, visit http://www.wssf.com, or follow us on twitter @wssf.