I'm sitting over here in Hawaii, checking out the World Cup coverage on UniversalSports.com and enjoying every moment from both the girls in Zauchensee/ Altenmarkt, Austria and the men out in Adelboden, Switzerland.
Adelboden – Men's Giant Slalom
Out in Switzerland, the men were racing tech events: giant slalom and slalom. All eyes were on Ted Ligety in the GS on Saturday as he tried to snatch his 4th GS win in a row. He really poured it on his first run and even with a mistake at the bottom that shot some of his momentum, he was able to pull ahead of the pack by 0.36 seconds and into pole position. Second run started with a bang, so much so that you almost could forgive yourself for thinking he was going to win this one again. But around 1.40 in his run, launched out of turn and landed on his side. He got up and made the gate, but a winning recovery was impossible. He finished 28th. Damn though… what is dubbed the hardest hill in men's tech seemed like it was about to be tamed… not to be though.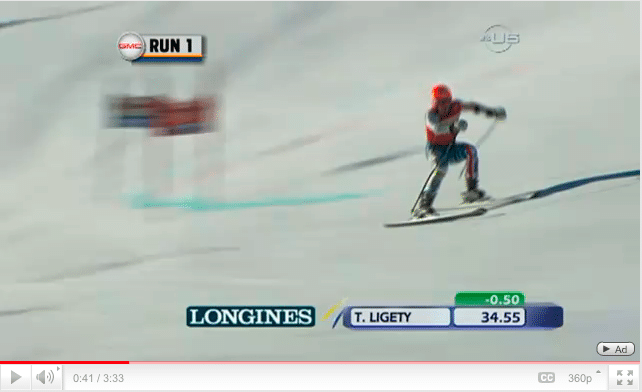 Click the image to watch Ted's 2 GS runs
The unlikely hero of the day was Norway's Aksel Lund Svindal whose massive 200 + lbs frame took him through the course with steady power. Askel is no doubt an amazing skier, especially in speed events, so it was a bit of a surprise to see him pull of the GS victory. Hey, you shred hard, you never know what accomplishments await!
Adelboden – Men's Slalom
Ted came firing out of the gate with 2nd fastest split up at the top, even with the course chewed up. Ended up startling the gate and that was all she wrote. It bears noting that Ligety wore Slab RDM's. Yeah, that's the Romain de Marchi Pro Model… got to love it when a skier wears a snowboarder's pro model goggle.
Top shredder was Czech Republic's Filip Trejbal, the guy with the mean Metallica style handlebar stash, who came in 19th with a really solid run. Other point-scoring runs came from USA's Will Brandenburg who powered through with a 24th place finish and right behind him in 25th was Maxime Tissot from France.
I also couldn't help but notice how many helmet brands are copying the fluorescent Shred Green. Come on! Gimme a break.
The top 5 ended up being:
Ivica Kostelic – Croatia
Marcel Hirscher – Austria
Reinfried Herbst - Austria
Mario Matt – Austria
Michael Janyk – Canada
Hahah… finally the Austrian media won't have to demonize the poor skiers… skiing is such a national pride thing that when Austrians don't perform well, they are just dogged by the press. Poor guys.
Zauchensee – Women's Downhill
No surprise here: Vonn takes it.
I just came back from fixing myself some breakfast when I saw a bright pink helmet and thought… FRENCH SHREDDER! Yep, sure enough, it was Margot Bailet coming in a VERY RESPECTABLE 18th place, scoring some good points. Congratulations, Margot!
Zauchensee – Women's Super G
It looked like once again, Lindsey Vonn would take the top prize, but in the end was outpaced by one of the late starters. Unexpectedly, little Lara Gut came out and sleighed the competition. That was a nail-biter and super fun to watch.
Other Shred riders — or Shredettes — who came out charging were:
18th Margot Bailet again from France
23rd Laurenne Ross of the USA
32nd Leanne Smith of the USA (who was fast, except for a sizable mistake).
It sure was a great weekend for ski action. If you have universal sports on cable in the USA, its worth checking out. Universalsports.com has paid access, which is affordable for the season. Europe — of course — gets full TV coverage on their networks.
Alright you guys… we just had some snowfall on Mauna Kea on the Big Island. Maybe we should bring a World Cup stop here? At 14,000+ feet? Damn, that's a mountain.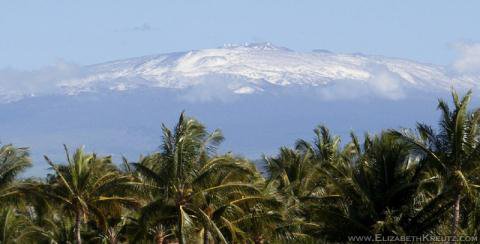 World Cup Stop in Hawaii? That will make world-wide headlines.
Related posts:Levi Finland World Cup Slalom Action Some notable Shredders from this weekend's men's World Cup slalom...
Visa Aspen Winternational Starters Named: Stiegler returns to World Cup action ASPEN, CO (Nov. 24) ? Seven U.S. Olympians, including 2010...
Welcome French World Cup Ripper, Margot Bailet Shred signs another great ski prospect, this one from the...
Related posts brought to you by Yet Another Related Posts Plugin.