Cover photo: Bucholz/FIS
The first FIS Big Air of the season finished up in Cardrona, New Zealand earlier today after some inclement weather interfered with the schedule somewhat. There was mixed rider attendance with some big names making the trip, but many others opting out of a trip to New Zealand for just a single big air event. Team Canada took their whole team down south and were rewarded with 3 medals, Gold and Bronze on the ladies side, for Elena Gaskell and Yuki Tsubota respectively and a second place finish for Evan McEachran. The USA's Caroline Claire took second on the women's side courtesy of a dope switch 9 octo.
It's a shame to see only 5 names on the womens drop list, with the sixth name on the start list, Kelly Sildaru, deciding against competing having won two golds and a silver at the junior world championships earlier this week. Much of the US and Swiss 'A teams' opted out of the contest as did the whole Norwegian squad, which partly explains that situation. But that didn't stop Andri Ragettli claiming top spot on the men's podium and starting the year how he no doubt means to continue, stacking points. Local boy Finn Bilous rounded out the men's podium with a bronze and the highest scoring trick of the event with a switch triple rodeo 14 (similar to the way Henrik does it). ABM threw down hard too and perhaps didn't get just reward for his efforts, he had one top scoring trick but got scored low for his second (a super nice triple cork 10).
https://www.instagram.com/p/BnaqvQlFPdE/?taken-by=abmskier
More video highlights coming soon.
_
Men's podium and tricks:
1) Andri Ragettli: Triple 16 truckdriver and switch triple 14 truckdriver
https://www.newschoolers.com/videos/watch/908680/Andri-Ragettli---Men-s-Big-Air---Cardrona---1st-place---FIS-Freestyle-Skiing
2) Evan McEachran: Switch double 18 tail and forward triple 16 safety
https://www.newschoolers.com/videos/watch/908681/Evan-McEachran---Men-s-Big-Air---Cardrona---2nd-place---FIS-Freestyle-Skiing
3) Finn Bilous: Switch triple rodeo 14 and forward triple 14
https://www.newschoolers.com/videos/watch/908682/Finn-Bilous---Men-s-Big-Air---Cardrona---3rd-place---FIS-Freestyle-Skiing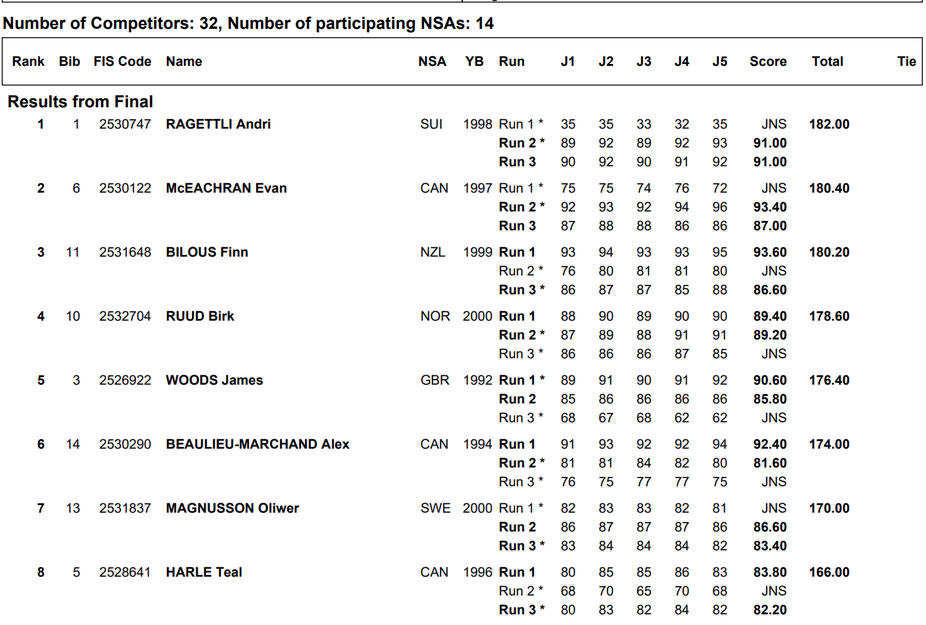 _
Women's podium and tricks:
1) Elena Gaskell: Switch (cork/double wobble) 12 mute and forward 7 tail
https://www.newschoolers.com/videos/watch/908683/Elena-Gaskell---Ladies--Big-Air---Cardrona---1st-place---FIS-Freestyle-Skiing
2) Caroline Claire: Switch 9 Octo and forward 7 tail
https://www.newschoolers.com/videos/watch/908684/Caroline-Claire---Ladies--Big-Air---Cardrona---2nd-place---FIS-Freestyle-Skiing
3) Yuki Tsubota: 9 tail and 5 mute
https://www.newschoolers.com/videos/watch/908696/Yuki-Tsubota---Ladies--Big-Air---Cardrona---3rd-place---FIS-Freestyle-Skiing