World Class Slopestyle at The Volkl New Zealand Open 2009
Wanaka, New Zealand (August 19th, 2009) - The Sport of Freeskiing was taken to a new level today, highlighted by the style and technical riding of USA's Bobby Brown who took first place in the Men's Slopestyle competition at the Volkl NZ Freeski Open 2009, at Cardrona Alpine Resort.
"Never before in competition have I seen so many riders successfully landing the newest and most difficult tricks you'll see anywhere," said Nick Draxl, Chief of Competition. "I've never seen a stronger field in any competition."
Brown, 18 and a number of other riders were performing breathtaking double corks, which are some of the latest innovations performed by only the world's most talented freeskiers, but it was Brown's style with his double corked 1080 which separated him on the judging sheet.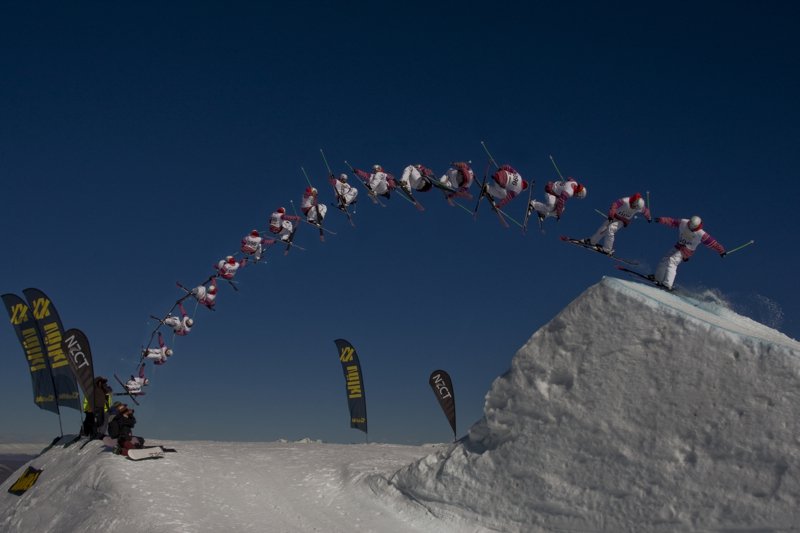 Bobby Brown. photo: Camilla Stoddart
"The slopestyle course was awesome. I loved it," said Brown. "It was the best competition I've been in for a long time, the event had a great feel and there were a lot of people around."
Brown shared the podium with Tom Wallish, of USA and Henrik Harlaut, of Sweden, who placed third.
In the Women's competition which took place yesterday before the weather rolled in, Canada's Dania Assaly was at the top of the podium after performing a solid run including a 900.
"I had a perfect day in a great park," said Assaly. "It was one of the best comps I've competed in, with girls from all over the world pushing us."
Winter X Games winner Anna Segal, of Australia place second, while Eva-Maria Patscheider of Austria placed third.
Volkl International Freeski Manager, Jean – Claude Pedrolini, of Switzerland was outstanded with the event.
"The New Zealand Freeski Association together with Cardrona Alpine Resort today held one of the best competitions I have ever seen." said Pedrolini. "We saw a really high level final with the top slopestyle riders competing in a world class slopestyle park."
The event continues tomorrow with the Halfpipe competition.
The Volkl New Zealand Freeski Open is fast becoming the traditional opening event of the international skiing calendar, rivalling the US and European Open events as a benchmark in world-class freeski competitions.
Full Results, press photos, and video for the Volkl NZ Freeski Open 2009 will be available on http://www.freeskiopennz.com
Video link will be available on http://www.vimeo.com/user1671302
Volkl NZ Freeski Open Schedule
Wednesday 12th August - The North Face Big Mountain Qualifiers – The Remarkables
Friday 14th August - The North Face Big Mountain Finals – Now at THE REMARKABLES
Wednesday 19th August – Slopestyle – Cardrona (Rescheduled)
Thursday 20th August –Halfpipe – Cardrona (Rescheduled)
Sat 15th – 18th August (Weather bracket) - The North Face Sessions – Southern Lakes Heli-Ski
Thursday 20th August - Public Screening of Volkl NZ Freeski Open featuring highlights of The North Face Sessions & TGR/The North Face Film – $15 entry Cinema Paradiso
About the Freeride World Tour Qualifier (Big Mountain)
Since 2008, the Freeride World Tour has made sports history bringing together top international freeride skiers and snowboarders, men and women, competing at prestigious resorts around the world, battling for the World Champion title. The Freeride World Tour (FWT) is welcoming The New Zealand Freeride Series 2009 as a Freeride World Qualifier (FWQ) event for the 2009-2010 season. The New Zealand Freeride Series is comprised of three events, The North Face Big Mountain at the Volkl New Zealand Freeski Open at The Remarkables and Treble Cone (11-16 August), the K2 Big Mountain Chill Series at Craigieburn and Mt Olympus (26-30 August), and the Export Gold Xtreme at Whakapapa, Mt Ruapehu  (8-13 September). As a premier event, the Volkl New Zealand Freeski Open offers double the points in the overall Series result. http://www.freerideworldtour.com
About the Association of Freeski Professionals World Tour (Slopestyle and Halfpipe)
Event rankings are based upon course construction, prize money, media exposure and quality of competitor field and determined by the Executive Committee of the AFP.  Final points for each event are determined after the start list is confirmed and the strength field based on AFP standings is weighted into consideration.  The Best four results are used for halfpipe and the best three results for Slopestyle and Big Air to determine the World Champions. http://www.afpworldtour.com
About Volkl
Principal Sponsor & Official Ski Higher, faster, further – that motto may work for the Olympics, but not for Völkl. There's more to it than that when it comes to developing new ski models: more precise, agile, dynamic, powerful, cushioning, individual, comfortable, intense, flexible, variable, safe, carving. In other words: our goal is to make skiing a little bit better each year. We use technical innovation to drive forward the development of skiing. Why are we doing this? It's quite simple: We don't view the limits of physics as the summit, but rather as just another step on our path. We use know-how, enthusiasm and German engineering to work constantly on improvements. Even if they appear quite miniscule at first – over 85 years of experience have taught us that big successes often depend on the small details. http://www.voelkl.com
About The North Face
Big Mountain Presenting Sponsor & Official Outerware The North Face offers the most technically innovative products in the market to accomplished snowsport athletes, climbers, mountaineers, endurance athletes, and explorers. The company's products are sold in specialty snowsport, backpacking, running, and mountaineering retailers, premium-sporting goods retailers and major outdoor specialty retail chains. http://www.thenorthface.com