Howdy,
It looks like Winter hasn?t let up in Colorado quite yet. Our good friends at Copper Mountain said that they just received another 11 inches of snow in the last two days?which means their Summer terrain park camps will be better than ever!
For the second summer we are excited to partner with Woodward at Copper during Session Two, June 19- 25, 2011. Icelantic team riders Jeremy Brown, Jon Peot and friends will be coming back to session the summer terrain park and get inverted at 'the Barn' with campers. Don?t miss the brand new summer jib zone dubbed the ?Playground? which will be right at the base of Copper Mountain. To top that off we will be giving away a couple pairs of next season?s skis!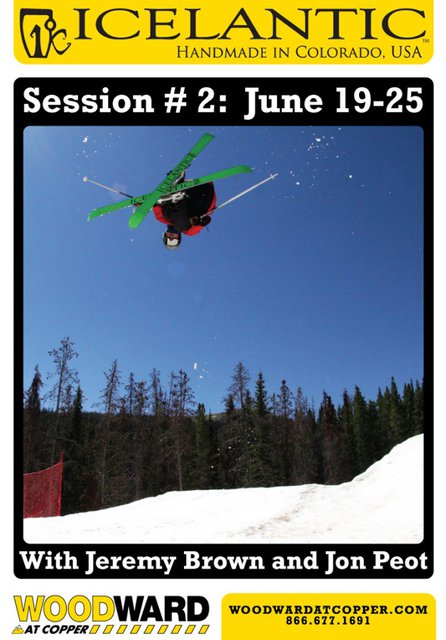 Nothing like Summer time airtime...
What is Woodward you ask? Here?s a blurb on the best summer ski camp out there!
?Woodward at Copper is quite possibly the raddest place on the planet. We offer year round Snowboard, Ski, Skateboard, and Cheer programs and feature the Barn, a 19,400 square foot indoor playground with artificial Snowflex jumps into foam pits, jib lines, skate bowls and mini ramps, foam pits, spring floor, tumble trak, spotting belts, and Olympic fly-bed trampolines. In the summer we offer week long residential and day camps utilizing the Barn as well as Colorado?s only summer on snow Terrain Park. In addition to progressing your sport, we offer camp activities like Go-Karts, Bungee jump, Skate Park Tours, Bumper Boats, Scavenger Hunts, contests, and Tie Dye.?
Space is limited so sign up today! This session is for ages 10-18, so if you know of any little rippers out there that are keen on honing their skills during the off-season, this is the place to do it! Sign up by calling 888-229-9540 or visiting http://www.woodwardatcopper.com.
Check out the video from the 2010 summer of fun:
Woodward Summer Camp 2010 Video from Woodward at Copper on Vimeo.
Until next time,
–ICELANTIC