Live @ Carleton UniversityThe CU Ski and Snowboard Club & CUSA proudly present...
The Winter Season Kickoff Party/FUNdraiser!!!
Carleton
University Ski and Snowboard is raising money for the '06-'07 season
with a night of independent hip-hop music, international  ski and snowboard video premieres and all other forms of excitement associated with a night on the town. 
Headlining
the event is New York cities CAGE, a veteran indie rapper whose
cutthroat delivery reflects the tormented life he's lived. From
a child witnessing his father inject heroin, to an abusive step-father,
to a long term placement in a mental institution, CAGE somehow manages
to channel all this emotion and more into his aggressive and
poetic/story-telling style of music. His most recent release Hell's Winter was put out on Def Jux home of Hip-Hop legends Aesop Rock and RJD2. Also on the bill is
Ottawa's own rap revolutionaries Atherton & Sire and Toronto duo Absent Minded and Q.
For
the visually stimulated several ski and snowboard video will be shown
highlighting talent from some of the worlds best skiers and
snowboarders.
Come out and be entertained.
 
Featuring...Skimatic (Plehouse Films)http://www.plehouse.comContent (Newman Admin)http://www.newmanadministration.com/State of Mind (Finger on da Trigger/Technine)http://www.technine.com/Follow Me Around (Mack Dawg
Productions)http://www.mackdawgproductions.com/Followed by the dopest concert ever to follow a video premiere featuring the likes of...CAGE (Definitive Jux | NYC)http://www.definitivejux.net/jukies/cageAtherton and Sire (Vinyl Tap | Ottawa)http://www.myspace.com/athertonsireAbsent Minded (LOD Development |
Toronto)http://www.myspace.com/loddevelopmentOn top of that, we have THOUSANDS of dollars of prizes to give away.This event is ALL AGES, with drinking of course, and is open to everyone.Date: Friday Nov. 3 2006Doors: 7 PMLocation: Oliver's Pub @ Carleton UAll Ages | 19+Tickets: $15 advance | Available at CUSA, RRRA, Oliver's or Joe Mamma's Boardshop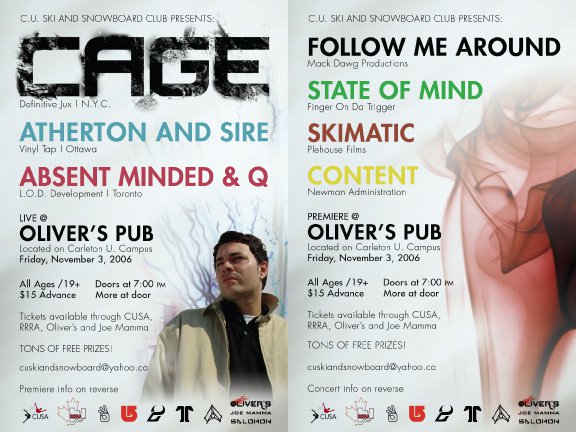 This
event would not be possible without our sponsors: CUSA, RRRA, Oliver's
Pub, Joe Mamma's Boardshop, Technine, Burton, Section, Demon, Salomon,
Mack Dawg Productions, Finger On Da Trigger Productions, The Newman
Admin, Plehouse Films, and more...