Hey everyone!  So we got a nice little storm last weekend that left 6-10" on the upper parts of the mountain.  The season is soooooooo close.  Mammoth is scheduled to open on November 13 and snowmaking is scheduled to start around the 18th of October if conditions permit. 
We're currently working out the details, but Mammoth will be offering an unrestricted college pass for only $599.  Details should be posted on http://www.mammothmountain.com/college/index.cfm soon.  For those of you who missed out on the prebuy last spring, this is a killer deal.
The terrain parks are going to be even better this year with 2 brand spankin new Piston Bully 400 Park Bully Snowcats to complement our already huge fleet.  We rearranged our snowmaking in Unbound Main so areas that were underutilized will now have much better snowmaking allowing for more and better features.  We also cleared away some trees and re-graded lower Unbound Main which created a bunch of new space.  The Superpipe has been re-graded at a better pitch.  There's also going to be some new signature jibs for the coming season, but those are still top secret.  And of course there's going to be a bunch of other new rails and boxes scattered about.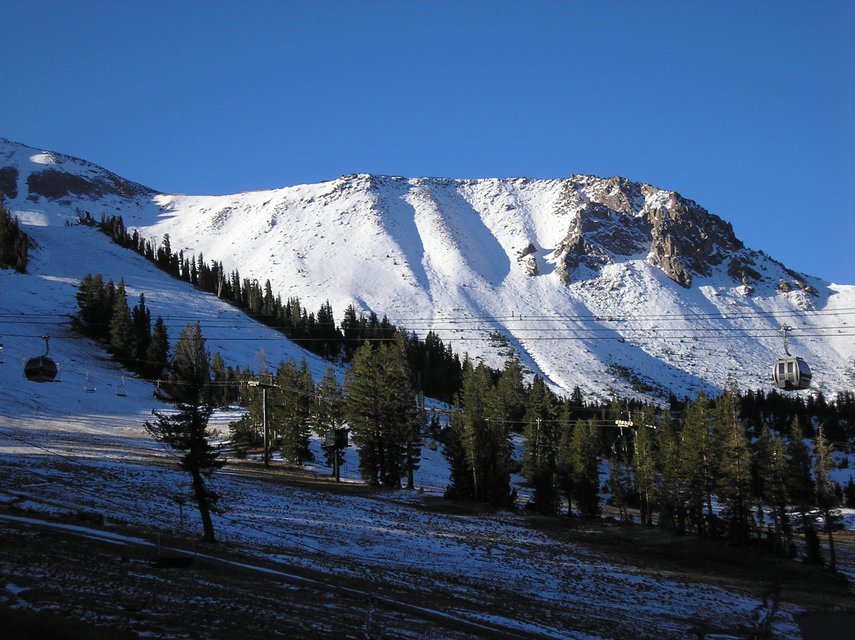 I caught up with our Unbound cat manager Mike today who was out putting some fresh paint on all of Mammoth's rails and boxes to ensure that they are all nice and spiffy for the coming season. 
Check out our brand new C-rail!
Brand new T-rail/box (will get plastic in the middle part)
OMG these are so sick!  and huge!
Brand new sliding surface on this massive C-Box
Boxes with fresh paint awaiting new sliding surfaces
More fun stuff.  These are old lift towers and propane tanks. The two on the far left are brand new and there's supposed to be a couple more new ones somewhere.
Damn! 
Pray for snow!