Winter Park Resort made an announcement today at 10:28 MST on their facebook page informing all of their customers of a change to their Vintage Lot and parking lots B and C. The original post reads:
"Winter Park Guests! The rumors are true...the Vintage Parking Lot and Lots B and C will be paid lots this year. Fear not, 70% of parking will still be free including all of Mary Jane lots! Here's what you need to know:"
Anyone who has driven themselves or ridden with others to Winter Park in the recent past is familiar with the Vintage Lot and the locals' deep love of the conveniently located large capacity lot that has been complimentary for many seasons. Lots B & C are closer to The Village, but significantly smaller. With the recent changes the above lots will now be charged at a rate of $15/day, $10/half-day (starting at 12:00) and free from 3pm to 7am. Any patrons who are in the lot and not adhering to this policy will be fined $75 and subject to getting their vehicle towed. There are still free lots available(Adolf's, Bus Barn Lot), but they are significantly further away and their capacity is much less than what is now charged.
The reaction to this news is less than favorable especially because the announcement came so close to the beginning of the season. The official facebook announcement comes on Loveland and Arapahoe Basin's opening day - most often considered the unofficial beginning of the front range's season. By this time mile-high riders have already purchased their passes (including yours truly) and with all of the contributing financial and moral factors, there is a distinct split between the Epic Pass and the RMSP(Rocky Mountain Super Pass). Many skiers and riders choose to avoid anything Vail resorts for personal reasons and those patrons have made their views known in the comments on their facebook page. There's a general sense of being nickel-and-dimed by a previously local-friendly resort. Would the boo-hooers actually have not purchased a pass if this news was broken in a bit more appropriate timing? Who knows. What's clear is that this news and the nature in which it was shared is not earning Winter Park Resort any friends.
The official WP facebook page responded to a comment pertaining to their poor timing by saying,
"these decisions were made just recently. It was not our intention to hide this news from our guests, hence why we are posting about it now. Like we mentioned 70% of our lots are still free so there are still plenty of options"
Another facebook member commented back to them with an included communication that was allegedly sent out to employees prior to October 9th. The letter was posted to facebook on October 9th, so one can assume it was distributed prior to that date.
See second half of the below letter for pertinent communication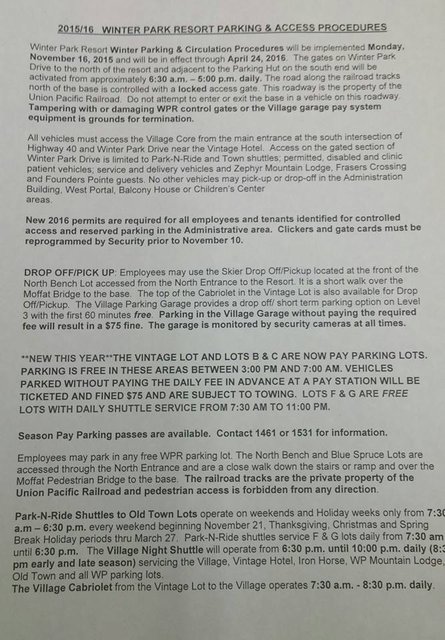 Winter Park has yet to respond to the above posted comment/image.
What do you think? Is Winter Park getting sketchy? Are they becoming Vail Resorts? Was this simply a poorly timed administrative decision that's being blown out of proportion? Sound off in the comments below!
Full link to Winter Park parking and Updates: http://www.winterparkresort.com/plan-your-trip/getting-here/parking.aspx