Words and (most) photos by Dan Kellar
Reading last year's story about the Snow Snakes trip in and around Colorado for the US Open and other fun events really put me in a bad mood. First of all Doug Bishop called me a bitch in the tale just because for the first time in my life I chose school over skiing (how do you like everybody seeing you not commit to a misty flip Doug). Even though my government school loan was itching to be unleashed, I took the more responsible route and actually used it to pay for my tuition and rent. The fantastic beer available in Colorado from local micro-breweries and the fantastically high lift ticket prices at the resorts (Alex James reported on that) would not steal away my money and relegate me to another year of poor quality food and Old English; no, I was being responsible, my parents were a little proud. Why then did I feel like an asshole?
I did accomplish a lot of thesis work that month but I missed an event that was great and was not present for moments that changed the course of the future; Lorenz could not be wrong. So this year, as the month of January approached, I made myself totally available for the inevitable debauchery. I cleared my work schedule at Blue Mountain, turned down research work at University and scheduled myself with as little responsibility as possible. I then bought what turned out to be the greatest sidekick to adventure: the Air Canada Winter Getaway pass.
I now had the power of a pretty unlimited month of travel to anywhere in North America (no freak states) and set about making plans with the rest of the crew. All this would had worked out perfectly-well if it were not for the fact that the others of the Snow Snakes were working saps now or otherwise lame (Engineer, Website Executive, Chartered Accountant, Factory Boss, Ski Movie Star with 'important' shots to get, an extra poor university student with a whip wielding girlfriend, a ski bum, and one missing in action) many of my plans were dashed and I had to start some alternative planning.
The day I left Waterloo it was 13 degrees Celsius and the rain had started before the plane was at cruising altitude: it was time to getaway to winter.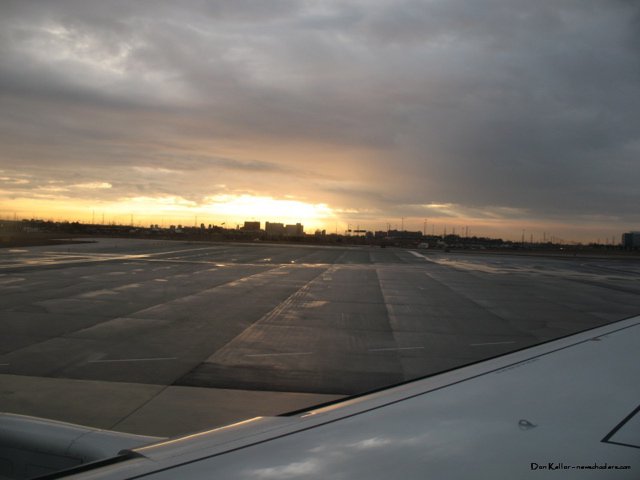 My first stop was the grand town of St. John's to meet up with a university friend...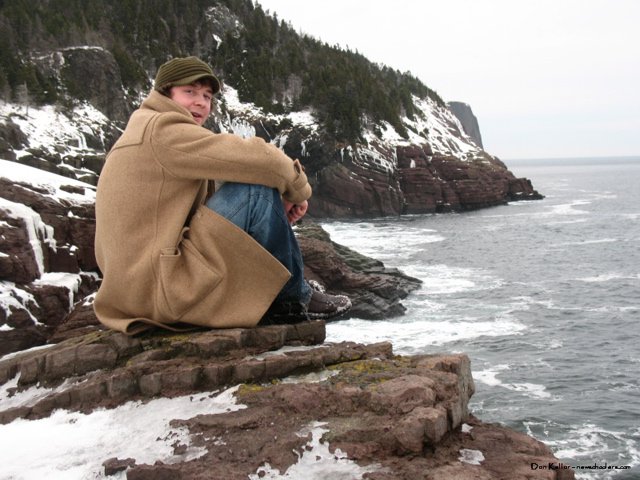 ...who decided to be my tour guide for a week instead of returning to school. After my skis/clothes bag came out of the luggage area Aaron told me to pick them up so we could go. I told him that my boot/helmet bag was not out yet and he laughed saying, "1 out of 2 ain't bad for St. John's," he was right: lost in transit on a direct flight. The first night was full of a good feed (fish, moose, salt pork, peas and potatoes) and then shenanigans. After I got lost on George Street, I pulled out my official 'screeched in' certificate and I got a free lift home from the finest and nicest police force in Canada.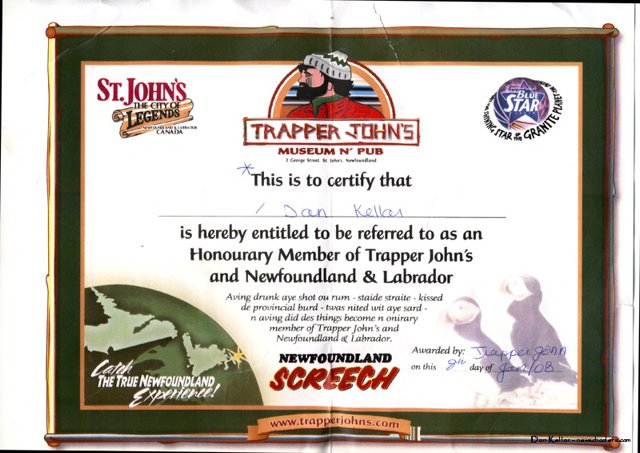 I spent a day recovering from jet lag and went out scoping rails. An easily accomplishable mission turned into a marathon: I was totally overwhelmed and had to go in for some relaxing fish and chips (with all the fixins') to put everything into order. The airport delivered my other bag and I was then dropped off at the top of a hydro cut. This in-city slope was full of fun features that some locals had set up: little qp, Pole bonk, tiny gaps, a couple of rails, and a rock for good measure.
photo: Aaron Dale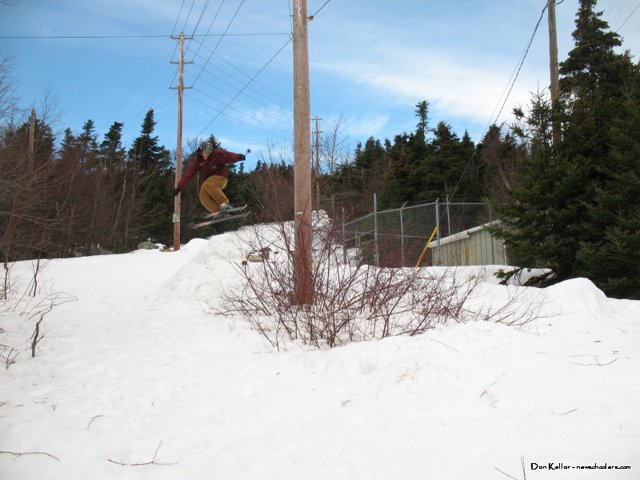 photo: Aaron Dale
Next day we hit the rails and in true street style as soon as we had set up our first one (which did not take long as there is a tonne of snow) we were told to leave for 'insurance reasons.' After losing the argument that I was covered by my instructor certification, I walked around the block to the top of the stairs, and while 'no one' was watching, I skied down and slid the rail right into the parked car at the bottom.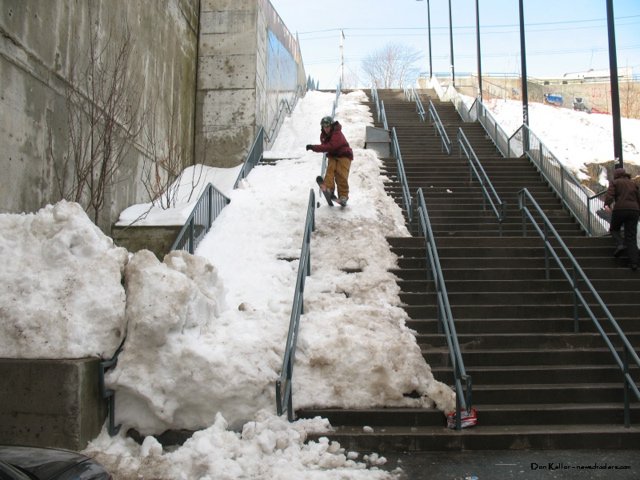 photo: Aaron Dale
Popping my skis off quickly I thought I would have to run from security, but even when they are threatening legal action against you, the people of St. John are still the friendliest people in Canada. It was time for lunch: Cod Tongues and chips.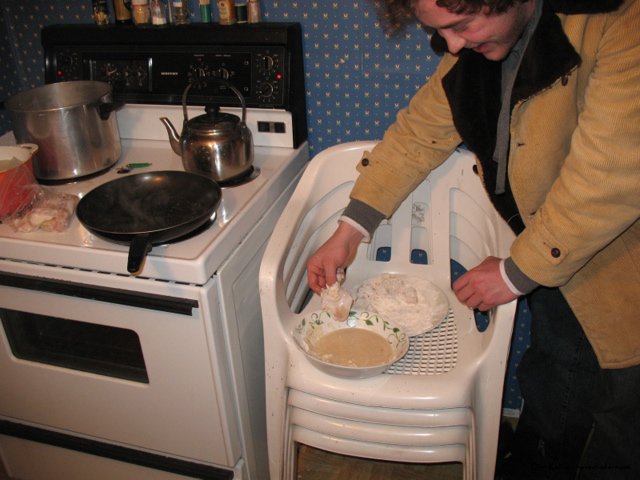 Next up was a visit to a town house complex painted as perfectly as the rest of the town: bright and beautiful. No one had a problem with me filling their sidewalks to make my jump and put some snow on the landing, and I even was a piece of amusement for the clients of the local drug proprietor.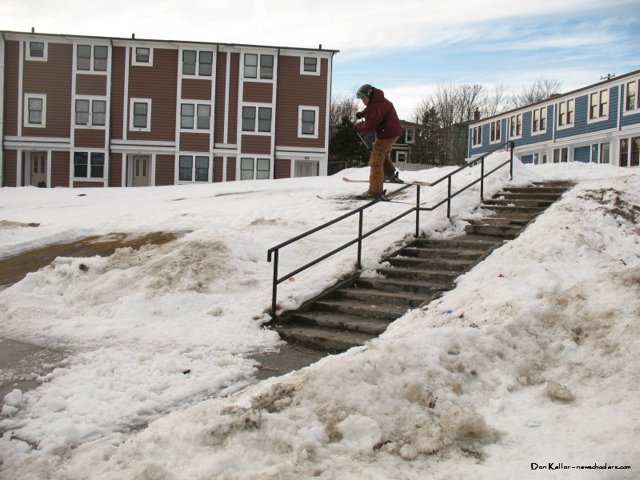 photo: Aaron Dale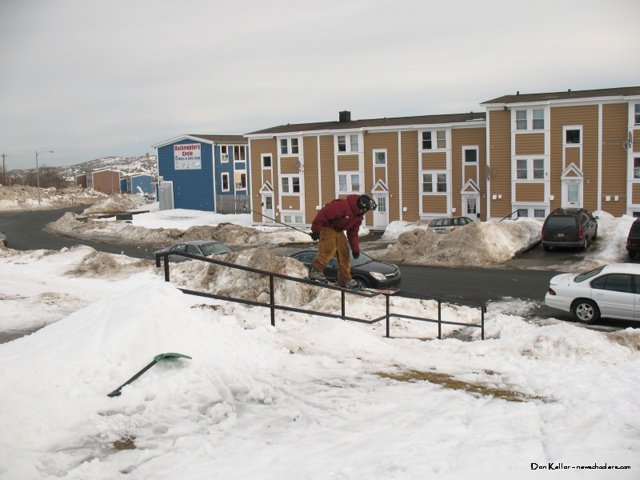 photo: Aaron Dale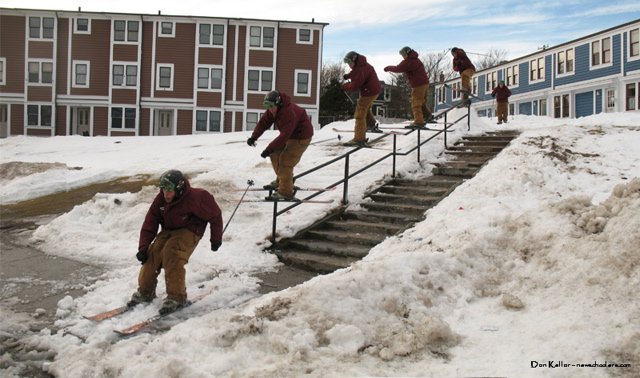 photo: Aaron Dale
My skis became a willing victim to violence when a piece of rebar sticking up from the concrete steps punctured my them after I could not hold myself together on the rail.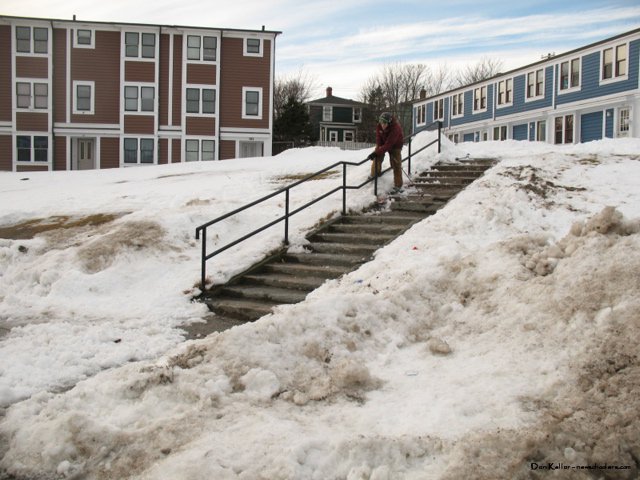 The sunlight was wearing thin by the time I was happy with this rail and I went for a few days in a cabin in Northern Bay. Though the snow was thin and no skiing was going on, this is one the most visually inspiring places in Canada:
After a few nights of Soccer Golf, I went across the island on a plane that made me feel like I was Indiana Jones (read: sketchy and loud) to Deer Lake to meet fellow Movement rider Ariane Hanemaayer at Marble Mountain. Unfortunately it had rained a day before we arrived and quickly froze so day one was a rather solid day on the slopes and we decided to learn how to telemark. It took a while of trial and error, but we managed to gain a basic understanding of the skill.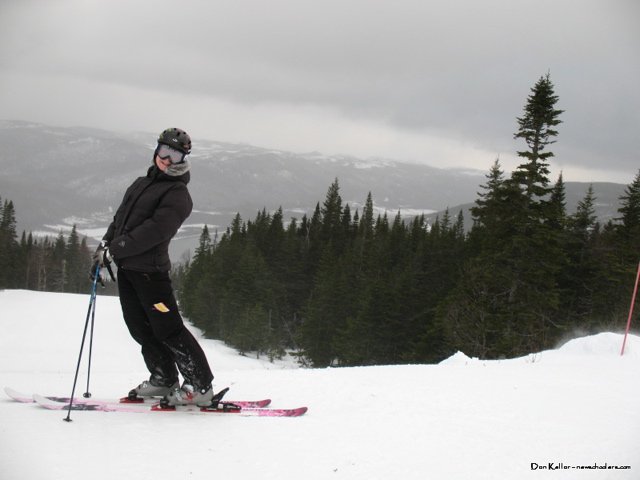 That night it snowed and the following day had us skiing a decent depth of snow on top of the previous day's ice. It was enough to try a few small drops but the park was still an ice block: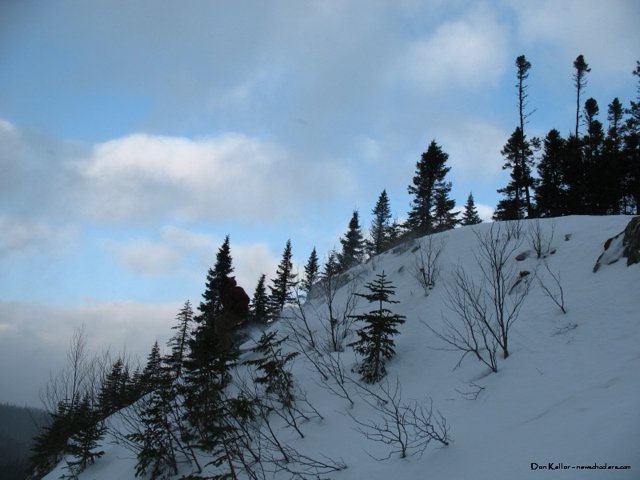 photo: Ariane Hanemaayer
At $100 a night for a 2 bedroom cabin and $40 dollar lift tickets, Marble Mountain is a hidden gem of skiing greatness as there is a super mix of steeps and cruisers and one run called cork-screw is one of the best and fun runs I have ever been on with 5 high-speed switch-backs. It runs out so you can still grab some hits in the park or pipe to boot!
For the first time in Newfoundland I was let down by a local: the taxi we ordered for 4:30am did not arrive but luckily the inn owner did not mind the early wake up and emergency speed drive to the airport for Ariane's 5:55am departure.
Next on my list of destinations was Red Mountain to visit ski bum extraordinaire Darryl Hunt. The flight into Castlegar was without incident and the $2.00 ride on the public transit from the Airport to Rossland (46km away) was an added bonus. Arriving in time to cook a fantastic meal of fresh Pacific Coho Salmon, I'm told that the Canadian Open Freeskiing Championships were to happen later in the week. We made a plan to score tickets by saying I was covering the event for NS (which was approved by Doug). This came as a surprise to the marketing director who introduced me to NS intern Jason who was already covering the event and had given away all his media tickets…busted.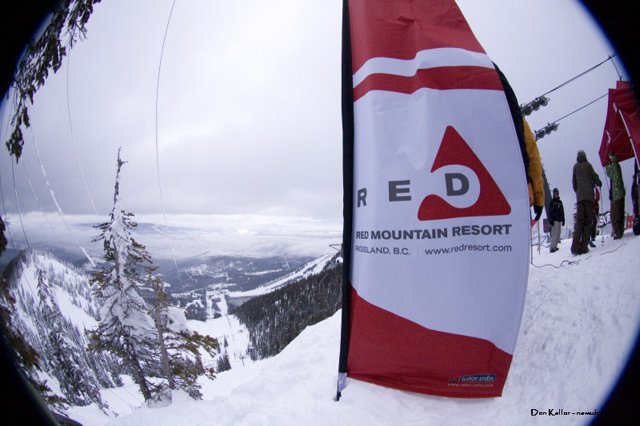 photo: Karen Lower
Day one we took a couple warm up runs in-bounds and Darryl was working on his 180 drops: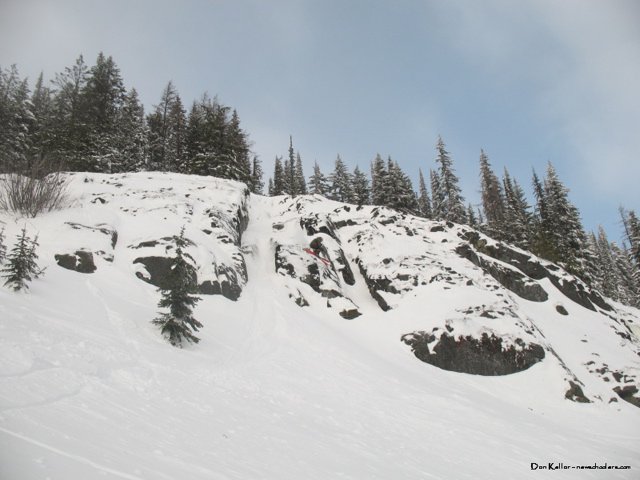 ...and then hiked out to Roberts Peak (a pretty safe and quick route, about 1 hour from the lifts) so Darryl could pick a line for the second round of the competition.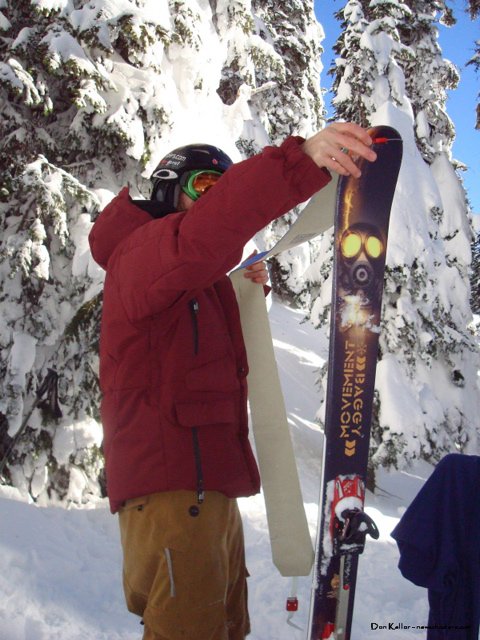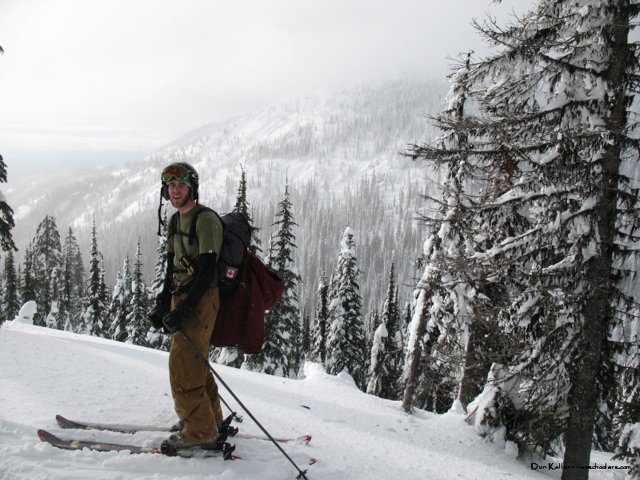 I was a little tentative on the cliffs and ended up taking a bit of a tumble after an 8m drop which ended up breaking my pole. Luckily we were going downhill so our snowboarding accomplice Karen Lower had her hiking poles to lend, so I could continue with ease. Darryl was definitely on his game early and performed a text-book drop traveling about 12m down to a stomped landing.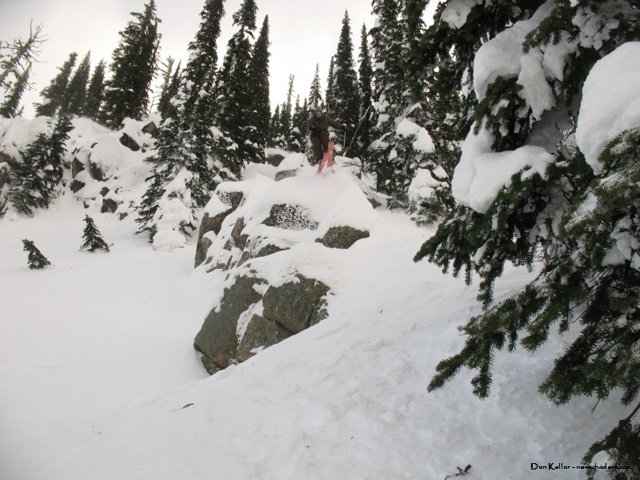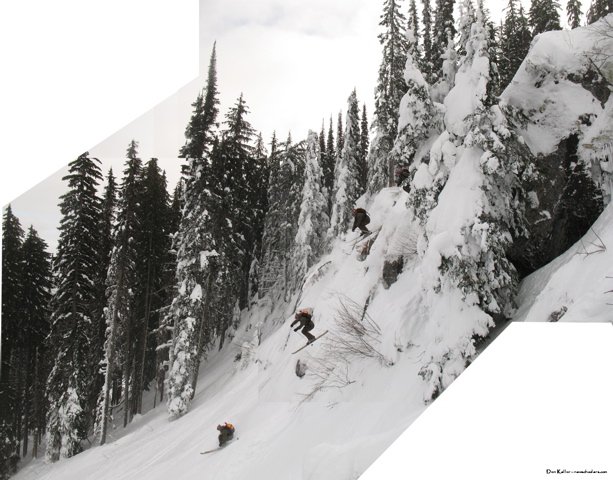 After getting filled in on the high-drama of the town, I headed to bed so I'd be able to wake up early in the morning to watch the competition.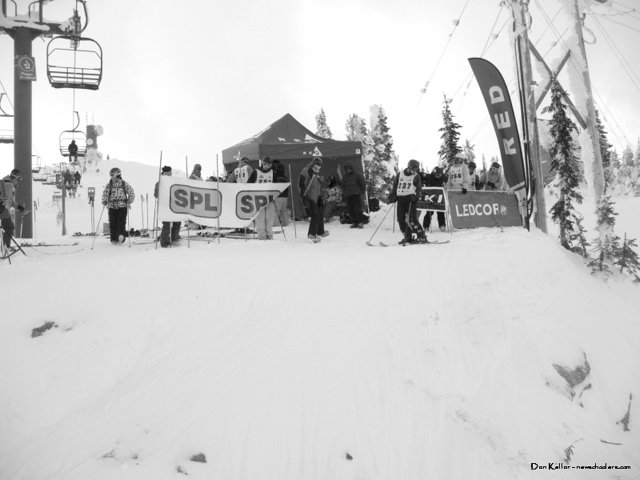 Things started out pretty slow on Link's Line with many of the girl competitors choosing the same safe route through the course. Many of the guys were also choosing similar lines and I grew tired of watching but the athletes could not take their eyes off their competition: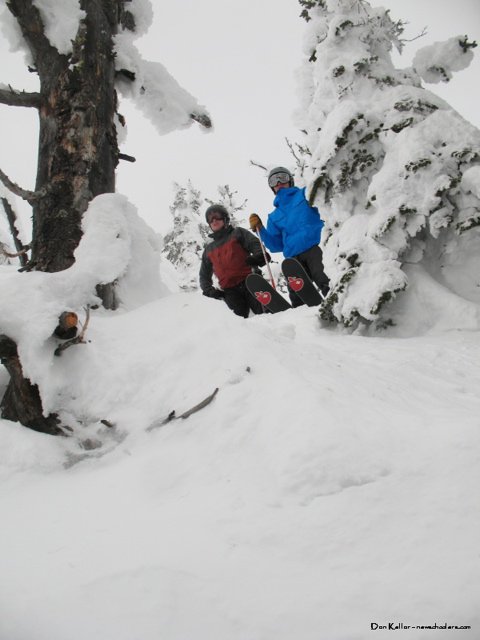 Finally some of the men started dropping off one of the 3 'diving boards' at the top of the hill: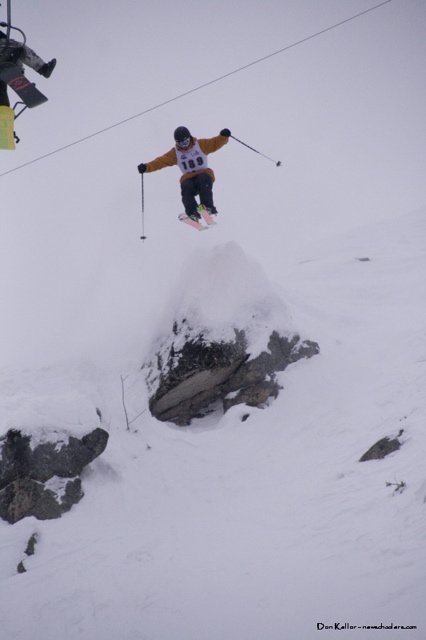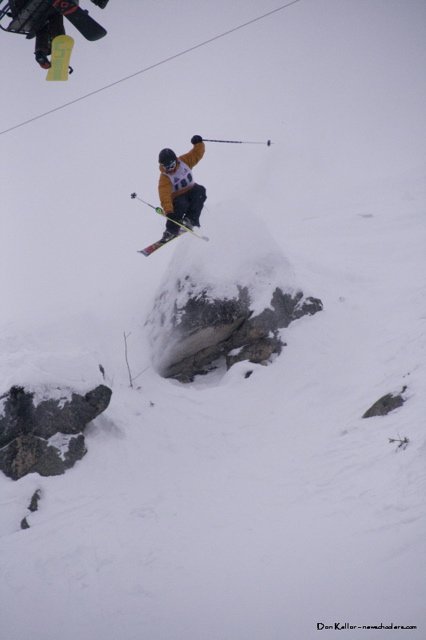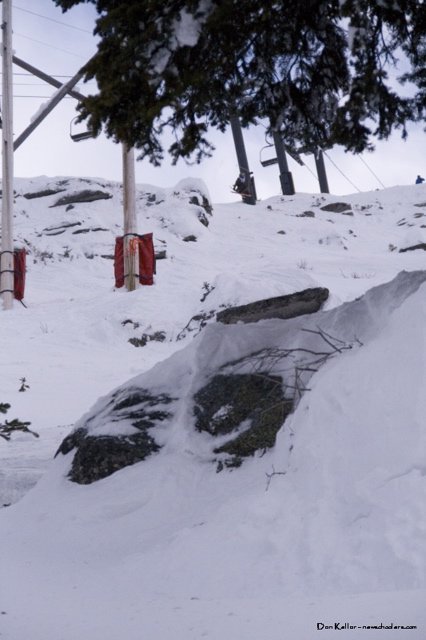 photo: Karen Lower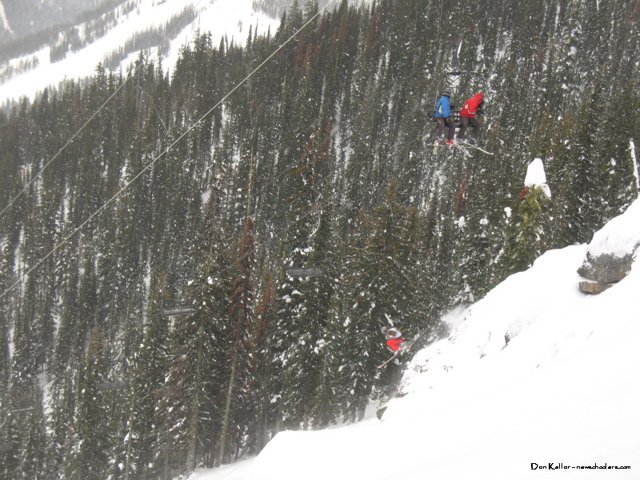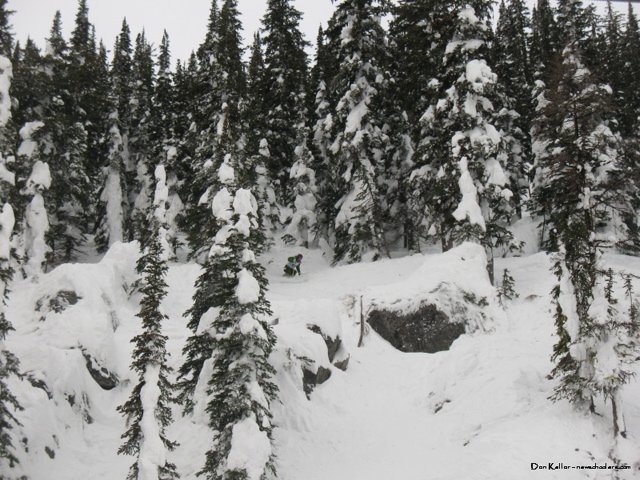 Darryl decided to switch things up a bit and went through a tree gap but ended up falling on a small cliff farther down the hill as an unexpected jump had formed from people stopping before the drop and he was eliminated from competition.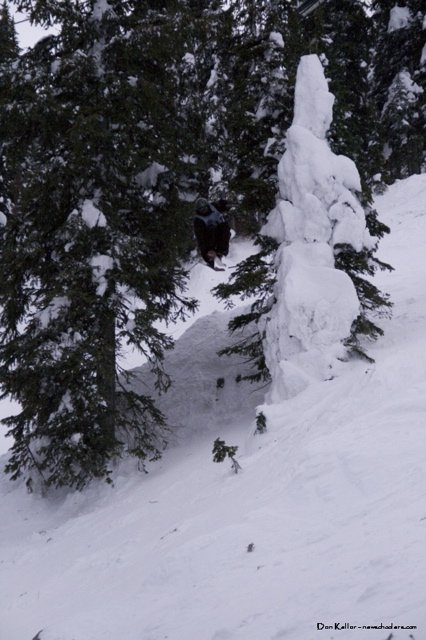 With the competition over for Darryl we decided to let loose on Thursday night. We toured the town and found a great roof drop. We started finding all the required equipment (ladders to get to the roof, spot lights, and a video camera) but could not find everything we needed. We got rolling a little late Friday morning, having to wait in line at the town's hitch-hiking depot, and we watched as the snow crews took away our bomb drop snow: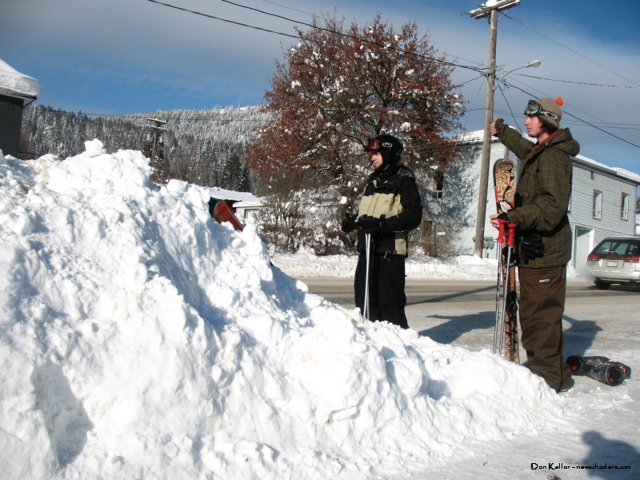 The sun was not out today so we grabbed a spot on a face opposite Roberts run and watched the competition.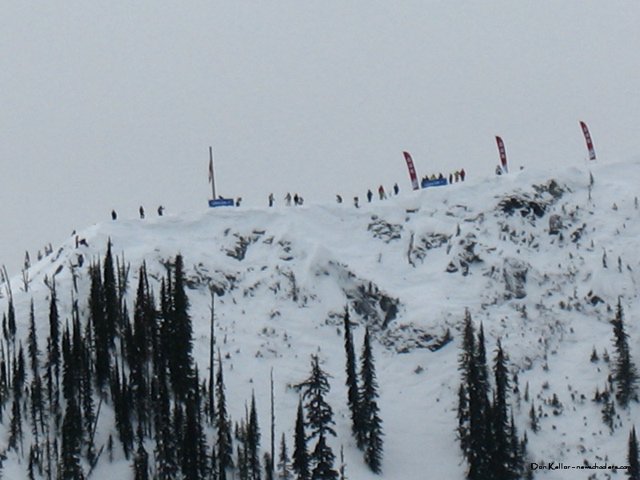 There is a high school skiing program run through the local high school but this special class gets to ski most of every day instead of sit in school. The skittles (not my name for them) enjoyed the competition and gave me their best Japanese tourist impression: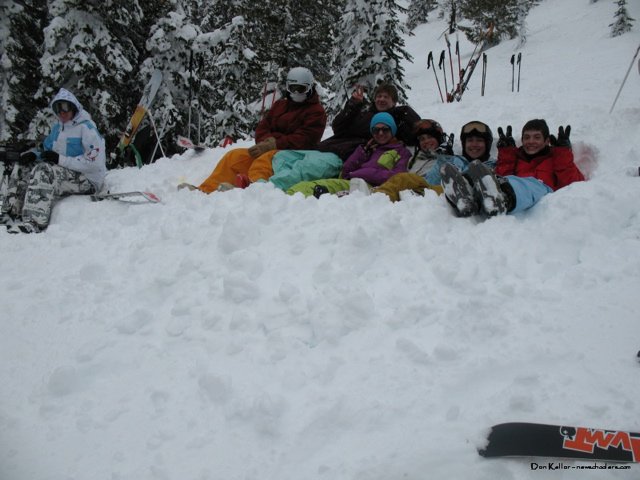 After a while of watching the comp we toured around the mountain which is full of steep tight trees and cliff drops with little room for error. We also checked out the terrain park, which turned out to be pretty fun with some good rail set ups, though flow could be improved by not having the wall ride in the middle of the run or be facing south: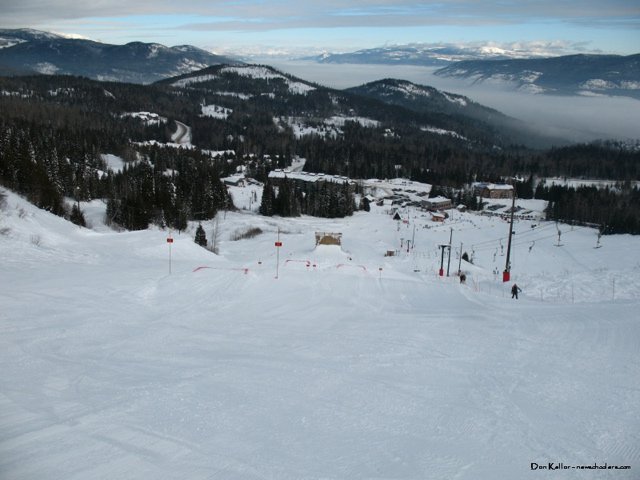 Darryl then showed me the pits and the old mine where I took my tools in to extract some gold: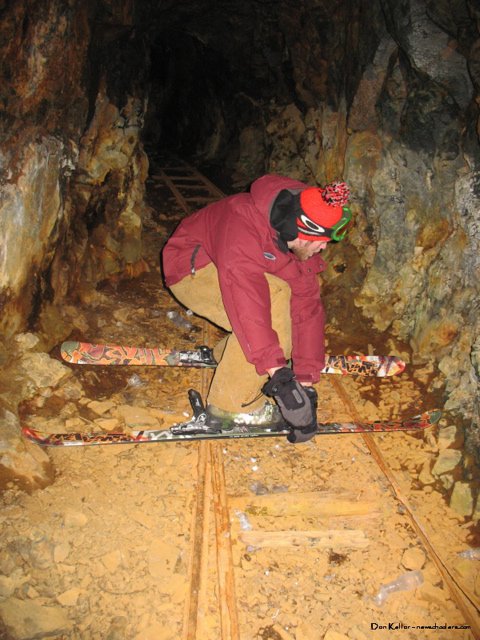 Again we decided to not party with the competition, instead electing to attend the sausage fest 2008 keg party. At a superb ratio of 20:1 Darryl managed to find a girl and disappeared. I found some new friends and went back to their bus/house to continue the party. Though I was never more than 4 blocks from Darryl's house, I managed to get lost on my way home and was picked up on the side of the highway while I was for some reason, quite unknown, trying to hitch-hike to Trail with pants frozen past the knee.
At the bright and early hour of 11am, Darryl and I made it back up to the hill to hike Grey peak, again with Karen.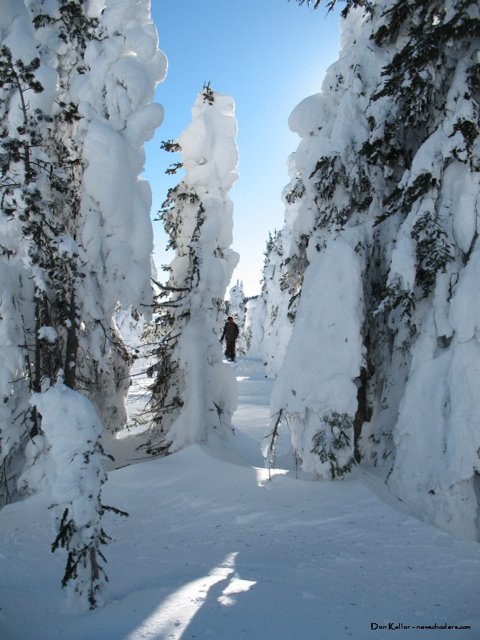 I thought I had sufficiently repaired my pole with sticks and duct tape, but it broke about ½ way to the peak: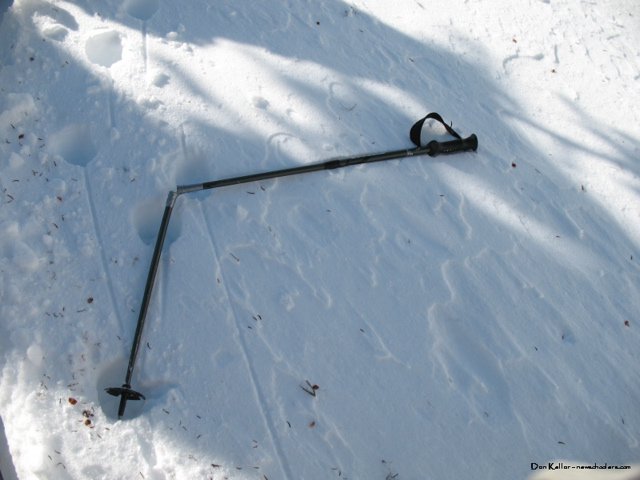 Though this did slow me down, I was still waaaaaaay faster than our snowshoeing, snowboard companion and by mid-afternoon we had reached the summit.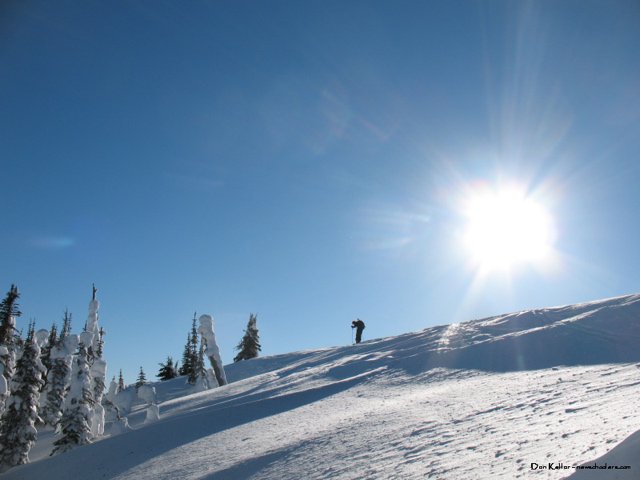 It was an awesome day in the pow and by the end of the run we were strained. The fun we were having distracted me from taking pictures, but I assure you it was great. The sun set on another venue, and after another plate of the best nachos in the ski industry at Red's on hill Rafter's bar (bigger, cheaper and more layered than the mountain of nachos at Merlins or Jozo's!) and another night on Darryl's couch I decided it was time to fly home for a quick recharge, clothes wash, and money grab.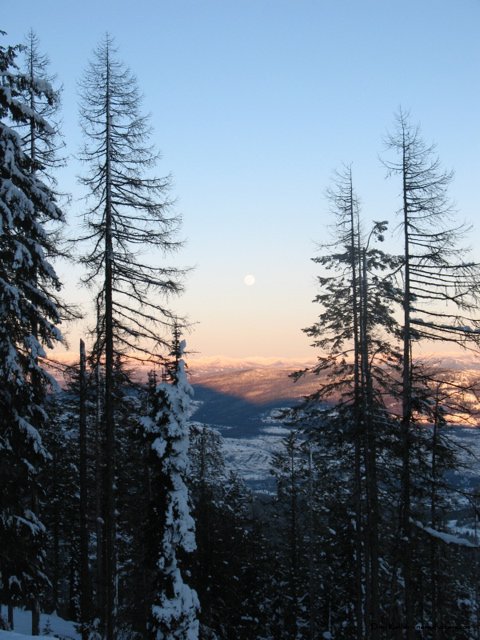 Arriving back at Blue Mountain in time to not sign up for the snowboard oriented 'prime time slip and slime' as I did not want to compete at 9am the next day, I felt I should at least cover the show.
On and off local and competitor Joe Sauve needed a place to park his Bus overnight and recharge his batteries, so I opened up my drive-way to his precious: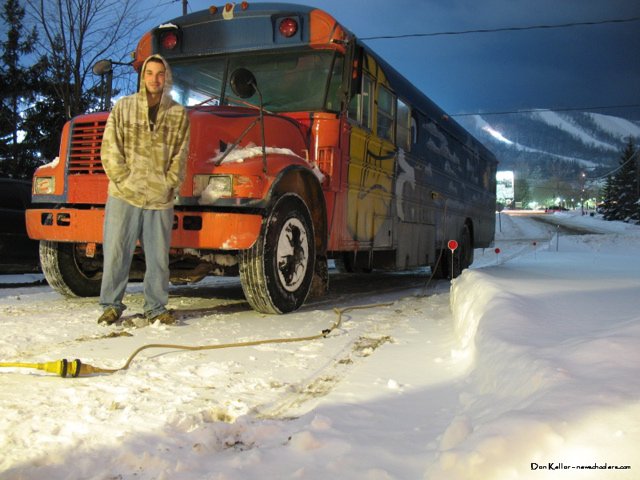 Joe was parked in one of the Blue Mountain parking lots, one which used to welcome in all types of motor-homes, but I guess times change as the security guard who booted Joe off the property (then called the cops and had him pulled over as soon as he hit the main road) asked Joe "How does it make sense, financially for Blue Mountain or Intrawest to let you stay for free? This is a resort!"
I say give your head a shake, it is ski bums like Joe who are the backbone of the industry. How does it make sense financially for Blue Mountain to not let Joe stay in their parking lots when he and his friends are going to be buying lift tickets and food? It is policies like this that are taking the fun out of the sport, being replaced by free market profiteering at the cost of the soul of the sport. No room for friendliness in the requirement for profits.
The event itself was, as mentioned, totally geared towards snowboarders as it was sponsored by Ride. The set ups were quite 'urban' and skier finals were done by noon, while the boarders started in the afternoon and went into the night. The judging was absolutely horrendous as snowboard judges just don't cut it anymore for ski events (not that they ever did), but these things did not stop the skiers from going off.
Joe Sauve about to switch it up on the d-d-d: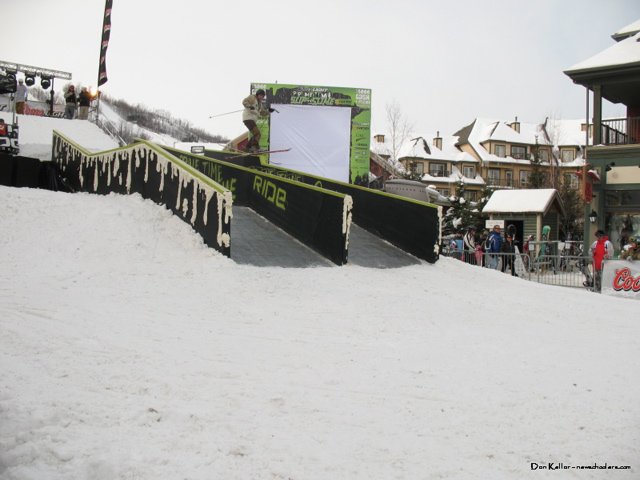 Jessica Warrl, just killing the middle down rail (switch up-270 out):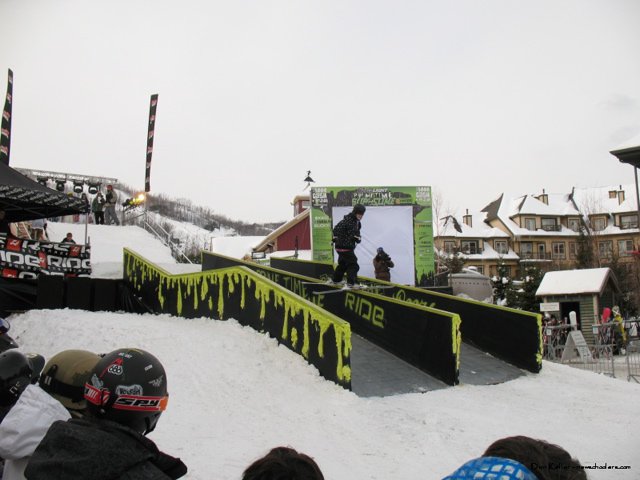 Sandy Bowville about to do something: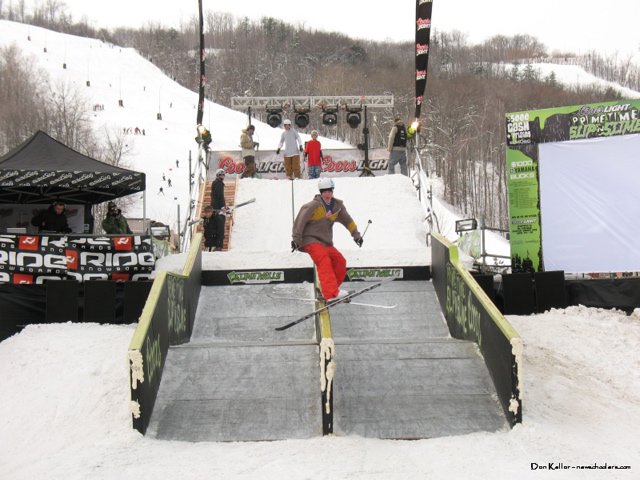 I could not get any official results, but what really matters is who got prizes, the people in this picture all won something…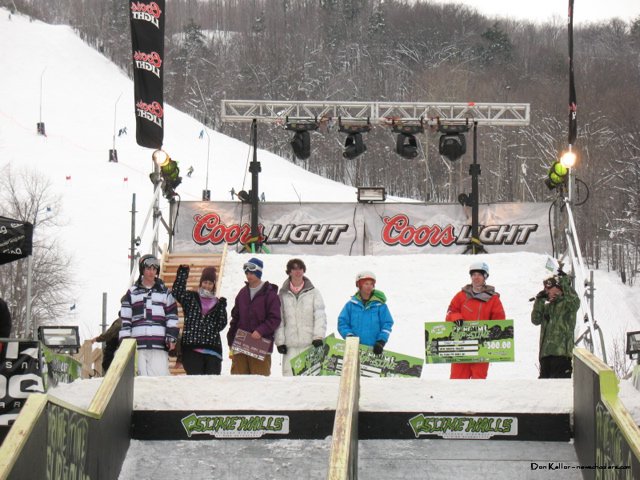 Here is a quick edit of the action including some effortless tricks by Nevin Metzger, smooth movement by Mark Hunt and some wicked spins by Pat Toronchuck:
After this quick recharge at home: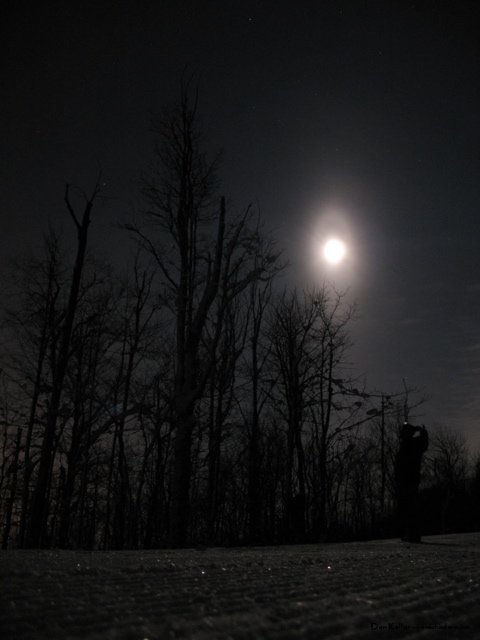 Ariane and I met back up in Whitehorse (Yukon) to get some skiing in at Mount Sima , and enjoy some local sights, sounds, and smells. We arrived at 3am to -38 degrees Celsius (plus wind chill) and because snot and eye juice freezes immediately at this temperature, we could smell or see, it did sure sound cold. In the morning, after driving out to the hill, we discovered it was closed as it was too damn cold: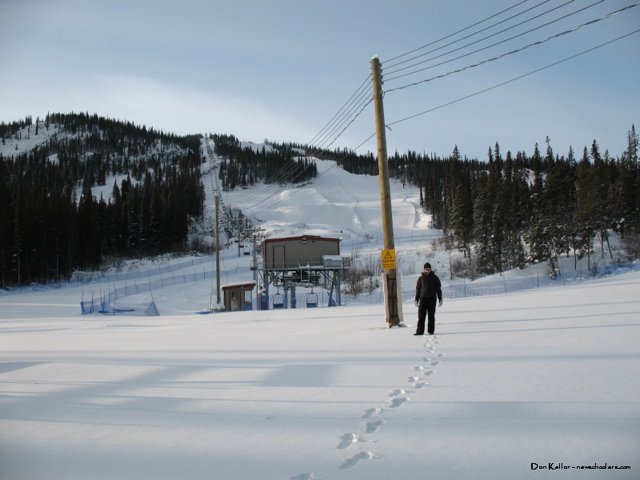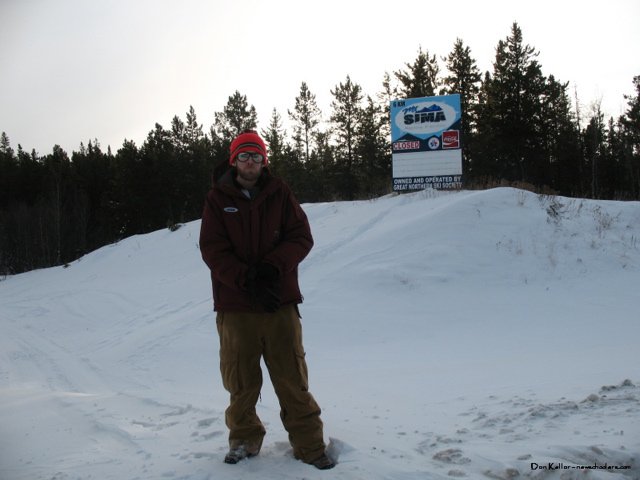 photo: Ariane Hanemaayer
So after a quick bite to eat at the culturally relevant sushi place, a tour of the Yukon Brewing Company, some art buying, and a quick defrost of our toothpaste we headed out of town to the super relaxing and minearlly replenishing hot springs which the proprietor opened up specially for us: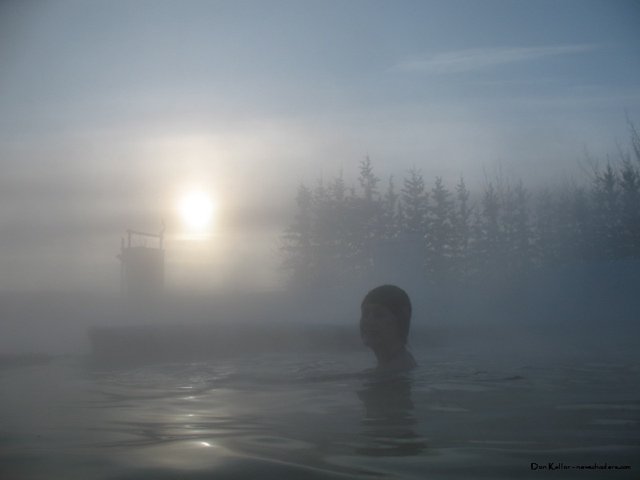 Since the ski hill was not re-opening anytime soon, and with a high avalanche danger in the more accessible backcountry, we spent the night searching for the Aurora Borealis and enjoying some great star scenes. Even though it had warmed up to a balmy -32 Celsius (plus wind) we booked flights out the next morning and went to Whistler, where the skiing and accommodations were much more…free and unfrozen: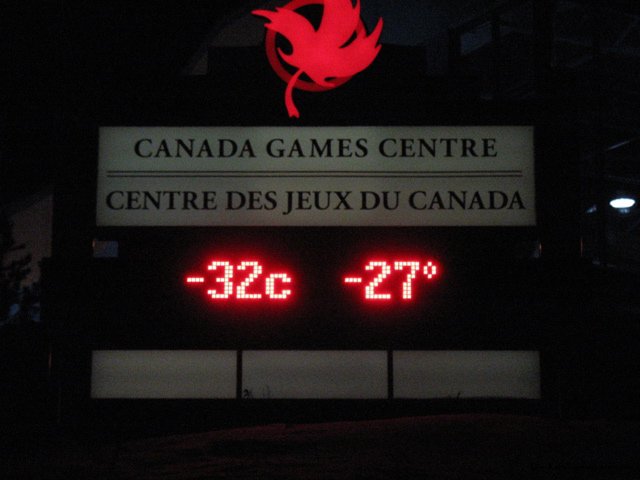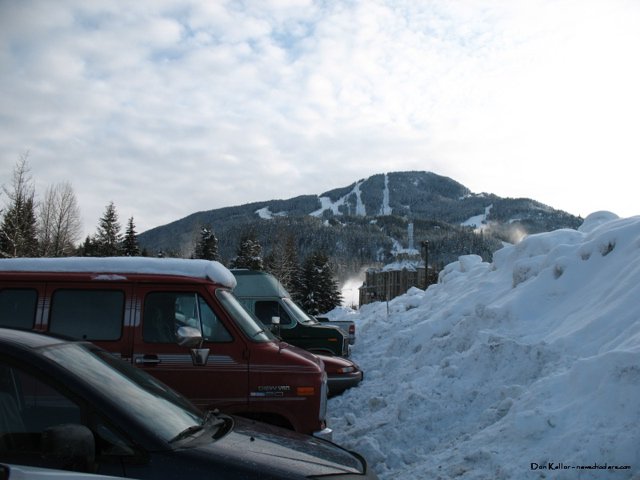 The network of ex-Ontarians now living in the resort municipality of Whistler is fantastic. There are 5 former Blue Mountain park staff out there, so there were many couches to stay on and many guides to take us around. The first couple of days were spent riding with Nick Nero and Peter D. The only problem I had was trying to follow them around while they were both wearing snow camo: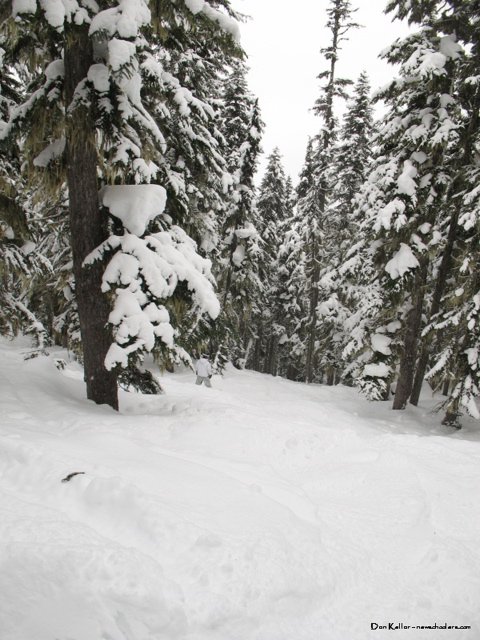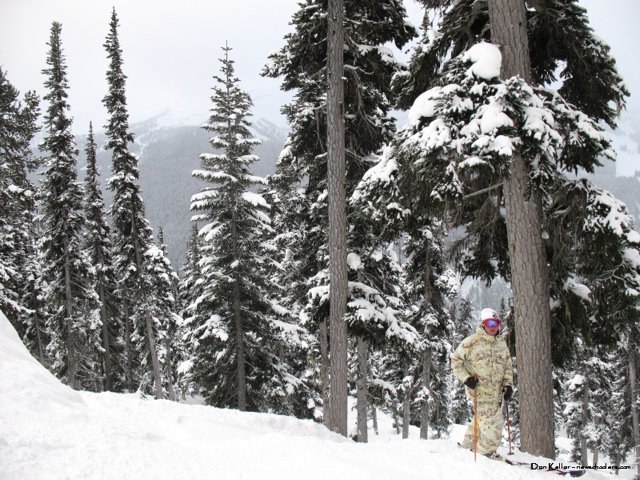 Honestly, if you are going to guide someone around wear bright pink and blue or something (more on that later).
Anyway, the boys gave us a grand tour of the more tame areas just beyond the ropes: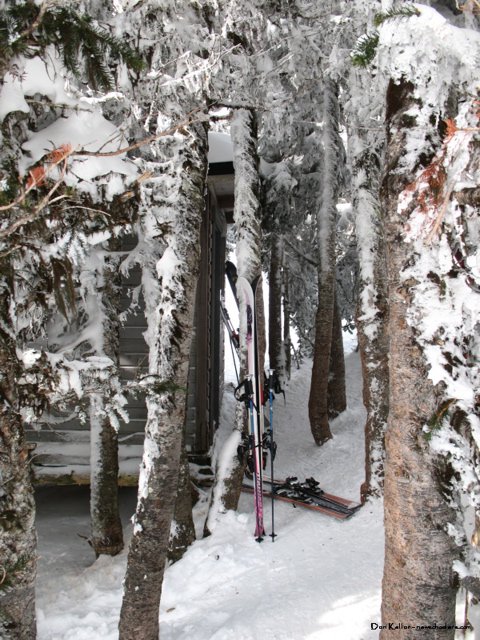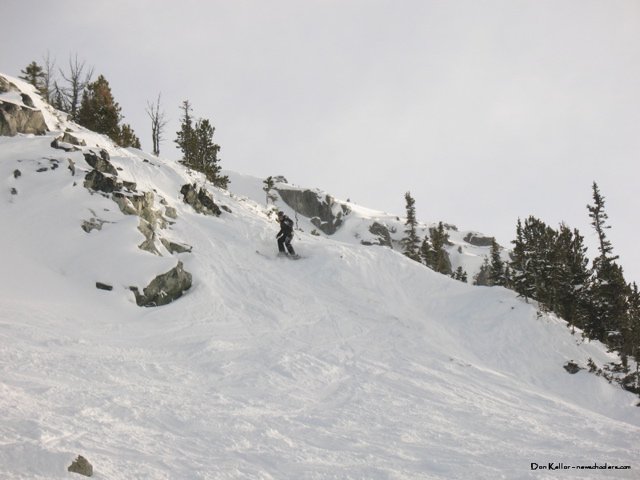 Andthey showed us other great snow inside, even though it had not snowed for a couple of days: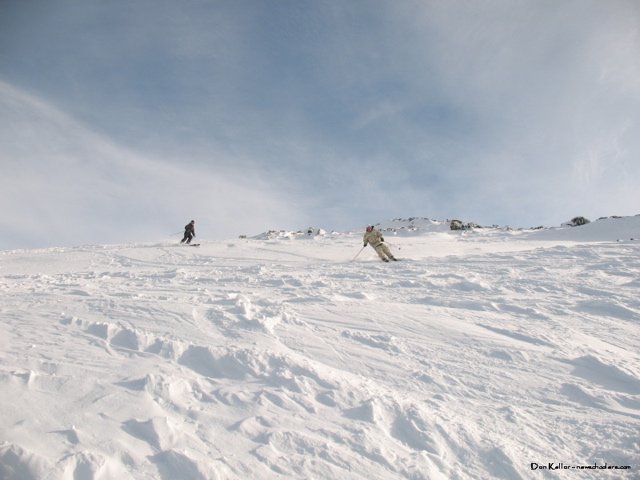 After a day or two we received some fresh snow so we took runs around to the poop shoots of Blackcomb Glacier and came out the bottom of Spanky's: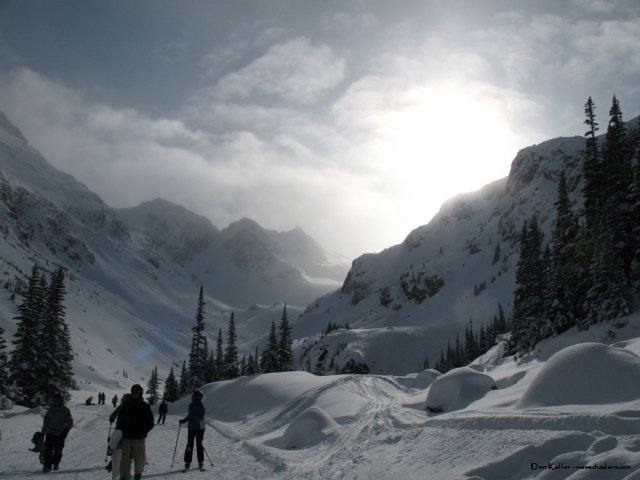 On to the ski out and an end to the day: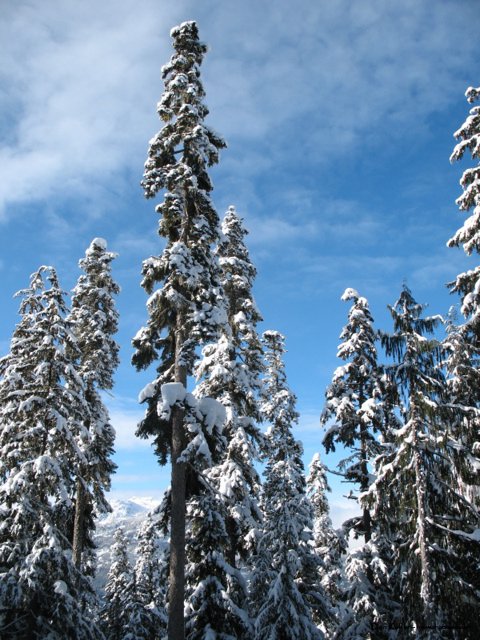 We headed to my favourite restaurant in Whistler: Sushi Village for an unexpected treat of Dave Weale behind the bar as the new tender. He took care of getting us in top shape for the eve and we set up a ski date the following morning (late morning). We also ran into snow snake Max Hill sitting at the sushi bar with videographer extraordinaire Jeff Thomas, but he was busy getting super important shots all week and could not join us in riding, plus he can't not have a phone without losing it so contact becomes difficult. We woke up to a beautiful day with a beautifully visible guide: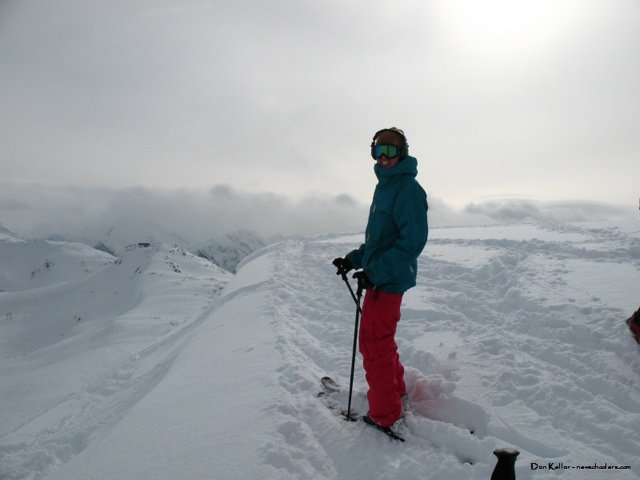 It was around this time that gay week started and for some reason I was releasing a male friendly pheromone, for each t-bar ride to blow-hole and the poop shoots ended with a 'new friend' wanting to follow me beyond the ropes, regardless of their abilities. I think the same thing happened to this messenger back in 2001: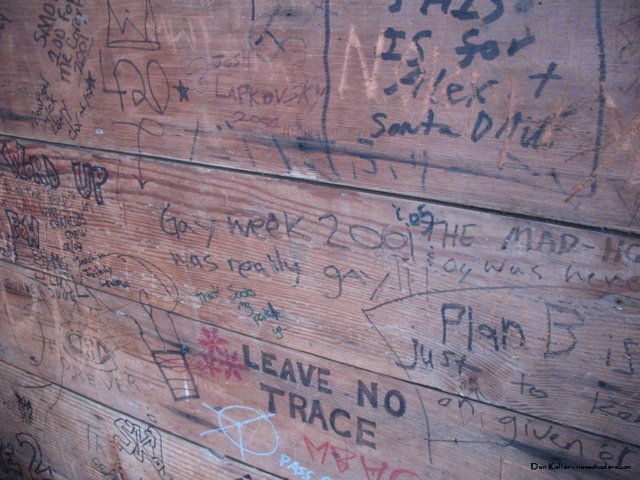 The week wore on and we were able to find lots of open bowls to run out in after cliff drops and big wide swooping turns in wide-open trees on more mellow slopes than was found at Red Mountain . Right at the resort boundary going into lakeside bowl beyond Xhiggy's Meadow on Blackcomb was the most peculiar thing. As we approached it became brighter and more intense and could really feel a great deal of energy. Passing through this vortex felt refreshing, and even though it was late in the day, we kept going without effort: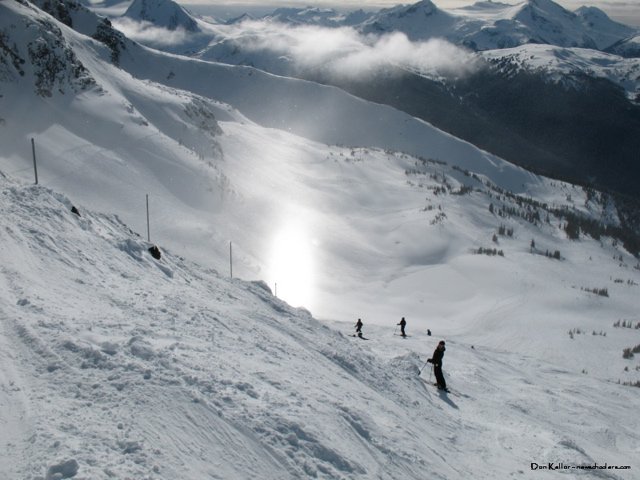 I'm not sure exactly what it was but it is just one of those things you really have to be there for, be right in the moment, to really appreciate. Skiing opens the doors to all types of natural phenomenon: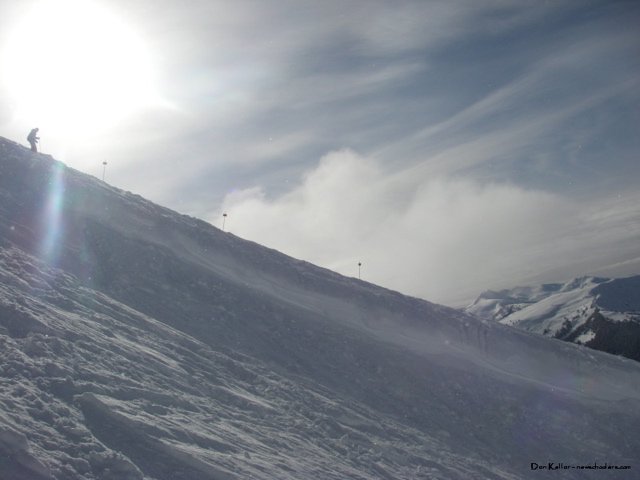 photo: Erica Finnsson
On the final day, the peaks were closed as it was ridiculously windy and visibility was brutal due to the snow coming down. Naturally then Ariane and I headed into the part to slide rails for the morning before taking off. The park was good; of course the Blackomb park will be good. I did not need to spend the week in there to know that, it is always good. They have a huge long run, a myriad of choices and a real good super-pipe. I was there for the non-park features of the mountain but had a great 'limited' visibility morning in there: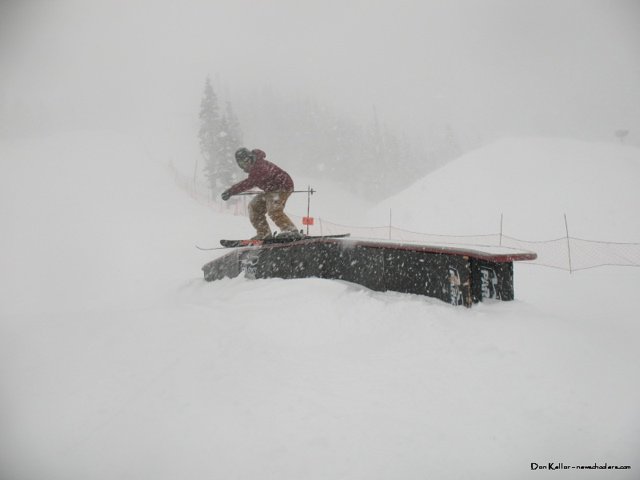 photo: Ariane Hanemaayer
After a quick romp through the village to say good-bye to friends: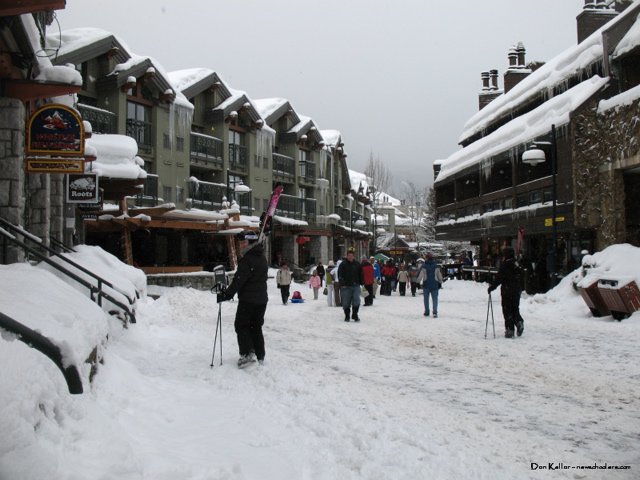 ...we hopped into a Jeep Compass for the drive back to Vancouver . Never rent one of these: it was the worst vehicle I have ever driven. It could not handle the 15cm of snow on the back-roads of White Gold (I got stuck and had to push my way out, I would have put it in 4-wheel, but the thing did not even have it) and could barely get through the slush on the sea-to-sky; I was scared for a while.
So it was goodbye to another city, another mountain, and an end to an amazing month on the road. I returned home to 300 or so emails that I had been ignoring while traveling and 40cm of snow at Blue Mountain , I got away to winter and returned to it and only one question remained: Should I choose school work or skiing?