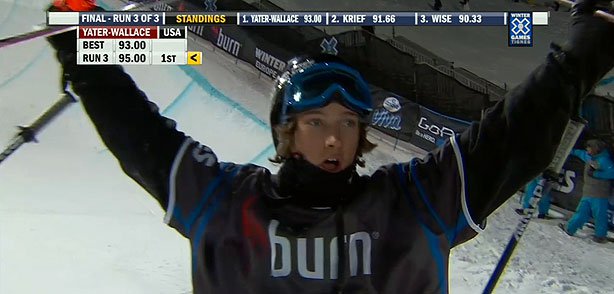 What a weekend we've just had! We've seen slopestyle brilliance and some insane riding from many different riders but there's still the main show to talk about. The superpipe finals for both men and women but what did they have in store for us?
Well, after the men's elimination it was always going to be a tough all. With Torin Yater-Wallace nipping at the heels of Thomas Krief and David Wise after bagging a few medals at Winter X events already, he was a fan favourite as well as if you were to place a few bets! They made up the top 3 qualifiers between them and the only other person I would have put into that mix (from the eliminations) would have been Gus Kenworthy. Finishing in 4th in eliminations but still lacking a little something, it would've been one hell of a finish if he was to break the top 3.
Torin wanted to finish his collection of Winter X Games medals with a gold that was set to turn up in Tignes on Friday 16th. He managed to secure the gold with his first run of a double cork 12, a huge 1080, 900, 1080 to switch 9 that had him grinning from ear to ear.
"I can't believe I just won," said an out of breath Yater-Wallace at the bottom of the pipe. "This is the best pipe I've ever ridden. I was feeling good and ended up landing. I don't even know what to say. It means the world to me. It's been my goal for my entire life, and it happened today."
The other two riders finishing off the podium were the other two from the top 3 in the elimination round. That's right, Thomas Krief didn't move up or down and secured himself the silver medal with a 900, double cork 12, alley-oop flatspin 3, switch 1080 to double flat spin 9 for a score or 91.66.
David Wise was the one to drop places and ended up in third, which isn't that bad, with a run of a switch double 10 japan (dropped in switch too), back to back 900s, alley-oop flatspin 540 tail grab and a double cork 12. David missed the grab on his final 12 which meant he had to settle for bronze but if he grabbed, who knows where he could've finished!
"I really wanted to land my first run solid and then be able to step my run up each run, but that's just not how it happened," said Wise. "My last run would have been in the top two but I missed the grab on my dub 12. You miss a grab, you make a mistake and that's all it really takes in this game with the level it's at. I'm just happy I got to put some solid runs down."
1. Torin Yater-Wallace ———- 93.00 45.33 95.00 → 95.00
2. Thomas Krief ———- 87.66 91.66 38.66 → 91.66
3. David Wise ———- 70.33 90.33 86.66 → 90.33
4. Justin Dorey ———- 65.33 90.00 86.00 → 90.00
5. Noah Bowman ———- 38.33 85.00 → 85.00
6. Xavier Bertoni ———- 81.00 41.33 72.66 → 81.00
7. Gus Kenworthy ———- 57.33 37.00 23.33 → 57.33
8. Matt Margetts ———- 23.00 38.00 14.00 → 38.00
Related posts:Men's Ski Superpipe Finals Winter X Games Europe France's Kevin Rolland became the first athlete to win two...
Winter X Games Europe: Men's Superpipe Finals Highlights from the men's superpipe finals at the European X...
Winter X Games Europe 2011: Men's Ski Superpipe Finals Is there anything that Kevin Rolland can't win? It's a...