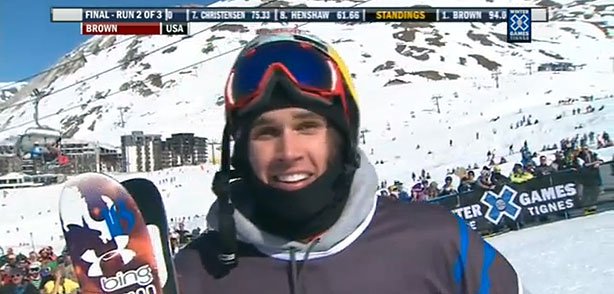 After the elimination round that we had yesterday, the finals was always going to be something epic. With the top 8 riders from the elims going through it could be anyone's gold medal. Tom Wallisch set the standard but would he be able to follow it through into the final and take the gold medal that he's wanted? If you were quick enough to read the title, then no, no he wouldn't.
Taking the top spot was Bobby Brown. I did mention yesterday that Wallisch's main competition would be from Brown (I also mentioned Nick Goepper but let's not talk about that) and he came through with an astonishing run. His wining run consisted of a switch 270 on pretzel – 270 out, switch on 450 out, key phat 270 out, right double 10, left double 12 tail, switch double 12, 360 switch on misty 450 off over the bottom rail to 270 out.
Tom Wallisch could only settle for second place after his incredible elimination run. His run of switch on switch up 630 out, [retzel 270 out, switch 270 on 270 out, left double 12, switch right double 10, switch left double 10, switch 270 on and pretzel 450 out wasn't enough for first place but it cemented second, which he seemed more than happy to take.