It's time for an update here from Breckenridge, Colorado at the first stop of the Winter Dew Tour.
After two solid days of greybird and flurries, Mother Nature finally cleaned up her act last night in time for the Ski Superpipe Prelims with clear and bitter cold skies.
It wasn't really a good day for the CoreUPT.com team as at the end of the day, only Tj and Justin are still in the loop for Halpipe and Slopestyle.
Gus broke his collar bone during the slopestyle qualifiers and had to stop the competition. We wish him to heal fast and well. All the crew wish him good luck for the recovery.
Colby and Julien unfortunately felt during their run.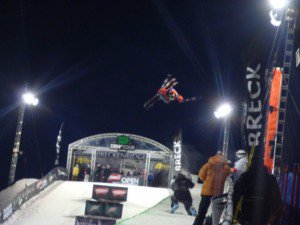 Dew Tour continues today with quite possibly the biggest day of the weekend, beginning with Slopestyle Prelims in the afternoon and Superpipe Finals in the evening. Stay tuned , as we'll be bringing you all the action as soon as it happens.
Halfpipe Results
1) Mike Riddle - 92.50
2) Xavier Bertoni - 90.00
3) Kevin Rolland - 88.75
4) David Wise - 85.00
5) Josiah Wells - 81.75
6) Matt Margetts - 81.25
7) Thomas Krief - 79.75
Dan Marion - 73.75
9) Banks Gilberti - 70.25
10) Matt Duhamel - 69.00