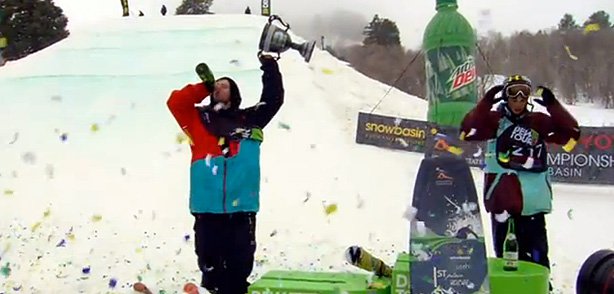 Last week we saw the Winter Dew Tour 2012 crown its champion and surprise, surprise it was none other that Tom Wallisch. The slopestyle comp in Snowbasin came down to two riders – Tom Wallisch and Nick Goepper. Nick managed to fend off Wallisch but his second place still allowed him to take the overall crown. With Bobby Brown finishing in third place, it was a one hell of a podium.
Nick's winning run consisted of a 450 on, back 270 off the flat down box, front switch up to back 450, switch 270 to misty 450 off the cannon box. Heading to the jumps he stomped a switch left double cork 1080 to switch double cork 1440.
Wallisch was aiming for the triple win after claiming the last two top spots on the tour and his run was, as ever, pretty freaking sweet. A switch 270, pretzel 270 on the down rail to front swap, to back 450 on the up-down rail, to switch on, pretzel 450 off the cannon box. On the kickers he threw a switch double cork 1080 to switch right double cork 1080.
It wasn't a run that would knock Goepper off the top spot though and Bobby Brown had to settle for 3rd place with his run. Final results were as follows:
Men's Ski Slope Results
Results
1. Nick Goepper 95.00
2. Tom Wallisch 92.25
3. Bobby Brown 91.00
4. Chris Laker 90.25
5. Russ Henshaw 89.50
6. Alex Bellemare 88.00
7. James Woods 87.00
8. Joss Christensen 82.00
9. Andreas Hatveit 76.00
10. Alex Beaulieu-Marchand 70.00
11. Jamieson Irvine 69.00
12. JF Houle 13.00
Related posts:Winter Dew Tour 2012: Killington – Slopestyle finals! Tom Wallisch and Kaya Turski take the crowns for the...
Winter X Games 2012: Tom Wallisch Backflips Skier Tom Wallisch backflips his way down the Winter X...
Winter X Games 15: Sammy Carlson wins slopestyle! Photo: Matt Morning/ESPN Images Sammy Carlson was so intent on...