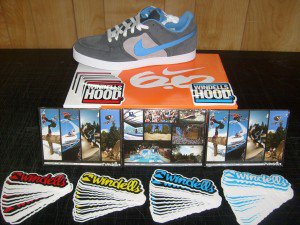 A week ago we put on a contest to see who could give us the 12 best reasons why Windells Camp is The "funnest" Place on Earth, for a chance to win a pair of size 12 limited edition Windells Nike 6.0 shoes! After reviewing all of your post we were forced to narrow it down to the top 3 due to the tight competition. All of the responses were so legit! That's why we are giving the two runner ups Windells DVD and stickers for their efforts.
Okay! So the winner of the Windells Nike 6.0 shoes goes to… 'drum roll'…
KAI STRITTER! Here are his reasons why Windells Camp is The "Funnest" Place on Earth! Short and to the point!
1. Incredible park no matter what session you go to
2. Chilling on and off hill with Pros
3. SICK facilities from the skateparks to the trampolines
4. Great park diggers always keeping the park pristine
5. Superb coaching
6. Best camp food ever
7. Windells has a freaking bag jump on campus, who else can say that?
8. Vans with massive subwoofers
9. extremely chill staff
10. Best living quarters of any summer camp around
11. FREE DEMOS
12. Hilarious campus activities
Runner Ups: Connor Mills & Austin Kemp! You will both receive Windells DVD and stickers in the mail shortly.
Thank you everyone who participated and be sure to stay up to date on our Windells Blog. We plan to do many more contests such as this one to get everyone stoked for the season!
No related posts.