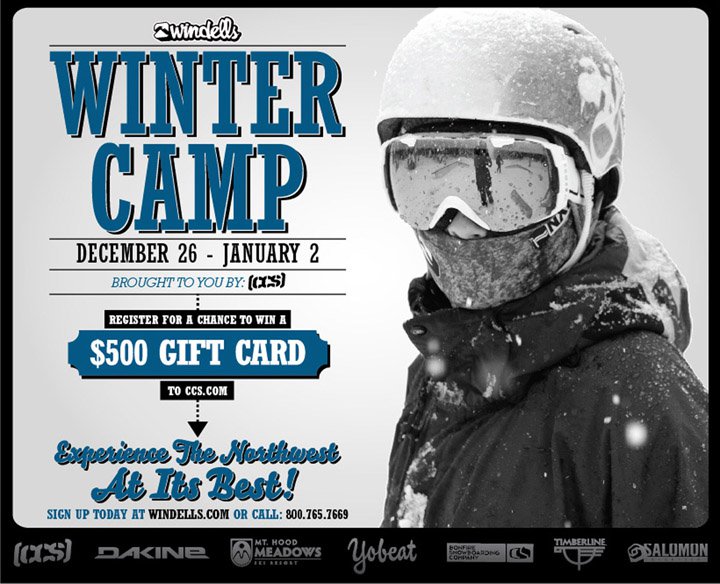 Windells Winter Camp is the best way to spend your winter break! Ride three different Oregon resorts, practice freestyle snowboarding and skiing, and have the time of your life at the "funnest" place on earth.
This winter, Windells is holding camp from December 26 through January 2. Spend the session riding fresh Northwest powder with your coach and new friends from around the world at Timberline Lodge, Mt. Hood Meadows, and Skibowl. Not to mention, the epic New Years Eve celebration equipped with fireworks and night riding will definitely get 2013 off to an amazing start.
Windells Camp is home to an all inclusive private campus just a short drive from Mt. Hood. Campers are supervised by professional counselors and staff members 24 hours a day. Huge indoor and outdoor skate parks, two Olympic style trampolines and a 9x9ft foam pit, an outdoor dry slope, dirt BMX jumps, a free Demo Center, game lounges, endless activities on hill and off, and comfortable cabins with flat screen TVs and spacious hang out zones are just a few of the perks that make Windells the place to be this winter.
Windells offers Day, Overnight and Adult packages to accommodate every camper. Registration fees include transportation to and from Portland International Airport, transportation to and from resorts, lodging, food, lift tickets, and gear demos. Each camper is automatically entered to win a $500 gift card to CCS.com just for signing up! Win tons of gear and prizes from sponsors like CCS, GoPro, Yobeat, Bonfire, Salomon Snowboarding, Roxy, Surface Skis, Dakine, Neff Headwear, Saga Outerwear, Gnu, LibTech, iNi Cooperative and more.
Experience the Northwest at its best! Spend your winter break with Windells this year. Learn more at http://www.windells.com.