Words by Riley Snyder
Photos by Erik Hoffman & Riley Snyder
Session 2 of Windells came and went in a flash. Camp doubled attendance from the first session but camp was still not crowded, which meant more laps and fewer lines.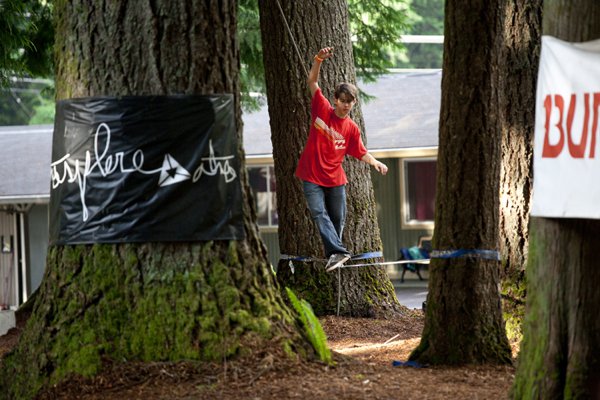 Slack lines are a great way to improve balance. Photo: Erik Hoffman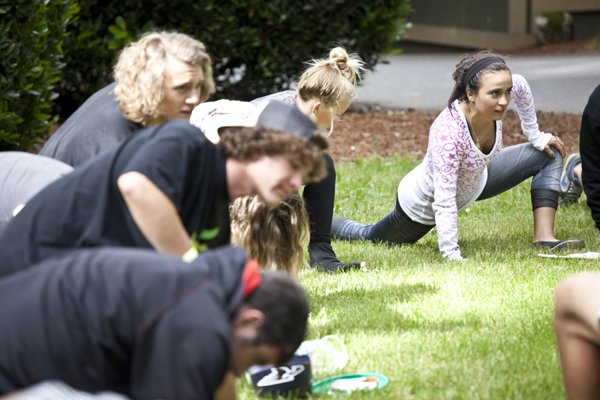 Daily yoga/stretch sessions to make sure you are nice and loose after a hard day of riding. Photo: Erik Hoffman
Slack lines were introduced to camp last summer. They are a great way to work on balance as well as building endurance. Speaking of balance, Camp Director Marsha Hovey leads a daily yoga/stretch session in the courtyard for whomever would like to join and get all stretched out and observe your inner qi (pronounced chi).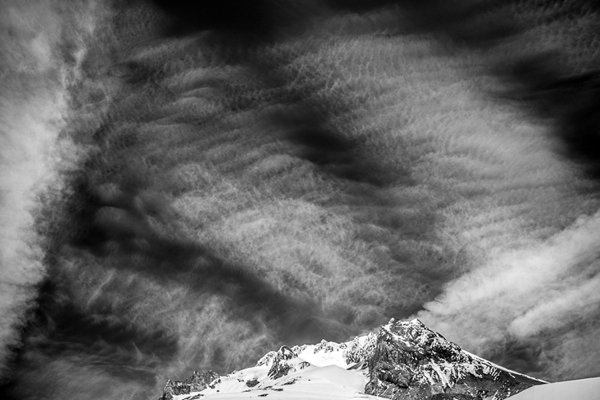 Interesting cloud formation above the summit of Mt. Hood. Photo: Riley Snyder
Session 2 brought more sunny days and new features and lines. 4bi9 hosted their first sponsored session with a close to full crew, including the likes of Steve Stepp, Nicky Keefer, Brady Perron, John Kutcher, Collin Collins, Dale Talkington, AJ Dakoulas, and friends.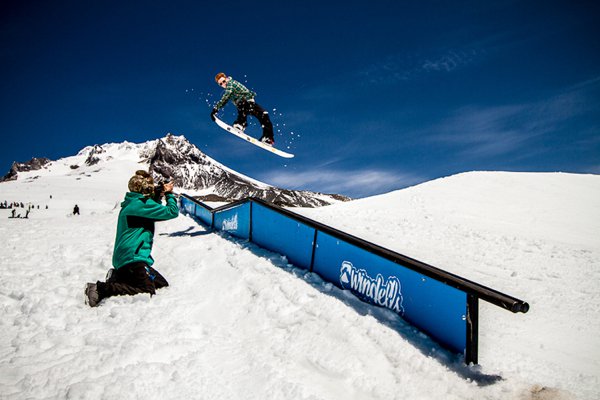 Counselor Evan Drage filming for the session snowboard edit. Photo: Riley Snyder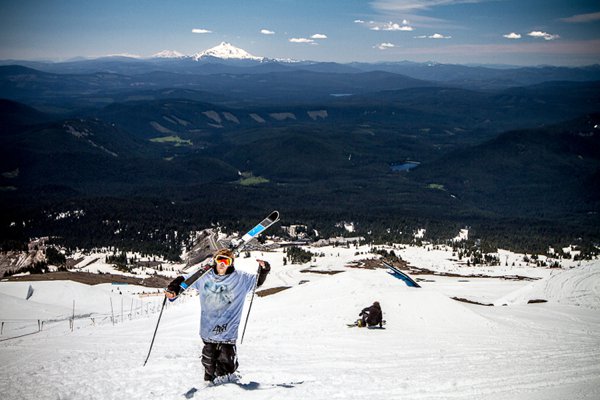 Steve Stepp earning his shots. Photo: Riley Snyder
The coaches work very hard making sure their campers reach their goals while having fun and enjoying the private park.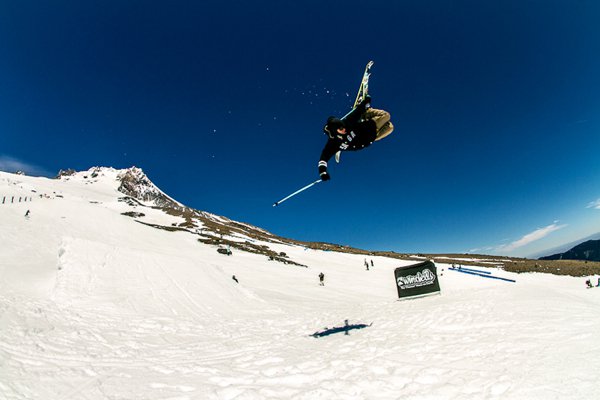 4bi9 athlete Nicky Keefer filming some crazy trickery on the upper jump line. Photo: Riley Snyder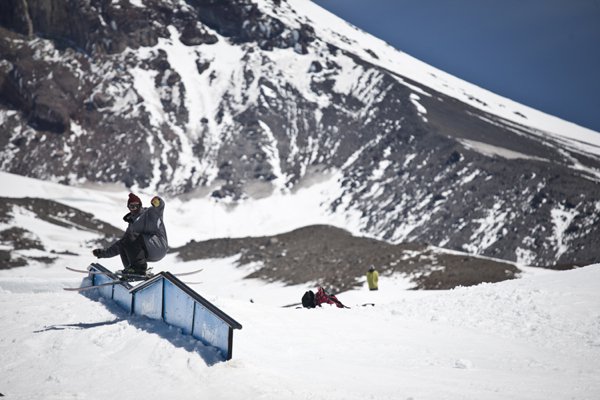 Tail pressing on the down-flat-down isn't as easy as Brady Perron makes it look. Photo: Erik Hoffman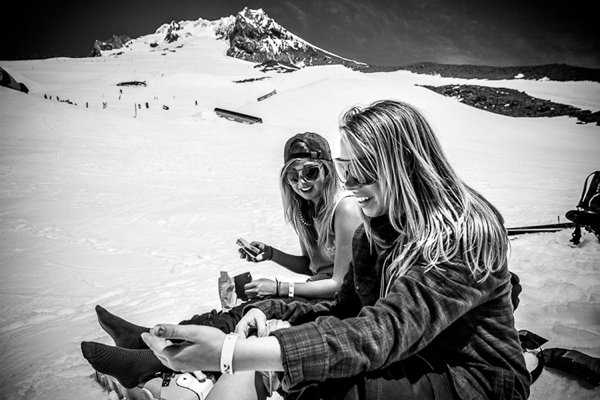 Nothing like watching the pros session the Saga feature while eating your lunch. Photo: Riley Snyder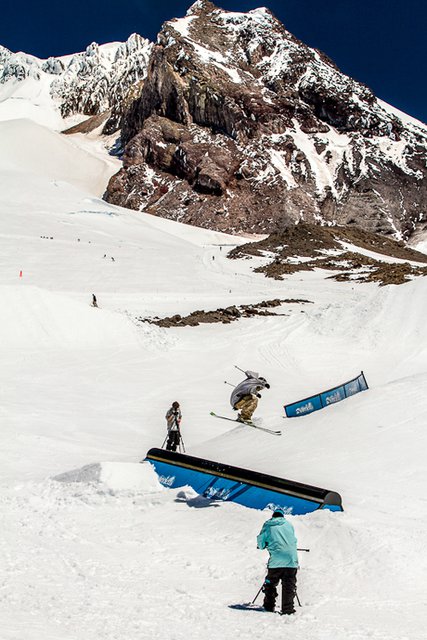 Some epic tricks are thrown when the film crew shows up as shown by counselor Cam Boll. Photo: Riley Snyder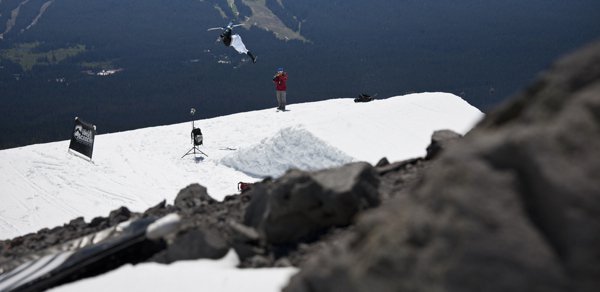 Steve Stepp doing some sort of maneuver on the stunt wedges. Photo: Erik Hoffman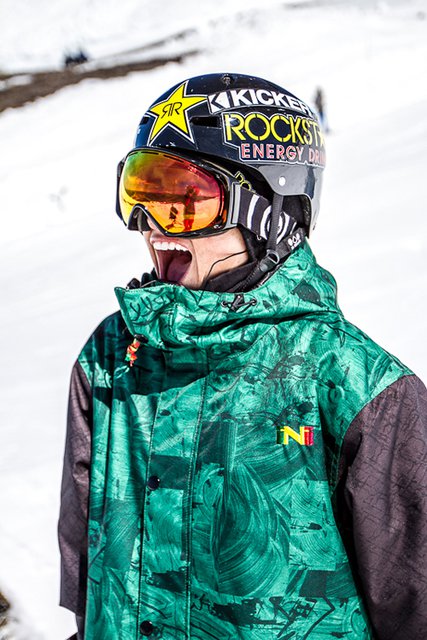 Ashley Battersby sometimes complains about being too stoked. Photo: Riley Snyder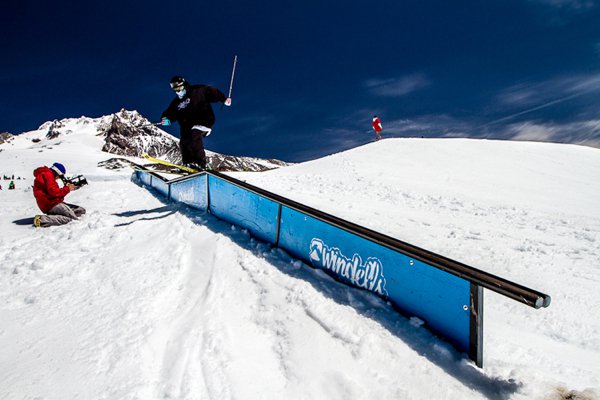 Photo: Riley Snyder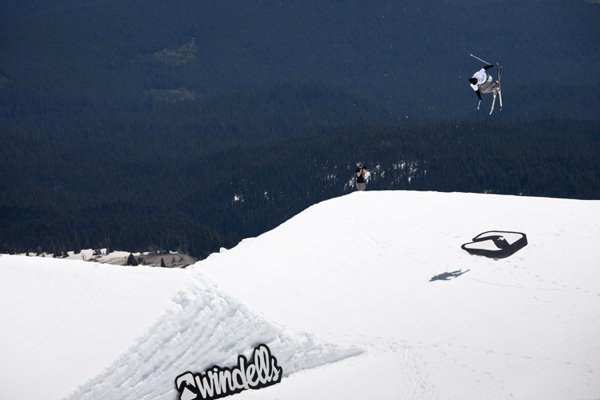 Did I mention that we have a 100-foot jump? Photo: Erik Hoffman
The 100-foot jump was opened for Session 2, which is the current record-sized jump open for the lane.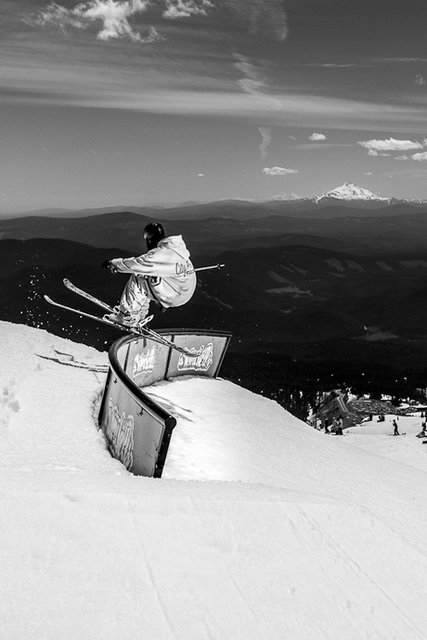 Cam Boll getting more shots. Photo: Riley Snyder
Stay tuned for more updates on Windells, and to book yourself a last minute session, be sure to head on over to windells.com.
Shout-out to Windells' sponsors, including Dakine, Yobeat, Rome SDS, Flow, Ride, Saga, Poor Boyz Productions, Burton, Surface, 4bi9, Level 1, Stept Productions, Smith Optics, Gatorade, Bonfire Salomon, iNi Cooperative, R.E.D, Thirtytwo, Skullcandy, Neff, GoPro, SnowSkin, KAB Rails, LibTech, Armada, Rollerblade, Fulltilt, LINE, Marker, Volkl, Dalbello, Causwell, Joystick, Creature, Mob Grip, Flip, Santa Cruz Skateboards, OJ Wheels and Krux.