Over the past two decades, Windells and High Cascade have emerged as two of the biggest and most respected ski and snowboard camps in the world. Today, the brands detailed their "Authentic Camp Experience" strategy, which aims at effectively focusing the Windells brand on skiing while High Cascade continues to retain its commitment to 100% snowboarding. Following today's announcement, High Cascade and Windells will operate their own sport-specific terrain parks while also sharing some select shared on-hill facilities, like the private 22' SuperPipe, Lap Park and multiple BagJump™ features.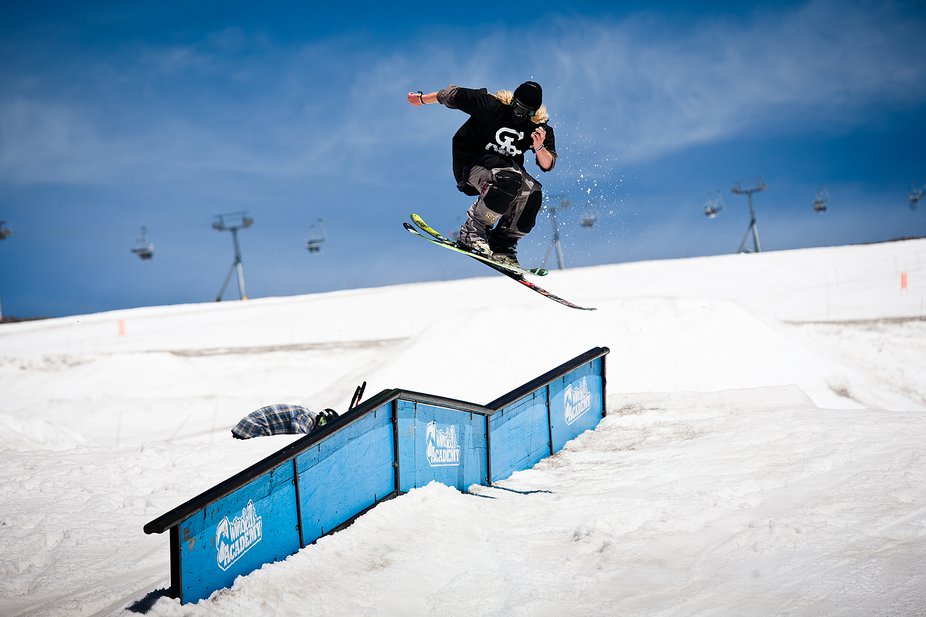 Collin Collins on the slay, breaking up the text. Photo: Erik Hoffman
Skiers and snowboarders will also have opportunity to interact at the Windells campus. While High Cascade Camp campers will to have the option to stay in Government Camp, the summer snowboard mecca since 1990, they will also now have the opportunity to stay on the Windells private campus, just down the hill in Welches.
I have to say I think this a pity, because I personally enjoy having boarders in the park I'm riding and feeding off the energy and perspective they bring to things. But I can also see the sense in the move from a business and marketing standpoint and from that of giving the best park for 'progression' to campers.
https://www.newschoolers.com/videos/watch/747221/Crazy-Karl----lines-in-the-park-1You can't have a Windells article without this Karl Clip...
You can read the full Windells press release here: http://www.newschoolers.com/news/read/We-Camp-Announces-Authentic-Camp-Experience-Windells-Focus-Skiing-High-Cascade-Snowboarding
We asked marketing director, top freeski judge and underground slayer Jason Arens a bit more about the decision:
Hi Jason, first and main question really: What sparked this?
With Windells prominence as a ski camp over the past decade, the decision was simple, it allows Windells to focus all energy on skiing while allowing High Cascade to continue what they do best and create the best possible snowboard camp. Camp programming and camper experience suffers with too broad of a focus, so we aim to more intentionally focus on skiing, allowing for a more authentic camp experience at the end of the day.
Will this affect the size of Windells' park?
This change will not affect the size of the Windells park at all but gives us the opportunity to create the best possible park for all skiers of all ability levels. For the first time ever we will have a park that is ski only, designed especially for skiers, in addition to the 22 Foot Superpipe, Lap Park, and BagJump Features accessible via two high speed quads and three private rope tows.
Do you think the move creates more of a division between skiers and boarders?
Our intention is not to increase the division between skiers and snowboarders, but to provide the best camp possible. We aim to emphasize ski culture in ways never before done helping to continue growth and progression within the sport while promoting a sense of pride and connection to skiing. While our brands have divided focus, the skiers and snowboarders will still be able to interact and ride with each other on and off hill, creating less of a barrier between Windells and High Cascade than ever before.
So there you have it, let us know what you think of the decision in the comments! That's quite a lot of words in one place so check out a throwback to Newschoolers week this past summer and get stoked for winter and the summer of shred that follows. Boarders on no boarders, you know Windells is going to be the place to be!