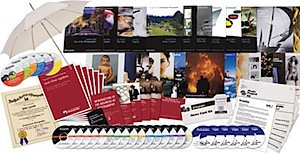 Today I'm really excited to announce a competition here on dPS which gives you the chance to win one of two digital photography courses from one of our advertising partners – New York Institute of Photography.
Win These Two Prizes
The prizes are designed so that one be helpful for different levels. One of each of the following two courses will be won by a dPS reader:
Fundamentals of Digital Photography
Complete Course in Professional Photography
Both courses include comprehensivee and beautifully illustrated lesson books, CD Audio Guides, DVD Video Training, Photo Projects with Professional Evaluation and Personal Student Advisors.
How to Win
To win this competition you'll need to:
visit the above two course information pages and choose which of the two courses suits your needs more. Choose one that you'd like to win.
leave a comment below and tell us which one you'd like to win and WHY you'd like to participate in the course. Please note: there is a limit of 1 entry per person.
do this in the next 8 days and on Friday 16th March we'll choose the best 2 answers and announce the winners.
By 'best' – we're looking for people who have an understanding of what the course offers and how it suits their needs. So you'll need to check out the course pages to put yourself in the best position to win.
There's no need to write essay length comments to win – but we're looking to hear what you like about the course and how it would help your development as a photographer.
This competition is open to everyone around the world no matter where you live – but there is only one entry per person.
To enter – simply leave your comment below.
Post originally from: Digital Photography Tips.
Check out our more Photography Tips at Photography Tips for Beginners, Portrait Photography Tips and Wedding Photography Tips.
Win One of Two Photography Courses from New York Insititute of Photography