dPS Facebook page we just passed the magical 100,000 'likes' mark. It's been creeping up towards the milestone for a while now and I've been promising we'd do a little giveaway to celebrate when we got there. So today it is happening.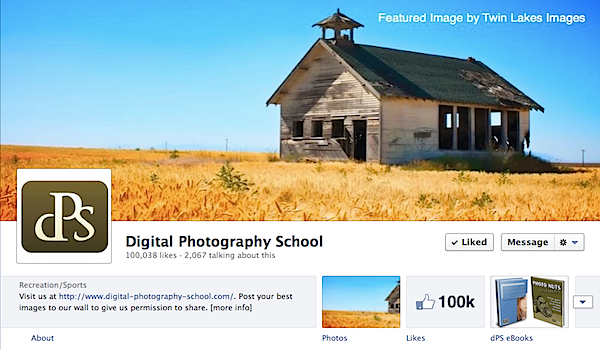 Over on the
The Prize
One dPS reader will win a copy of our 9 dPS eBooks worth just under $240!
The eBooks we'll bundle up for the winner are:
The Essential Guide to Portrait Photography
Photo Nuts and Bolts: Know Your Camera and Take Better Photos
Photo Nuts and Shots: Tools and Techniques for Creative Photography
Photo Nuts and Post: A Guide to Post Processing
Transcending Travel: a Guide to Captivating Travel Photography
Buy Captivating Color: a Guide to Dramatic Color Photography
The Art of Self Portraiture
Going Pro: How to Make Money from Your Photography
Click! How to Take Gorgeous Photos of Your Kids
How to Enter
Entering is simple – simply visit our Facebook Page and tell us in comments below what you'd like to see us do more of on the page to make it more useful to you.
Ultimately dPS is all about helping photographers improve their photography and we want every part of the site (including our Facebook page) to be as useful to you as possible. At present we're sharing content from here on the blog, asking questions/having discussions and letting readers submit photos (with the chance to be our featured image). But what else would you like us to do on our Facebook page.
I'll choose an answer to win the prize on Saturday. The winner will be judged on giving us an idea that we can implement to improve the page.
There is one entry per person only and you're welcome to enter no matter where in the world you're located – all we'll need to get you your prize will be for you to have internet access fast enough to download 9 eBooks!
Post originally from: Digital Photography Tips.
Check out our more Photography Tips at Photography Tips for Beginners, Portrait Photography Tips and Wedding Photography Tips.
Win a Library of dPS eBooks by Helping us Improve our Facebook Page