Interview by Jeff Schmuck
Photos courtesy of Meathead Films & Dylan Tucker (http://www.tuckeredoutfilms.com)
So right now you just dropped the highly anticipated trailer for your new movie Wild Stallions. But before we get into that, how'd the season go for you?
Geoff: The season went super well man. Every year we have a bigger and bigger list of goals and obviously not everything on it gets done, but I think we accomplished a good portion of what we wanted to do. We always try to bring a little bit of everything in our movies, so we got some really deep days in, we got some custom park stuff done…and we've got Hammer and Radio Ron.
Naturally (laughs). Where'd you guys shoot this winter?
Geoff: Well we went to a lot of our typical locations like Stowe and Jay Peak but as far as new places we did a really cool trip out to Mount Bohemia in Michigan, which is kind of known as the Jackson Hole of the Midwest I guess. It's got 900 vertical and they get about 300 inches of snow a year. It's up in the Upper Peninsula and kind of sticks out into the middle of Lake Superior. So we had a really sweet five-day trip up there. We didn't get the best snow but the terrain was amazing and we had nothing but sun so we got some really cool shit up there, so I'd say that was definitely one of the more unique trips we did. And we also hit up Pennsylvania and checked out Blue Mountain and Big Boulder and did some park shoots down there.
I heard they've got a pretty sweet park at Big Boulder.
Geoff: Yeah they do, but Blue Mountain also has a great one. It's a bit longer than the one at Big Boulder and they've got some pretty unique rail features. So we brought Andy and Garrett and Will down there in February and they just did weird stuff on the features which was fun to film.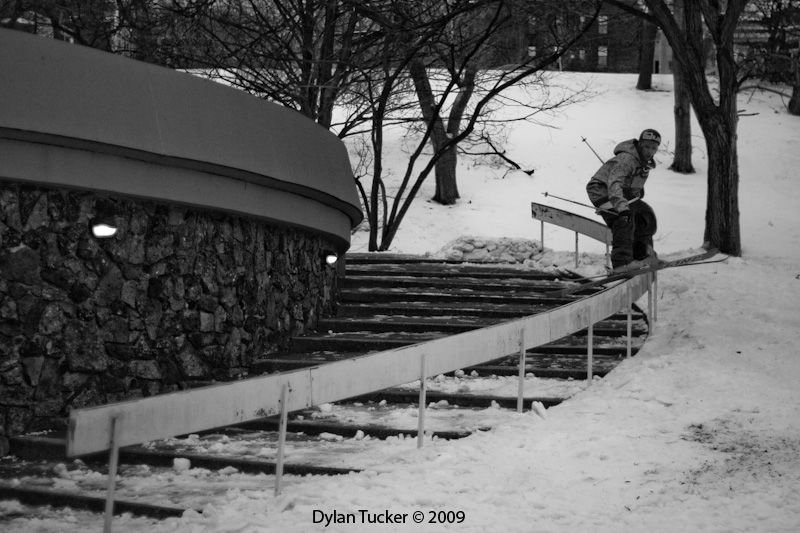 Speaking of Garrett, you guys added some new faces to the mix this year didn't you?
Geoff: Yeah we brought some new guys on board. Garrett was kind of the first new guy and we started filming with him in February when he came out here for two weeks and that went really well. We actually wanted to film some urban with him but the weather didn't really cooperate so we did those park shoots and then shot some really deep pow days up at Jay Peak. So he got to see what the pow scene is really all about on the east coast and he was pretty surprised (laughs), because there was a couple of days there where Jay got about six feet of snow. And we also filmed a ton with Dan Marion this year starting in February on the Mount Bohemia trip, so he's another newcomer for us.
And speaking of both Garrett and deep pow, you went out to Japan this winter with him as well right Rogge?
Rogge: Yeah none of that footage is going to be in the movie but it was a super sweet experience. Garrett did a camp over there with Tatsuya from Bravo Ski who's the absolute man as you know, so I went along and helped spread the Meathead gospel. It was really fun because the Japanese can really relate to the Meathead product and the Ski The East product, because they experience very similar conditions in that when it's great, it's great, and when it's bad, we're still out there.
On the subject of new faces in Meatheads this year, you're obviously one of them yourself in the behind the scenes area. Because as everyone knows, you use to write for NS and then you left me high and dry and now I have to write more articles (laughs). Do you feel like you've been pretty influential in bringing new people and fresh ideas into the fold?
Rogge: I like to think so but at the same time, if it ain't broke, don't fix it. These guys have been doing this for years so when I came on board it was more to fill in the gaps then to try to drastically improve something. But what was nice is that during my years writing for Newschoolers I met a lot of the athletes and it made it easier to bring them on board or at least make them aware of what we're doing.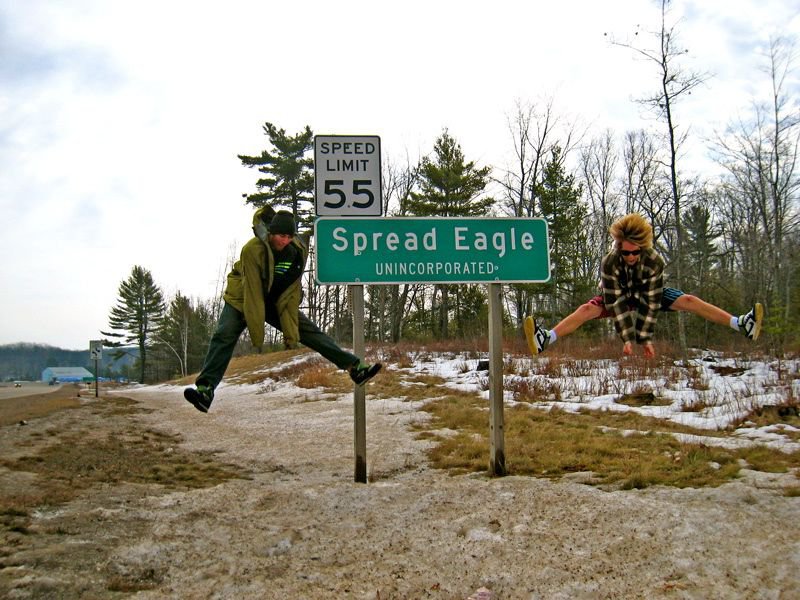 Giray Dadali and Dan Marion in Spread Eagle
Now that you're one year deep with Meatheads how would say the experience has been for you?
Rogge: I couldn't be happier. I really wanted to find my place in the industry so moving to Burlington and hooking up with these guys has been great, because it's close to home and I love the east because I grew up here, so it's a perfect fit. Plus Geoff and Rooster are great to work with and all the athletes are super fun, because I mean, you can't say enough good things about guys like Radio Ron and Hammer (laughs).
And Geoff and Rooster, how's Rogge been as an addition for you guys?
Rooster: He's been great. He's definitely brought some new energy to the table and he's fantastic at marketing and PR and has really taken charge of a lot of the viral marketing by making sure our Facebook and Twitter accounts and all that good stuff is rocking, along with articles on our website, which he updates regularly. So he's done a lot for the Meatheads site and our whole separate Ski The East property that's both an online community and a clothing brand, along with dealing with all the other nitpicky stuff that has to get done to make things happen.
This is a question I've had to ask a lot in the last few weeks to all the film companies so hopefully it's not too redundant, but there's going to be so many ski movies for kids to choose from this fall…tell everyone out there why they should they pick up Wild Stallions.
Rooster: Number one…the title (laughs). You're not going to find a radder title than that this year.
Geoff: (laughs) I feel like we put out a super unique product that stands out from the rest of the ski movies out there. We try to put a lot of sick ski action but also some story line that looks at more the real life side of skiing. Plus I think a lot of people find our movies a lot easier to relate to, because they see the places we go to when they go skiing. And the fact that we focus on the east coast, because it means that anybody that's from here or skis here is just as interested in our movies as the others, because our movie is the one to watch to see that. So we've carved out our little niche in the industry and we're psyched about that.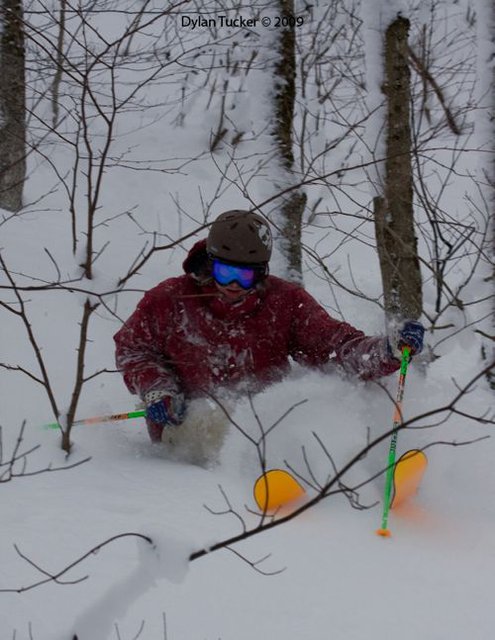 Yeah the thing I've always really enjoyed about your films is that as awesome as it is to see the double heli angles in Alaska, it seems like what you guys do with just filming in your backyard is so much more pure.
Rooster: We keep it real! That's the bottom line. We keep it real, and nobody else is filming where we're filming, so you're not going to see similar shots anywhere else.
No doubt. And I'm especially excited about your film this year, because as anyone who's met me for five minutes knows, I'm a huge 80's metal head, so talk about the concept behind Wild Stallions.
Geoff: That was all Rooster. He came up with the concept a couple of years ago and we were kind of putting it on hold and then we pulled the trigger this year pretty early. In fact we don't usually have the name of our movie until our trailer goes out, where as this year we had it in mind all year, which kind of helped set the tone for some of the things we filmed, and it worked out great. Rooster how did you come up with the name?
Rooster: I don't know, I just always just felt like we have a bit of a motley crew, because all our guys are a pretty wild bunch. East coasters are kind of a breed apart. We do our own thing, and we're not filming with super high profile athletes, we kind of just roam the east coast freely and do what we want and make shit happen.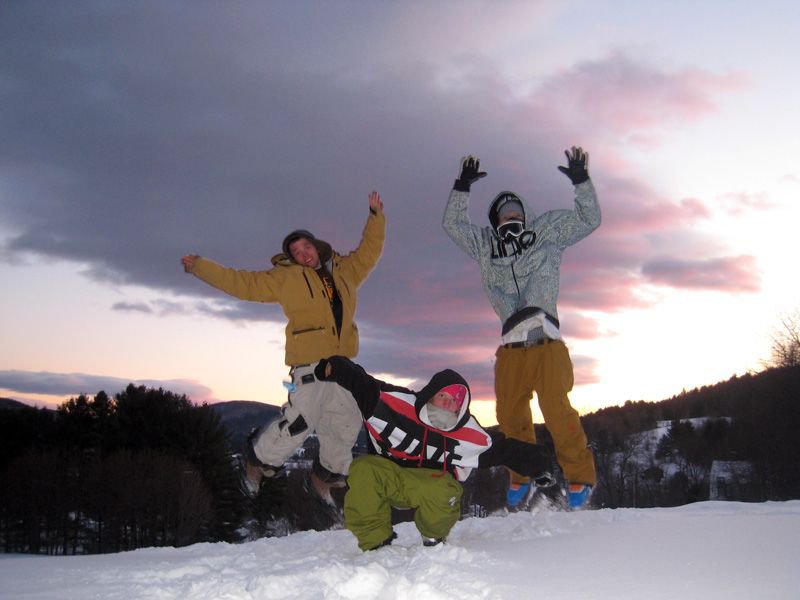 Hennie VJ, LJ, and Will on an early season urban trip
Speaking of high profiles athletes though, a lot of the guys you've filmed over the years have made the pilgrimage out west and blown up. So do you guys sort of look at yourselves as a breeding ground for these athletes to get to the next level? And if so, how's that make you feel?
Geoff: Yeah, I think so. It sort of started out slow for us because we just try to film with whoever is the best out here as far as backcountry or park stuff goes. And it's really cool to see a lot of the park guys like Will and Andy and LJ, who we've been filming with since he was 16, blow up. I think they're just kind of starting to blow up right now actually but I'm hoping they'll do a lot more in the future. And it's kind of changed for us a bit over the years too, because a lot of the guys we want to keep filming with don't necessarily live on the east coast anymore, but they're always stoked to come back and film with us as much as they can, and we appreciate that, because it's nice to have such a dedicated bunch.
Rooster: Yeah I'd say the one word for me that describes it is rewarding. It's really rewarding to film and work with these kids as they're growing up and see them be super eager and anxious to get as much footage as possible and make the best segment possible. It's really interesting to see them grow and head out west and get into the really serious competition circuit or go out and work with other film companies or photographers and do their thing. And then a lot of them end up coming back to work with us again, so it's really, really rewarding.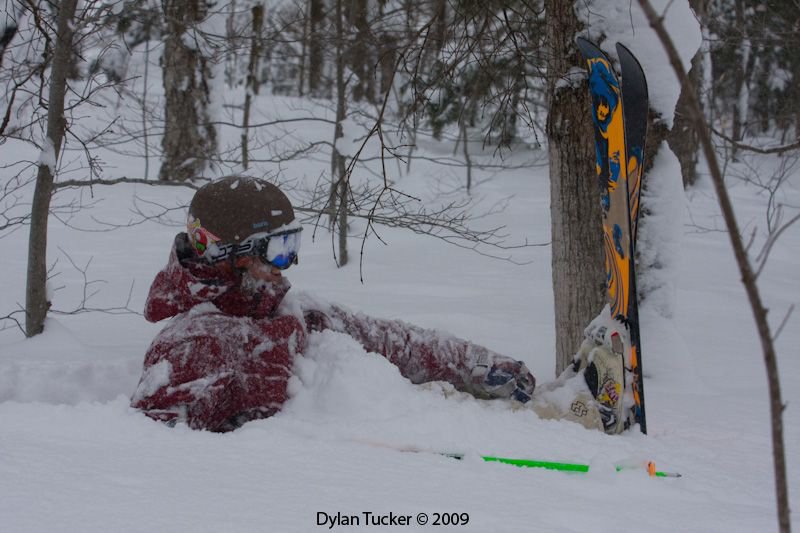 What was the most challenging part of your winter?
Rooster: March. With 10 inches of snow (laughs). March is always our go-to month on the east coast and we just got the shoot of the nut this year. We always kind of bank on that month for our big pow footage and it just didn't happen this year. We kind of made up for it by doing our trip to the Chic Choc's with a backcountry focus, and we got some other big lines done in the White Mountains of New Hampshire, so that sort of made up for it. But March was definitely the big downer this year.
Geoff: And it was great having Rooster doing a lot of filming for us this year, because in the past we were just kind of traveling together and he was just doing photography but now he's been getting a lot more into the filming side of things and totally contributed a ton the movie this year. And as far as the backcountry stuff goes, filming some longer lines was definitely one of our goals for the year, because I felt we were kind of lacking that in last year's movie. We had a lot of glade segments so I wanted to get some gnarly couloirs and some stuff at Tuckerman's Ravine. So I think that worked well and will make it better and a little bit different than last year's film.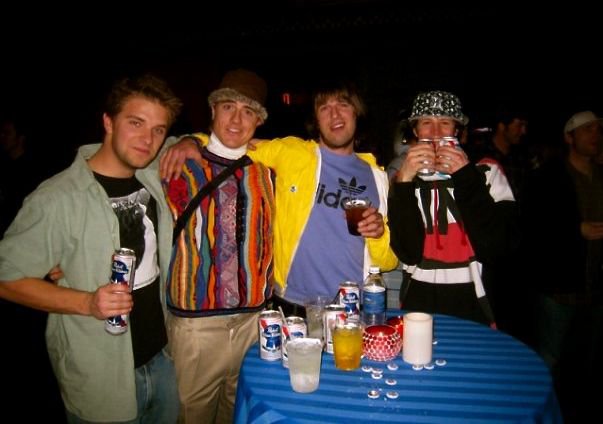 Rogge, Geoff, Rooster and Andy at Powder Awards
What are going to be the big highlights in the film this year in your opinion?
Rooster: Well we're looking to send it at the Powder Magazine Video Awards again and maintain the bar we set in the industry for urban and all in all just try to keep that vibe going.
Geoff: Yeah I think there's a lot of film companies doing some crazy stuff with urban like Josh at Level 1 and the guys at Rage, but I think that the guys we work with tend to approach it a little bit differently and that's something I'm really excited about with this year's movie. We did a lot of stuff other than just rails and tried to find weird features for the guys to do things on. We did a whole segment in an abandoned amusement park in Lake George, New York called the Magic Forest that was really cool. The guys were doing handplants off animals and all sort of weird stuff that I hope people will appreciate because it's something they won't see in other movies.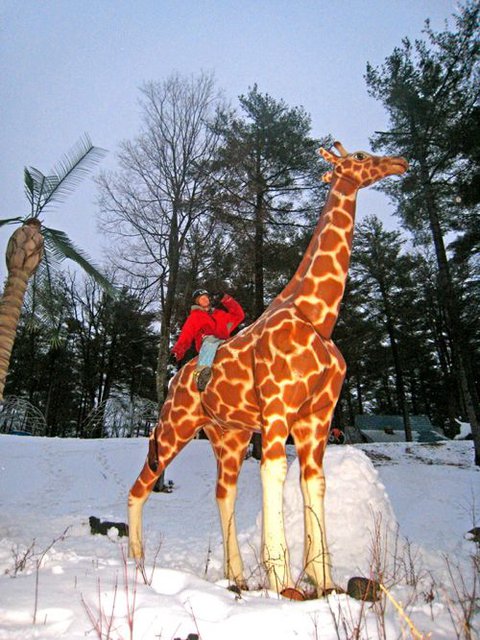 Andy at the Magic Forest
And what can people expect to see in the trailer that they're about to watch?
Rooster: Horses (laughs). Actually...Wild Stallions. (laughs).
Geoff: (laughs) We tried to put in some good teasers shots that will be bangers in the movie along with some cool character shots of our athletes, so there's some pretty funny quotes in there. We had a really good animator do the title at the end because we had a really precise vision of what we wanted it to look like. So I'm really stoked on how it turned out.
Rooster: I can sum it up like this...stallions, snow, lightning bolts, and funny audio clips. (laughs)
How challenging is it to make a trailer that stands out from the rest, because as we've all seen, pretty much all of them come out within a two-week period.
Geoff: It definitely takes some thought and effort as far as how we want to portray the vibe of the film via the trailer. We obviously want to capture what the movie is going to be like as opposed to something else. So we picked a pretty rocking song and put in some funny documentary clips from horse movies so we could try to create a vibe that shows that we're pretty laid back but that we also have some really sick athletes and incredible footage this year.
Rooster: And it's obviously automatically different because it's all east coast footage and Geoff's usually pretty keen on not watching any old ski movies or their trailers so he can create exactly what he wants without any outside influences, because Geoff is pretty fucking weird (laughs), so that's what makes it a different.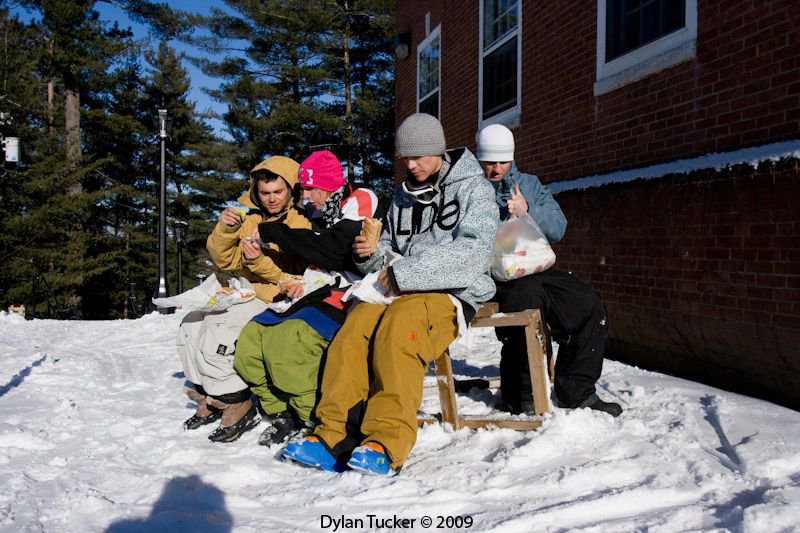 Hennie, LJ and Will with Geoff
In closing, are there any thank-you's you guys would like to dish out?
Geoff: Yeah I want to thank all the sponsors for making this film possible, as well as our new employee Mike Rogge who's been doing a fantastic job for us. And to all the athletes for putting in all their hard work this year. They really put in 110% and we appreciate that.
Rooster: The athletes for sure and I'd like to give a huge thanks to one of our new main cinematographers Ben Cormier, who helped us a lot this year. He came out to the Chic Choc's with and filmed a lot of urban, and he's an extremely talented filmer. He was running Mystic Land Productions last year but then he let that go and came to work with us, and we owe him a lot for that.
Geoff: Yeah we tried to film a lot more up in Quebec this year under his guidance and leadership and he really helped accomplish that by bringing in some athletes and getting a lot of stuff done. He's a really hard worker and a cool guy.
Rogge: Obviously Geoff and Rooster for Geoff reaching out to me and offering me a job and Rooster agreeing to it. It was really nice of them because otherwise I'd be like a lot of my other idiot friends, miserable, working in a city and pretending I'm really happy (laughs). Definitely want to thank everyone at Newschoolers and Freeskier as well because they helped me grow up a little bit in the ski industry, but most importantly the athletes, because they make it fun, and it's not really work when you come to work and Andy Parry is sleeping on the living room floor surrounded by Clif Bar wrappers. And lastly, I want to make special mention of the fact that we're all going to be in Toronto this weekend for Geoff's bachelor party. So if you're in the Toronto area, come out and find us and help us get Geoff wasted!