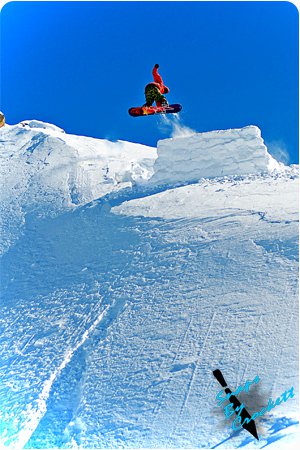 Our staff at SGT Argentina is the best in world, and people need to know more about what makes them great. In our first installment of "Who is SGT" we pull down the face mask to talk about toques, living in a trailer, and corndogs. Enjoy.
Andrew Burns is a professional snowboarder who grew up in the cold flats of Eastern Canada, on the Ontario/Quebec border. Quickly realizing that there had to be more than icy half pipe and rock hard park jumps in the snowboard world, he moved to Whistler, BC at the young age of 17. Backcountry freestyle and powder became his reason to wake up early every morning, but unfortunately, even the coastal mountains couldn't fill the summer void of no snow and hot temperatures. One day, a simple email changed everything…
About 8 years ago, as a young kid in Whistler, I was trying to scheme up a way to do some REAL boarding in the summer time. Glacier riding at COC was fun, but definitely lacked what I was truly looking for. In January, I was already looking into plane tickets to New Zealand for the following summer. As I was trying to sort myself out, a random email came to my inbox from a guy named John Sang Wilbur (SASS founder). "Hey man, want to come coach at this camp I'm starting in Argentina?" So I was like: "Sure! Get me a plane ticket and I'm there!"
So my plan looked like I would head to Argentina for about 3 weeks, then go to New Zealand from there. I did zero research on Argentina, ended up somehow flying into Chile instead, couldn't speak a word of Spanish, and had the craziest 4 days of my life trying to swindle, barter, and somehow get from Santiago, Chile, to the great big mountain, Las Lenas. Once I arrived, I was absolutely blown away! Our first day was in the middle of july and we had POW. I was loosing my mind.
So after about 5 days, if that, things got real. At the bar that night, I realized that I had no desire whatsoever to go to New Zealand anymore, or ever. I wanted to spend every summer in Argentina, and basically ripped up my plane ticket, and stayed in Argentina for 3 and a half months instead of 3 weeks.
Since then we have moved our operation to Cerro Catedral in Bariloche, and have had many new people come in, basically the A Team. Last season we also changed the company to SASS Global Travel, and upgraded to Slopeside lodging at Soulmax, which is one of the nicest spots at the base of the mountain. It's been unbelievable!
We are a family, we all live together, work together, and crush POW on the daily together. It takes more than a resume to be part of the SGT A Team, and most of our staff has made the trek down solo, and proven themselves to be amazing coaches, experienced backcountry shredders, and part of the SGT family. Our crew makes us what we are, which is the most amazing summer experience of a lifetime, no other way to put it!
Get down here and see for yourself what makes SASS Global Travel Argentina the best place on earth!