Some skiers know from a very young age that they want to become professionals, while others almost stumble into the spotlight as their love for the sport overwhelms any quest of glory and recognition. It appears almost accidental when this drive aligns with the talent required to ski at the highest level. It's not that they don't want to be pros, they just don't care - they would ski the same if the title didn't exist. SuperUnknown XV winner Remco Kayser is a quintessential example of the latter. He has some unreal ability on skis and an undeniable love for the sport, but he by no means set out with the goal of "making it." Taking his urban inspired upbringing and well-rounded approach to life, his skiing has brought him to the professional level, though his story says a lot more than just hungry up and comer.
_
https://www.newschoolers.com/videos/watch/914319/EGO-TRIP-by-Remco-Kayser
Ego-Trip - Remco's SuperUnknown Journey
_
While those who have never been to Switzerland may imagine a country is made up of small, picturesque mountain towns, there are in fact several larger cities including Kayser's home town of Geneva. Growing up here, a 45 minute drive from the Alps, he learned to ski on trips to the mountains in his parents' homemade camper. As he got older, Kayser began travelling to the mountains alone with non-profit organizations that bring kids to the mountains to learn skiing and snowboarding. This is where his passion for skiing really blossomed. To share that stoke, Kayser now helps with those same organizations.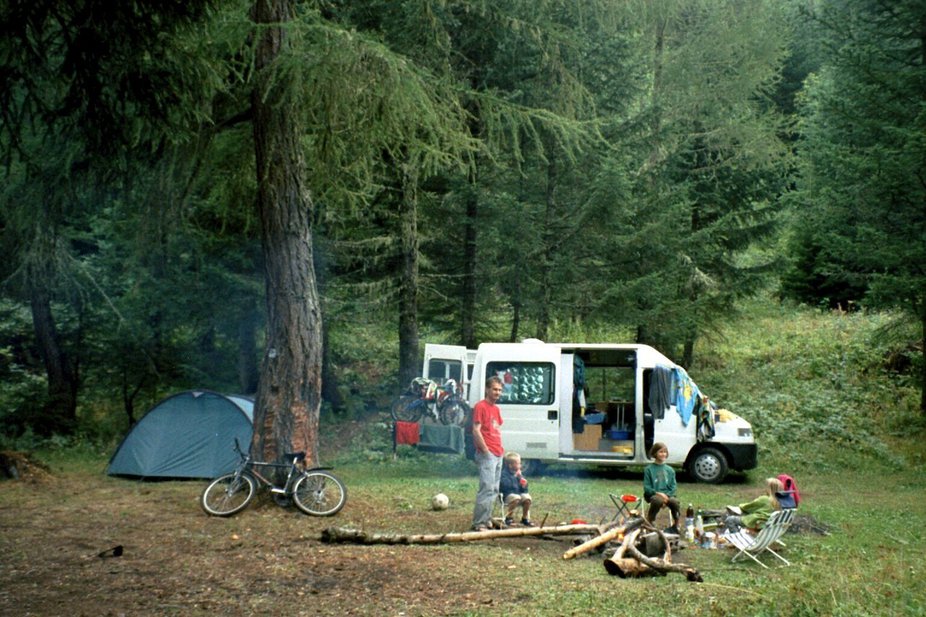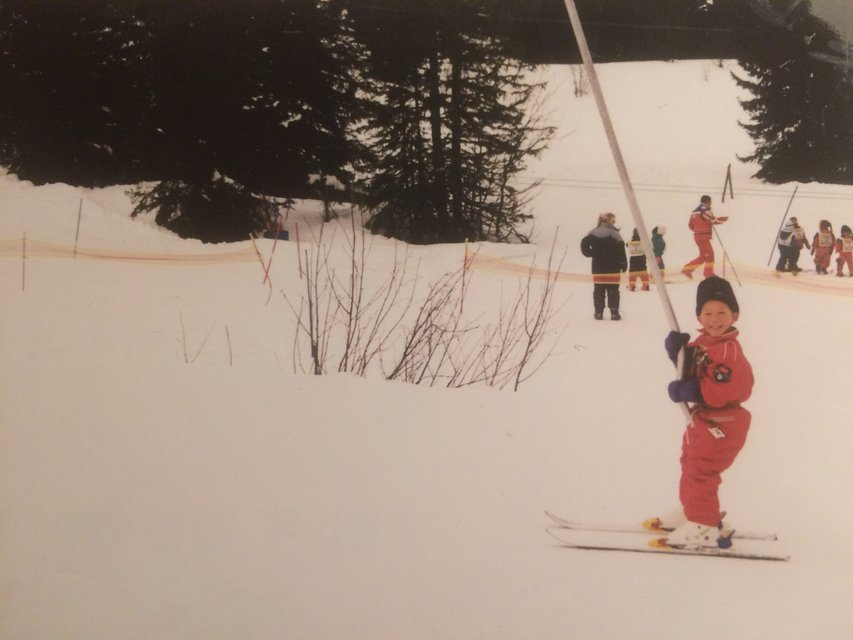 Geneva serves as a constant source of influence on Kayser, both in his upbringing and the off-hill opportunities it affords him. He not only attends university in Geneva, studying international relations, but also works with a group of friends to create and promote different art, music and cultural events. He says that going to school has actually helps his skiing, saying
"It can sound pretty crazy but I think the fact that I can't ski all the time made me super hungry when I'm actually going. It's like it gives me that extra crispy energy and motivation. Plus it's not like school is really stopping me from going skiing… I can miss most of the classes, do quite a lot of stuff on the internet and I just live in a library for a few weeks before the exams lol… Until now it worked out pretty fine and I hope it will continue like that."
That's exactly how he handled SuperUnknown, skipping classes and hoping it would be okay. It worked out well and the win was probably the biggest moment in his budding career to date. "The word Superunknown alone means a lot to me. With this win and my name being added next to other huge skier's names... my motivation got enhanced a lot. But I think the most important is that I'm still the same dude… Just a guy who loves skiing, loves music and who's trying to study some interesting stuff. The only change is I might get more opportunities and offers inside the skiing world." We're sure there's plenty more to come from Remco, he's got both the style and the mindset to go far in the industry. There was certainly more from our interview with him, which was chock full of great responses, here are some snippets of what the latest SuperUnknown champ had to say: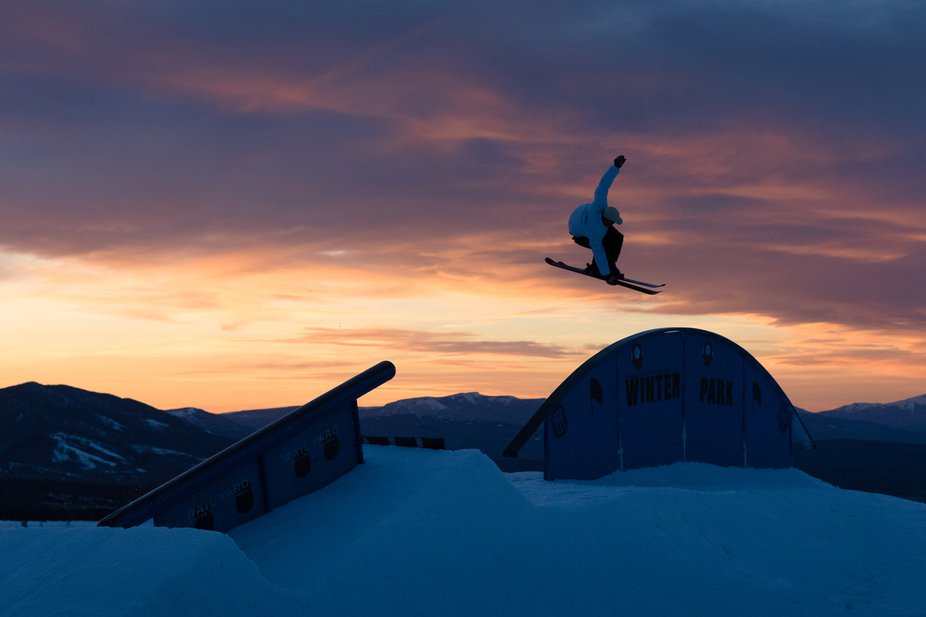 Photo: Gavin Rudy
_
When did you stop competing? What made you move away from competitions? Did you know you wanted to pursue a professional career in film skiing?
I stopped competing around 3 to 4 years ago after being on the Swiss Freeski program for a while and competing in some big contests and even a few World Cups. Doing that, I realized competitions were becoming very institutionalized. Every run was looking the same and the competition scene was not heading in a direction I would fit in. I couldn't see myself changing, I am not gifted or possibly not hard-working enough (at least in that 'academic' way of strict training) not to keep up with all these crazy-good skiers. Like, when some guys from FIS tell you to send crazy dubs on an icy course at 9 am after only like 3 or 4 training runs… That's just not for me you know. I'm not saying I'm not hard-working at all. It's just that I would rather put the effort into street or BC spots with friends instead of spending all my money and energy into something very corporate. It just doesn't fit me and my personality.
Growing up, I never knew I could try to pursue a professional career in film skiing. When I started hitting the streets with Laurent DeMartin around 4 years ago, I learned a lot about it and I knew I wanted to take my skiing that way: Filming a street/BC part every year… But that didn't mean I wanted to become professional. I did it out of passion and love for it. Then suddenly the Level 1 Superunknown adventure happened and I'm now thinking about taking my skiing to another level. We'll see how that works out but I'm super motivated to go nuts this winter.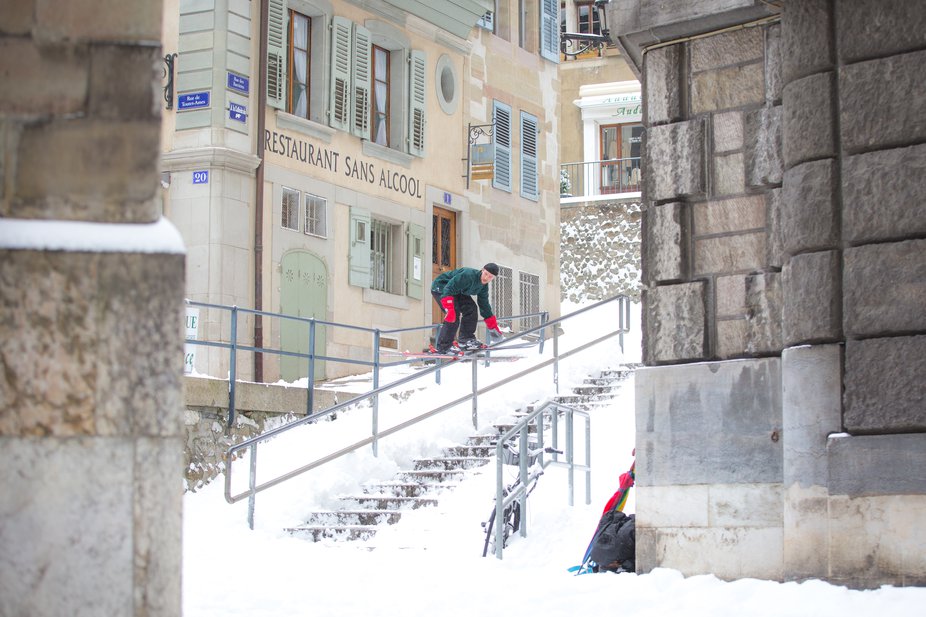 The Streets of Geneva. Photo: Vladimir Tisma
_
Talk to me about Buldozlife (Remco's Crew).
Buldozlife is an eclectic group of friends who come from different backgrounds and live all over the French-speaking part of Switzerland... Some of us used to ride comps, some didn't, but in the end, we all found ourselves in the same spirit and way of life: Just having fun skiing, partying, laughing and filming each other doing stuff. Last winter, we produced our first movie. All filmed in the streets and BC of Switzerland and France. It premiered at High Five Festival in Annecy and we'll show it in Geneva on the 24th of November with a big after-party planned.
How was your experience entering, attending and winning SuperUnknown?
The whole story has been super crazy...
First of, 2 years ago, I thought my "skiing career" was kind of over after tearing my ACL and thus working/ traveling for more than a year. I was thinking about going to university and just ski way less. I really felt I could live without skiing you know. But then I skied with my Buldoz friends again and all the crazy feelings hit me super hard. The feeling you get from skiing and swerving obviously, but the feeling of riding all together in a warm and soft spring-park with a big crew is just impossible to find in another place than in the ski world. After one single day, I was hooked again.
Later, at the beginning of the 2017-2018 season, my friends and Sampo Vallotton (who attended SuperUnknown XIV) told me to send an entry myself. I had never thought of it, but I listened to him and was super happy and surprised to see I was qualified. So I decided to organize a small road-trip across some of the US with other finalists Jessy Desjardins and Simon Bartik because Simon and I didn't want to cross the Atlantic for only one week. We drove from Portland to Mammoth where we skied for around 10 days. After a very enjoyable Cali-style vacay, we drove to Winter Park in Colorado for the finals.
The SuperUnknown was obviously awesome. It's basically a week of skiing with super talented skiers who quickly become very good friends and shred an incredible terrain park all together. Vibes were unreal. (S/O to the Winter Park shapers, they did an awesome job too). I think any single one of the riders could have taken the win instead of me. The level was just so high, it was awesome to witness and it definitely motivated me to surpass myself. I learned a lot of different tricks thanks to the general vibe and motivation, it was pushing everyone to go crazy.
With this win and my name being added next to other huge skier's names, I totally changed my view on my own skiing and my motivation got enhanced a lot. Wells Lamont is also supporting me financially, which is a big change too. I'm very thankful for these opportunities!
https://www.newschoolers.com/videos/watch/898999/Remco-Kayser-SuperUnknown-XV-Finalist
Remco's SuperUnknown Entry
_
You mentioned earlier that you were stoked about this being the first year that there was a female SuperUnknown finalist. Talk to me about that.
Hell yes, I'm super stoked about that. I think Level 1 did something great for the future of freeskiing by taking this initiative. I think the problem is exactly there, that this is a big deal: it's a systemic and social issue. The more people like Level 1 are going to take initiatives in feminizing the sport and rewarding women further, the more the sport will motivate and attract them.
Anyway, I was very happy to see Rosina Friedel getting a spot this year at Superunknown. She's one of the only girls who actually ever sent a video-entry and I'm sure now that other girls saw this, we'll see more next year. Plus there has been a new wave of very stylish girls overrunning the insta-world and the interwebs lately. Giorgia Bertoncini (aka berto_gio), Taylor Brooke Lundquist, Jennie-Lee Burmansson and many others blew my mind with their signature styles lately. I'm hyped to see what they're going to offer us next season.
Along with this interview, you have a mini-movie 'EGO-Trip' dropping from your SuperUnknown trip along with this interview (above), what can those who didn't already click play expect?
It's a very ego-trip like movie. Almost only me skiing cause I just gathered so many shots.
You can expect:
Beautiful landscapes from our road trip
Nice still pictures
Quality shots from Mammoth filmed by the man Carlo Mion
Unseen shots from SuperUnknown at Winter Park
Pretty bad crashes
Good music?
Illegal stuff, like 3 different angles for a cork 9
A selfie in front of the Tesla Gigafactory in Reno
A broken down Tesla in the middle of some Oregon forest and in the middle of the night
A rail run from Carlo who's a good filmer AND and great skier
French rap
Lots of swag swaps (backswap to switch)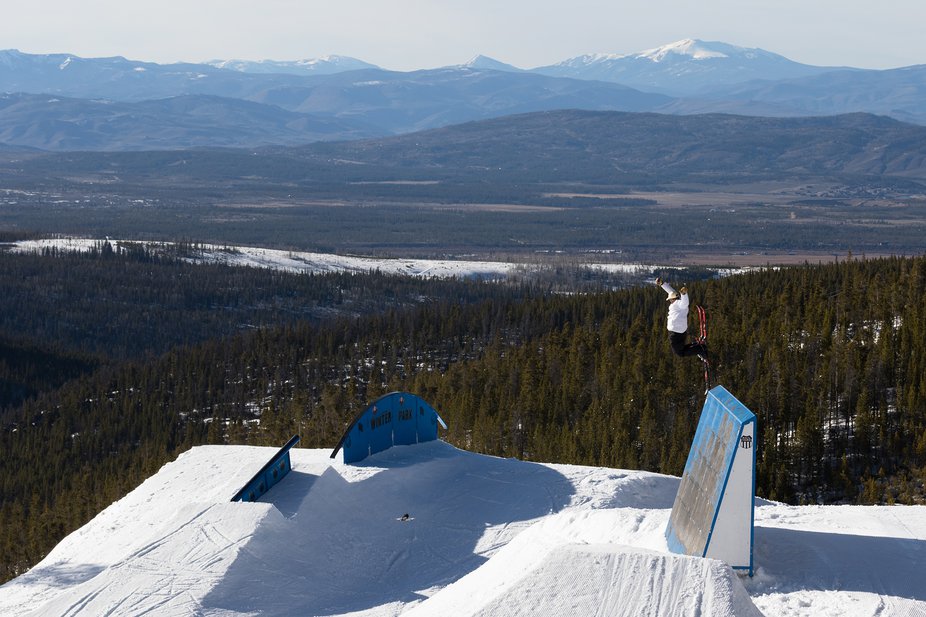 Photo: Laura Obermeyer
You don't currently have a ski sponsor, tell me about that, and about the struggle to "make it" nowadays in the ski world.
I think this question depends on what every individual thinks "making it" means to them. Is it getting recognition from the ski-community or is it actually earning money from it? Is it winning or doing well at some competition? Putting out a cool segment? My guess is that every person has a different perception of it.
Nowadays, I think it became very difficult to "make it" moneywise in the ski industry though. Only a few of the best "stars" or legends actually earn enough to make a real living out of it. It's a pity, but that's how the industry works now and that's how it is. I think there are multiple reasons for this new situation. The [financial] crisis, the expanding number of very good and talented skiers, the arrival of social media, etc. Anyway, I guess there is a very complex explanation, but a sure thing is that it's pretty hard to call skiing your job nowadays. Many riders have to work as well, some have parents who are willing to pay for their whole seasons, some just struggle…
Have you started to make any plans to film with Level 1 in the upcoming winter following the SuperUnknown win?
I have been talking about plans with some of them, but I'm not quite sure yet. I'm planning on filming stuff with Laurent this year. I've started to talk to some of the other Level 1 riders to see what they are up to and we'll see how that will go. I think I would be super glad to do something with Sämi (Ortlieb) too. I want to see how this guy is seeing the same city as me, but looking at it in a very different way in terms of spots and things to shred. Must be very cool to witness.
I would love to film at least some small part in the next Level 1 movie. As I have been watching their movies since I'm a little kid it would be an honor and it would feel pretty crazy. As I said before, we are planning to do some street stuff in Switzerland with Laurent and Level 1, I would be hyped if it works out!
There are some other projects, I want to work on too. I have a lot of ideas boiling in my head. For sure I'll ski with the Buldoz guys and I'd like to work on some personal projects mixing art and skiing, some involving other skiers and I'm also thinking about creating something with Elisabeth Gerritzen. She's a cool and talented girl riding on the Freeride World Tour doing the same studies as me next to her professional ski-career. Nothing is fixed yet, but I'm thinking a lot about it.