Red Bull Playsteets just finished its 8th Annual slopestyle competition in Bad Gastein, Austria. With Oystein Braaten taking the win over fellow up and comer skier Andri Ragettli and close friend Jesper Tjäder. However this isn't a competition recap of people's run with detail analysis as to why Oystein won. No this is a list of reasons as to why Red Bull Playstreets is the best competition in the ski industry right now and what other competitions need to learn from Playstreets.
Jesper Tjäder, 3rd. Oystein Braaten, 1st. Andri Ragettli, 2nd
Red Bull Playstreets is arguably one of the most progressive and individual competitions as of right now. Infusing a tight slope style course and putting it in the middle of an old ski town is something only Red Bull would think of. The tight cornering and little to no room for mistakes make for an action packed thrilling slopestyle competition. Add in the fact that the crowd is only metres away from you all down the course and the energy becomes electric. This may be the reason as to why Bad Gastein allows Red Bull to build a course that goes over roofs of bars and through the town every year. Red Bull has successfully managed to capture the attention of the folks that reside and holiday in Bad Gastein, as Red Bull Playstreets pulls in a crowd of over 20,000 annually. Which rivals that of X-Games and Dew Tour. Red Bull Playstreets in my opinion, is one of the most under rated competitions of the year.
Mr, Russ Henshaw the poster boy for Red Bull Playstreets 2015
Full Video Replay...
Often the complaints that arise after a major event like X Games or Dew Tour is the lack of a full video replay made available to the public. In a perfect world we would all get up, have a few beers and watch the live stream as it happens. But we don't live in a perfect world and some of us don't want to wake up at 3am in the morning to watch the live stream. Some of us have jobs that coincide with the live stream of the event and some of us don't get a live stream of the event. Like the people down under whose proxy servers are blocked by ESPN. Sure, we can watch the one minute run that X-Games or Dew Tour puts out of the winning runs, but that takes away the excitement and the suspense of who's going to win the event. More or less, the excitement of an actual event is not knowing who's going to win and less of the actual run it self I often find to be the case. Plus, there's always that shitty quality replay of the event that is up on YouTube three months after the event. And by then the novelty of the event has worn off.
Now compare this to what Red Bull has done and made the majority of the event available online and in full 1080p HD for everyone to see. So for those who missed the event can watch it for the first time without having the spoils of knowing who won. The full video replay is also pulling in the views on YouTube. With just over 50k views in 5 days. Now compare this to the last two gold medal winning runs of Nick Goepper at the 2015 and 2014 X-Games which have both plateaued at just under 50k views. This is an example of just how muc demand there is for full video replays of events. Sure, the commentary might of rivaled that of the ear bleeding nonsense we heard at the Olympics, but it's rather easy to drain out with music or conversation.
Furthermore, with 50K views and it doesn't look like it's going to slow down, the opportunity for a company to inject more money into competitions and our sport becomes ever more present. The replay runs for about 90 minutes and that's 90 minutes of pure product placement and advertising of their products.
https://www.newschoolers.com/videos/watch/756795/Red-Bull-PlayStreets---Urban-Slopestyle-Skiing-Competition
The Course...
In 2009 Russ Henshaw did a cork 450 on the hip jump and claimed the crown of Red Bull Playstreets. Skip forward to 2015 and Osytein Braaten is doing bio 630's and Vincint Gagnier is doing screamin seamens on the very same hip jump. It may not be the rapidly growing huck fest that is the current scene of competition skiing, but in an industry that awards spin to win, it is a breathe of fresh air in an other wise choking industry to see judges award creativity over spin to win.
The course itself is the main reason as to why it doesn't become a huck fest. The course consists of a hip jump, to a 25 foot jump, a step down gap and a flat box to drop. Not much room for error when you have a 30 foot wide jump narrowing into a 5 foot wide 10 foot drop, with plywood either side. The course itself makes you ski the best you can and just making it down the course is a challenge.
Traditionally film skiers and comp skiers don't mix. We've seen this with the ridicule of 4BI9 of Nick Goepper and the general notion that comps are gay by the majority of Newschoolers. However, Red Bull Playstreets has manaaged to infuse seasons pro's like Russ Henshaw and film skiers like Ahmet Dadali into one competition. Is Playstreets the first step between uniting freeskiing once again? Probably not, there will always be a divide between filming and competition. But it does provide a middle ground for both sides to come together.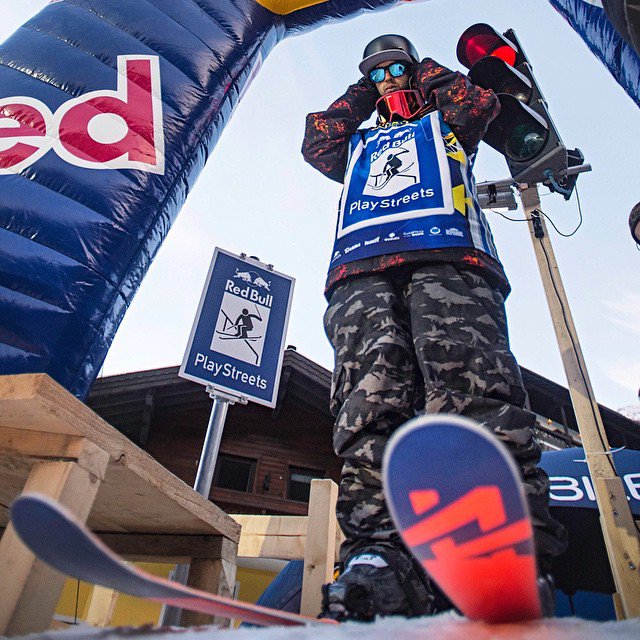 Ahmet Dadali about to drop in during practice
The Format...
Most competitions require one average run and one great run. The average run to get you past qualification and into the finals the great run to get you on top of the podium. However, in Playstreets the boxing style, one on one knockout style competition forces riders to have multiplie runs, each more progressive and better than the last to stand on top of that podium.
Often in competitions, it is the best of two runs for the finals. And often it is luck along with good skiing that will put you on top of the podium. Like this year at X Games slopestyle, where many of the competitors failed to put down a solid run leading to a below par final. (No disrespect to Nick, Joss and Alex). Playstreets rewards the most consistent rider, as to make it the final round you need to beat eight riders from elimination, then beat your opponent in the round of eight, then again the round of four, then you're into the final. This means you need four different runs to win the competition. Additionally, you can't lay idle on your first run either, with opponents swapping to whom goes first in the rounds. (I.E, Skier X goes second and scores a better score than skier y, now those two skiers have their second runs, however skier X now goes first followed by skier Y) Capiche? Furthermore, scores don't carry over to the next round, so that perfect 300 you got in the round of eight doesn't mean shit in the round of four.
The Crowd...
It's no fact that European crowds tend to be more rowdy than U.S crowds at competitions. And Red Bull Playstreets is no exception. With lights, live music and smoke machines, Playstreets embodies the apres ski culture hat has made Europe famous. Throw in free Red Bull and the crowd goes wild. The crowd is shoulder to shoulder all the way down the course, cheering from a meter away and on top of bars creates an energy unrivaled in the competition scene right now. Pushing the riders to put on a show for the people and perform the best they can. It is this type of atmosphere that current competitions are missing. Competition skiing as of right now is too serious. The runs themselves by the riders and the mind set may be no different from X Games to Playstreets to JOI, however the crowds are what make competitions what they are. This is why no one cares for FIS comps as they are so strict and serious that no one pays them any attetion. In contrast, Playstreets is all about embodying the party and having fun while seeing some great skiing. This is what causes Playstreets to draw a crowd of 20,000 every year.
However, I do have one criticism of Playstreets. Why aren't woman competing? In a course that focus's on style and creativity I feel that the woman would be right at home on a smaller course allowing them to showcase their skills and creativity, and they wouldn't be upstaged by the men either as the course restricts just how much you can spin.
Overall, Playstreets is a one of a kind competition. It's allowing style back into our sport while still focusing on progression. I'm not saying we need more competitions like Playstreets, however that would be nice, but Playstreets presents a way in which we can focus on progresion, while still having fun and not taking ourselves too seriously. After all we are FREE skiers???
Thankyou for reading "What we need to learn from Red Bull Playstreets...". An opinion piece by Eric Brunsdon.