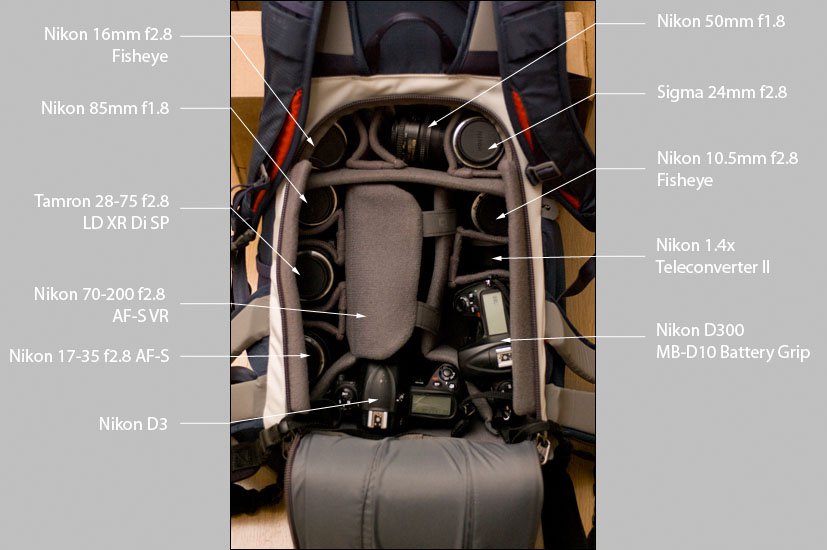 One of the things I do get requests for is a "what's in the bag" post. So, here it is.
The camera backpack is a Clik Elite The Contrejour 35
Camera Compartment:
Nikon D3
Nikon D300 with MB-D10 Battery Grip
Nikon 10.5mm f2.8 DX G ED Fisheye
Nikon 16mm f2.8 D Fisheye
Nikon 17-35 f2.8 ED AF-S
Sigma 24mm f2.8
Tamron 28-75mm f2.8 LD XR Di SP
Nikon 85mm f1.8 D
Nikon 70-200 f2.8 AF-S VR
Nikon 1.4x Teleconverter II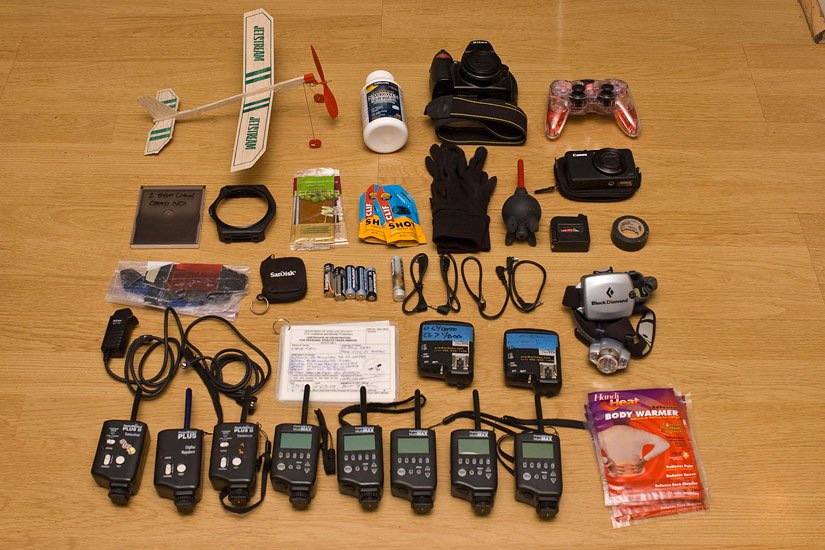 Accessories:
(2) Pocket Wizard Flex TT5 Transceivers
(2) Pocket Wizard Plus II Transceivers
(1) Pocket Wizard Plus Receiver
(5) Pocket Wizard Multimax Transceivers
Nikon D40 (Extra small DSLR camera body with a CCD sensor and electronic shutter capable of full-frame flash sync up to 1/1250 second.
Canon Powershot S95
Filters
Cokin P ND Filter Holder
Adhesive Backed Body Warmer (To keep batteries warm and functional in extreme cold)
US Customs form 4457 (Proof of ownership forms. I keep these in the pack since I'll probably forget to pack them when I actually need them)
Pocket Wizard N90M3 Nikon Motor Drive Cable (Connects Nikon camera bodies to a Pocket Wizard for remote firing)
Nikon MC-12B cable release
Black Diamond Icon headlamp (Lots of range and great for skiing down in the dark after shooting night shots up on the mountain)
Sync Cables
Lip Balm
AA Batteries
Extra memory cards
Gels for speedlights
Electrical tape (Almost as good as duct tape, but doesn't leave a residue behind)
Battery tester
Rocket Blaster (Keep your lenses and image sensors clean!)
Burton AK powerstretch glove liners (best gloves for shooting in the cold, comfortable with good feel from 5 degrees F on up)
Fruit Leather, Cliff Shots, any other snacks
Aleve (Always good to have a few over the counter pain killers for rough days, and for athletes with rough landings)
PS3 controller (Most times when I'm shooting with Tom Wallisch, he makes really tech tricks look too easy so I'll plug him into Amped 3 get him started on the next impossible trick)
Balsa wood plane (Sometimes shooting urban can get really really really slow after I've gotten all my shots I can get)