This season we're celebrating the 125th anniversary of Canada's Protected Playground, Banff National Park.
 
As Canada's first national park, established in 1885, this is home to three of the world's finest ski resorts; Mt. Norquay,  Lake Louise Ski Area and Sunshine Village.
 
To celebrate the anniversary and promote greater awareness of the Park's importance to global, ecological and cultural heritage, many  special activities, programs and events will be happening in 2010.  Skiers and snowboarders across the world are invited to celebrate and enjoy this protected landscape with us.
 
And while the word descends upon the west coast for the Winter Olympics, we'll be cheering on the athletes and wishing our fellow skiers and snowboarders well, from the quiet and comparative solitude of Banff National Park.  As we join all of Canada to enjoy the spirit and energy of the games, we invite you to join our community on the quiet slopes, the protected streets and in the vibrant pubs and bars to support our local athletes, and celebrate our sport.
 
Not only will we be celebrating, but we'll be enjoying the new developments that Mt. Norquay, Lake Louise Ski Area and Sunshine Village have made to enhance the skiing and snowboarding experience for the upcoming season.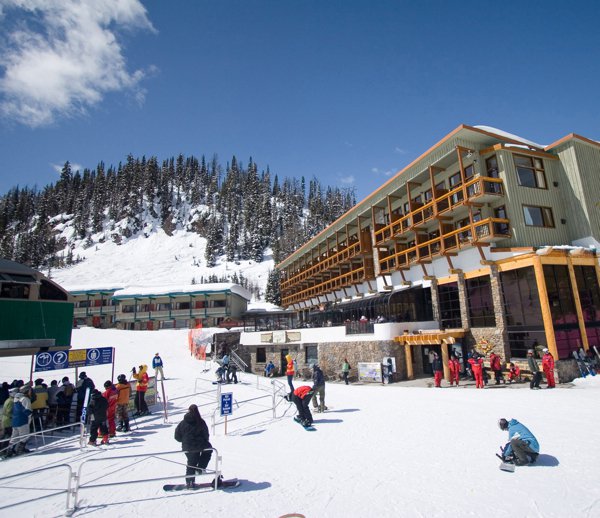 The Sunshine Mountain Lodge will open 30 luxurious new suites by December 2009, as Sunshine Village completes a multimillion dollar wing replacement.  Harmony with its surroundings and environmental integrity are the priorities for this eco-luxurious Lodge – Banff-Lake Louise's only ski in, ski out accommodation.  For comfort and efficiency the Lodge will use; passive solar through high efficiency windows to maximize heat gain; reduced consumption of water by 44 per cent and energy by 20 per cent; and include in-floor heating and ski-to-your-door convenience.
Artist's impression of the new suites at Sunshine Mountain Lodge.
 
In 2009-10 Mt. Norquay will offer even more excitement with a new Tubing Park.  The lift-accessed course will offer those young and old a fun-filled adventure, with no experience necessary.  Mt. Norquay's famed terrain park, nicknamed The Backyard by locals, will be developed further this season by renowned Canadian park designer Jeff Patterson.  
 
Patterson is also the man at Lake Louise Ski Area.  Back by popular – very popular – demand, the terrain park will be bigger and better in 2009-10.  The support and encouragement from freestylers worldwide has made the park's return a true success.  With former owner Charlie Locke now settled in as Managing Partner, the upcoming season will see further developments as he puts his own stamp on
the resort he calls his 'fundamental passion'.
 
Away from the lifts, Banff-Lake Louise has been through some important and exciting upgrades for the upcoming winter.
 
The Banff Refreshing project, completed in 2008, has seen a complete rejuvenation of downtown Banff.  The result is a fresh, new downtown core that better reflects the natural environment, provides more space for tourists and residents to enjoy, and provides a modernized underground infrastructure.
 
Some of the key improvements to the streetscape include wider sidewalks, more rest spots, additional trees and landscaped areas, more crosswalks and new lighting to reduce light pollution.
 
We are proud to be the first municipality in Canada to introduce an all-hybrid electric bus system.  Our 'Roam' buses are friendly to the environment, and they look beautiful too: each bus features a unique backcountry view of grizzlies, elk, goats and wolves.  With these new hybrids, we're reducing emissions and lowering fuel and lifecycle costs.  And the buses look amazing.
 
This, plus our convenient shuttle transportation to and from the ski areas, led to Banff-Lake Louise being named Top 10 'No Car Needed' Resort in the World by OnTheSnow.com (2008).
 
Awards and accolades for Mt. Norquay, Lake Louise Ski Area and Sunshine Village, from 2008-09:
 
• Best Ski Resort, Best Ski Shop, Best Ski Hotel, Best Spa & Best Restaurant – Hardy's Skiing & Snowboarding Guide 2009
• Top 10 'No Car Needed' Resort in the World – OnTheSnow.com
• Best End of Season Dump, Best View from an Off-Piste Run, Best World Cup Vote of
Confidence, Best Fireplace in the Rockies – Ski Canada
• Canada's #1 Destination – Trip Advisor's 2008 Traveler's Choice Destination Awards
• Canada's #1 Attractions Destination – The Agents' Choice Awards 2009 and 2008
• Marque of Excellence Award for Snow School – Neilson Active Holidays
• Value Award – WestJet Up! Magazine
• #5 Most Extreme Runs in the World – SkiNet
• Top 10 Best Ski Destination in the World – Über Guide
• #2 Most Popular Canadian Resort – World Snowboarding Guide
•Top 20 Resort in the World – Condé Nast Traveler
 
Ski Banff–Lake Louise–Sunshine is Canada's largest ski destination, a joint venture of three of the world's finest ski resorts; Mt. Norquay, Lake Louise Ski Area and Sunshine Village.  Available on one tri-area lift ticket, our three resorts offer almost 8,000 acres of skiable terrain and one of the longest ski seasons in North America, from mid November to late May, all in the heart of a UNESCO World Heritage Site - Canada's Protected Playground, Banff National Park.