For those of you who have read any of my previous articles, it's likely clear that I have been born and raised in the flat lands of the Midwest, specifically Minnesota. Upon college selection I (unintentionally) ended up nearby home at the University of Minnesota in Minneapolis with the promise from my parents that although they wont pay for my tuition out west, they'll instead fund a ski trip each winter to the mountains. I lucked out this season and had two opportunities to ski out west with our university's ski club. Better snow, more terrain, and endless exploration adventures.
My first trip began at the beginning of January as we set off for Aspen Snowmass. The 26 hour bus ride began with only one rule; don't throw up. By hour ten, the bus' bathroom was full, I was sick of McDonalds, tired, and I found myself eventually peeing on the side of i70 not one, but two times on the latter half of the trip. Life in Snowmass Village was plentiful in beer, making each morning more difficult to take first chair. I lived off a healthy diet of eggs, milk, bread, and mac n' cheese. Most importantly I again thought to myself, why do I still not live in a mountain town?

Huge crew taking a break from shredding
Over my four days of skiing I was able to spend at least a half day at each of the four mountains; Aspen, Snowmass, Buttermilk, and Aspen Highlands. Unfortunately I was unable to experience the hype of Buttermilk's park as X-games construction had already began. My time at Snowmass was definitely my favorite, we were shown around the mountain by my best friend's buddies, eliminating the need to spend time looking for the good stuff. Just barely, I survived the hike up to Aspen Highlands bowl, and treated myself a bit at the top before riding down.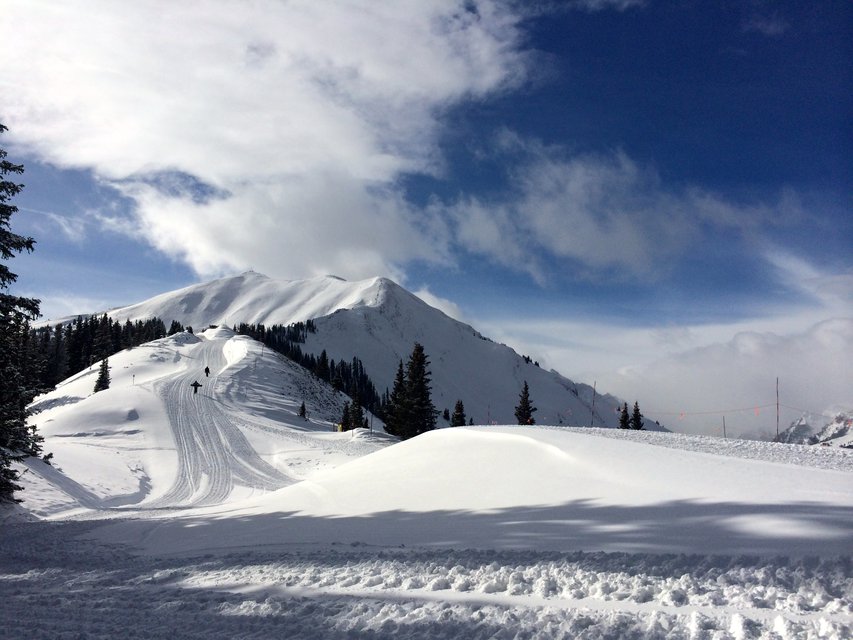 Hike up to Aspen Highland's Bowl
I just now returned from my second trip, which was Spring Break in Jackson Hole, Wyoming. Never has a mountain seemed so gnarly than my first glances at the terrain riding up the first tram on Sunday morning. After the first day I was disappointed, snow conditions weren't very great- at all, and because I was unsure in the forecast I feared the whole trip would be like this. Sure enough, Monday afternoon the snow began to pound down. By 4 O'Clock closing, 6 inches had already accumulated, I enjoyed a few pow turns and anticipated Tuesday, as 6 more inches fell overnight.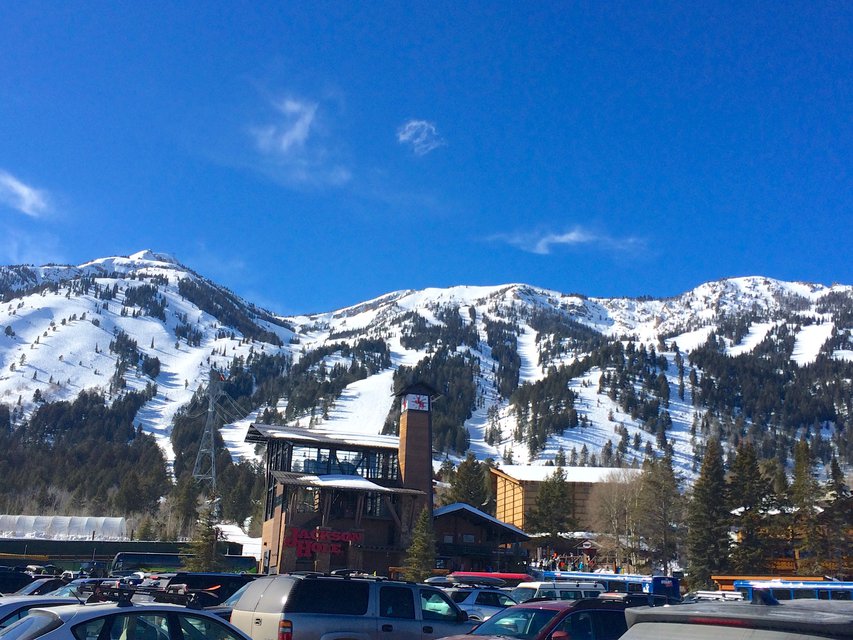 Jackson Hole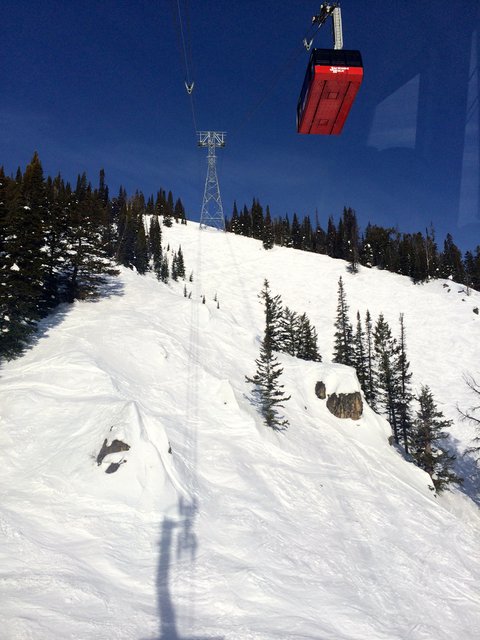 Snagged first tram on our first morning
I haven't experienced a true powder day since 2008 Christmas morning in Big Sky, where I was both young and a (shudder) snowboarder. Sure I've skied patches of powder here and there, but Tuesday was my first real powder day as a skier. I have nothing but good things to say, it's amazing how incredible each turn feels- I wish I could slay it more often. Finally my last day on snow, we did some more snow searching and I grew a pair of balls big enough to send my first cliff- which gave me just as much if not more adrenaline than the powder had the day before.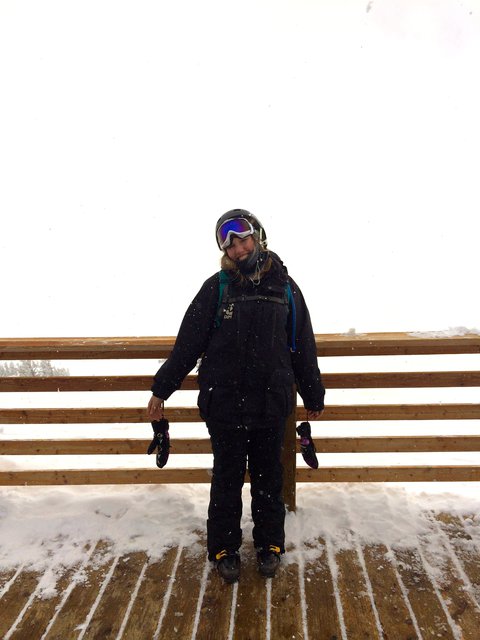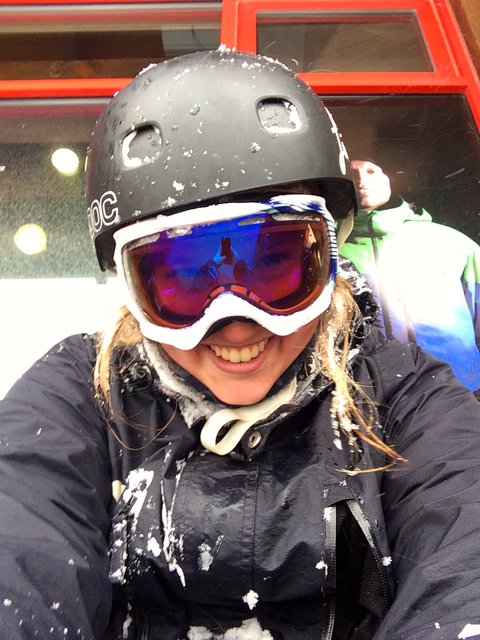 All smiles on a pow day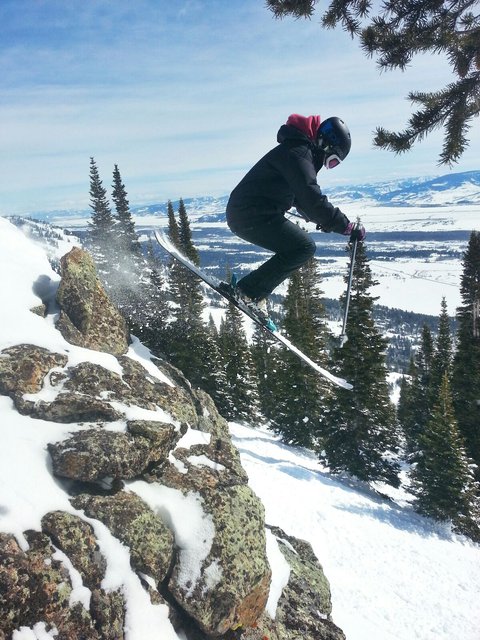 First Cliff drop!
Parties in Jackson were just as plentiful as my previous trip. I enjoyed Snake River Brewery on St. Patty's Day, socializing with the ski club crew, an interesting Cowboy Bar, and my personal favorite- Karaoke (I killed Benny and the Jets, by the way).
I never fail to be more tired after these trips than anything else. The whole ski all day party all night thing catches up to you pretty quickly. I still wonder why I haven't moved to a mountain town, for now I'm still Western Dreaming.
Check some footy I put together from Jackson-
http://www.newschoolers.com/membervideo/701513.0/Erica-Aarons-x-Jackson-Hole-?s=163496&t=6&o=8
Cheers!
--EA