Three weeks ago Newschoolers held its first major event on the West Coast at Timberline Lodge, Oregon. The idea for the West Coast Session was two-fold, but simple: invite a bunch of sick young riders we've seen in the pictures, videos and forums on NS to come film for a Newschoolers video—then end the shoot with an open park jam session and Newschoolers member gathering, complete with $500 cash fresh from the Newschoolers bank account to give out to our loyal West Coast members.Unfortunately the invite park shoot concept once represented by Powder magazine's Superpark and Freeze (RIP) magazine's Parkasaurus has been largely abandoned in North America. The loss of those two events has left a hole in the ski scene here that's tragic for everyone who likes to watch people ski who are better than them. True, many ski film companies still hold major park shoots, but the question of who gets to ski there is often determined by which sponsor's riders have been lazy all season and now desperately need those spring park shots.But the riders at our shoot were determined by much more rigorous and demanding standards: the personal opinion of the event organizer. Just kidding... what really determined it were the efforts made by anyone on or off the invite list to come out for the Session. The rider's list ended up being pretty much a broadside of some of the best young talent in North American skiing, with some skiers you've probably heard of, some you're hearing now for the first time, and Mike Wilson on board as the resident "old man" and instigator.With Timberline's help in hosting the event and building a number of features for the West Coast Session crew to ride, major support from helmet company Sweet Protection, and the generosity of Windell's Camp by allowing us stay on their campus, "the funnest place on earth," the West Coast Session didn't have much choice but to be a total success. I don't think our little session was too groundbreaking, but I do think it was a step in the right direction.We already updated you on some of the happenings from Day 1, Day 2 and Day 3 of the WCS shoot, but for occasions such as these, a final wrap-up article is in order. And who knows... maybe even more West Coast Session footie will be coming out soon! But enough blather, let's get to the ski action.- kamikazePhotos: Ethan Stone, Ryan Gertken, Josh Anderson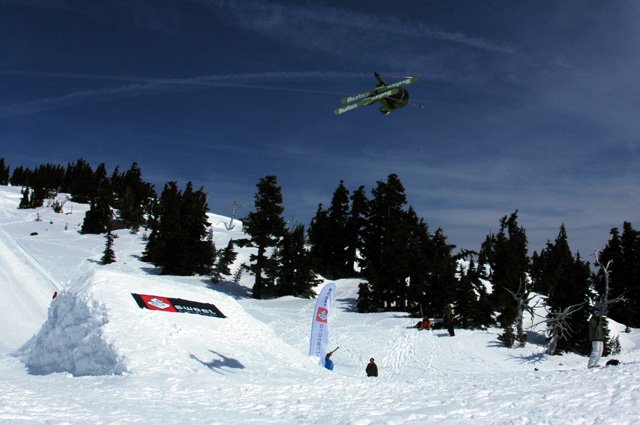 Blake Nyman and fellow Surface rider Jordan Seldin had arrived for the Session with Justin Loeloff from Off Trail (that's two words) Productions, filming for what appears to be the last OTP film unless someone can entice Justin away from the lure of a living wage outside of skiing. People with money, lend me your ears, and go give Justin your money to shoot skiing for you.Blake's first switch 7 on this jump ended roughly at the bottom of the transition, but he stomped this one clean with a subtle japan.
Another rider with the Off Trail crowd arrived at the West Coast Session almost completely unknown, but he sure didn't leave that way.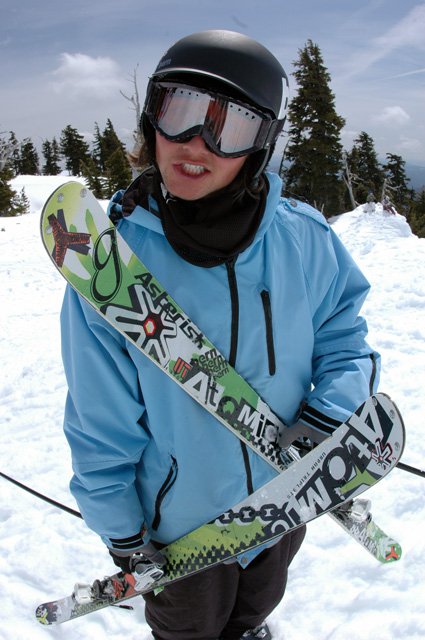 Say hello to Jonas Marcinko, representing Blackfoot, Idaho. Jonas, this is Newschoolers.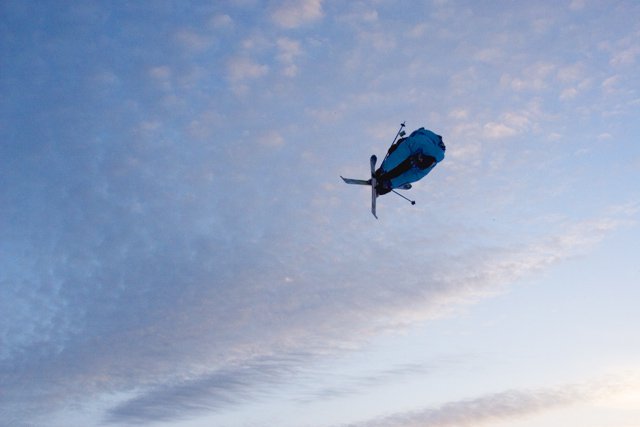 Newschoolers, this is Jonas.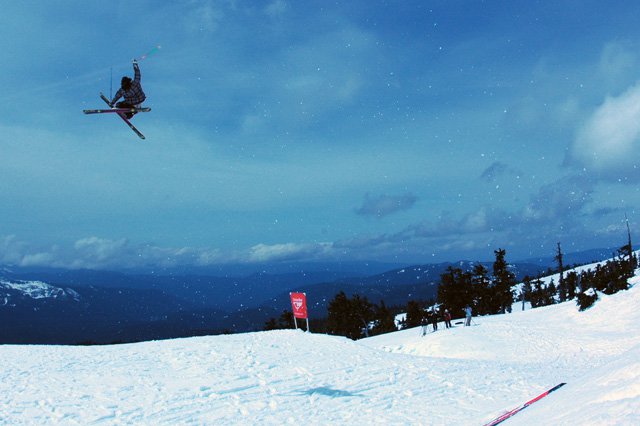 If there's one skier you can depend on to go huge and do it wearing flannel and a grin, it's Charley Ager. Charley popped down from Whistler with the Theory-3 Media troupe, and gave a lesson in consistent, manly huge airs. This one's a 720 mute.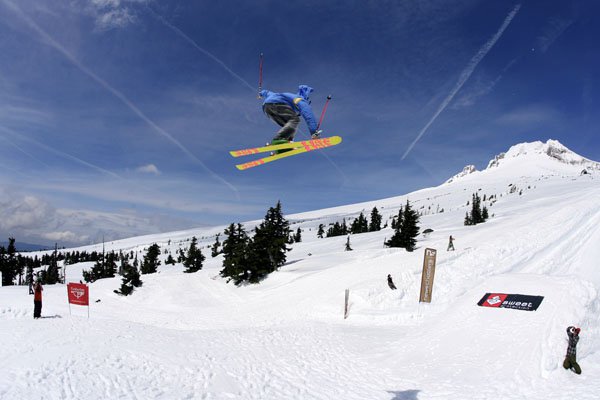 Max Hill, Charley and the other Theory-3 guys worked hard on a steadily growing pile of beer cans that dominated their living room at Windell's. Of course, spinning and drinking don't always go hand in hand, which is possibly why Max just chose not to spin at all. Zero shifty.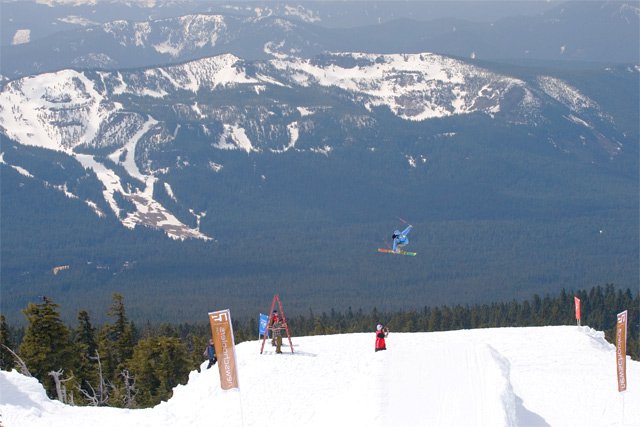 Hey, see that cliff line in the background? I like, totally dropped the biggest point on that shit into a bathtub of champagne, brah. Oh wait. We're still supposed to be looking at Max Hill. More shifty.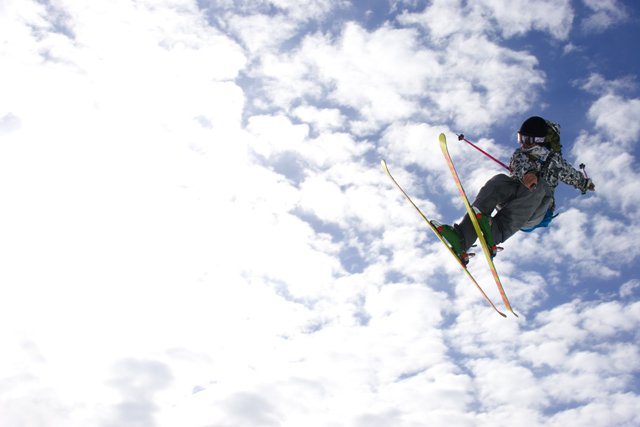 Max's body is actually frozen in this position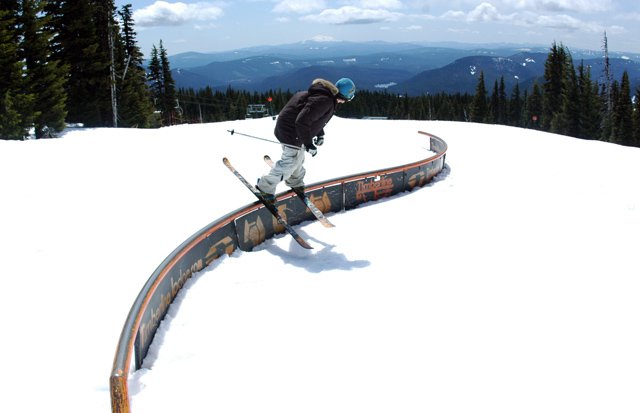 Fear not, the West Coast Session was not just jumps. Timberline's Paintbrush park offered us the formidable triple-S line of doom: an S-box, into an S-rail... into a rollercoaster box shaped into the form of that spectacular specimen of semantic significance: the letter S.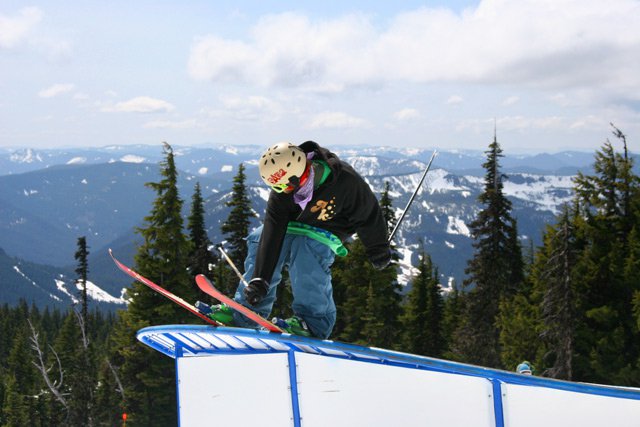 Witt stomped the roller-S, then drove down into Government Camp and got his last name legally changed to Fosster, so he could keep the memory of that S with him forever.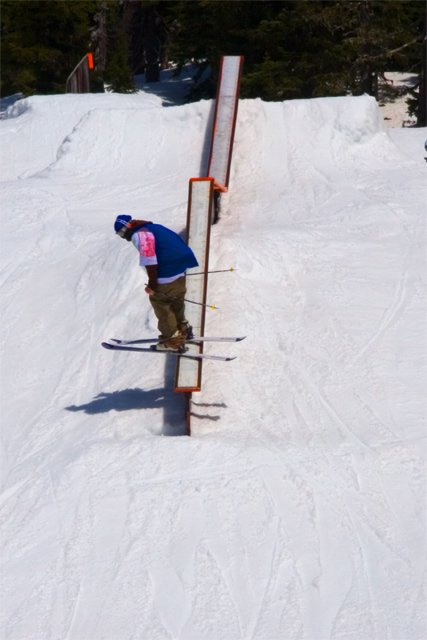 Martini, lost in a down-flat-down daydream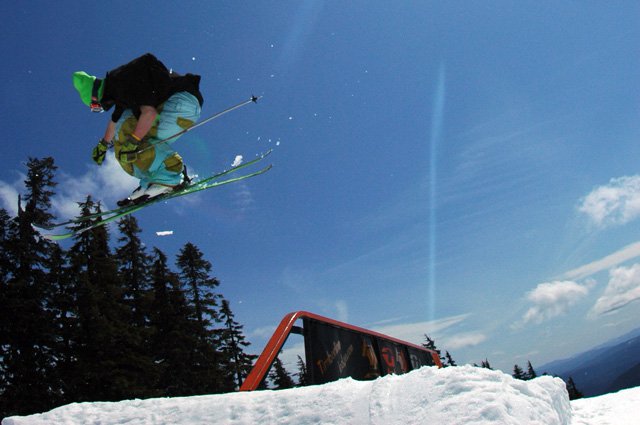 Then there was the everpopular gap rail. Are you sure you want to spin on? The Goblin says: yes.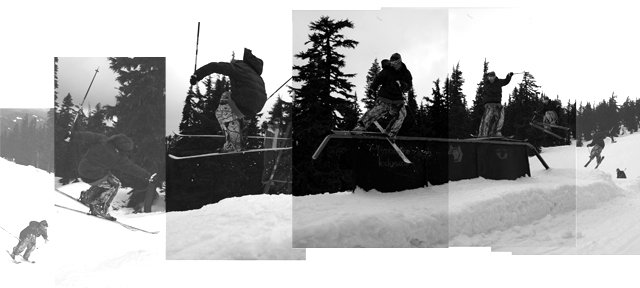 JP "that guy you thought was just a pipe skier" Solberg brings out the switch two-sev, 270 out.
JP's pretty good on jumps, too.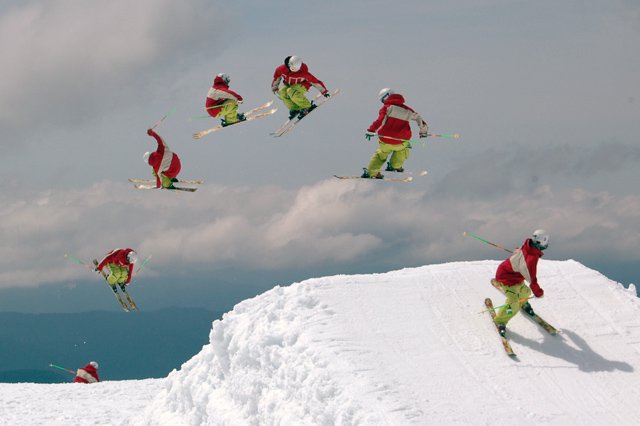 And if we're going to talk good on jumps, we should talk Adam Battersby. He's coming up strong and if he skis next year like he did at the WCS, we might see some solid comp results out of the younger Battersby. Adam missed the first week of school in Park City to come ride with us. What powerful decisions the younger generation is making!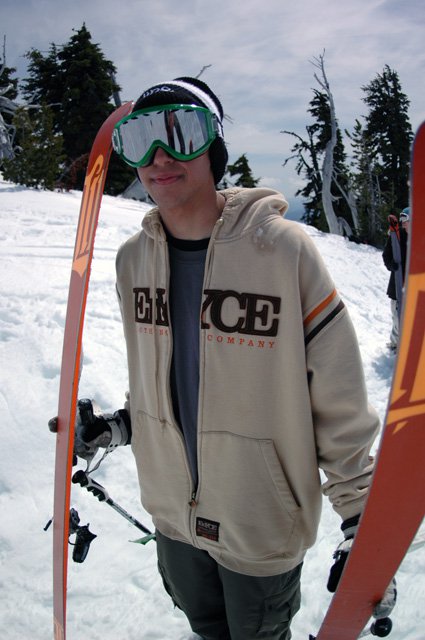 Giray Dadali also logged some truancies from school, but in goggles and a tan hoodie, he looks innocent and friendly enough. What you don't know, though, is that at this very moment, Giray is probably pondering what it's like to crush a baby's skull with his ski boot.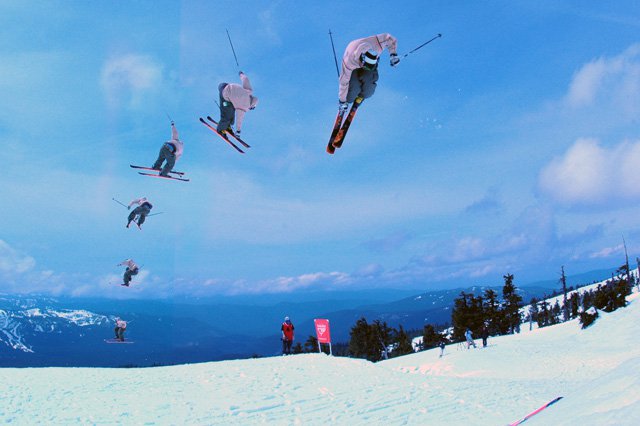 Or, what it's like to crush a landing with his ski boot.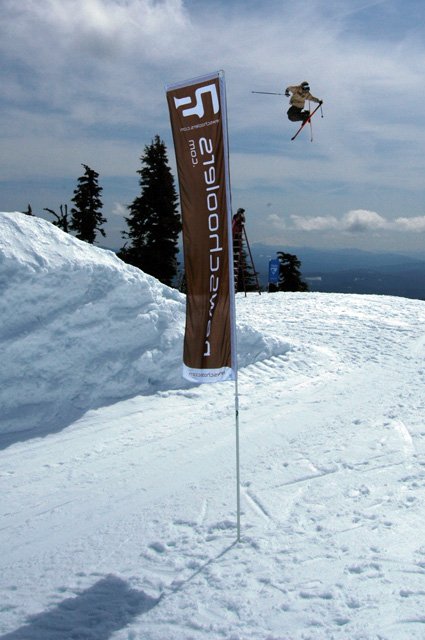 Giray was so motivated that it was hard not to take great photos of him. Here I was just trying to get a nice shot of the Newschoolers banner when Giray jumped in out of nowhere and grabbed tail. I tell you, that's true dedication.After a solid day on our big jump and one on rails, come Day 3 we were ready for a big step-up built just inside Timberline's boundaries. A change of pace! A wild and unpredictable feature! As had occured previously, the excitement was hard to contain as skiers made their way over to the top of the long, winding inrun...
... down to a gap that, well, kind of looked clearable...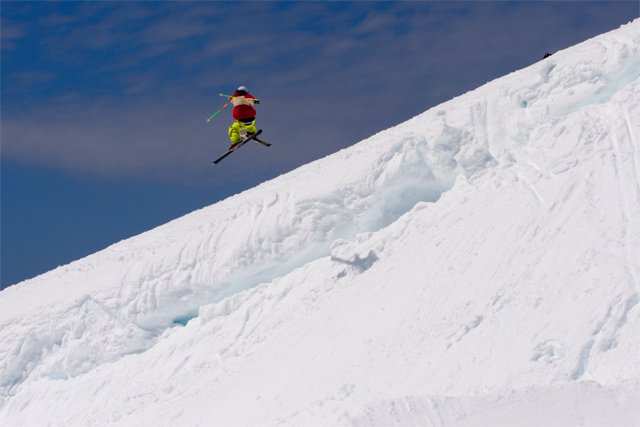 Adam Battersby was the only skier to clear the gap without fail, but eventually he called it off too, shaking his head at the wild curves of the catrack inrun down the canyon. Jonny Marks and Charley Ager cleared it too... but Charley cheated.At any rate, terribly bad timing had struck us: we now had a big unhittable jump, and Mike Wilson had just left that morning.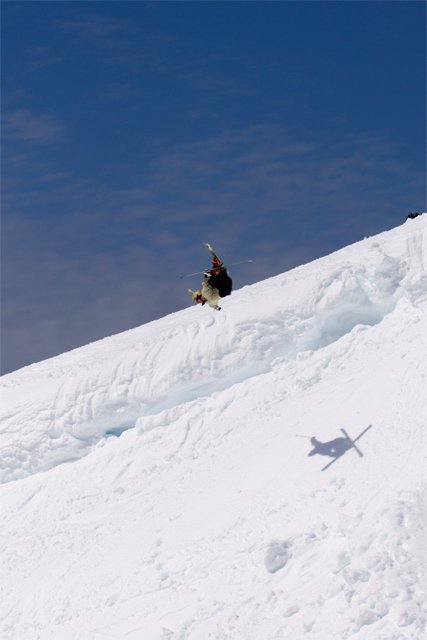 Completely undeterred by the general lack of enthusiasm, Jonny Marks decided to step it up a notch and make this thing legit.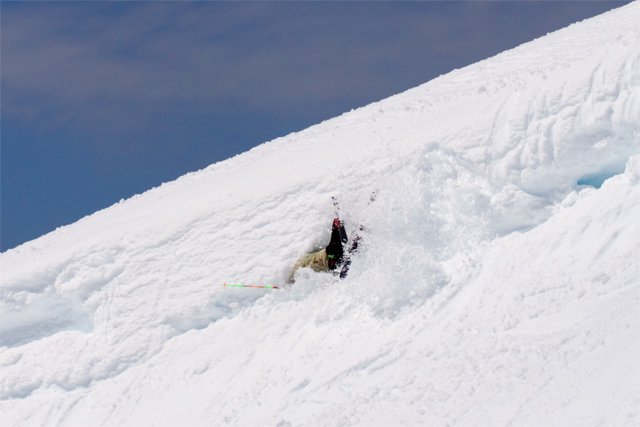 Nice try, buddy. The only fall worse than this was when our illustrious representative of the Japanese media, Dean, dropped off the cornice, nabbed a few turns, and then plummeted flat onto our salted inrun from about 12 feet up. Straight to his domepiece on ice... it was brutal.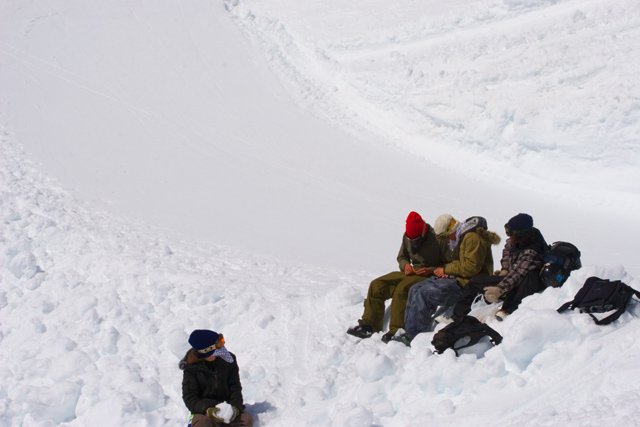 Once we all finally admitted that there was nothing more to be done about the step-up, we sulked briefly, then participated in group bonding activities.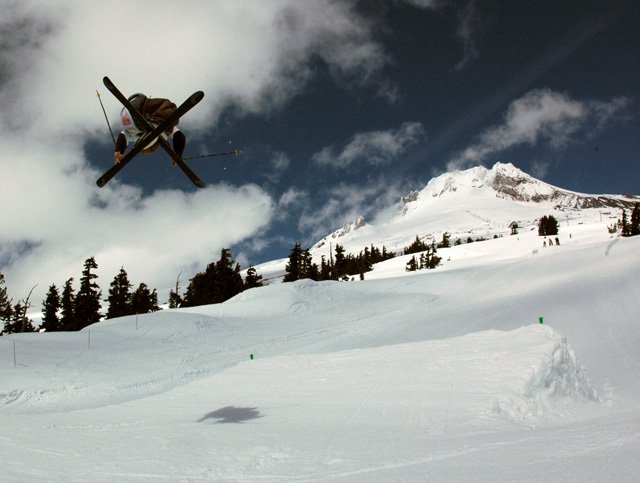 With the step-up a no-go, it was back to the park again. Everyone was goofing around with lots of double grabs and grab combos; here, Alex Martini exercises his inner octo.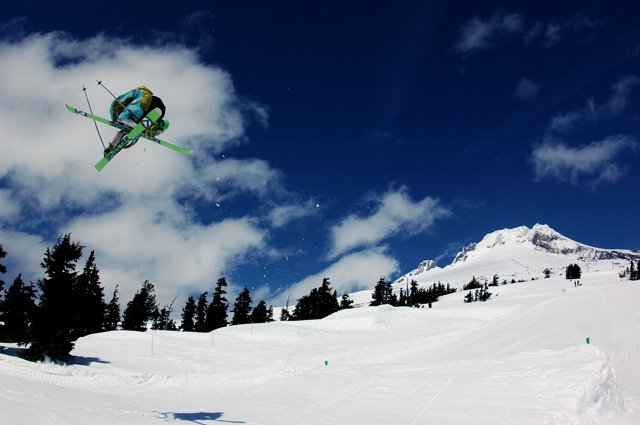 Steve Stepp—also possessing an inner octo.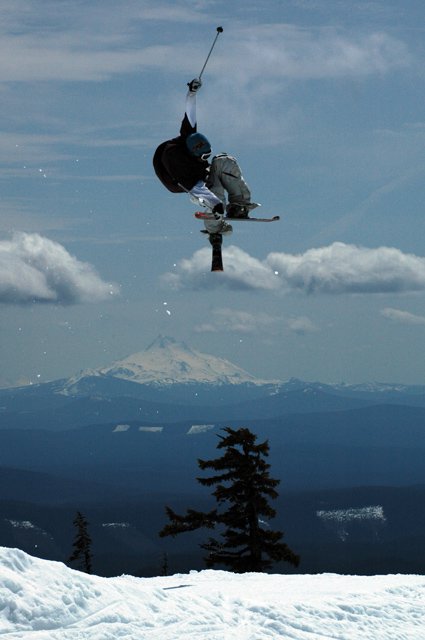 Tyler Barnes crept dangerously close to that cobwebbed word "huntony" while clearing Mt. Jefferson widda cab 7.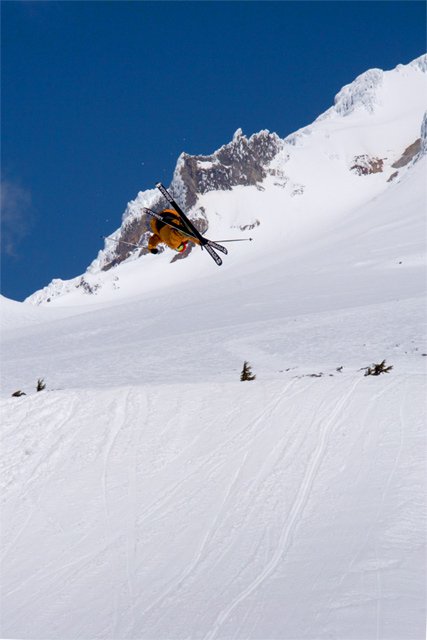 Sean Logan, absentmindedly checking the sharpness of his ski edges.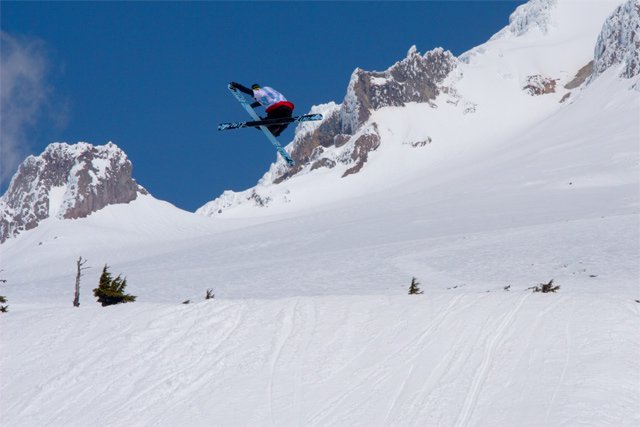 Garrett Russell, just warming up.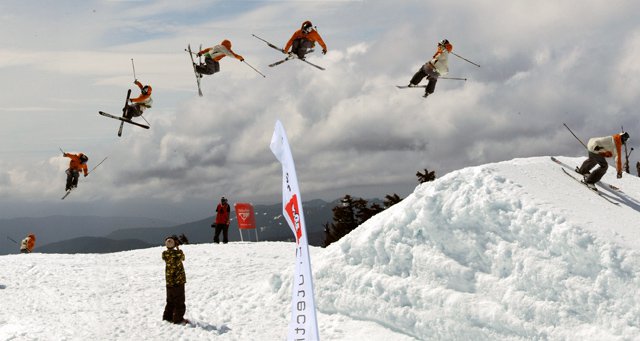 Did someone say something about grab combos? Walker did — switch 900 mute to tail.Of course, why grab twice when you can just turn two grabs...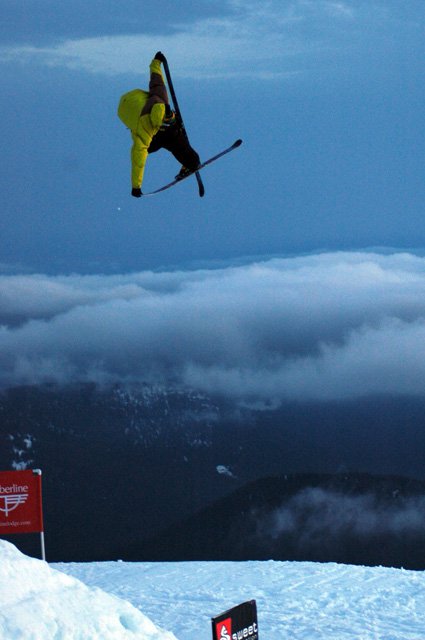 ...into one?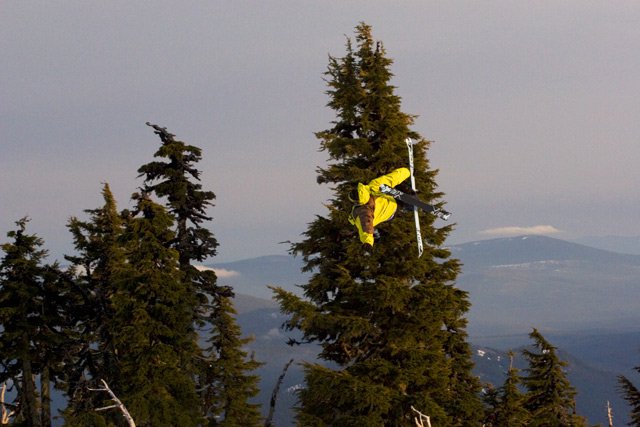 Wait, is that a D-spin, Garrett? Haven't seen one of those in years...

They just won't... stop... progressing!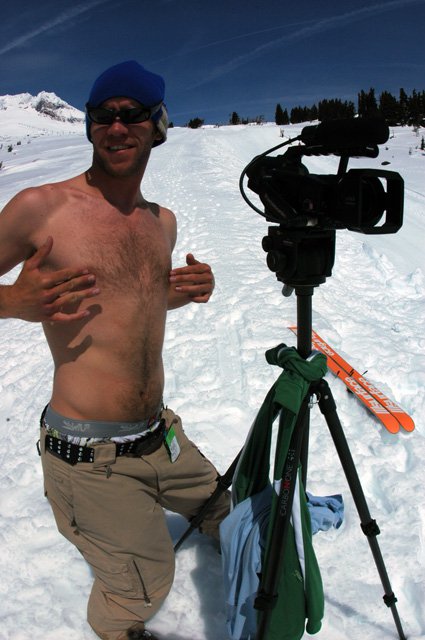 The ski action was just too hot for some to take.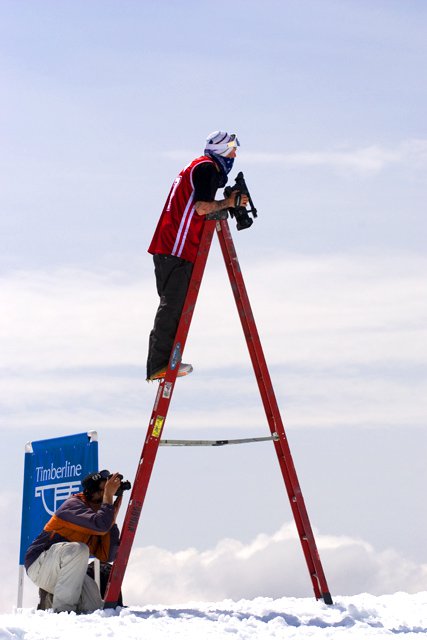 The ladder came out: great for whoever's on it, terrible for anyone else trying to film. Unless you're that guy down at the base of the ladder, thinking differently...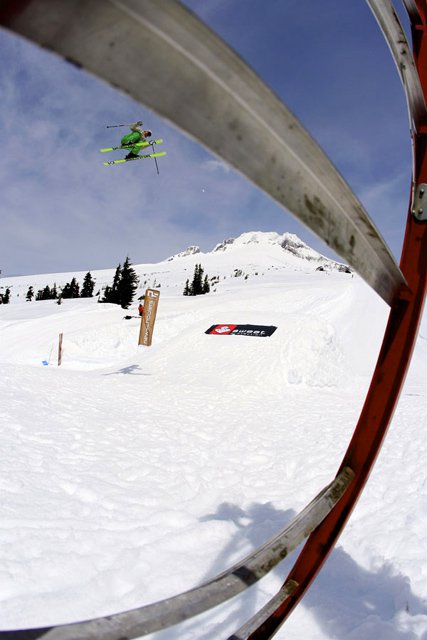 Gertken holds the ladder as NoTeefa ascends.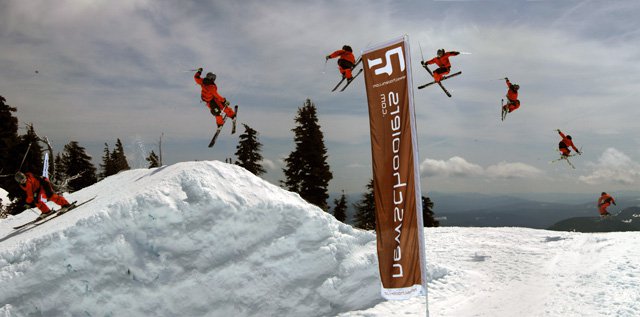 Meanwhile, Colby Albino, aka Mini Wilson, stomps a switch 7 mute.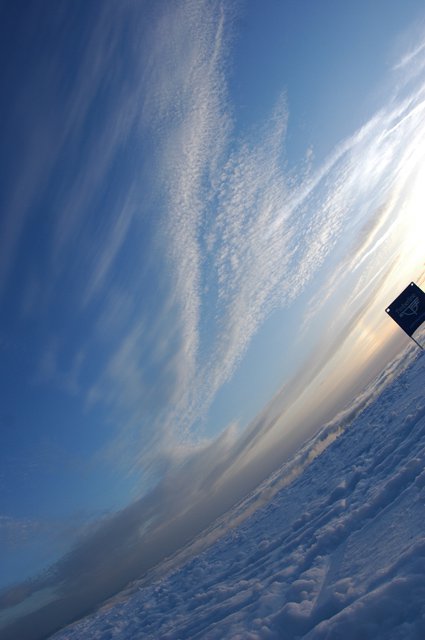 We all decided to set up a sunset shoot on the booter that T-Line built for us, and showed up at the Lodge late on Friday afternoon. Despite some worries about cloudiness earlier in the day, the Mt. Hood horizon opened up for us for the shoot, making for an epic backdrop and a very exciting ski session.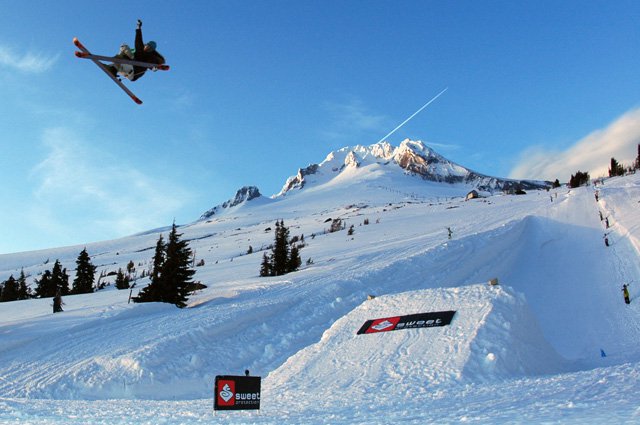 Tyler Barnes meets Mt. Hood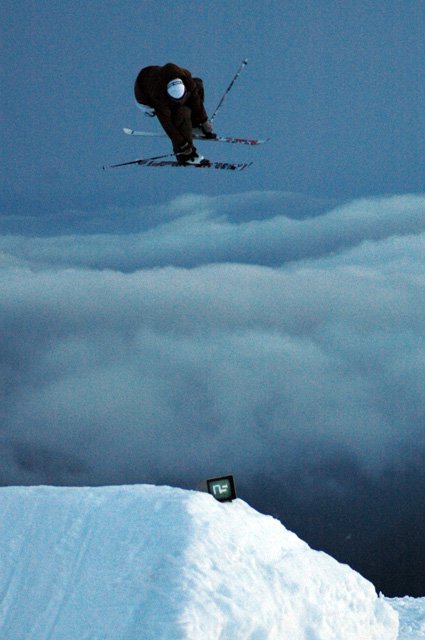 Chalk one up for Oregon—local skier Scott holds it down.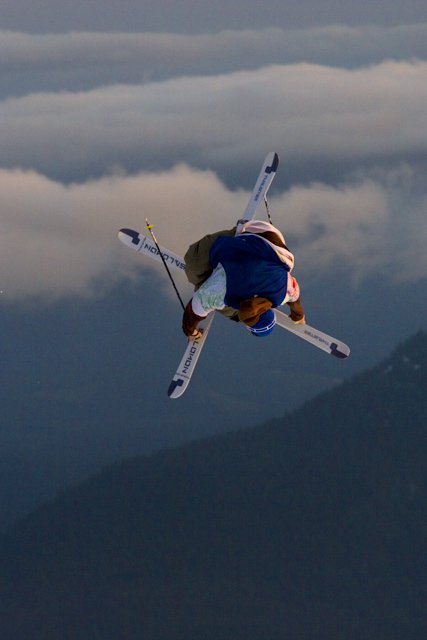 If you haven't met it personally yet, please take advantage of this opportunity. Martini gives you: the octograb.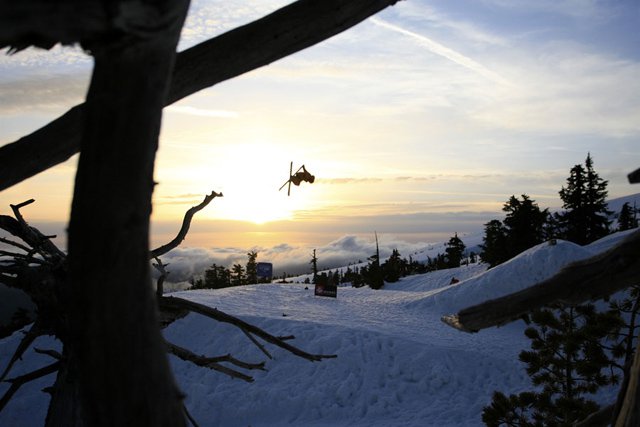 Having arrived on Friday morning, Sean Logan was determined to make up for lost time at the shoot.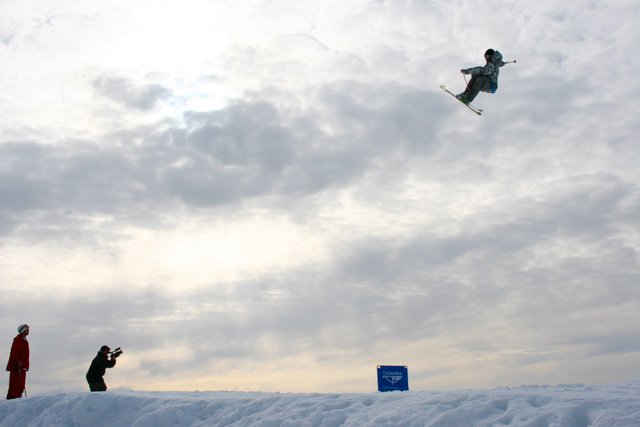 Max in fine form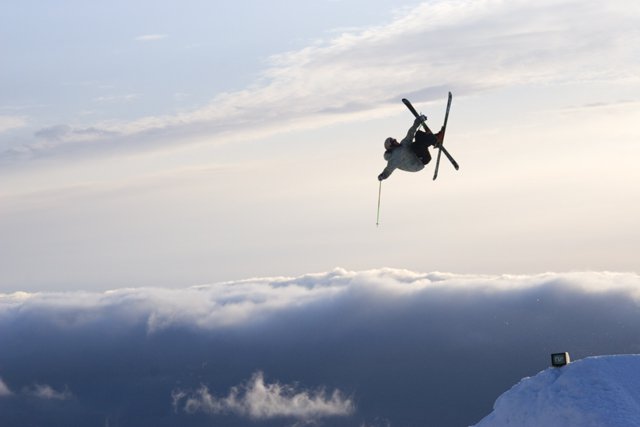 Jonny Marks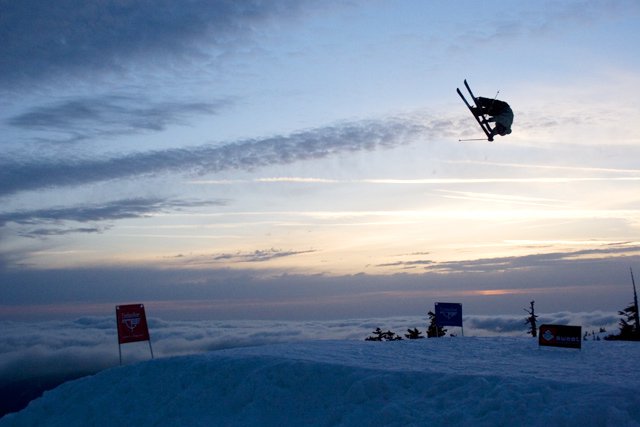 You know it was a great shoot when a photo like this starts to look a bit mundane. Jonny Marks again.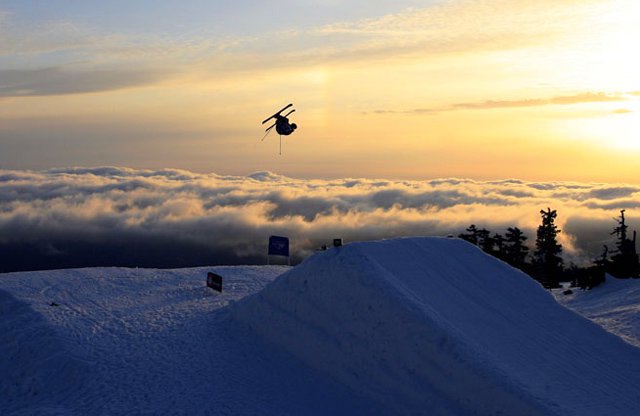 J.P. Solberg claims that the West Coast Session was the best event he's been to since Parkasaurus... but that's probably just because he walked away with shots like this.
Alex Martini, cork 3 on one of the last hits of the evening.On Saturday morning, things got started slowly up on the hill, at least for our group- but a siazeable crowd of Newschoolers was already onslope by the time we pulled into the parking lot. The DJ from Spun Academy was already spinning as we rolled into the park, and they even hooked me up with a wireless microphone I could carry with me on laps through the park for vocal followcams.We fired up the grill and gave out some really dope schwag, t-shirts and hoodies from Sweet, and then worked hard to give out all the $500 cash that Newschoolers was throwing down for the event. I gave some bills to Tim Durtschi's sister and another girl ripper who were throwing down quite proficiently all day, but Witt Foster and Giray Dadali just couldn't stomp their one chance for $20, a 450 out on the upside-down rainbow box. Finally we decided to hold a three-jump claim contest: call your line, and if you stomp everything, you win twenty bones. You can straight air, but each one deducts $5 from your total; a grab at the extreme tip or tail adds $5 to your total. In this fashion, the rest of the cash was given out quite quickly, and somehow Giray managed to win $45, which I still don't understand. I think it was rigged.A fairly comic scene took place right after our little slopestyle comp, which took just long enough for the lift to close on us and cut us off from the parking lot. Facing some adamant lifties, the crowd of Newschoolers, several of whom had helped out by carrying down our flashy new NS-brand computer monitors, ended up having to hike a short distance out... leaving the lift line looking like a computer monitor graveyard.A huge thanks goes out to everyone who helped organize the West Coast Session or came to enjoy it. In particular, we'd like to thank Logan Stewart, Brian Reed and Carson at Timberline, Brandon and Brian at Sweet, Neal at Windell's and the Spun Academy guys, as well as Jeff Loewe with NS/Poor Boyz, Justin Loeloff with Off Trail Productions, Jeff Thomas with Theory-3 and Nico from the Levitation Project for filming, and Ryan Gertken and Josh Anderson for shooting photos.West Coast Session edits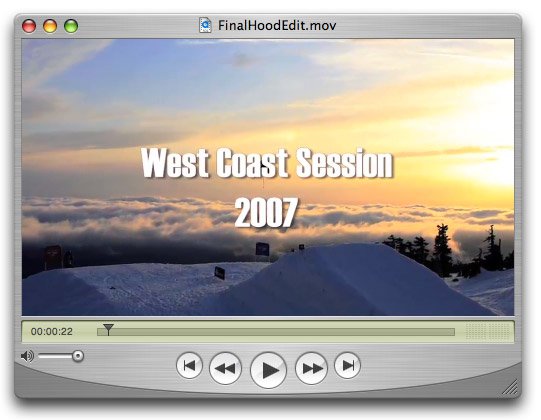 Watch the Newschoolers edit by Jeff Loewe (127.6MB .mov)easy there partner, it might take a while!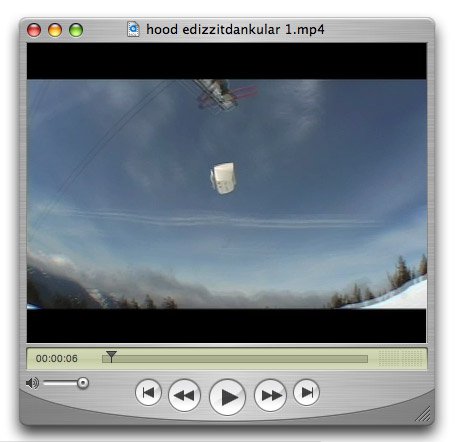 Watch the Stept Productions Day 4 edit by Alex Martini! (38.1MB .mp4)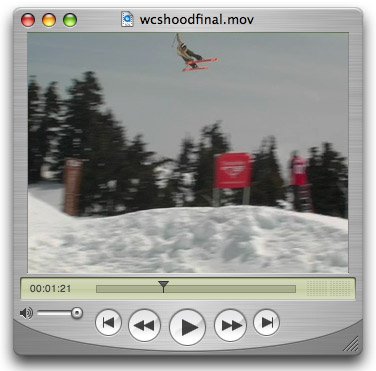 Watch the Off Trail Day 2 edit by Justin Loeloff! (40.1MB .mov)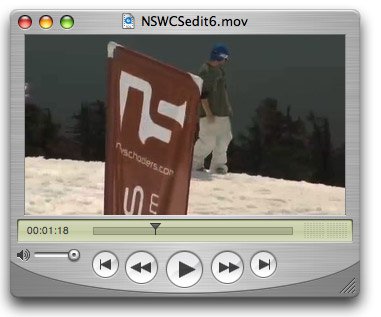 The Off Trail edit is also available in a lower file size (25.2MB .mov)