Words by Ethan Stone
The third annual West Coast Session was put to bed this Saturday with a public park jam at Timberline, Oregon. Despite cold, windy and overcast conditions, a massive crowd of twin-tippers converged from around the Northwest to test the finely tuned features of Timberline's Paintbrush and Conway's terrain parks alongside a few dozen of skiing's best young pro and am riders.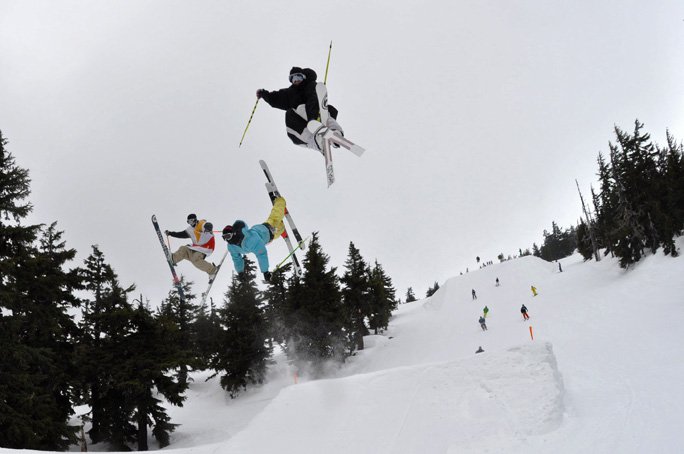 Tim McChesney, Tom Wallisch and Steve Stepp lead a massive train through Paintbrush. photo: Stone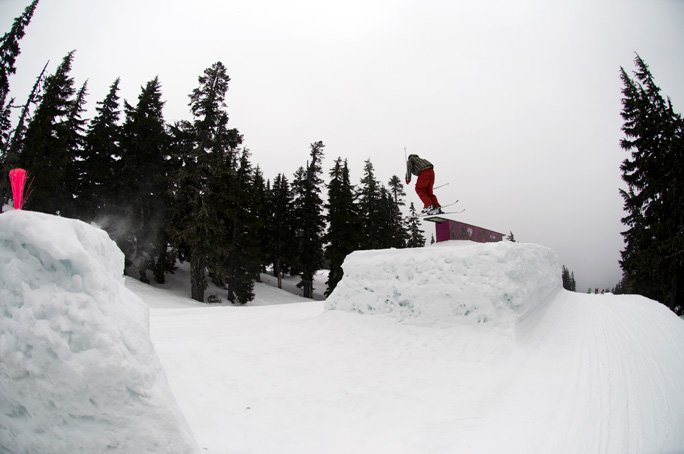 photo: Benjamin Krause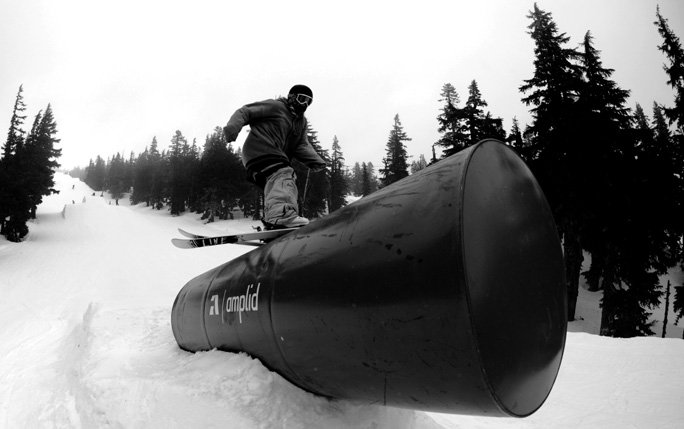 photo: Krause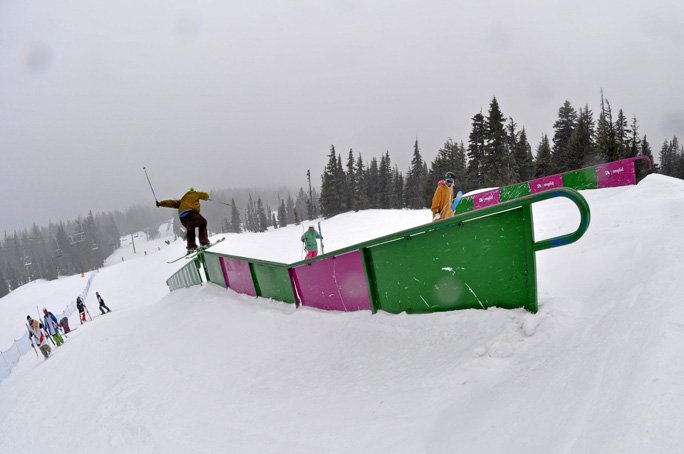 Steve Ekstrom. photo: Stone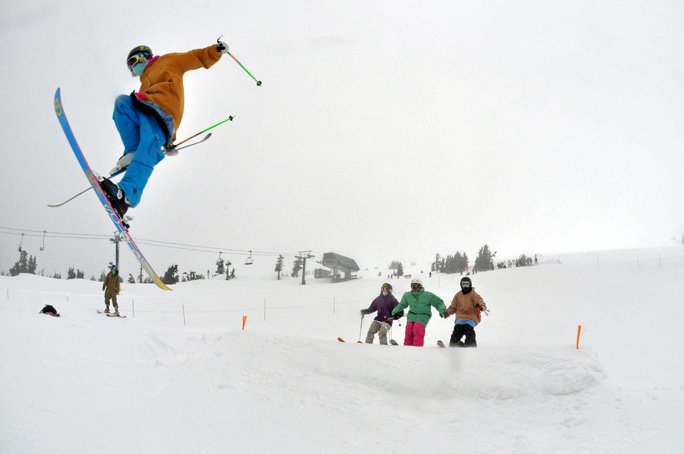 Joey Vandermeer kangs his way into yet another WCS update. photo: Stone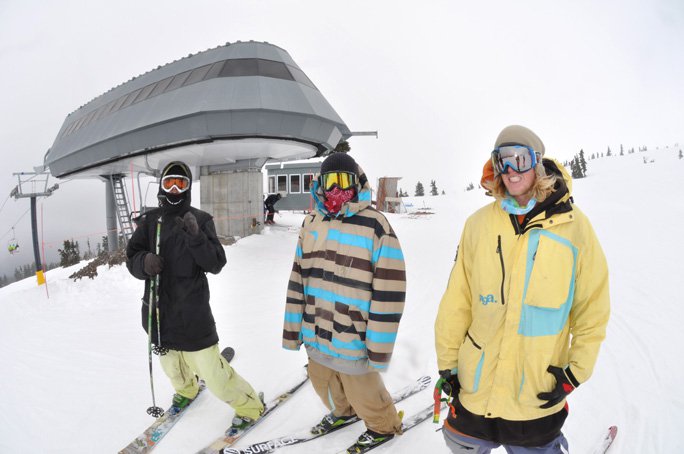 Witt Foster, Jeff Kiesel and Collin Collins. We were glad to see Kiesel back on skis Saturday after the gnarliest crash of the Session on the 100-foot booter just the day before. When the ski patroller asked Jeff where his head hurt, he reportedly replied, "Pretty much wherever it's bleeding... that's where it hurts." photo: Stone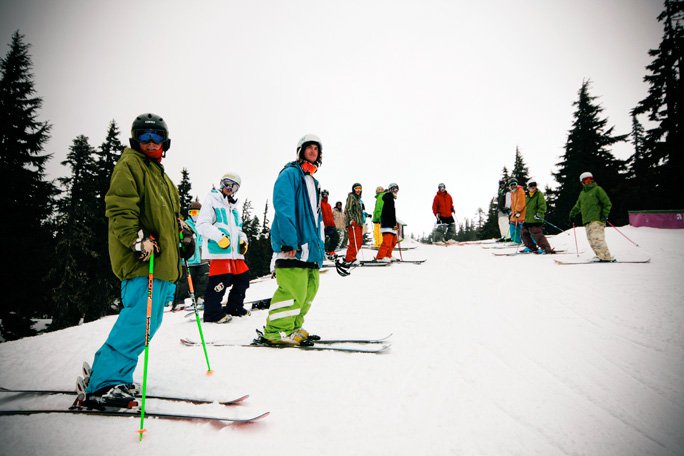 Tosh, Kutcher and a crowd of others wait to drop during the S-rail session. photo: Rocky Maloney
After a few hot laps through the park, it was time to break out some gear from Dakine and Spy as prizes for challenges on Paintbrush's rail and box features. The challenges kicked off with a stall competition on the box variously known as the booter, launch, wutang, umbo or excitebike box. The gist of it is that the thing launches you good - but it's also lots of fun as a stall platform.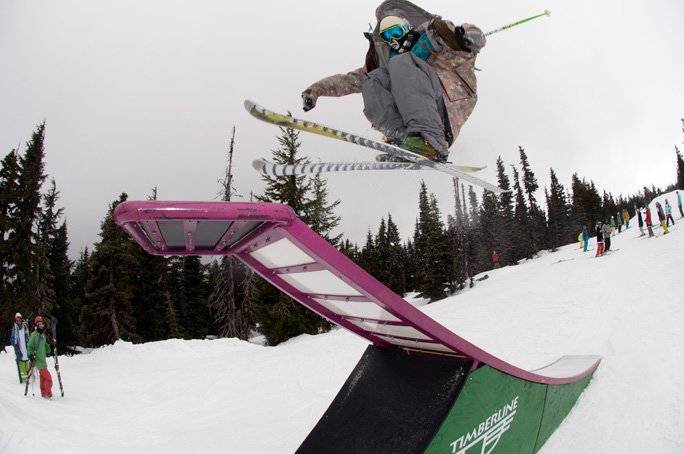 Josh Bishop nollie. photo: Krause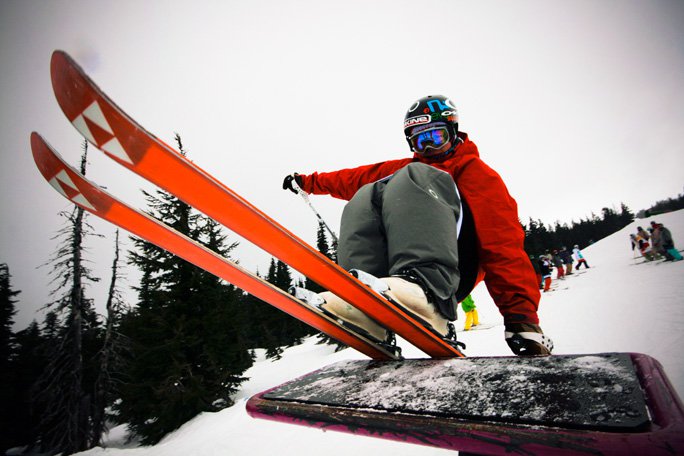 photo: Maloney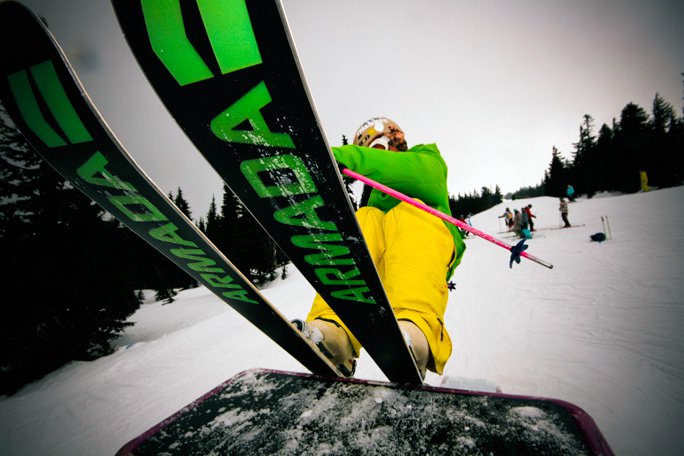 photo: Maloney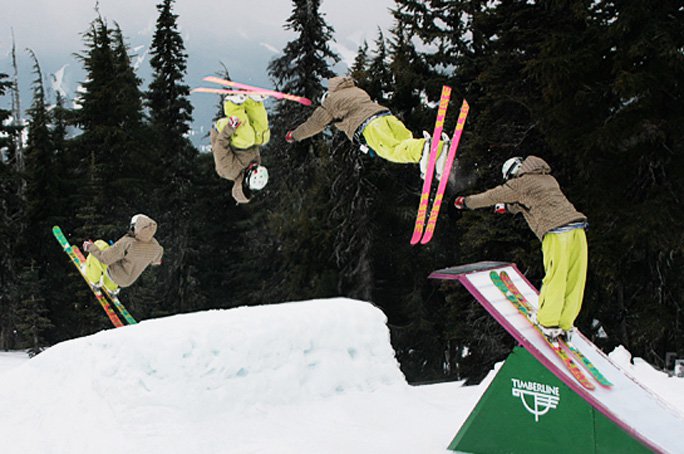 Scariest trick ever? sequence: Maloney
sequence: Maloney
Lured by the sounds of skis sliding on box and Anna Borgman's iPod bumping ski movie songs on the PA, Frank, the West Coast Session jib piñata, emerged from his snowy mountain lair to investigate. He was ambushed on the booter box with a swift 180 tail tap that knocked him senseless. Soon Frank found his way to the end of the S-rail, where the first skier to slide the whole rail and bonk him on the way out scored a Dakine ski bag.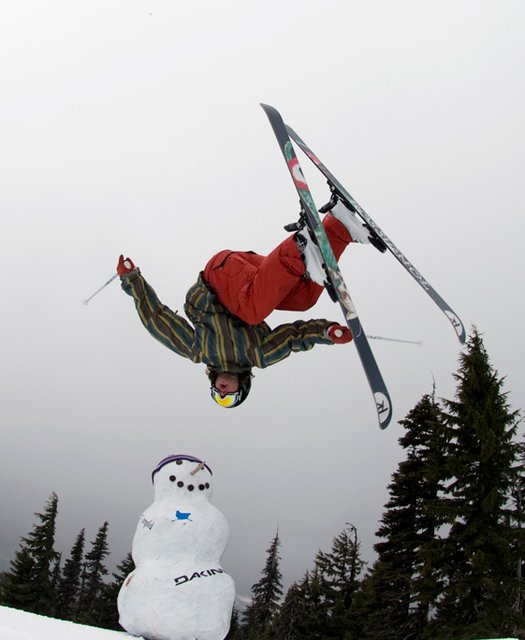 photo: Krause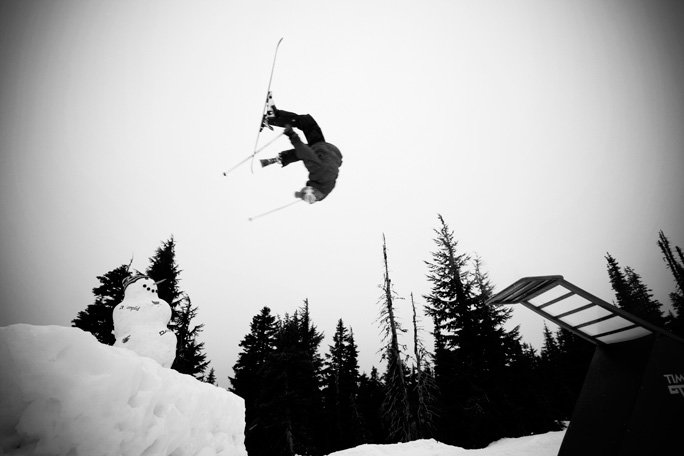 photo: Maloney
After enduring numerous taps, bonks, kicks and outright ski stabbings, Frank retreated to the middle of the trap rail. There, he got jumped over a few times by intrepid riders gapping from the up to down sections of the rail, before a direct hit to the midsection blasted him open to reveal a cavity stuffed with goodies from Dakine.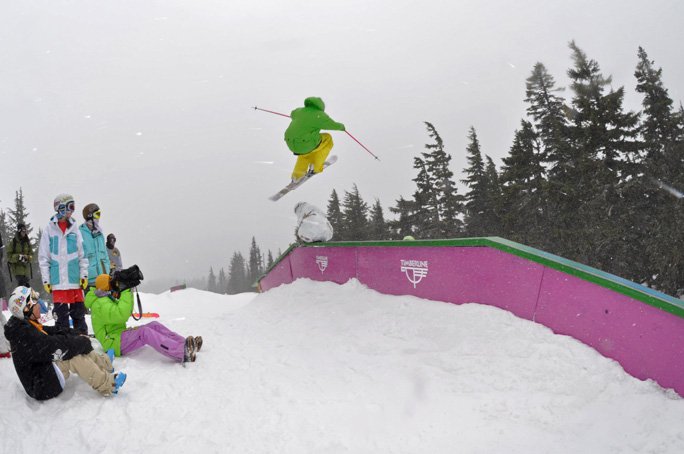 Even after his evisceration, Frank's battered body parts remained a fun hop challenge. photo: Stone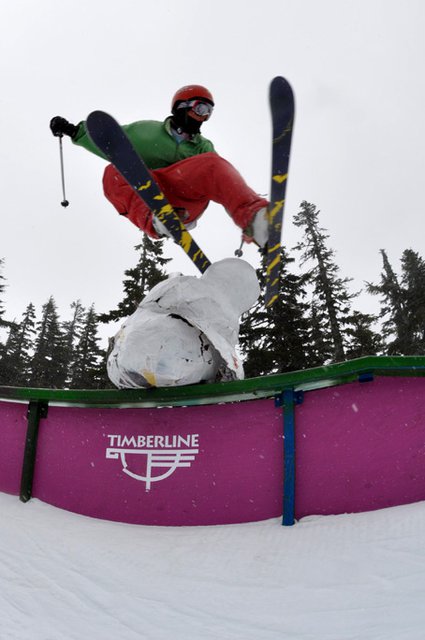 Max Peters. photo: Stone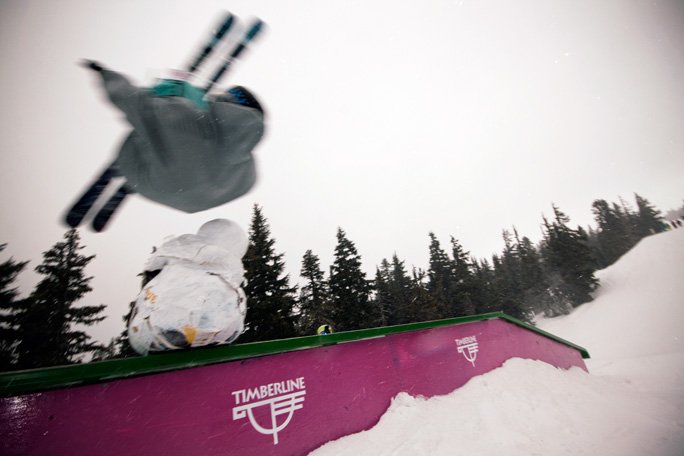 LJ had been joking about flip-ups all day. Turns out there was no joking involved. This was the craziest thing, ever. photo: Maloney
The session then moved on to the down ledge, where everyone had fun trying step-on slides while WCS invited athletes regaled the crowd with spins on, 360-ups, pretzel-ups, hippie killers and other spectacles from the future of jibbing.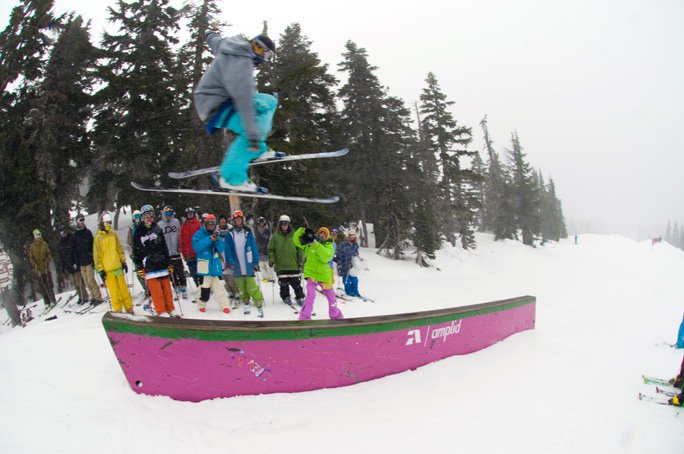 LJ goes 450. photo: Benjamin Krause
After local rider Steve Ekstrom scored himself some Spy sunglasses for a nugget 180 out on the ledge, the challenges moved to the infamous down-flat-down rail. With time running out before the lifts closed for the day, WCS regular Brian Spere (skiing the Amplid's he won at last year's event) locked the crap out of a front swap over the kink to win a pair of Spy goggles and cap off the event with a bang.
One lucky winner was chosen from the list of skiers who registered for WCS to receive a pair of Amplid Townships. Congrats Ian Walker, you scored yourself some new skis!
A huge thanks goes out to everyone who came out for the third West Coast Session and to the sponsors and partners who made it possible: Amplid, Timberline Lodge, Windells Camp, Dakine, Spy and Innate.
Our wrap-up coverage of the West Coast Session, complete with all of the best photos and videos from the event, will be online soon right here at Newschoolers.com!
Here's a fun Day 4 edit from Nick Young: