Words: Ethan Stone
Photos: Chris O'Connell & Ethan Stone
"Well, after all, this is a winter sport!"
The liftie at the base of Ski Bowl's Lower Bowl lift is in high spirits and is howling at the top of his lungs as our chair ascends into a murky, wet blizzard. The riders behind me are snickering to themselves on their chair: "Dude, that guy's just down there howling all by himself."
But stoke is infectious. Even as the snow continues to dump down, erasing our tracks and any chance of hitting Ski Bowl's jump line, the smiles on the faces of the West Coast Session crew just get bigger, and soon return howls are resounding across the Bowl as the WCS Ski Bowl night session goes down in a late April snowstorm.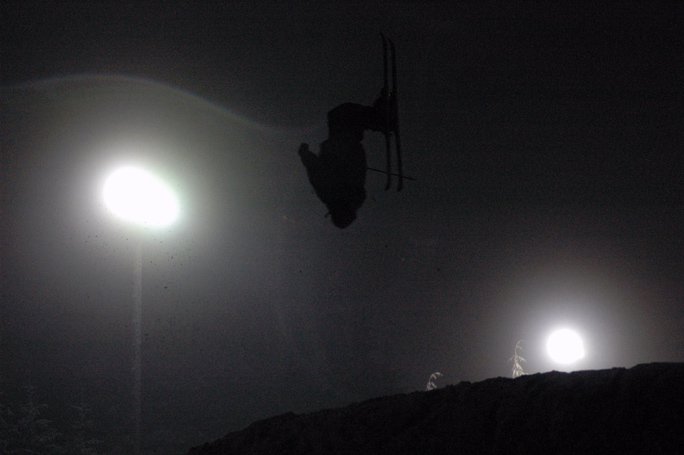 skier: Tyler Barnes
What is the West Coast Session? I don't have the words to tell you, because none of them quite fit. Competition? Definitely not... photo shoot? Not really... Session? Maybe. No quick turn of phrase quite wraps it up. What I can tell you though, is that 40-odd skiers and media friends are here now at Mt. Hood, enjoying the amazing facilities at Windell's Camp while skiing park, pipe, powder and everything in between for the rest of the week.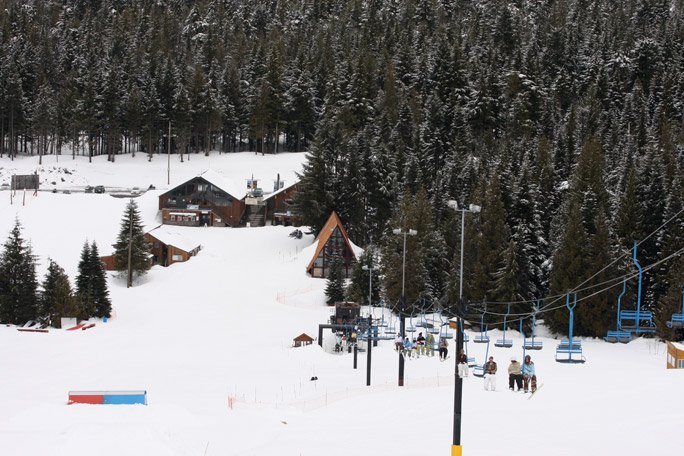 Newschoolers' private chairlift for the day
The Session opened Wednesday with a private park session at Mt. Hood Ski Bowl. Ski Bowl pulled out all the stops to accommodate our crew, running the lifts and lights for us as well as building and maintaining a bigger park than they've ever mustered before.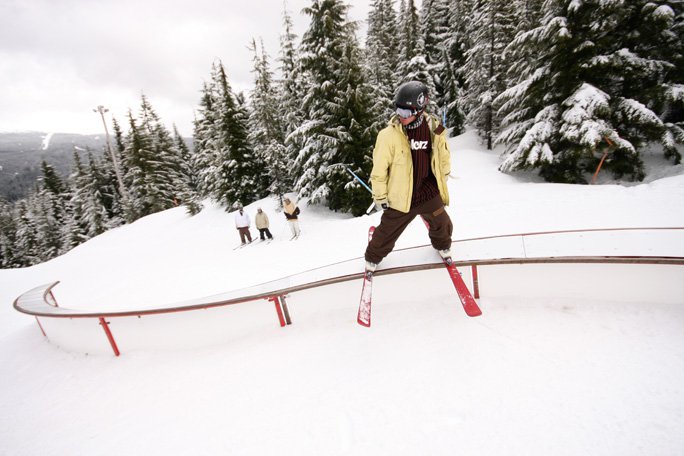 skier: Matt Margetts
A goodly number of ski crews have convened here from diverse locations, and all were on point to start the session off right. The Voleurz crew pioneered a gap over a lift hut that was later destroyed by the Joystick crew. The Japanese crew sessioned the rail line all day with some ridiculous laybacks from Uki Ikeda, while the Park City squad was throwing down hard on everything, oblivious to the cameras.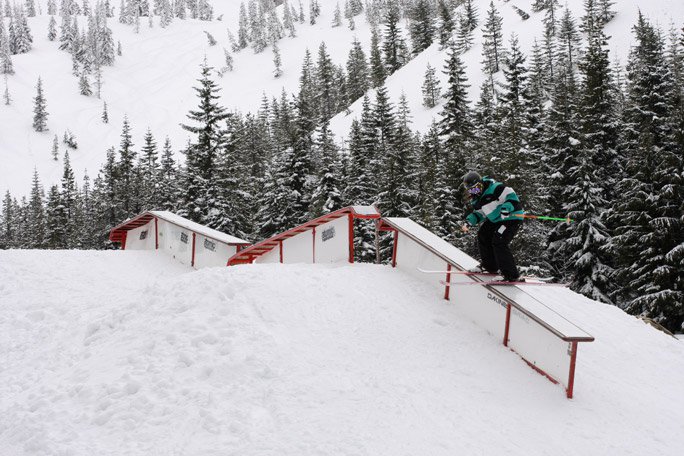 skier: Kim Lamarre
After a four-hour early session, we broke for an afternoon pause back at Windell's with trampolines and the best skate facilities imaginable, then returned in the evening for a session under the lights. And of course, it being April 23 at Mt. Hood, it was pounding all night long.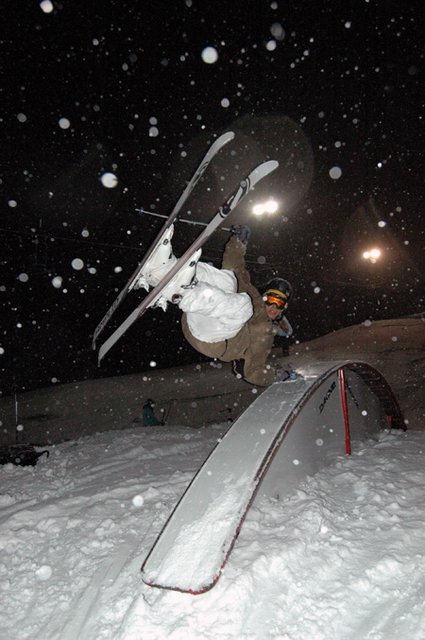 skier: Brady Perron
With half a foot of snow slowing down inruns, the night session stayed mostly to boxes and natural features around the mountain. Finally we started our daily competition after deciding on the rainbow box as a feature. In a one-hit, best-trick-takes all format, Brady Perron swept the polls with a cork 3 handdrag over the box, scoring himself a Dakine and Windell's prize pack plus a bottle of Jack Daniel's. (Of course, since Brady is underage, the liquor will be sent to his parents).
It's a snowy morning and the crew is ready for a pow day at Meadows... see you there!
Stay tuned for the WCS Day 1 teaser video courtesy of Cameron Fair and DOS Media...we'll have it up after we're back from the hill.