Words: Ethan Stone
After four years it's starting to feel natural: when spring rolls around, the days grow longer and the snow starts to melt, a group of skiers from diverse locales make something like a pilgrimage to the slopes of Mt. Hood, Oregon for the West Coast Session.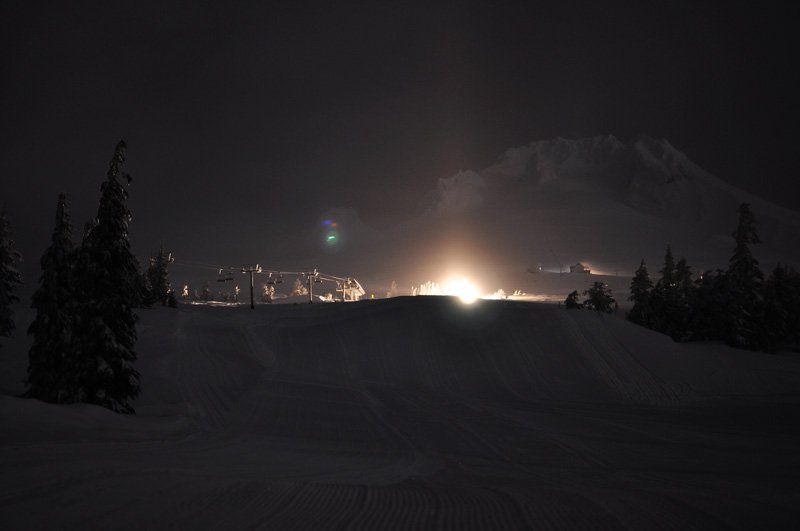 Terrain park groomers at work the night before WCS day 1. photo: Stone
Timberline builds an amazing terrain park to ride, Windell's Camp provides breakfast, accommodations and access to their awesome campus, and Amplid makes all the necessary arrangements. A place to stay, a place to ride, and good friends to enjoy it all with: that's WCS in a nutshell. And eventually we all wake up to alarms buzzing and realize that it's May 5, it's dumping snow, and for the fourth time around, the West Coast Session is in the works.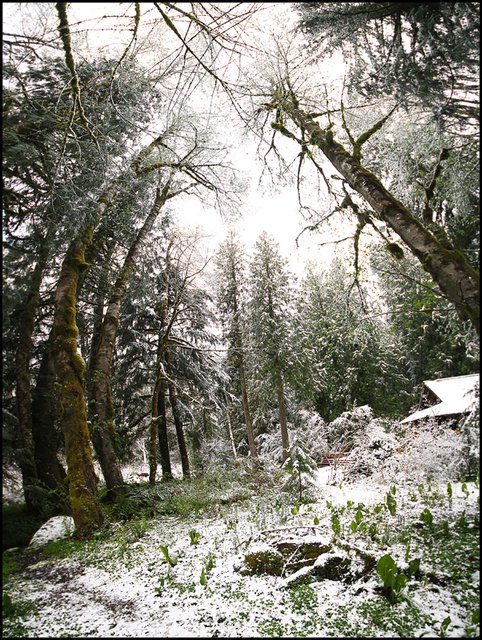 A dusting of snow in the Oregon rainforest. photo: Rocky Maloney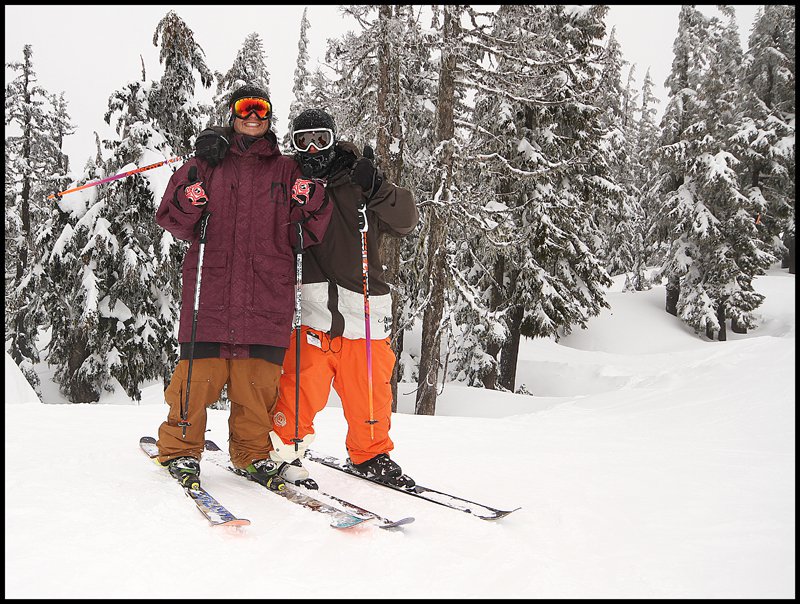 Stoked on winter in May: Jeff Kiesel & John Kutcher.
Bros.
It seems hard to believe that it's May. Four feet of snow have fallen in the last week and the park crew at Timberline has had a hard time digging out the park. This is supposed to be a sunny spring park shoot - but when it's snowing in May, who's complaining? Besides, it just wouldn't be the West Coast Session without a bit of fresh snow around to "ruin" all the fun.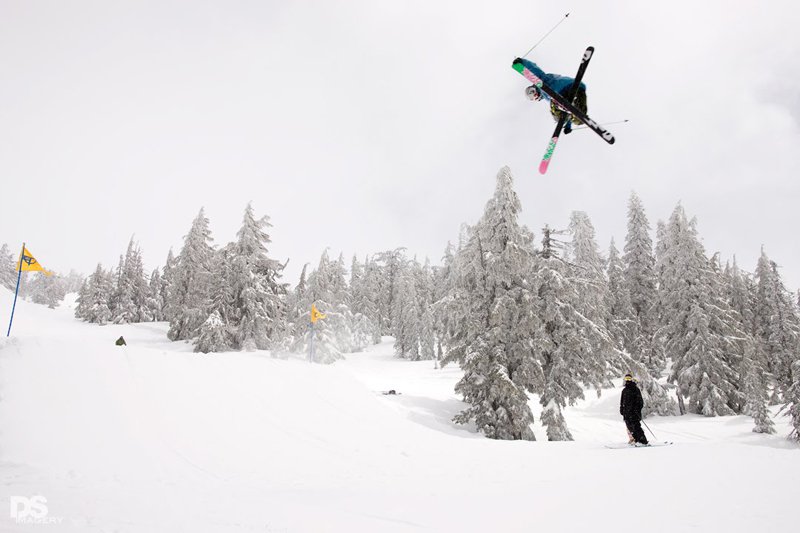 Ben Moxham. photo: Drew Smalley
Snow gets inside of gloves and collars, goggles and lenses fog up, and visibility drifts from low to nil. Hardly conditions to shoot in, but what are we gonna do - go sit inside and twiddle our thumbs? Instead, hardy skiers bundle up and take to Timberline's rail offerings.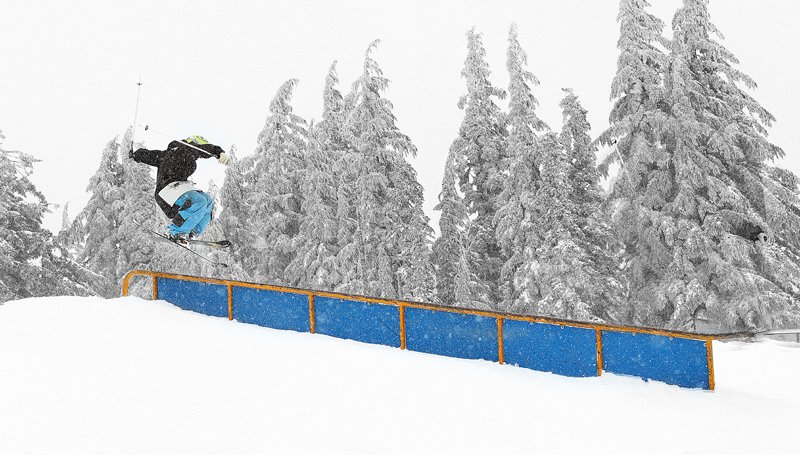 Adam Battersby. photo: Maloney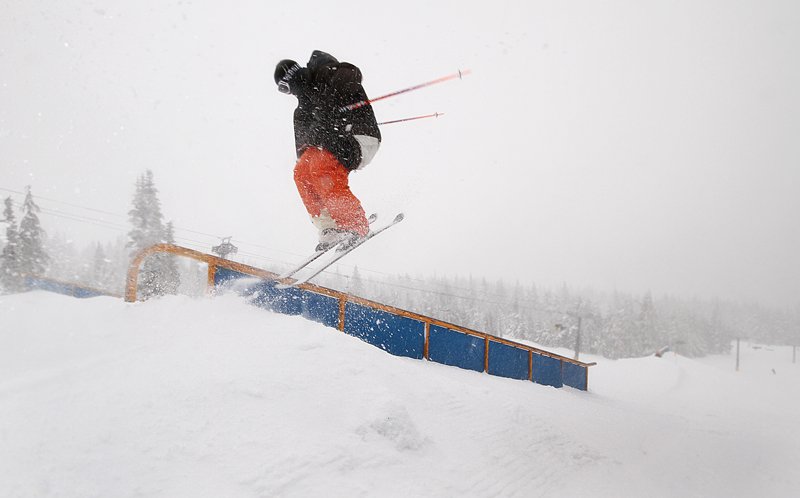 John Kutcher nose butter 270 on. photo: Maloney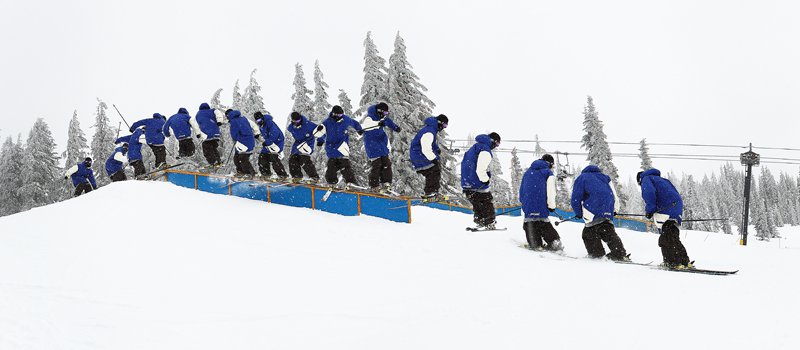 Will Berman 270 on, 270 off. Maloney sequence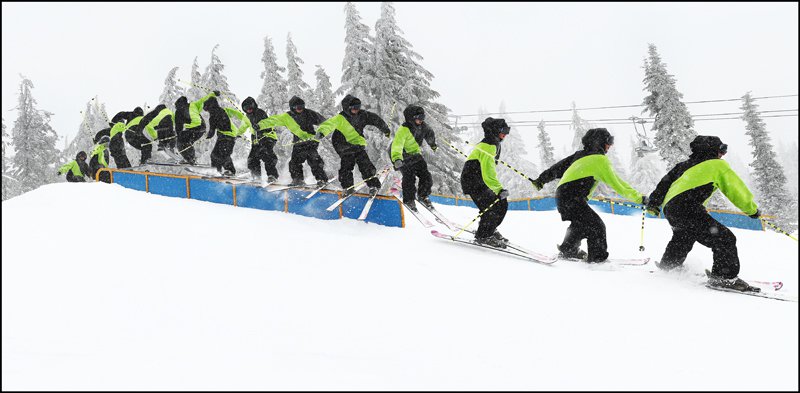 Tim Gage, lip 270 on. Maloney sequence
As always, Timberline's S-rail is irresistible to skiers, filmers and photogs alike.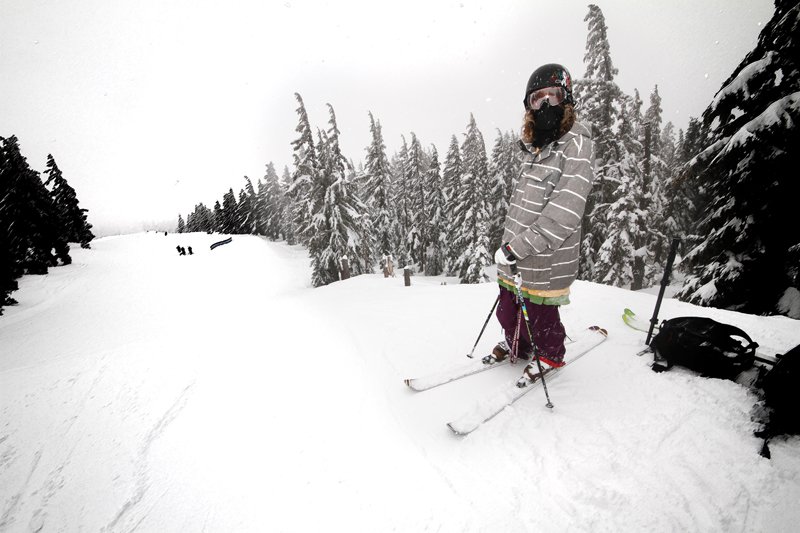 Charlie Lasser ready to drop in.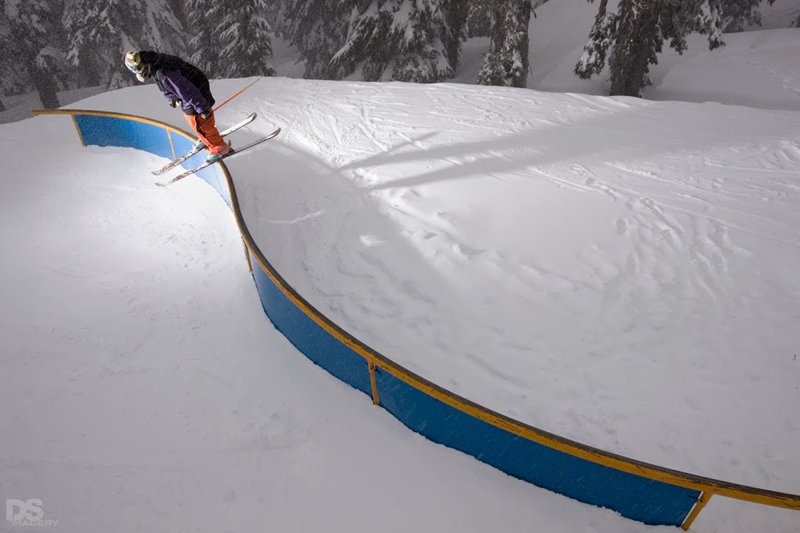 Collin Collins. photo: Smalley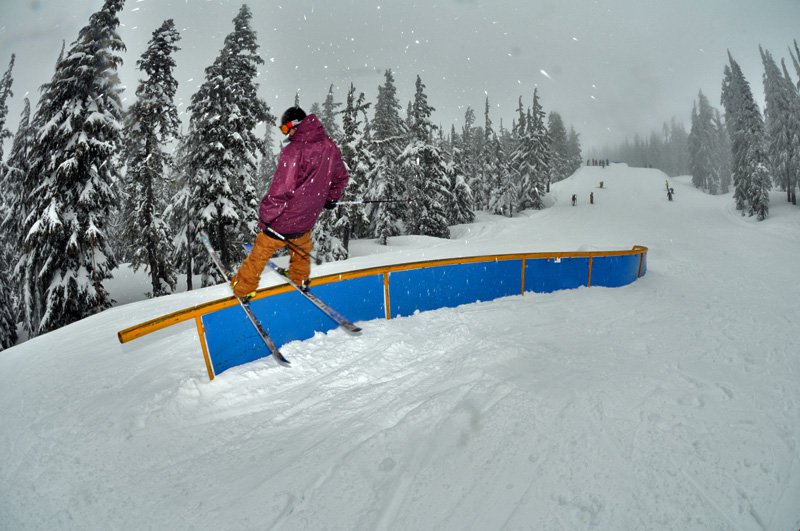 Kiesel. photo: Stone
Our first shoot day at Timberline wraps up after a plethora of rail lock-ons, pow slashes, high fives, and most importantly: sneak peeks at the features to be slayed once the weather clears.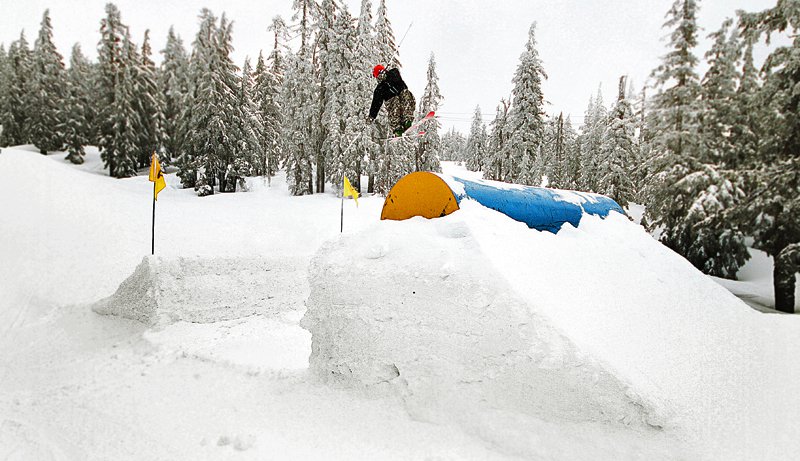 McRae Williams. photo: Maloney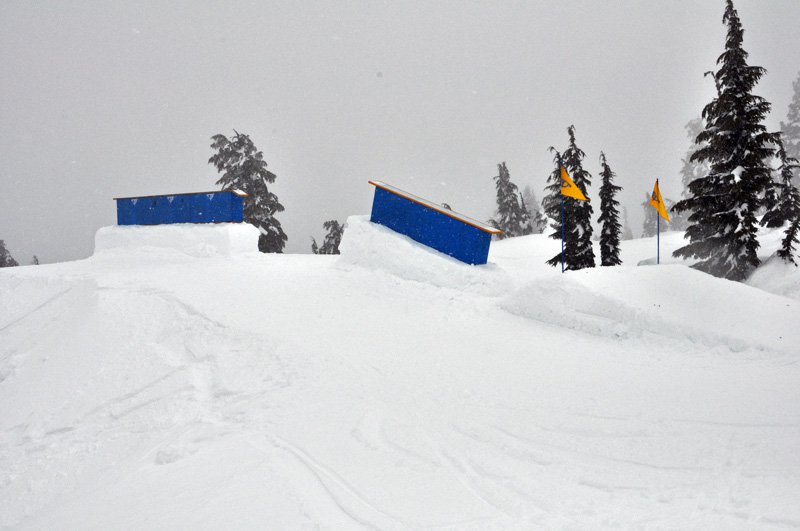 Box gap anyone?
Off the hill, the action continues. New snow at low elevation provides the means for a hungry 4bi9 film crew to get the shot on the meager urban offerings of Mt. Hood's own alpine village, Government Camp.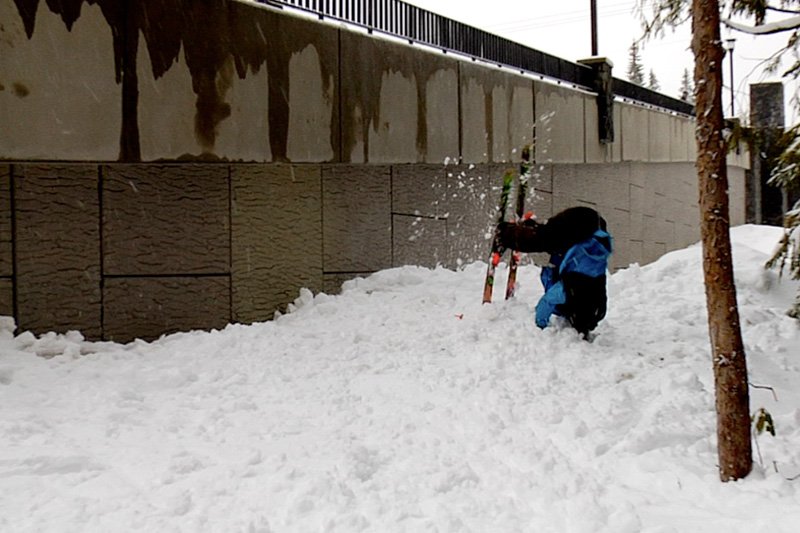 Tim McChesney. video capture: Andrew Napier
Back at Windell's Camp in the afternoon, there's just no time for the fun to stop, especially not when there's a brand-new concrete skatepark to test.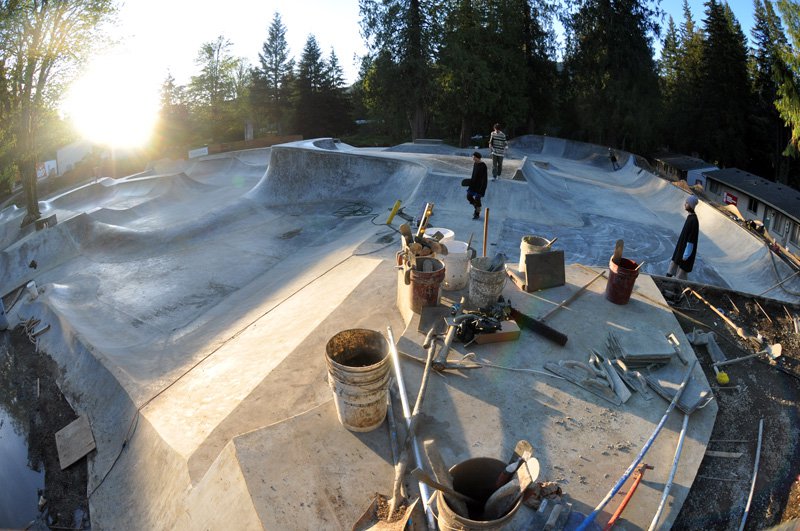 Windell's Camp truly is "the funnest place on earth", and every year the camp's facilities become even more fantasy-like than before: skate features everywhere, BMX jumps, trampolines, and even a new dryslope being installed for the summer.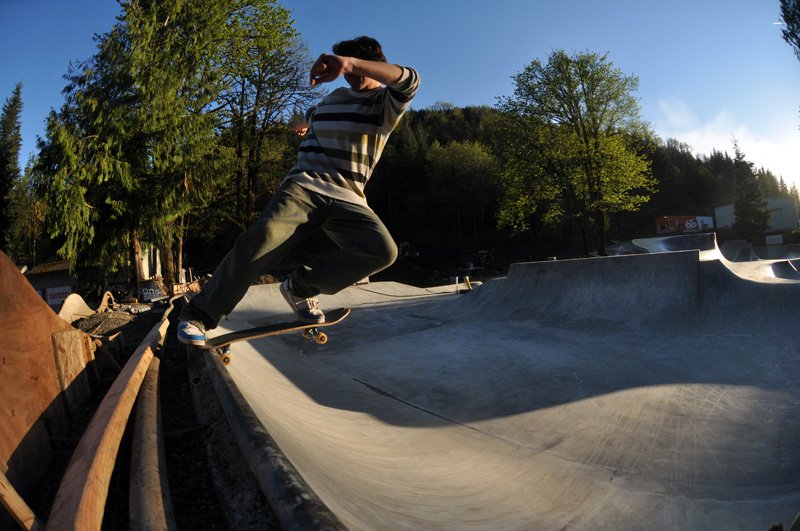 4bi9 film guru Nasty Napes. photo: Stone
Stay tuned for more updates from the West Coast Session... and if you live nearby, start making plans to be here on Saturday for the public session!
WCS4 Day 1 Video by Hennie vJ