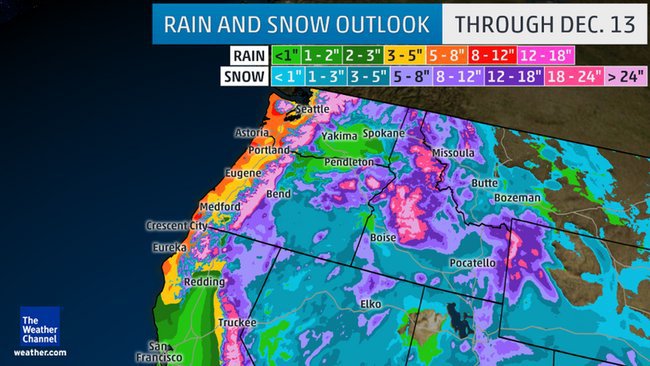 Photo Courtesy: The Weather Channel
Ski resorts across the western half of North America are preparing themselves for a major snow event as multiple storms make their way to the west coast at the end of this week. Significant snowfall is anticipated at higher elevations as several inches of precipitation is expected to pass through beginning as early as Wednesday evening. Resorts from Central California to British Columbia are predicting anywhere from two to four feet by Friday morning as the first wave rolls through. Warmer temperatures will cause rain to fall initially at lower elevations before colder temperatures push in dropping snow levels everywhere.
Similar conditions will be seen as the storm moves east, warmer temperatures at first will drop as the cold storm pushes through allowing several feet of snow to fall on the mountains in Utah, Idaho and Wyoming. Colorado and Montana should see light snow in areas with up to a foot falling on the highest peaks. A very strong jet stream with winds reaching over 190 mph is responsible for pushing the storm across the west and reports are stating that a storm of similar magnitude is expected to hit the west coast Sunday evening into Monday before moving east across the continent. Stay tuned for more details as winter rages on in the west.

Photo Courtesy: NOAA Sacramento