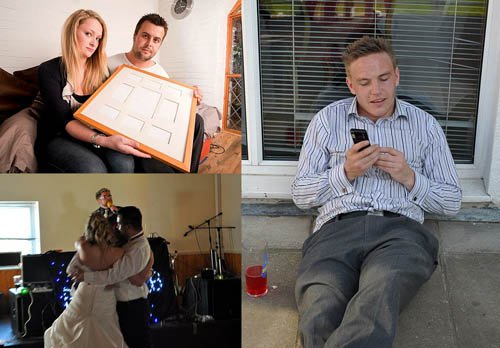 A UK couple is very displeased after their wedding photographer lost all the images from their wedding during a scuffle in a pub.
Jackie and Anam Sanderson enlisted a friend, Ben Fagan, to take wedding photographs — mostly to his benefit, they said, to boost his portfolio. But after the wedding, Fagan placed the card in his wallet and lost it a week later — though he doesn't have a clear memory of when or where. Unfortunately for the couple, who had a small wedding service with just 60 guests, Fagan was the only one taking pictures, save a few blurry photos taken by guests.
Yahoo! News notes:
After the wedding, Ben slipped his 16 GB memory card from his camera into his wallet, which he then put into his black suit jacket for a friend's funeral on Friday June 1.
But he lost the jacket in Lostwithiel as he brawled with a friend – either before or after being thrown out of the pub by the landlord.
Ben was unable to find the jacket that evening and subsequent searches have failed to turn it up.
He said: 'I'm absolutely devastated to have lost my best friends' photos of the best day of their lives. It's on my mind constantly. I thought my wallet was the safest place.'
The couple put up posters and searched through trash for the missing card, but so far to no avail.
Couple lose all images of their wedding after photographer loses memory card on boozy night out [Yahoo News]
Image credits: Photographs by SWNS