Wayward: A Senseless Journey
Writing, Video and Photos by: Chris Goodhue
Hood / Hot Spring Photos by: Mackenzie Lisac
Music: Alligator - YURT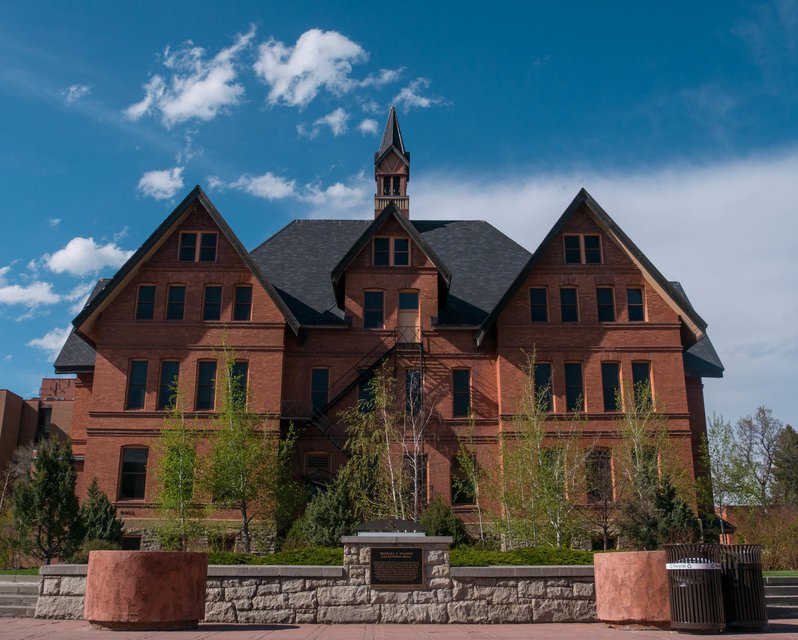 Each spring as the semester comes to a close, a stable snowpack and valuable free time between school and summer jobs bring the promise of adventure. As Montana State's spring 2017 semester drew to an end, the last weekend in Bozeman was full of free beer, graduation parties, and goodbyes.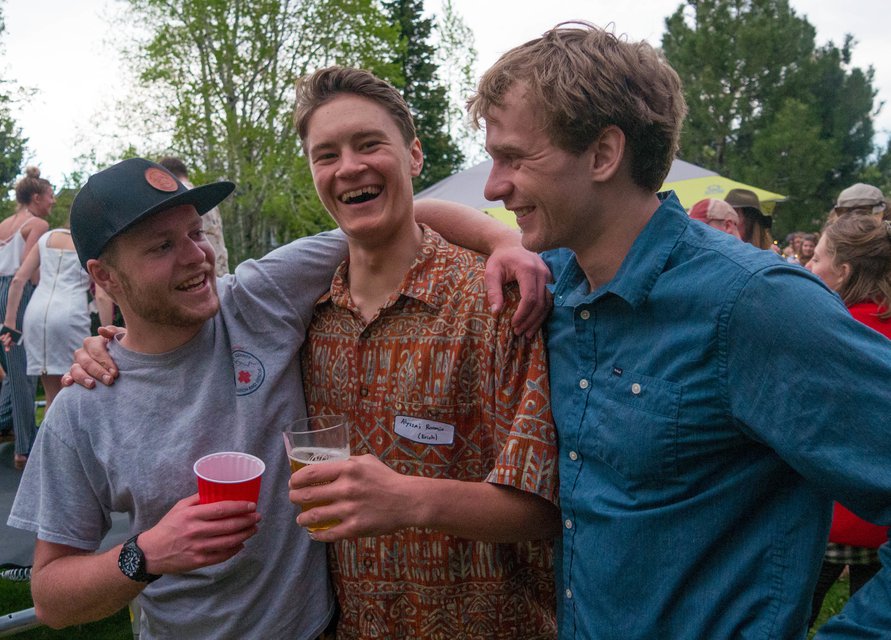 After 3 years of school in Bozeman, my good friend Seth Dayutis and I had plans to head back home to Massachusetts for the summer, a 2300 mile trek. But we wanted to cap off Junior year with yet another epic adventure. We decided on a plan and didn't look back knowing it would be a stretch to make it happen. The plan was to head from Bozeman, Sunday May 7th, to Mount Hood for 4 or 5 days, then send it to the Ruby Mountains in Nevada, and finally hit Snowbird on Sunday the 14th for Snowbird's last day of the regular season.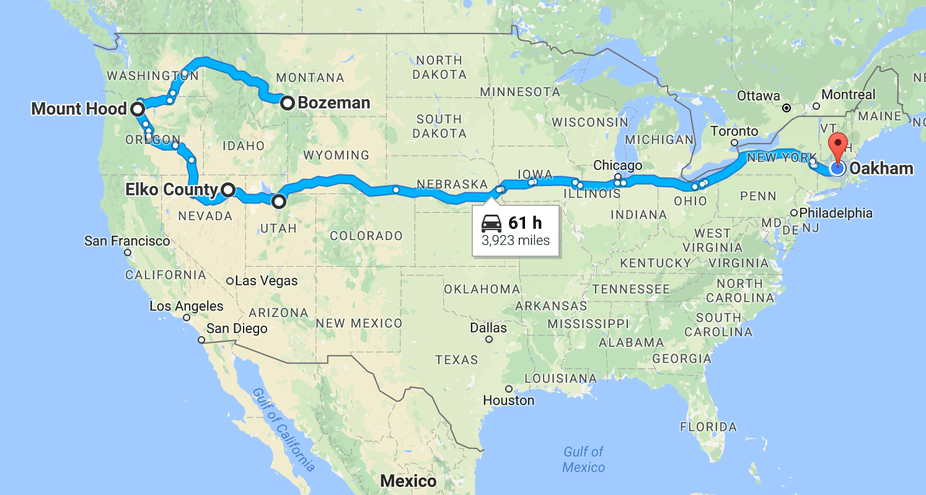 So we loaded up the Subaru ( her name is Shelly ) and met up with friends Toby Goldman, Kenzie Lisac, and Andie Creel and sent it to Mount Hood.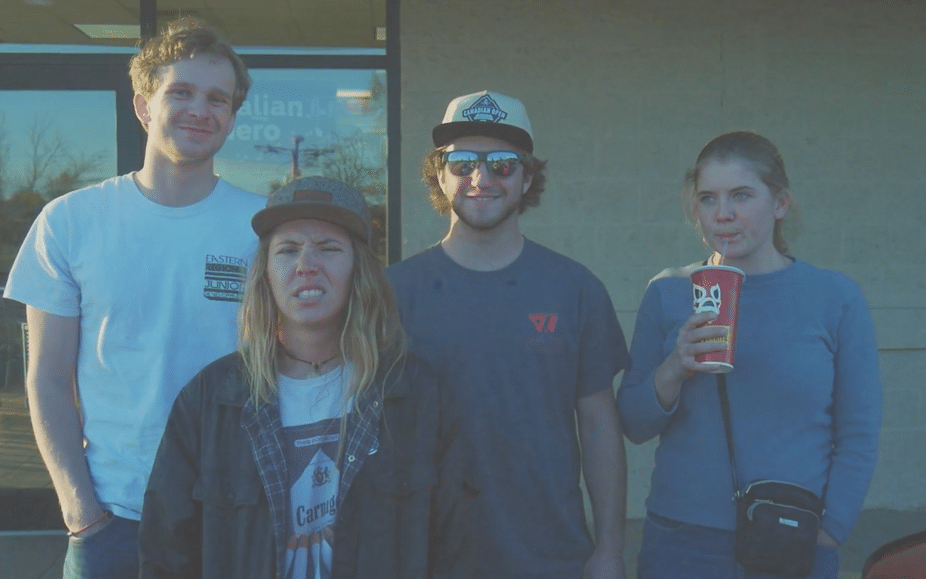 The Crew: Seth, Toby, Andie, Kenzie
After a long ride nursing a hangover from graduation weekend, the crew arrived at the Lisac's cabin on the backside of Mount Hood on May 8th. A mandatory day of mountain biking Post Canyon ensued as we waited for "the carnage crew" to arrive that evening.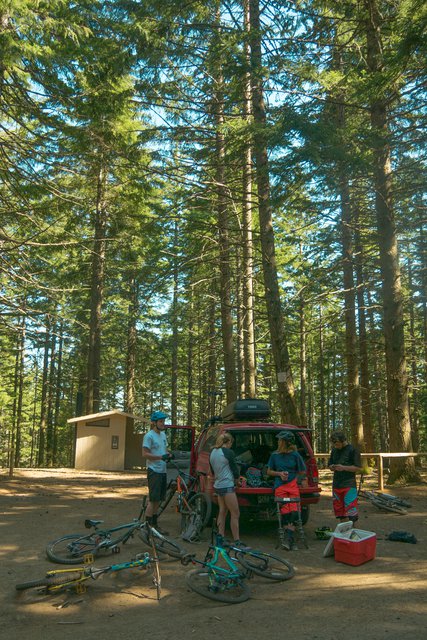 post Post Canyon shred
Growing up skiing park in New England, Mount Hood has an almost sacred feel to it. I firmly believe it is a pilgrimage every park / freestyle skier needs to make in their lifetime. What is better than shredding with your friends, on a enormous stratovolcano, swerving through beautifully sculpted parks, and an abundance of sunshine? Nothing. What a contrast to dealing with a cloudy, somewhat fickle, Montana winter.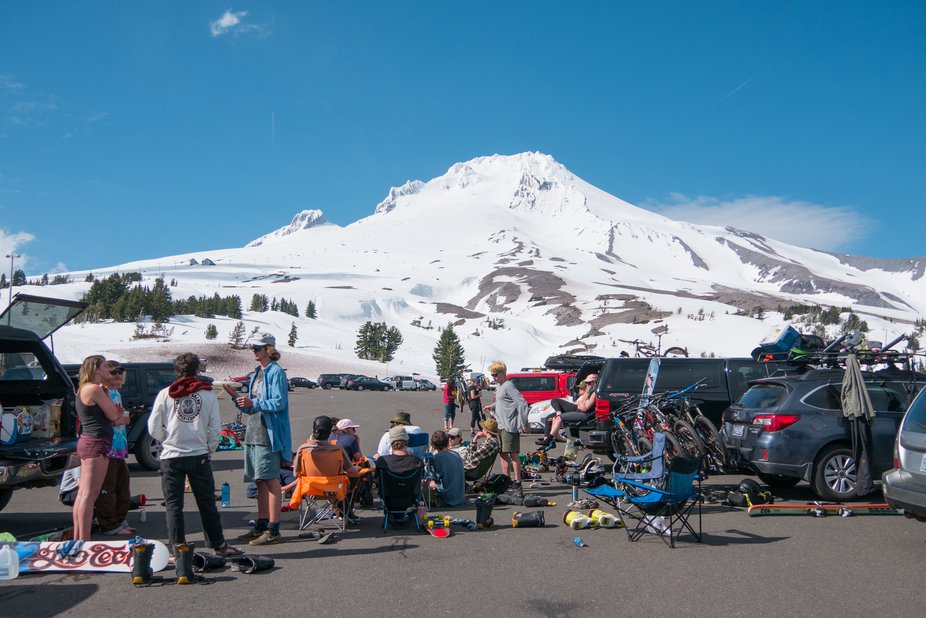 Crew soakin'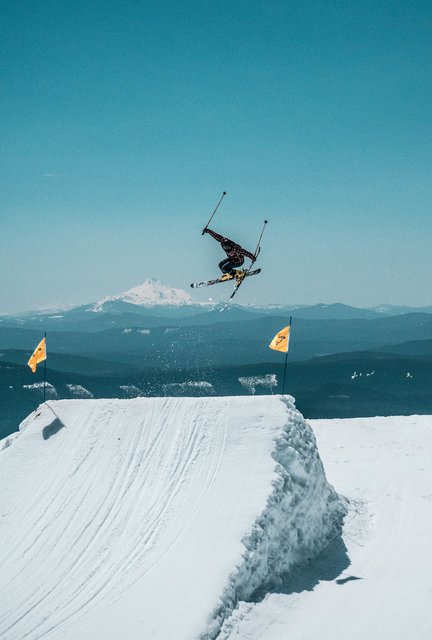 Toby Goldman grabbing tail. He's single ladies.
Nash Lisac checking out Mount Jefferson during a classic front flip on the big line.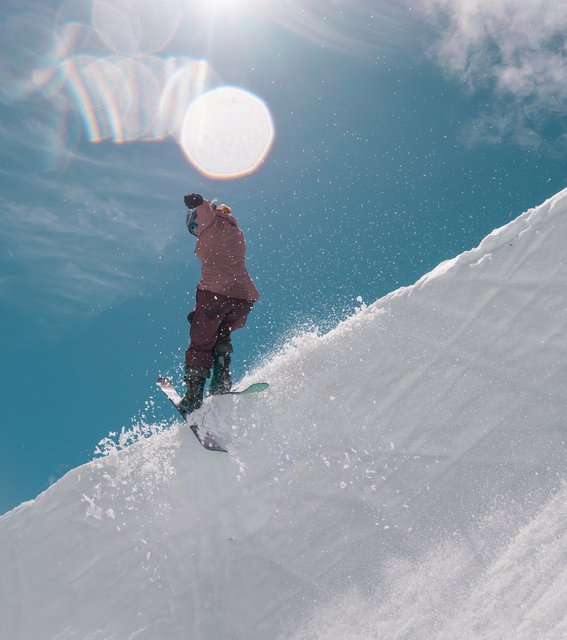 Andie on the swerve.
We went hard during our two days at Hood, breaking out of the big mountain shell that the rugged Montana mountains shape throughout the winter. It took a few runs and a couple of slams to dust off the park skills before all the tricks were brought back. The crew even made the trek to Illumination Rock, an iconic Mount Hood spot. The boys assembled a booter and an epic session took place...oh and Andy Perry, no dig no ride.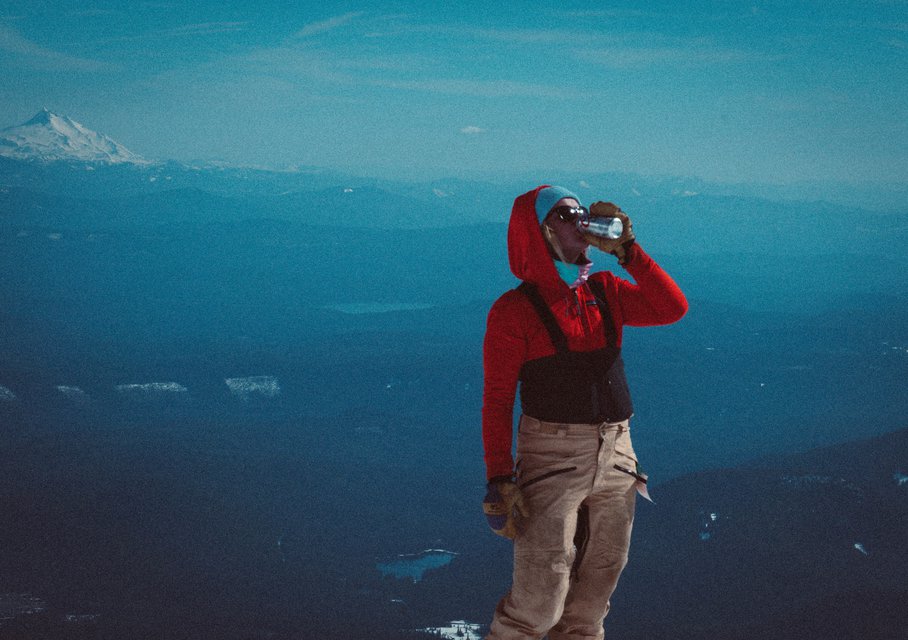 Kelly B.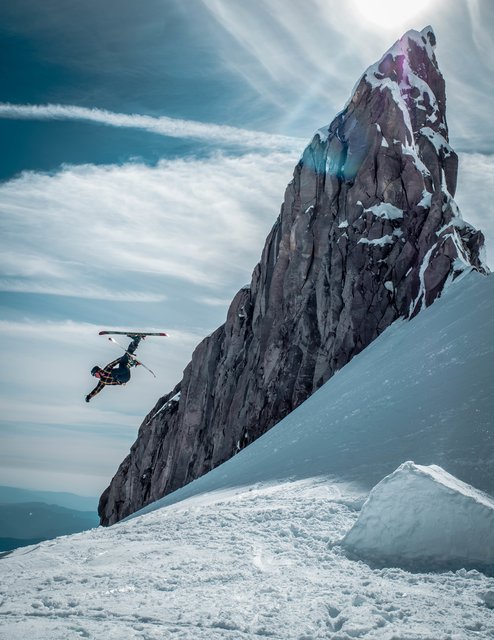 Chris Goodhue grabbin' Japan.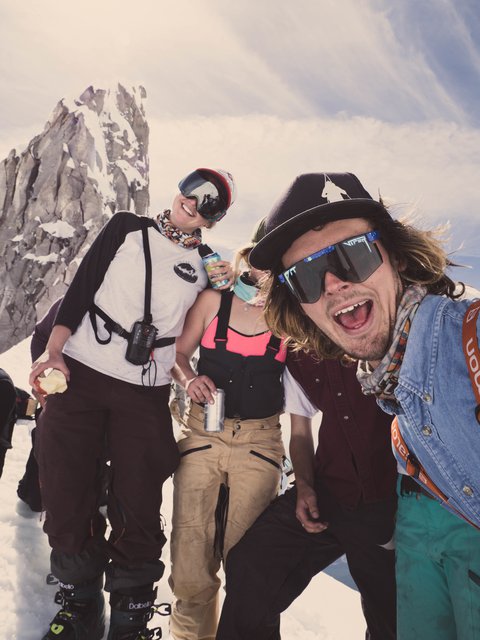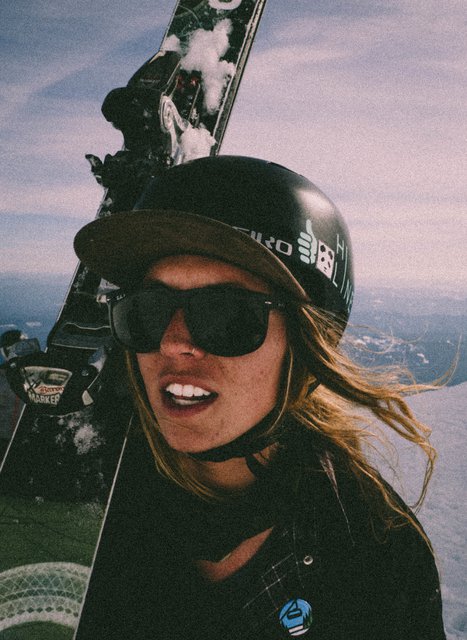 Kenzo off for a hike.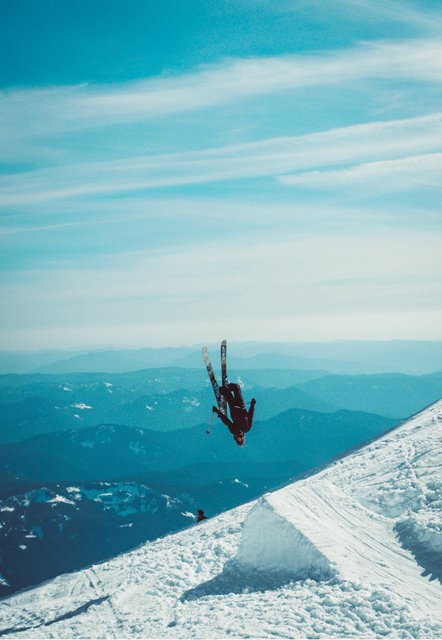 Kenzie Lisac sending off Illumination.
Like the year before, the clouds rolled in on our third day, but probably for the best, as two days of intense park skiing does a number on the body when you haven't ridden park all year.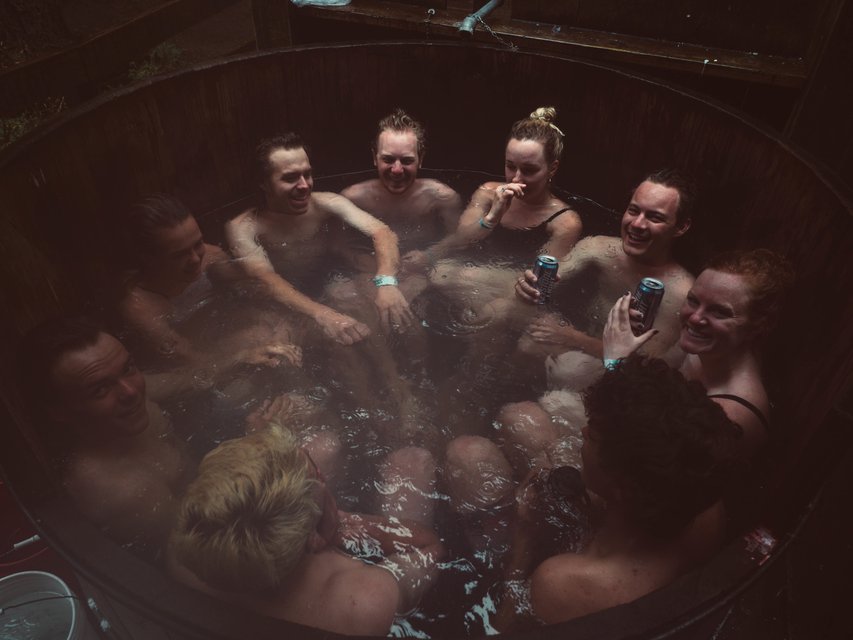 A real crew soak.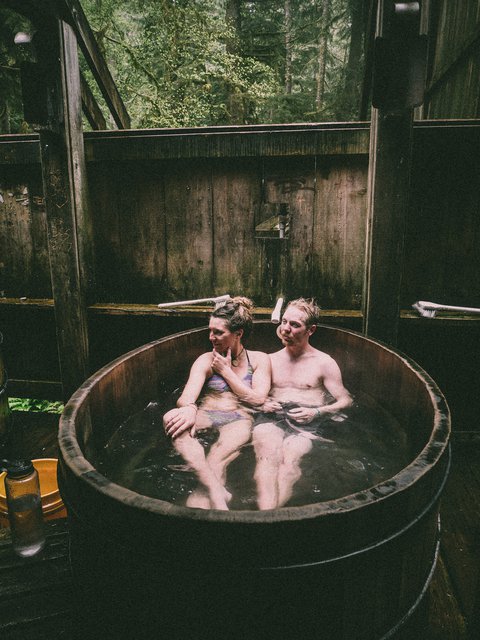 After a much needed rest day in Portland, Seth and I disbanded from the crew and headed southeast to the Ruby Mountains, Nevada.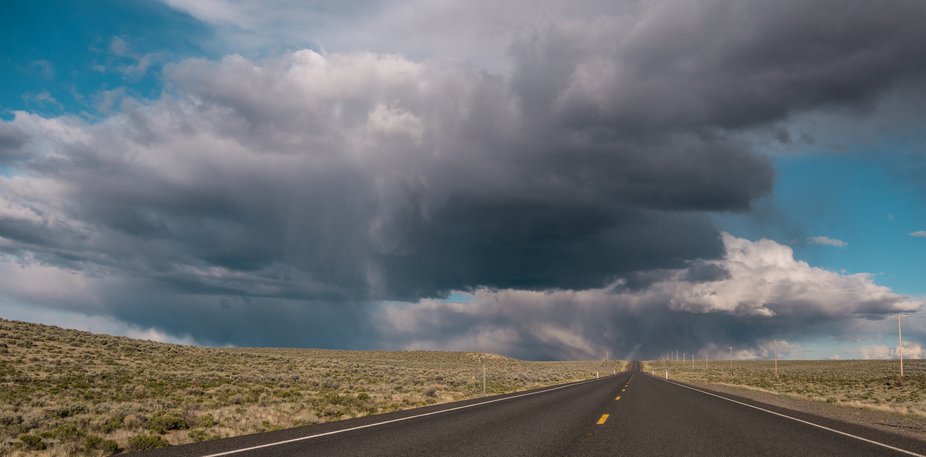 Most of Oregon is like this.
The goal was to ski Terminal Cancer, a North American Top 50 Ski Classic. A case of Red Bulls, a few Almann Brothers albums (RIP Gregg) and sheer determination got us through the 11 hour trek through hundreds of miles of flatland. https://www.newschoolers.com/videos/watch/870024/The-Allman-Brothers-Band---Ain--39-t-Wastin--39--Time-No-More
We arrived at 2:00 in the morning at our campsite in the Rubies and sleep hit instantaneously as our sleeping bags fell to the ground under the Nevada stars. Morning arrived with a fresh layer of snow on our sleeping bags and partly cloudy skies, much different than the 50 degrees and sunny we were expecting.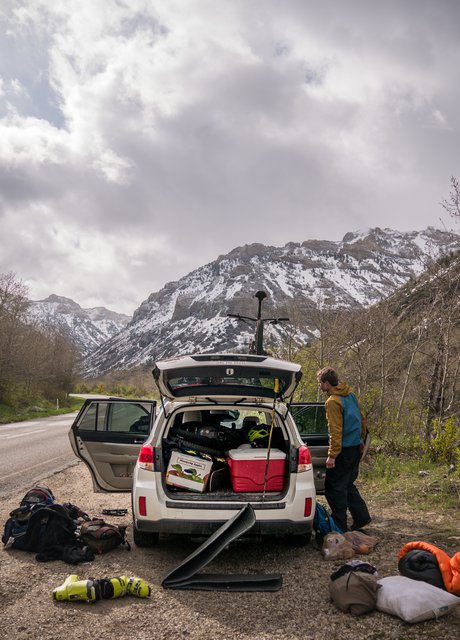 The Ruby Mountains, NV in a fresh layer of snow.
Terminal Cancer isn't the gnarliest line out there, but it is one of the most aesthetically pleasing. The line is the result of an igneous dike that intruded through the crust and eventually eroded away leaving a perfectly straight couloir with large tall walls. It is around 35-40 degrees, about 20 feet wide, and offers around 2000 feet of vert. From the road, it looked as though it would only take a few hours to complete and we would soon be on our way to Salt Lake, but man were we wrong.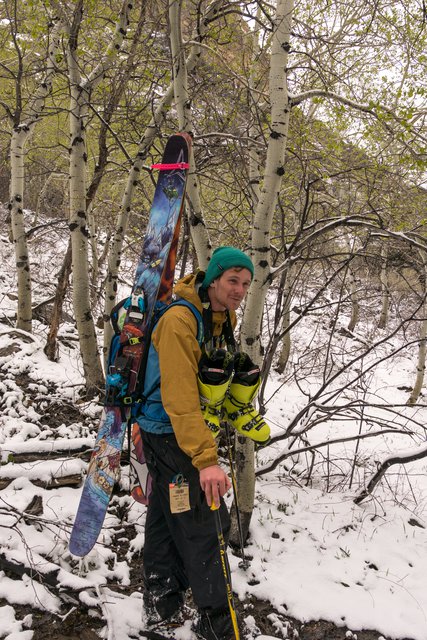 About a hundred feet from the car lies Lamoille Creek, which we quickly realized was running at high water and was going to be a formidable task to cross. After three hours of attempted crossings, we decided to go upstream about a mile where we came across a bridge. Spirits were high knowing a quick hike through the woods would lead us to the base of the couloir. It quickly came apparent these were no ordinary woods. These woods were a never ending array of fallen trees, boulders, and the thickest most brutal shrubbery you have ever seen. With skis and boots on our back, it was claustrophobic and frustrating as every move resulted in the skis getting stuck on a branch or your pack lifting you off the ground. Navigating these woods was an absolute nightmare, taking close to two hours of frustration to traverse less than a mile.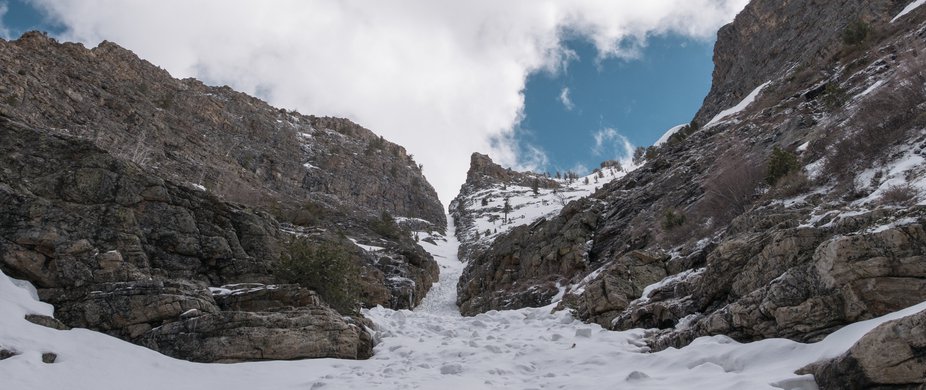 A beautiful line with avalanche debris down the second half.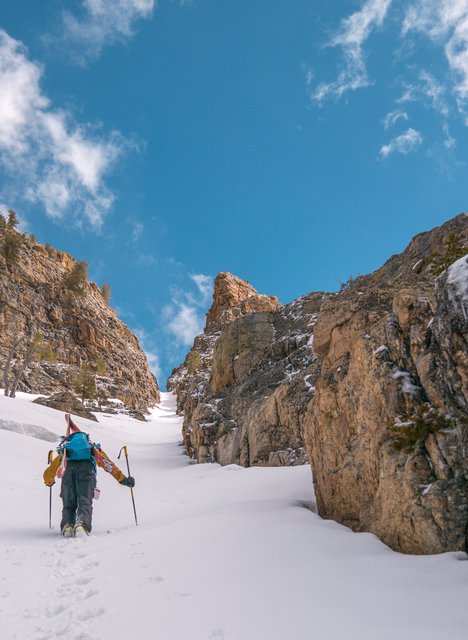 Seth, head down, booting up.
We eventually made it to the couloir, beaten and battered from attempted river crossings and the savage brush the morning threw at us. At this point, it seemed as though instinct took over. A spring snowpack with about two inches of fresh snow made for good boot packing conditions, but the line was long and it took about an hour and 45 minutes to reach the top. Once at the top, the beauty of our surroundings was taken in, a quick snack was had, and we were on our way down. The conditions were tough, a firm spring base with a few inches of new snow was a challenge, but sheer stoke and determination made the turns unforgettable. Making it to the bottom was bittersweet, as we knew the woods were waiting.
Seth dropping in.
We made it back to Shelly around 5:00 pm. A quick nap later we were back on the road barreling towards Salt Lake. As Seth slept in the passenger seat and the moon rose over the desert countryside, I couldn't help but ask myself, what in the hell am I doing? But that didn't matter now, all I could focus on was making it to Snowbird where I would be clicking into my skis, most likely for the last time of the season.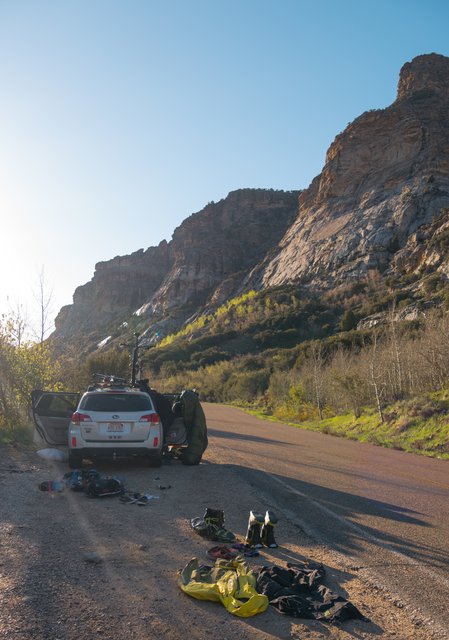 After spending the night at friends in SLC, I was standing next to my brother Sam, riding up the Snowbird tram, on a perfect bluebird day. The amount of snow up Little Cottonwood was astounding for mid May and the hot sun made for perfect spring conditions. Sam spent all year skiing "the bird" while attending the University of Utah for his freshman year. He showed us his favorite zones, the wave feature, and was a great guide to follow around that humongous resort. The day was somewhat painful, a week of traveling and skiing had really taken its toll, but the vibes were high as we took our last runs of the season.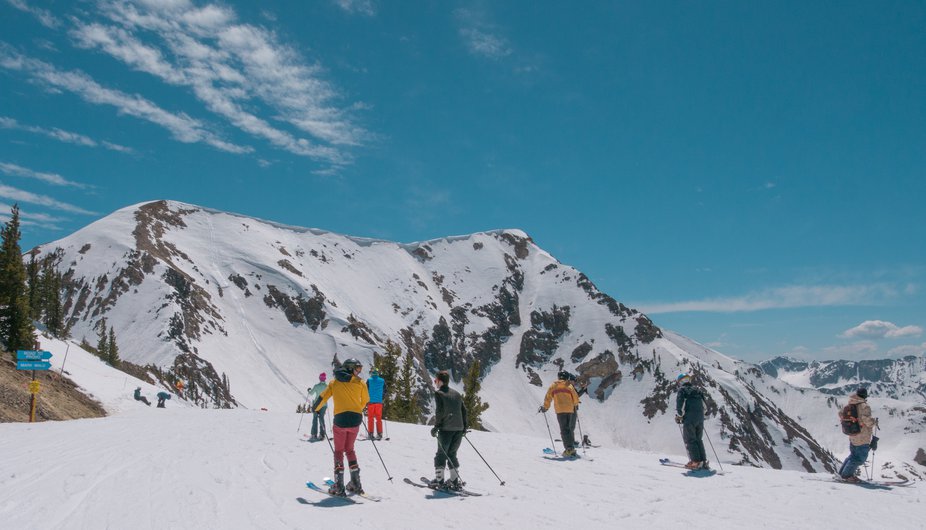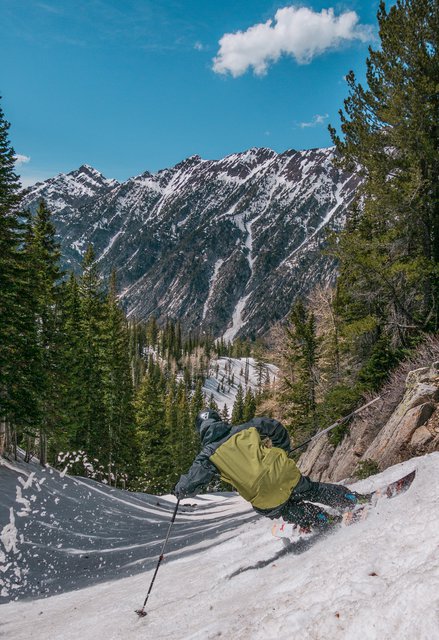 Sam Goodhue in the flesh
A full night's sleep, a quick repack of Shelly, and a local SLC breakfast and we were off. Shelly was pointed dead east away from the mountains, the snow and the experiences that had taken place over the last three years while at MSU. Sitting behind the wheel, as the sun rose up over the Indiana flatland I again found myself reflecting on what drives us to endure endless drives, long days slogging up mountains, wear and tear on our bodies, cost of expensive gear and passes, gas, red bulls, shitty gas station food and a list that could go on and on? I can only say that there is no logical explanation, no means to an end, no good reason that can make people understand why we drive 60+ hours to go slide on snow. But after years of addiction to this strange "sport", I am starting to put together why it consumes my every thought.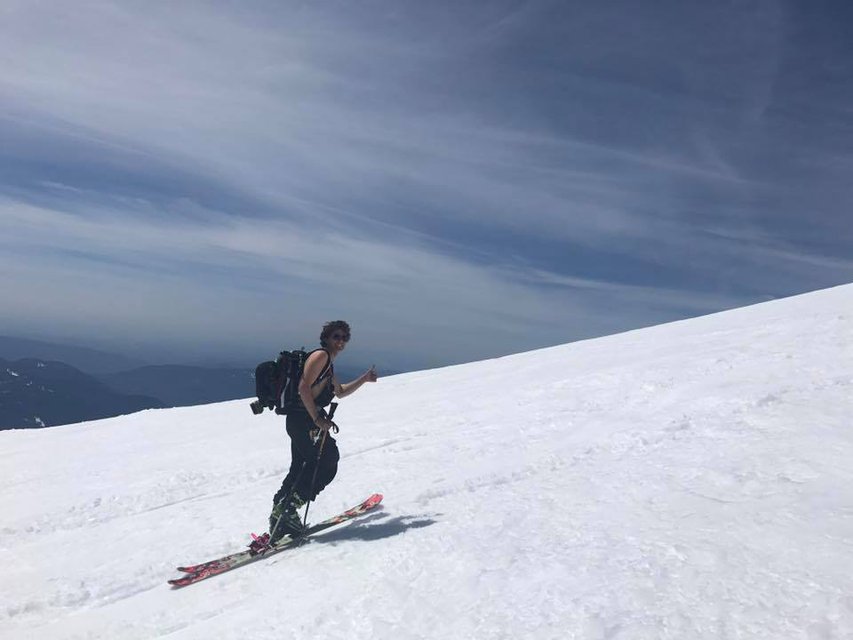 I believe these experiences provide a connection. A connection to something bigger than yourself; something more powerful and awe inspiring. The magnitude of the mountains, the rawness of the climates, and the immensity of our country is humbling and brings perspective, but the connection goes deeper. Day-to-day life is consuming; school, jobs, money, social obligations, and cultural expectations drive us forward at a rapid pace. While these are all great things, it can take away from what it means to truly be alive. Booting up that couloir, after hours upon hours of driving, sleeping in the snow, and an insane battle with the woods, time slowed down; it is then when the chaotic journey of life seems to turn off, and it is only you and the present. It is these precious and fleeting moments that drive us to do these illogical senseless journeys. But although these moments are fleeting, the presence of friends, fellow voyagers, and skiers of all kinds makes this connection tangible, which is the most precious part. Shared experiences while skiing has provided me with some of the fondest memories and closest friendships, and to that, every dollar spent and every hour driven has been 100% worth it. But then again, some might say "dude, it's just skiing", but that's my point, there's no justification, no logical explanation, it's just skiing.
SMASH PLAY
Music: Alligator by YURT
http://www.newschoolers.com/videos/watch/870047/Wayward--A-Senseless-Journey-
Big thanks to everyone who made the trip possible! - The Lisac's for hosting us at Hood, Taran for the SLC couch, and Kenzie Lisac for the awesome pictures.
Thanks to YURT for the vibing tunes!
https://livelaughyurt.bandcamp.com/releases
Also thanks to J Skis and Blackstrap Inc. for the help this season!