2015 is drawing to a close and it has been one hell of a year. There were more 'impossible' rotations ticked off the list than I can ever remember in any year and simultaneously spin counts continued to skyrocket. It was a virtually impossible task to cut such a crazy year down to a list of just 10 tricks. But in a completely undemocratic (and unashamedly biased to NS's tastes) manner, we've done it. On the final shortlist but just missing the cut were Clayton Vila's Alleyoop 270 redirect from For Lack Of Better, Antti Ollila's Switch Handrag 3 from Keeshful, and Parker White's Zero Spin from RealSki. Let us know what you think is missing and we may do a crowd-sourced 'volume two'. Please note we haven't included any tricks not available to watch online. And so without further ado and in no particular order... The top 10 ski stunts of 2015.
_
Sammy - Ski Jump Switch 5 (3.57)
Honestly, Sammy probably had at least 10 tricks of his own that could have fitted in on this list. Pretty much all of his RealSki edit for one thing. But at the end of the day, this was probably the 'craziest'. Who else would hit a ski jumping (flying) takeoff switch. It's never been done before and I don't expect to see it happen again in a hurry.
Full Edit: https://www.youtube.com/watch?v=t-Y9riCoJ7k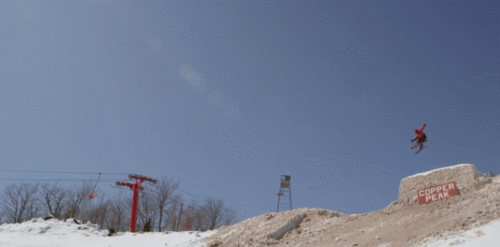 Jake Carney - Switch 7 (1.46)
Simple's Deadkind was pretty much the undisputed edit of the year from a relative unknown. Jake skis 100 and honestly the Gucci Plateau should probably be renamed the Carney Zone.
Full Edit: http://www.newschoolers.com/videos/watch/797664/SIMPLE----DEADKIND
Russ Henshaw - Dub 1170 to Rail
On one hand, this is everything I don't personally care for in skiing: energy drinks, bespoke single trick features, progression by rotation et al. But the beauty of skiing is different people enjoy different things and this was unquestionably one of the the '10 Craziest' moments of the year. A world first, it was clean, grabbed and on to a legit(ish) rail to boot. It doesn't have to be your thing, but if you can't look at it and respect the skill (and balls) it takes then you're doing it wrong.
https://www.newschoolers.com/videos/watch/803522/Russ-Henshaw-Double-Cork-on-rail
Bård Smukkestad - Nosebutter Switch Frontflip
From the skill in spinning a lot to the skill in not spinning at all. How this didn't go to misty, I still can't quite work out but damn it's a thing of beauty.
Grigory Fuzeev - Switch Misty 3 (0:47) and Cork 180 (0:58)
The marriage of Ruka and a Russian produced this complete mindfuck of an edit. Have there ever been so many supposedly impossible jump tricks done in little over a minute of video?
Full Edit: https://www.youtube.com/watch?v=Ri1yeHRA7lU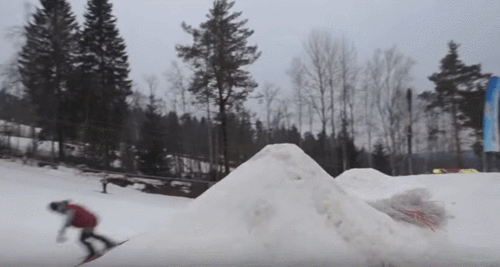 Evan Furbeye (0.48)
This edit seemingly dropped out of nowhere and pretty much every trick was a never been thought of let alone an NBD. I had 3 of them at least on this list but I've had to commit to one, so I've gone for the Nollie 2 Backslide Continuing 2 . Not a trick I ever expected to have to type out...
https://www.youtube.com/watch?v=F9exxKBH57E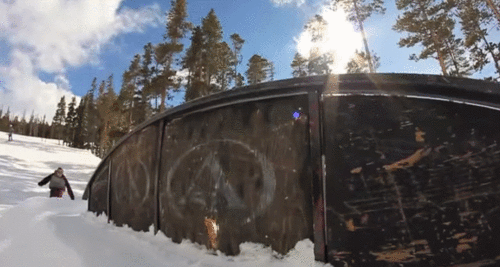 Mike Hornbeck Early Front Swap Massive Quad Kink (7.43)
Mike is one of the nicest guys in skiing and in possession of arguably the best style out. I wouldn't say he was particularly known for skiing massive rails but damn, this is nothing short of beastly. Trick is awkward as fuck too.
Full Edit: https://vimeo.com/134757562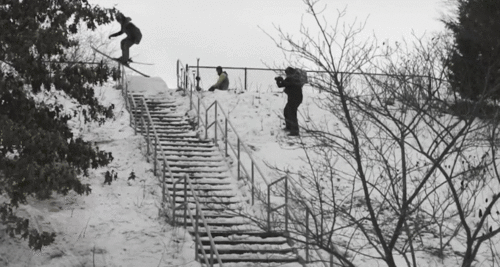 ABM 3 to Lazyboy 3 (4.03)
The perfect harmony of spot and trick courtesy of ABM. When I was drawing up the shortlist for this article, I knew straight away something from Wild Indians had to make it and upon rewatching, this is my personal favorite moment.
Full Edit: https://www.youtube.com/watch?v=uYukDMbWjs8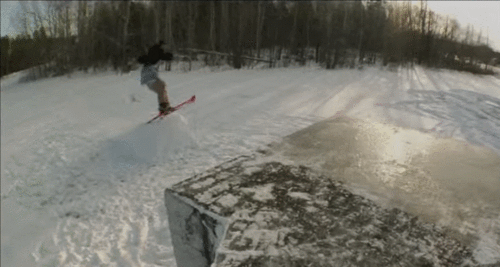 Cam Riley - Still walking at the end of the season
There are normal skier sized features and then there are Cam Riley features. Every other trick in this list is just that, a single trick. But in Cam's case, the trick seems to be survival. How you can hit all these spots and still be able to walk at the end of the season I don't know. Buy For Lack Of Better, it's an amazing watch and gives you a glimpse into what drives Cam and the rest of the Stept crew.
https://www.newschoolers.com/videos/watch/794823/CAM-RILEY---for-lack-of-better-SIDE-B
Oystein Braaten - Flip On Flip Off
The second trick in this list that in one sense, I don't really care for but has to go in by virtue of being straight nuts technically and a 'first'. The thing that truly impresses me about this is how it's a legit single barrel rail, not a fat tube or a box. One thing is for sure, skiing is going nuts.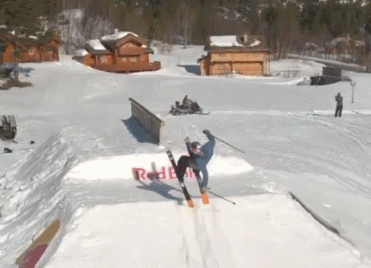 _
And that's it, hopefully we didn't miss anything huge. Vote now for your favourite to win the coveted NS Trick Of The Year!