It's that time of the year again! The annual Warren Miller movie ushers in the unofficial start of the winter shred season. This year's Warren Miller Movie: Like There's No Tomorrow is brought to you in part by none other than SHRED itself. Shooting in far off places at the quality of Warren Miller films requires some dough and Shred was all to enthusiastic to chip in this year.
And it kicks off in SALT LAKE CITY on Friday and Saturday, October 14th and 15th, 8:00PM at Abravanel Hall! And Shred will be featuring their hottest newest gear inside and outside of the Hall. Touch it, feel it, try it on!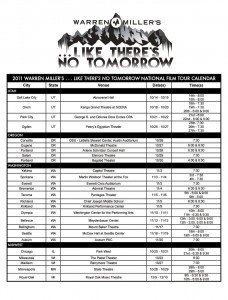 Check out the Warren Miller USA Schedule Here
It?s a deeply personal thing that we experience when we?re in our element, up on the mountain faced with untracked snow, deep blue skies, nothing but the deafening silence of the void and our breath crystalizing in the winter chill.
These are the moments we live for and these are the moments Warren Miller has captured for over 20 years of filmmaking.
It?s because of this synergy, this common understanding of why we do what we do, that Shred Optics has partnered with Warren Miller?s 2011 Film Tour of Like There?s No Tomorrow.
By sponsoring the Film Tour, Shred aligns itself with the message it truly believes is its heart and soul. Engineers, designers, athlete riders and testers all go to work every day and try to make Shred products that have style and technological superiority, but that retain the core Shred philosphy and feeling throughout the creation process.
We're also excited to have Ted Ligety associated with Warren Miller. Just 2 weeks away, the 2011/2012 FIS Alpine Race Ski Season kicks off in Soelden, Austria. Multiple Giant Slalom globe and World Champion Ted Ligety gets ready to take on a deep field at the annual opener, the first test of his many months of preparation in the off-season with training camps in New Zealand and Chile, as well as Utah based strength and conditioning work under his belt.
The schedule then takes Ligety and the men out to Levi, Finland for a slalom event before hitting North American speed events in Lake Louise, Canada and Beaver Creek, Colorado, where last year Ligety pulled in a first place finish in the lone North America tech event, Giant Slalom.
It will no doubt be another long season for the racers, especially Ligety who has committed to all five disciplines. Even so, he aims to haul in a lot of hardware and has been invited to film with Warren Miller in Alaska for some big mountain, backcountry action that will test his conditioning one last time before the end of the winter snow season. If all goes according to plan, Ligety will be featured in the 2012 / 63rd annual Warren Miller Film (not in this year?s film as we previously announced).
Tune in to the season?s alpine skiing action at http://universalsports.com for live and recorded coverage.